February sounds like a great time to get out of Dodge and head south to Grenada. You may be wondering if there's anything unique or special going on in February. I was wondering too so decided to find out. Turns out, Grenadians love to have a good time and there are plenty of opportunities in February.
February is when the country celebrates many events including Carriacou Carnival, Grenada Sailing Week, Grenada Sailing Festival Work Boat Regatta, and Independence Day. Each event takes place at a different time of the month and different locations on the islands so if you're planning to visit in February there's a good chance you can partake in one of them. Let's get to the good stuff!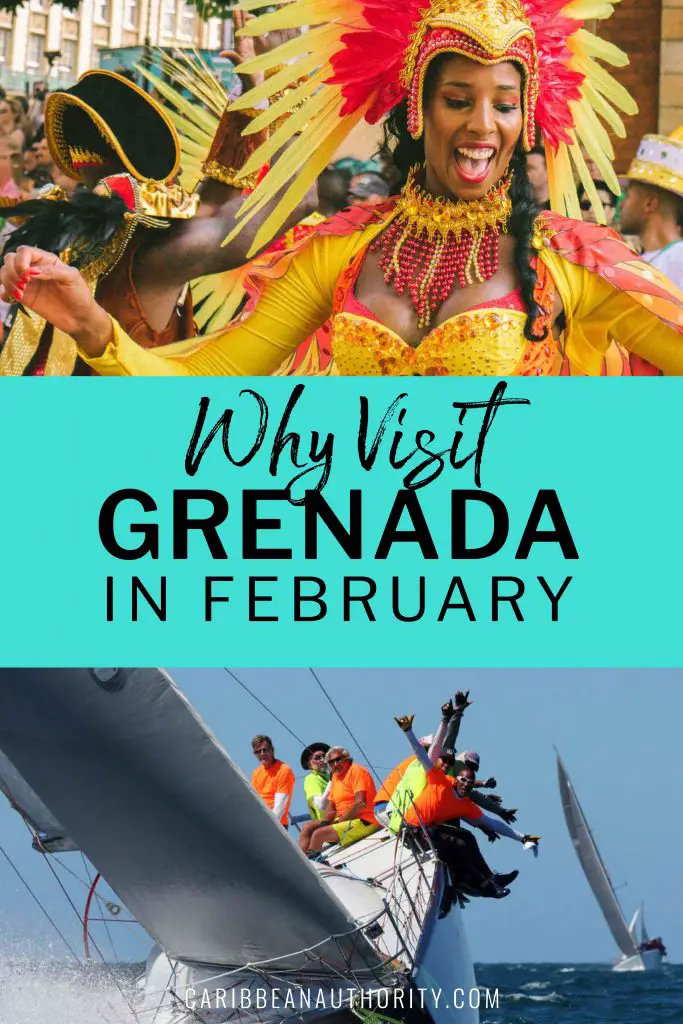 Carriacou Carnival
Carriacou is one of the three main islands that comprise Grenada. Grenada is the largest of the three and Petit Martinique is the smallest. 
Carriacou is located about 23 miles north of the main island of Grenada and is about 7 miles long by 3 miles wide. It enjoys similar climate as Grenada but with less rain since Carriacou does not have mountains or rainforests to spur clouds and rain. 
Every year in February Carriacou celebrates Carnival. 
Never heard of Carnival? Just about every country in the Caribbean celebrates Carnival and are happy to share the giant party with visitors. Carriacou Carnival is also known as Kayak  Mas.
Historically, Carnival was a giant party brought over by the Europeans and intended to celebrate the days leading up to Lent. When slavery ended, some islands expanded the festivities to also celebrate their newfound freedom.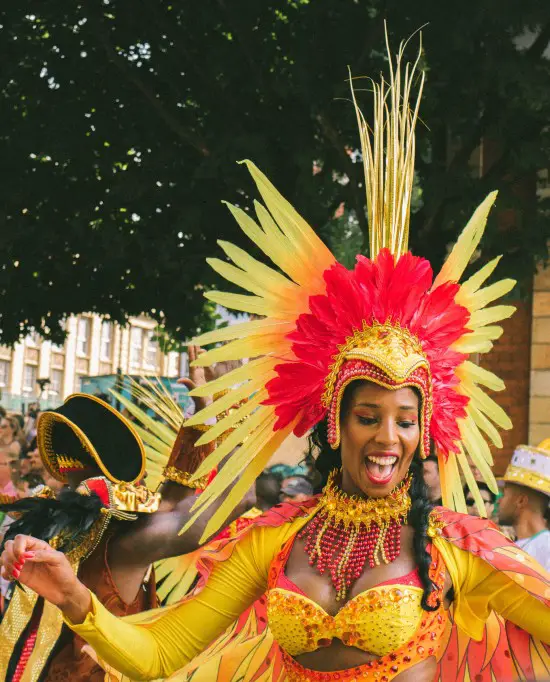 Carnival is a grand event that requires a year-long planning and many islands even sell tickets to events. The celebrations are pretty crazy often including elaborate masks & costumes, parades, pageants, dance competitions, and of course food, drinks and dancing.
Like many other Caribbean islands, Carriacou adheres to the traditional sense of the celebration and holds their carnival in February right up until Ash Wednesday. 
Sidenote: Other islands have chosen to hold their Carnival during other times of the year including the main island of Grenada. Grenada typically holds their version of Carnival, called "Spice Mas", from the second weekend in July until the second Tuesday in August. 
Back to Carriacou Carnival …
Everyone is welcome to join in on the party, locals and visitors alike. It's essentially a giant street party where everyone dances, enjoys soca and calypso vibes, dance competitions, parades and more. 
It's worth noting some of the Carriacou Carnival events are rather strange: Shakespeare Ma and J'ouvert Morning.
Shakespeare Ma
Performers compete in full costume while reciting Shakespeare.  If that's not interesting enough, each performer carries a bullwhip to strike their opponent if they mess up their lines. This event alone is worth the trip!
J'ouvert Morning
Oil and paint are distributed so everyone (yes, locals and visitors) can paint themselves up for the festivities.
Here are a few tips to ensure your Carriacou Carnival experience is one to remember, in a good way.
ZZZZZZ Get ample rest before the party.
Sun Protection: Apply sunscreen and apply often, bring a hat, and wear sunglasses.. The sun is hotter than you think. Check out our recommendation for the best sunscreen that won't give you prickly heat rash like some cheaper brands.
Drink lots of water and even more if you will be indulging in cocktails
Take it easy with cocktails especially when enjoying anything with local rum. It's stronger than you think! 
Wear comfortable shoes and clothes you don't mind getting paint and oil on.
Take pictures. Otherwise your friends at home won't believe you.
How do you get to Carriacou?
There are two options for getting from Grenada to Carriacou – take the ferry or fly.
Ferry Service from Grenada to Carriacou
Osprey Lines is a ferry service provider that takes visitors from Grenada to Carriacou and back to Grenada. The ride is about 2 hours each way and one or two trips are made each day, depending on the day of the week and time of year. 
It's always best to check Osprey Lines' schedule and fare information before making plans.  They are likely to have a special schedule for Carriacou Carnival.
Fly from Grenada To Carriacou
SVG Air is a regional airline that provides service between Grenada and other islands including flights from Grenada to Carraicou and back again. Flying to Carriacou will be faster but also more expensive. 
It's always best to check SVG Air's schedule and fare information before making plans. 
Grenada Sailing Week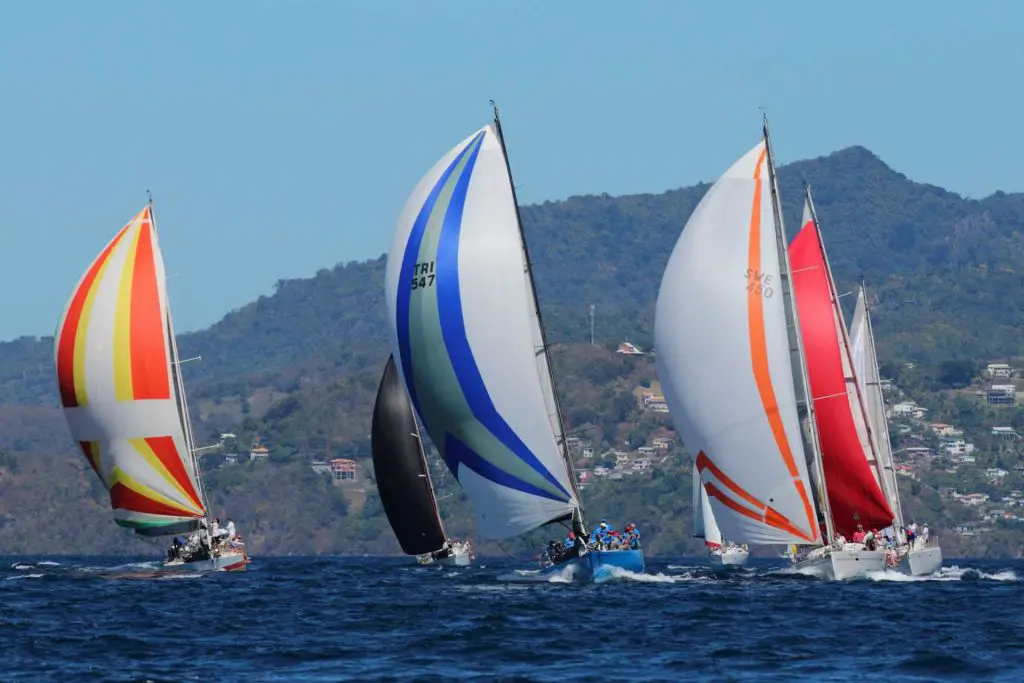 Grenada Sailing Week boasts four days of sailboat racing in the Caribbean Sea surrounding Grenada plus six nights of live music, dancing and parties. Sign me up!
Grenada Sailing Week is an annual event that attracts sailing enthusiasts from around the world including the US, UK, Canada, and France as well as neighboring islands of Barbados, St. Lucia, Antigua, Martinique, Trinidad, and of course, Grenada.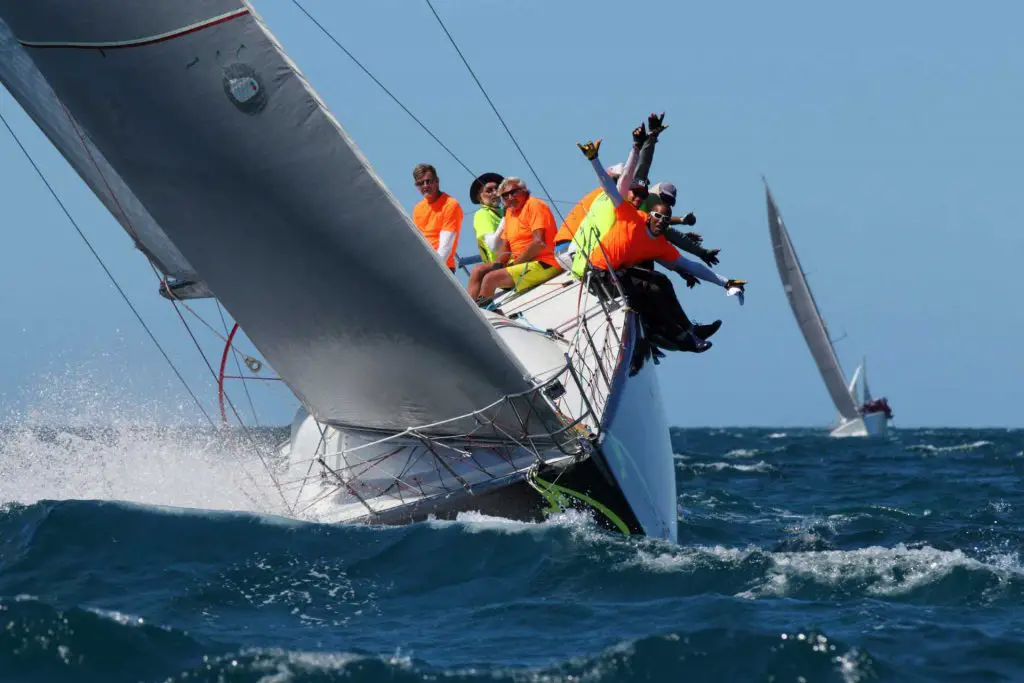 There are several races throughout the week held on Grenada's west and south coasts.
The west coast races start and end at Camper & Nicholson Port Louis Marina and can be observed from Grand Anse beach.
Observers on Grand Anse beach can view the race, but it's in the horizon. Karen Stiell, Grenada Sailing Week's Regatta Manager, suggests the ideal vantage point for the west coast races is Quarantine Point in Morne Rouge which overlooks Grand Anse beach to the right.
One of the south coast races starts at Camper & Nicholson Port Louis Marina and heads south to the Secret Harbour Marina. Karen Stiell advises the ideal vantage point for this race is at L'Anse Epines Point in L'Anse Epines.
Another south coast race starts and ends at Secret Harbour Marina. Karen Stiell suggests the ideal vantage point for this race is Prickly Point.
Grenada Sailing Week usually starts on the last Sunday in January until the following Friday so some years the event may be held entirely in January. The events, races, routes and ideal vantage points may change each year so be sure to check the Grenada Sailing Week website for current schedules.
For more information about Grenada Sailing Week visit their website or Facebook page.
Grenada Sailing Festival Work Boat Regatta
Grenada Sailing Festival Work Boat Regatta is a two-day event held each year in January or February, depending in the year.
Unlike the Grenada Sailing Week regatta where sailors race with keel boats, the Grenada Sailing Festival Work Boat Regatta event sailors race using – you guessed it – work boats!
In this regatta, the local communities with strong sailing and boat building history come together for some friendly rivalry.
The local communities include Grand Mal, Gouyave, Sauteurs and Woburn, plus Sister Islands of Carriacou and Petit Martinique –
To kick off the event, the communities race within their own classes including Gouyave Sloop, Gouyave Canoe, Sauteurs, Woburn, Petit Martinique, and Carriacou.
Then the winners of the community classes race against one another along the Grand Anse Beach to earn the title of "Champion of Champions".
This is a very high profile competitive end to the regatta and generates tremendous community support for the participating crews.

Grenada Sailing Festival Work Boat Regatta
Historically, the boats raced in this regatta were the working fishing boats of local fishermen, typically 16 – 17 feet long and made from local hard woods and with masts of bamboo. Things have changed since then. Nowadays, race boats are built especially for racing events like this.
For more information about Grenada Sailing Festival Work Boat Regatta, visit their website or Facebook page.
Independence Day Celebration: February 7th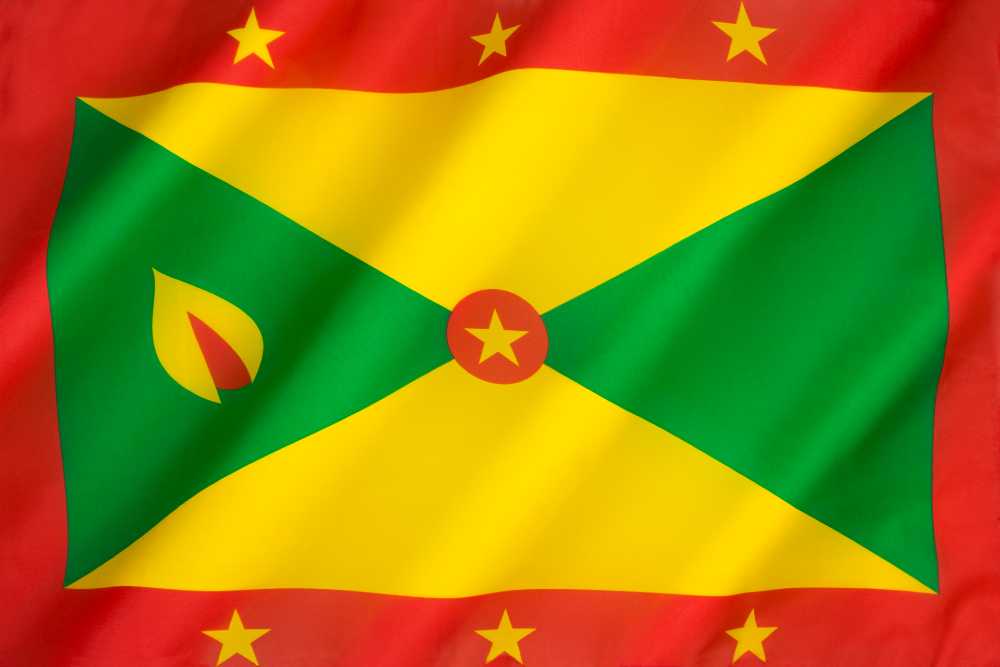 On February 7, 1974, Grenada gained independence from Britain. Since then, the country has celebrated its independence each year on the same day. 
In true Grenada fashion, the day is marked with parades, events, games, live music, and other festivities. In the recent past the events were held at the national stadium in St. Georges and all people are welcome. 
Since it's a public holiday, many businesses are closed on this day so plan accordingly if visiting on this day. 
My cruise is stopping in Grenada in February: What Can I do in a few hours?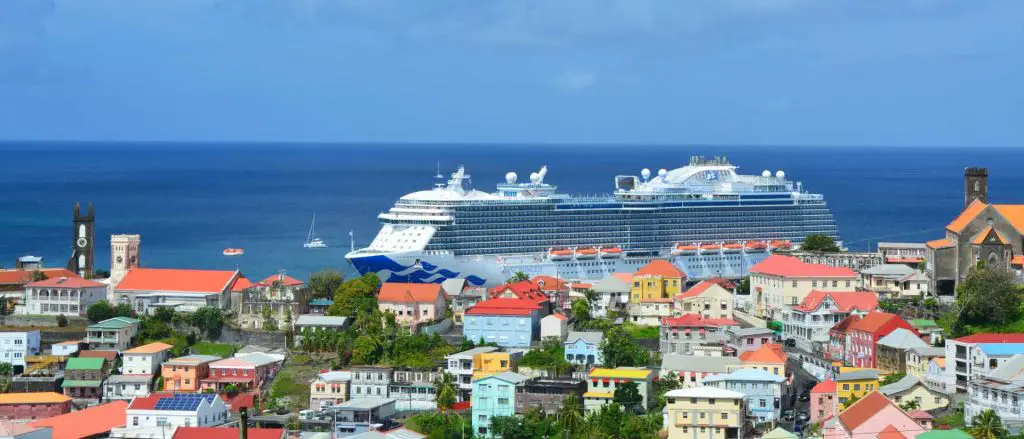 Cruise ships dock at the Melville Street Cruise Terminal in St. Georges. When visiting a port from a cruise ship cruisers generally have around 8 hours or less to enjoy the island. Since time is of the essence it's important to plan activities that will ensure you make it back to the ship in time for departure. 
Make sure you understand exactly how much time you will have in Grenada and plan accordingly. Most ships enforce a strict departure time and will not wait for passengers. 
While your ship is in port you can either explore the island DIY style or schedule a tour or excursion with a tour company.
Explore Grenada DIY Style
If you're not the planning type or would prefer to wing it, you can explore the island on your own by renting a car or jumping on public transportation to reach your destination of choice Although the island is small, there will likely be cruise crowds that may slow you down so don't bite off more than you can chew. 
Schedule a Tour/Excursion
If planning is more your style or you're dying to go on one of Grenada's popular spice, cocoa or rum tours then scheduling a tour in advance may be a better choice.
Excursions are also an option for scuba and snorkel enthusiasts.
Check out my recommended tours and excursions and pay special attention to the duration for each activity to ensure your timely return to the ship. 
Be sure to read the tour and excursion descriptions in detail for an accurate assessment of time the activity will take. Most will require you to transport yourself to a meeting destination. For example, many of the scuba diving excursions require you to meet at a dive resort.  In this case you need to figure out the time to get from the cruise ship to the dive resort and back again and add it to the duration of the activity.
Example: 30 mins to get to the dive resort + 5 hours scuba activity + 30 minutes back to ship = 6 total hours.   
Attend one of the February Events
If you happen to be in port during one of the 4 events that take place in Grenada during February (Carriacou Carnival, Grenada Sailing Week, Grenada Sailing Festival Work Boat Regatta, or Independence Day) these are obvious choices for spending your day at port.
Carriacou Carnival may be a risky choice since it requires you to spend almost 5 hours on the ferry just to get to Carriacou and back. This leaves you with little time to spend at the festival. 
Grenada Sailing Week could be a good choice. You could observe races, depending on the race schedule, and enjoy the festivities. Plan ahead and make sure you have a schedule for Grenada Sailing Week and understand how long it will take to get to the location. 
Grenada Sailing Festival Work Boat Regatta is another safe choice, especially if you plan to watch the local community races in Grenada (vs. Carriacou or Petit Martinique) or the final race along Grand Anse beach. Plan ahead and make sure you have a schedule for Grenada Sailing Festival Work Boat Regatta.
Independence Day celebrations are definitely doable while you're at port since they primarily take place at the national stadium St. Georges, not far from the cruise port. And of course, make sure you know the schedule of events so you can make the most of your time.
What if the February Festivals don't float my boat?
If the four main February events don't interest you or are not taking place while you're in port, you can't go wrong with one of the many popular activities visitors enjoy during the other months of the year. Here's just a sampling of those activities with links to learn more about them.
To learn about more awesome things to do while visiting Grenada, check out this article.
What's the weather like in February?
I don't know about you but I need sunshine and warm temps to enjoy outdoor festivals. Some Caribbean islands are relatively cool in February. What about Grenada?
Well, being in a tropical climate, Grenada enjoys warm temperatures year round, is more humid during some times of the year, and experiences a dry & rainy season.
Among the tropical islands in the Caribbean, Grenada enjoys some of the most comfortable conditions.  Year round average lows do not drop below 73 degrees or above 89 degrees. The February averages are a low of 73 and high of 86 which believe it or not, makes February the coolest month for Grenada. As a life-long resident of Wisconsin, I'll take those lows any day of the year!
Sunshine is abundant year round with the average hours of sun each day ranging between 7-8 hours. February sees an average of 8 hours of sun each day.
Seawater temps are about 80 degrees in February making Grenada ideal for water sports. To be honest, throughout the year seawater temps never dip below 80 or above 84. Again, this makes February the coolest month for seawater temperature but how wonderful is 80 ?! 
The winds are pretty consistent through the year ranging from 13 – 17.5 mph. Because of Grenada's location and proximity to the equator it has the benefit of the trade winds that help to offset the humidity.
And of course, February sees the highest wind speed average at 17.5 mph but this is a good thing. When the winds calm during the summer months the comfort level also drops as the humidify and heat don't dissipate as fast.
The rainy season is from June through December, so you're in the clear when visiting Grenada in February. The average rainfall in this month is only 1.82" and has the 2nd least number of days of rain on average of all months.
Additionally, rain during the dry season (December – April) doesn't last long and is often focused on the interior of the main island where the rainforests and higher elevations (e.g. mountains) are found.  
Grenada's hurricane season runs from July – November so there are no worries of hurricanes in February. In fact, due to the island's location it experiences less hurricanes than other Caribbean islands. You can read more about Grenada's experience with hurricanes in this article.  
In fact, due to the island's location it experiences less hurricanes than other Caribbean islands. You can read more about Grenada's experience with hurricanes in this article.  
Overall, Grenada's weather is pretty phenomenal any time of the year. The average temperature, sunshine, seawater temp, and wind speeds are so close from one month to another it would be hard to say there's a bad month to visit.
Was I right? Grenada's weather rocks in February!
How long can I stay in Grenada?
If you decide the month of February is perfect for you to visit Grenada and you want to stay a while, no worries. Grenada allows people from most countries, including the US & UK, to stay up to 3 months without a VISA. 
All you need to gain entry to the country is a passport that is valid for at least 6 months.
If you're staying for a longer duration you may want to consider renting a car. You'll need to obtain a Grenadian driving permit which is simple. Just stop by the police station in St. Georges, show your valid driver's license and pay a fee of about $20. Some rental companies even provide drivers with a local permit as part of their service.
Alternately, you can simply hop on public transportation. Buses run from 6:00 AM – 9:00 PM, go just about everywhere, and are super cheap ranging from $1 – $2.
---
There you have it. February is a great time for a Grenada getaway. The weather is wonderful, there are at least 3 celebratory events going on that month and plenty of other "islandy" things to do. Happy planning!