As I prepare my first trip to Grenada I'm reminded of the waterfalls Grenada experts keep telling me I must see. In order to plan my trip, I need to identify all of the waterfalls and where they're located so I can determine which ones I can really get to on my first visit. So, I spent hours researching and piecing the information together. I'm happy to share it with you so you can skip over the research & piecing part and get right to planning your trip to Grenada. 
There are 18 waterfalls in Grenada. They are located on the main island (Grenada), where the geography boasts mountains, forests, rivers, and rainforest.  The waterfall names are:
Annandale Waterfall
Concord Waterfalls (includes 3 waterfalls)
Honeymoon Waterfall
Royal Mt. Carmel Waterfalls (includes 2 waterfalls)
Paraclete Waterfall (includes 2 waterfalls)
Seven Sisters Waterfalls (includes 7 waterfalls)
Tufton Hall Waterfall
Adelphi Waterfall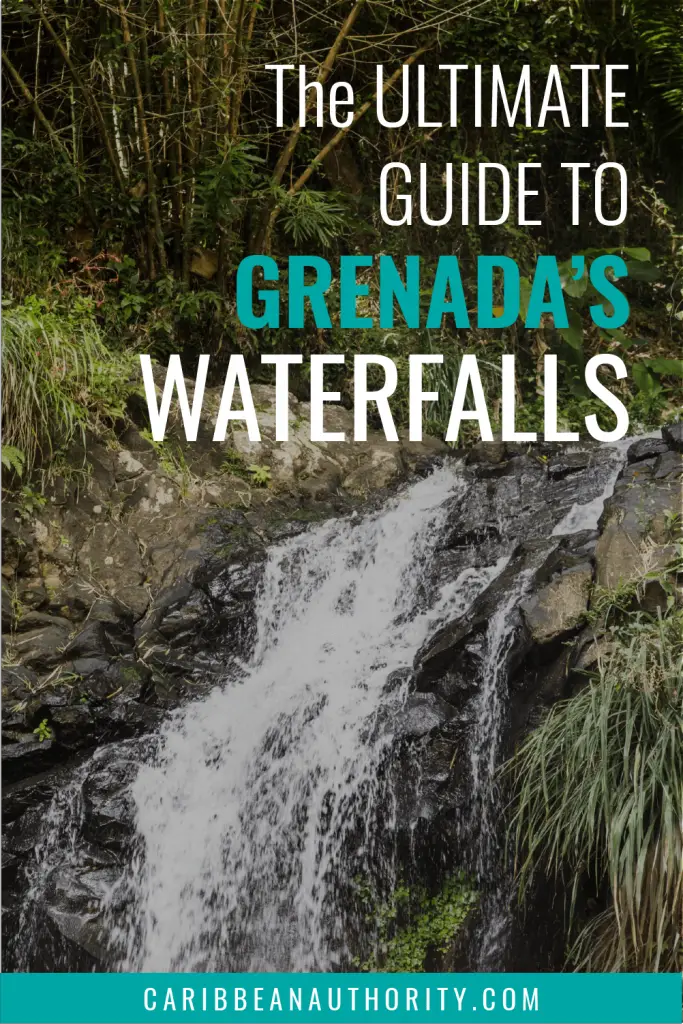 I love to hike and explore the Caribbean islands I visit, but I'm not a hard-core hiker. After all, I live in Wisconsin. There's not a lot of mountains around here. The glaciers came through and blessed us with kettles and moraines but nothing too steep or challenging.
Grenada's waterfalls are surrounded by mountains, rainforest, and rivers. It was important for me to understand how challenging it would be to reach each waterfall so I could physically and mentally prepare myself.
I also wanted to know where they were located on the island so I could prepare an itinerary that allowed me to see as much in the short amount of time I would be there.
This article is not a movie trailer
This guide is intended to help us plan for our trip to the waterfalls. It is not intended to be like a movie trailer that shows you all the best scenes from the movie so when you actually go see it you're a little disappointed (and a whole lot ripped off) because they already showed you the best parts.
In the case of the waterfalls, I personally don't want to read reviews about the waterfalls and see pictures of them before I see them for myself!
It's like movie trailer madness. I hope you feel the same way because that's what you will get in this article! 🙂
Of course, there is one exception – the featured image of this article. Would it be wrong to tell you which waterfall it is? OK if you don't want to know…skip to the next paragraph. If you do want to know, here it is in teeny tiny text:
Annandale Waterfall
OK! Without further ado, let's explore the amazing waterfalls of Grenada.
---
---
Annandale Waterfall
Annandale Waterfall is a 30' waterfall and the most popular one on Grenada. It's a mere 10 miles from the capital, St. George's and the easiest to get to. A paved path leads you straight to the waterfall which is ideal for people who are not fond of hiking.
Annandale Waterfall is also one of the smallest of Grenada's waterfalls. Surrounded by tropical beauty, the falls leads to an ice-cold pool of crystal clear water where you can take a dip if icey water is your thing 🙂 
Many who have visited Annandale Waterfall have commented that it's a nice waterfall but the experience is a bit tarnished by all the locals selling their wares and aggressively seeking donations for you to watch them jump into the pool below.
I plan to visit Annandale first since it will be quick and so I can work my way up to the big ones.
---
Concord, Au Coin & Fountainbleu Waterfalls
Concord Waterfall is located about 30 miles north of St. Georges, in Concord within the St. Mark parish.  Many people are surprised to learn it's actually 3 waterfalls – Concord, Au Coin, and Fontainbleu. 
The first waterfall is easy to get to from the west coast. A paved road will lead you almost all the way to it.
The first waterfall is the most popular of the 3 and most visited.
The trail starting point for the 2nd and 3rd waterfalls is at the first waterfalls.
Au Coin Waterfall is the 2nd waterfall. It's set behind the main waterfall, is much bigger, and the water falls into a pool for swimming.  You can expect a 45-minute hike to Au Coin from the main waterfall.
The 3rd waterfall, Foundainbleu, is an additional 2-hour hike up the mountain. 
The consensus seems to be Au Coin and Fountainbleu waterfalls are more impressive than the main waterfall, so once you've seen the main waterfall, keep going up.
The entrance fee is $1.00 per person.
Honeymoon Waterfall
Honeymoon Waterfall is about 15 minutes beyond the Seven Sisters Waterfalls.
It's been referred to as "the hidden gem" – maybe because people don't realize it's there so stop hiking after they've seen the last Seven Sister waterfall.
Regardless, this waterfall requires a very challenging hike uphill over rocks, mud, and several river crossings. In addition, you'll need to climb up a fast-flowing cascade. Be extremely careful as the rocks are slippery.
When you finally arrive at the falls and see the heart-shaped pool, you'll realize why it was named Honeymoon.
A guide is strongly recommended as it can be tricky to navigate. If you hired a guide to take you to the Seven Sisters Waterfalls, ask if they'll take you further to Honeymoon – it may be worth a few extra bucks.=
---
Paraclete Waterfall
Paraclete Waterfall is located in St. Andrew parish near the town of Paraclete and Blaize in the foothills of Mt. St. Catherine. There are actually two waterfalls here that are extremely secluded and difficult to find so hiring a guide is strongly advised.
Expect to spend at least an hour hiking on challenging terrain as well as a nutmeg plantation. Once you reach the waterfalls you'll notice there isn't a place to swim but you can stand beneath the falling water for refreshment.
---
Royal Mount Carmel Waterfalls
Located on the east side of the island in St. Andrew parish, Royal Mount Carmel Waterfalls is actually two waterfalls. It also goes by the name of Marquis Waterfall as it is located on the Marquis River.
The hike starts through a garden gate to the left of the bar and shops, passes through the back yard of the house next door then becomes a trail through the forest beside the Marquis River. Once on the trail it becomes more obvious where it leads you.
An easy 30-minute hike, through the private spice & fruit plantation, will bring you to the waterfall. I can just imagine how wonderful that hike must smell 🙂
These falls are on private property. For an entrance fee, the property owners are happy to share it with you.
---
Seven Sisters Waterfalls
Seven Sisters Waterfalls is a total of seven waterfalls. Imagine that 🙂 The falls are located in the city of St. Margaret's which is why it's also known as St. Margaret's Waterfall.
A moderately challenging hike on a steep dirt path through the rainforest brings you the first of Seven Sisters Waterfalls. The hike takes about 45 minutes and meanders its way through a private estate.
The hike gets more challenging as you advance to the remaining sisters' waterfalls. The Grenada Tourism Authority recommends using a guide for the remaining waterfalls.
The entrance fee is $5.00 per person.
---
Tufton Hall Waterfall
Tufton Hall Waterfall also referred to as Victoria Waterfall, is located in Victoria within St. Mark Parish. It's said to be the highest waterfall on the island.
The hike is aggressive working its way through forests, St. Mark's River, and mountains with trails all over – some not very well marked. A tour guide is strongly recommended for this waterfall.
It can take over 3 hours to reach the waterfall but once you get there you'll be welcomed by the ginormous waterfall, pools for swimming and sulfur springs. << Now that got my attention! Very cool.
Adelphi Waterfall
There is not much information available about the Adelphi Waterfall, other than that it's located in St. Andrew Parish near the town of Adelphi.
---
grenada's Waterfalls Overview
Waterfall(s)
City / Parish
Access
Height
Guide?
Annandale
St. George's / St George
Easy
30′
No
Concord, Au Coin & Fountainbleu (3)
Concord / St. Mark
Concord: Easy
Au Coin & Fountainbleu: Challenging
50′, 65′, 60′
No
Honeymoon
St. Margaret / St. Andrew
Very Challenging
unknown
Yes
Paraclete (2)
Paraclete / St. Andrew
Very Challenging
65′, 50′
Yes
Royal Mount Carmel (2)
Marquis / St. Andrew
Easy
70′
No
Seven Sisters (7)
St. Margaret / St. Andrew
Challenging
unknown
Yes
Tufton Hall
Victoria / St. Mark
Very Challenging
82′
Yes
Adelphi
Adelphi / St. Andrew
Unconfirmed
Unconfirmed
Unconfirmed
Tips for your trek to one of Grenada's Beautiful Waterfalls
Other than the Concord Waterfalls, which has a regular flow despite the season, most of the falls are best visited during the rainy season.
If visiting during the rainy season, be prepared for mud and potentially more dangerous hikes especially on steep trails.
If visiting during the dry season, be aware that some of the smaller waterfalls have been known to dwindle down. 
Wear proper footwear – especially on the challenging hikes over wet rocks, mud, and rivers.  No flip-flops.
Dress appropriately – especially on the challenging treks through the rainforest. Wear long pants and bug spray.
Visiting the waterfalls is a very popular activity for cruisers so if you're not a fan of crowds, avoid going on a day cruise ships are in port. 
Hire a guide – especially if it's not an easy hike.
---
How to find a Tour Guide in Grenada
There are several companies that offer tour guides and full-blown tours of the island including visits to the waterfalls. I can't recommend one since I haven't made it there yet but the Grenada Tourism Authority has a list of tour companies on their website.  
---
One of the reasons I started this website was to document all the information I researched about Grenada because there isn't a lot of it out there. I appreciate these organizations for having a place I could stop, visit and learn for a while.
There's so much to see in Grenada including all of the amazing waterfalls. Now that I know where they are, a little bit about them and the challenge I face getting to the waterfalls I can start planning. Given that some of them are a challenge to get to I think it's safe to say I won't see them all in one visit or I'd never have time for the beach! << The horror!
Happy planning.