Located on the island of Grenada, a short drive from St. George's or Grenville, is the Belmont Estate. Surrounded by abundant nature, this cocoa processing plant has been running for more than three centuries. Today, it grows numerous fruits, vegetables, and spices, and it holds its own chocolate making factory for which it produces cocoa. 
Aside from that, this beautiful property has turned itself into a real tourist attraction, inviting people to take a peek into their operations and enjoy the attractions on the estate. 
If you're planning on visiting Belmont Estate, you should prepare for your trip by reading up on its history, what you should do before you head over, and the interesting attractions that are available both in and around the estate. If you're interested in any (or all) of those things, this guide to visiting Belmont Estate has you covered. 
Why Should You Visit the Belmont Estate?
There are many reasons to take a day trip to Belmont Estate. If you're a chocolate lover — and who isn't? — this is an excellent place to taste some of the world's finest samples, straight off the factory line.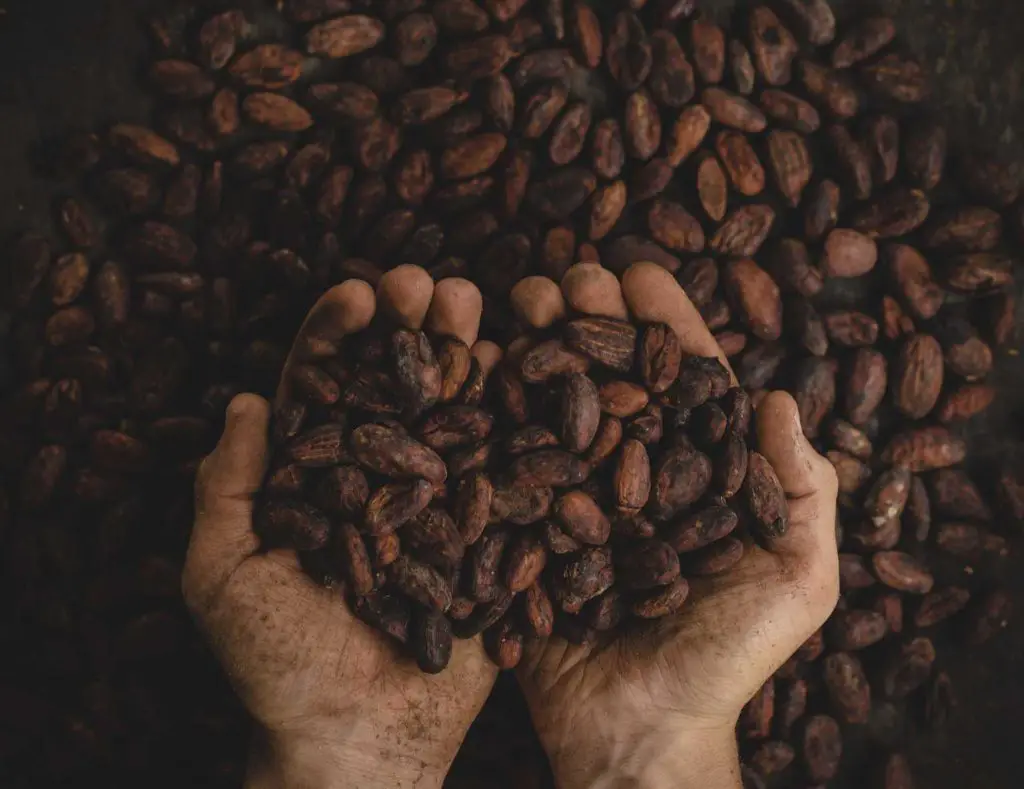 All produce there is organic, and the plant itself is eco-friendly.  They strive to maintain the natural beauty of the area and provide enough economic support for its residents. 
If you're interested in learning more about the culture of Grenada and immersing yourself in the customs, tastes, and scents, this is a perfect place for that too. It's a family-friendly location with petting zoos, craft stations, and numerous other activities for children and grownups.
Check out Ecotourism in Grenada for an in depth look into the eco-friendliness of this amazing country.
The History of The Belmont Estate
Dating back to the 1600s, this estate has been producing for the first part of its history. It changed owners, from the French to British, before finally landing in the hands of a local couple that owned several properties across Grenada. 
From the moment it was created, it played an important role in the country's economy. Late in the 1700s, it started producing sugarcane, and you can still see the remains of those operations on the estate. After sugarcane came cotton, which was then replaced by nutmeg and cocoa. Later, the estate grew bananas too. To this day, they are still an active and major producer of cocoa and nutmeg.
Over the years, they faced many challenges, one of the main ones being that the very system which they used was disintegrating, and they remained one of the few plantations. To further protect their status, they turned the estate into an agri-cultural tourist attraction in April 2002. 
It all started with tours, the museum, and a quaint restaurant. Because it was so well-received among locals and tourists, the estate expanded both their restaurant and their facilities. 
In 2004, the island was ruined by a hurricane, and Belmont Estate was not left out — the entire museum and restaurant were destroyed, as well as some of the production buildings. They lost many crops, and it took them three years to recover and finally reopen their doors to the tourists. 
Your Tour Of Belmont Estate
Even though you could drive to this estate on your own, it's probably best to go on a tour, as you'll receive plenty of valuable knowledge and have an easier time reaching the estate. 
An average tour lasts for about 7 hours. The tour staff will pick you up at your hotel and take you through some of the most wonderful natural habitats on the island. On your ride there, you may even see a Mona monkey that is indigenous to this specific area. Time will pass by quickly, and before you know it, you'll arrive at the estate. 
As one of the last working plantations, Belmont is a beautiful sight to see. It looks and feels historic like you took a step back in time. From scenery surrounding the estate to the facilities on the property itself, the visuals will be stunning. 
The tour will take you through the production buildings where they use centuries-old, eco-friendly methods to process cocoa. You'll be able to see how it all works and what it takes to make the most delicious chocolate on the island. 
After that, you'll get to explore the museum and absorb the thrilling history of this place, laced with human stories, tales of the past, and drama. The tour through the museum lasts for about 40 minutes, after which you'll get to enjoy the estate freely. 
During this time of rest, you'll be offered lunch, or you can order at the Belmont Estate restaurant, which serves traditional Creole cuisine from coal dishes. Use the rest of your free time to roam the estate, stop by the petting zoo or craft area, or even stock up on chocolate and spices in the gift shop. 
What to Expect 
When you get to the estate, you can expect to see the majority of the processes related to the production of chocolate. However, this is not all there is to see at Belmont. 
For example, you'll be able to enjoy a wonderful garden of tropical plants— and possibly even try some of the fruit and vegetables that grow there. If you love the botanical world, you'll probably adore the plant nursery. 
For kids and families, there's no better part of the estate than the petting zoo, which includes some of the island's native animals like Mona monkeys, macaws, or morocoy. Naturally, there are other animals like goats, bunnies, etc. 
From the moment you arrive, expect to be washed over with smells of chocolate, nutmeg, cinnamon, and other spices. 
If you're lucky, you'll get to experience one of the oldest traditions on the estate — dancing the cocoa. It started as a way to get rid of white residue on cocoa beans, which is a natural result of fermentation, but an unsightly one. While there are machines that do that, the tradition of a couple dancing on cocoa beans has survived. 
The best time to visit the Belmont Estate is at the start of June when the Chocolate festival begins. If you're looking to avoid crowds, don't go from January to April because that's the most popular season. The rates are cheapest during the summer, but be wary of visiting during September and October, since that's the hurricane season.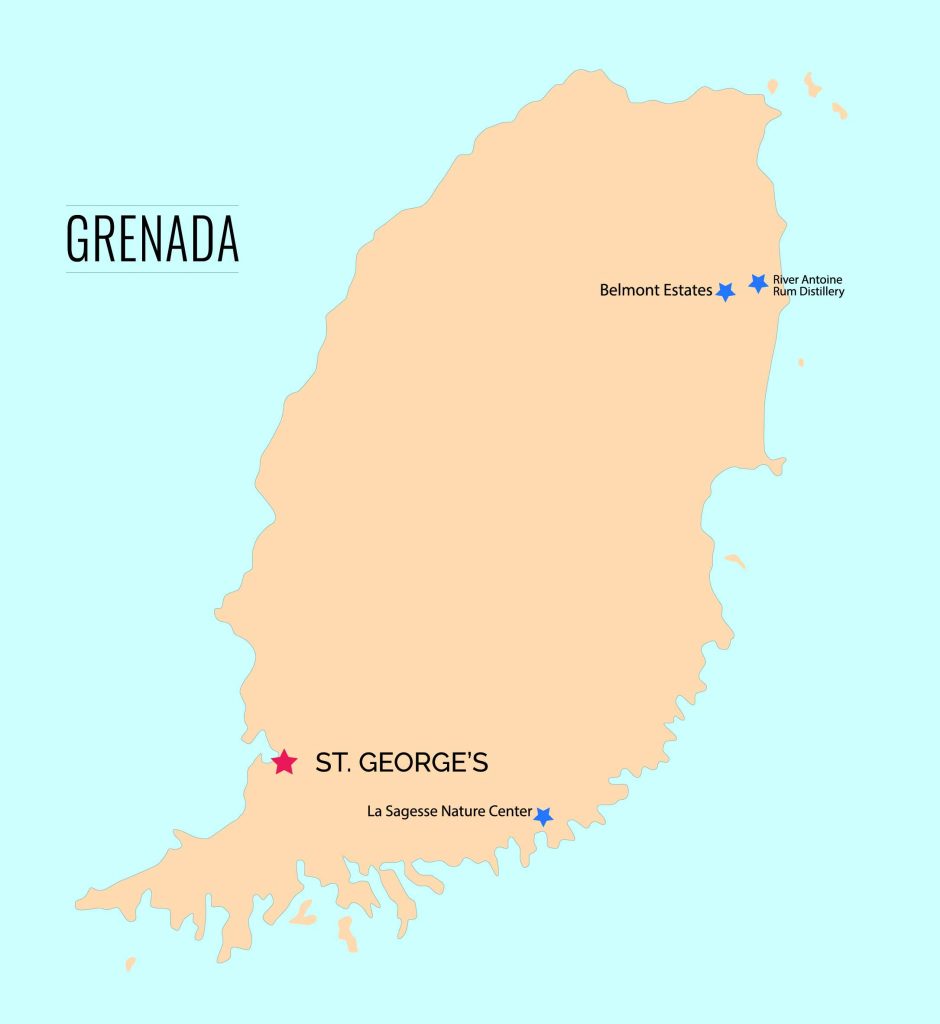 What Can You See Around Belmont Estate
On the other hand, if you'd rather stay sober, go to La Sagesse Nature Center, 50 minutes south from Belmont, where you'll get to see serene beaches and wildlife. One of the biggest attractions there is the birds that flock to the area. You can even stay there overnight since accommodations are available.
Continue your delicious journey by taking your chocolate and going to the River Antoine Rum Distillery. The tour is just as comprehensive as the one at Belmont. You'll get to see how the distillery works and to top off your tour, you'll be offered samples of some of the best rum in Grenada. 
Where to Stay near Belmont Estate
If you're looking for accommodation in the vicinity of the Belmont Estate, you'll be happy to know that there are a variety of places to stay nearby.  15 miles north is Atma Island Living. They have a restaurant and bar onsite and include continental breakfast with the room. A little further north( 30 miles) is Petite Anse Hotel, a true gem. This place has amazing reviews, really reasonable rates, and even offers an all-inclusive option.
Check prices for Atma Island Living.
Check prices for Petite Anse Hotel.
For a luxury stay head back toward St. George's (which isn't' that far, it a tiny island after all), try Silversands Grenada, which features some of the most exquisite rooms and facilities on the island. If you're traveling on a budget, but you'd still like to be close to the beach, you can stay at Radisson Grenada Beach Resort or True Blue Bay Boutique Resort. 
---
Happy Planning!