You've been to Jamaica, the Bahamas, and other Caribbean islands but what about Grenada? You may be wondering if it's worth visiting Grenada. I wondered the same thing so delved into research mode and discovered hundreds of reasons to visit Grenada. This article covers just the top 20 to get you started.
I've been to many of the popular, well-known touristy Caribbean countries such as Jamaica, the Dominican Republic, the Cayman Islands, the Bahamas, St. Martin, the US Virgin Islands, and the Mexican Caribbean but not to the ones further east and south. 
Grenada caught my attention because it has all the wonderful things the Caribbean has to offer all in one tiny little island including amazing geography to explore (ocean, sea, beaches, mountains, rainforests, waterfalls, lakes, and rivers), warm & friendly local people to meet, rich history to learn, unique food and drink to consume, surrounding islands to hop to, a variety of accommodations to please any traveler, and so much more. 
Where is Grenada Located, anyway?
Before we get into the reasons why Grenada is worth visiting, I thought you might like to know where it's located. I know I would!
Grenada is located in the eastern Caribbean and as far south as the Caribbeans go – aside from the ABC islands (Aruba, Bonaire, and Curacao). If you're like me, you need some reference points and a visual.  If you were flying to Grenada, it's about 1529 miles from Miami and only 515 miles from Venezuela.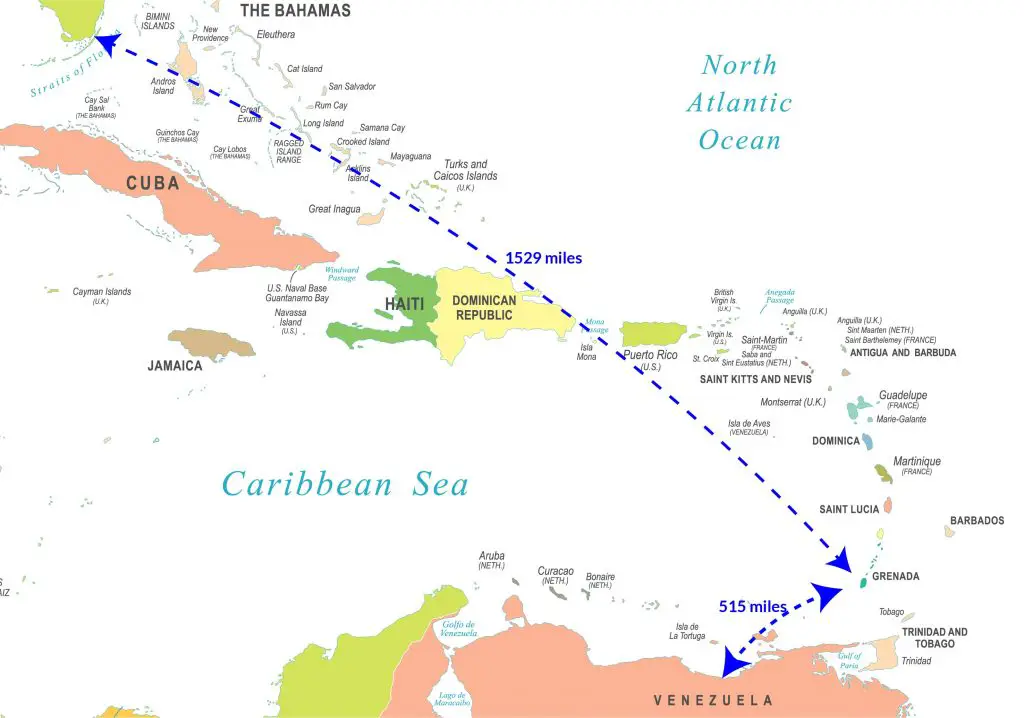 For details about Grenada's location, check out my article Where is Grenada Located?
Grenada is actually comprised of more than 20 islands with the main island of Grenada being the largest followed by Carriacou and Petite Martinique. Compared to other Caribbean nations, it's tiny with a mere 130 square miles and less than 115,000 calling Grenada home. 
Check out my articles describing all the tiny islands of Grenada Number of Islands in Grenada including the Tiny Ones. You'll be amazed!
---
If you're ready for a fresh destination, let's dig into the 20 reasons why I think Grenada is worth visiting. 
Beaches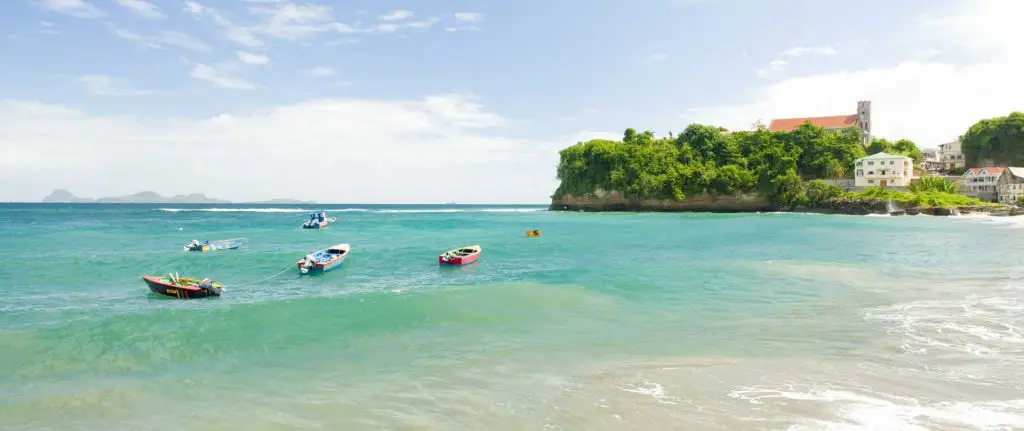 When someone mentions the Caribbean, where does your mind go? To beaches of course! Grenada does not disappoint in the beaches department. All of the beaches are public. Even if a resort seems to consume the length of a particular beach it's required to allow the public access to it.
With 45 beaches along Grenada's shorelines, you're sure to find one that suits (pun intended) you. Below I've listed a few of the more popular ones and a description of each.
Bathway Beach
Grand Anse  Beach
La Sagesse Beach
Levera Beach
Magazine Beach
Morne Rouge  Beach
Paradise Beach
Petite Anse Beach
Pink Gin Beach
Sauteurs Beach
Bathway Beach
Located on the northeastern side of the island Bathway beach is somewhat hidden but still easily accessible. It hosts a quiet bay area suitable for small children but in general, the waters can be a bit rough, especially during the winter when the winds kick up. On the weekends, locals like to spend time at Bathway Beach but during the week it becomes virtually deserted so you can enjoy it almost by yourself.  It's especially appealing to those that enjoy a bit more solitude without the hustle and bustle of restaurants and bars like the other beaches.
Grand Anse Beach
Grand Anse Beach is the main island's most popular beach with serene and calm conditions all the time and soft white sand that stretches for 2 miles. This beach is also one that many travelers identify as the most beautiful one in Grenada. The beach is located on the southwestern side of the island, where most of the hotels and resorts are located rendering an active and busy vibe. Beachside bars and restaurants can be found along Grand Anse.
La Sagesse Beach
La Sagesse Beach is a calm and shallow cove located on the southeastern part of the island. It's a very quiet area but you can still enjoy food and drinks at the nearby La Sagesse Nature Centre. Rumor has it that if you venture along a path by the southern tip you'll find a more remote beach.
Levera Beach
Beautiful semi-private beach on the northern side of the island with a full view of Sugar Island. Renting a 4×4 vehicle is recommended to cross the rough terrain that leads you to this beach.  From the shore, you can spot nearby Sandy Island and Green Island. Levera Beach is where many of the turtles come to nest and hatch their eggs between March and July.
Magazine Beach
Magazine Beach is also located on the southwestern side of Grenada, north of Pink Gin and south of Morne Rouge. Check this one out if you like a quieter environment yet are still close to the action.
Morne Rouge Beach
Morne Rouge Beach also has very calm conditions as it's contained within a bay on the southwestern side of the island, south of Grand Anse Beach. Families with children like to spend time on this beach because of its tranquil nature. This beach also has an array of bars and restaurants to enjoy.
Paradise Beach
Located on the west shoreline of Carriacou, Paradise Beach is Carriacou's most popular beach and is appropriately named. Travelers that have ventured onto the beach describe it as a breathtaking paradise with calm turquoise-blue water and soft white sand.  If you're looking for a local vibe with restaurants and beachside bars on a not-so-crowded beach, Paradise is for you. If you want to head over to the beach you can easily take a water taxi from Grenada.  
Petite Anse Beach
Petite Anse Beach is situated on the north side of Grenada. It's a palm-lined beach that is a sight to behold, but travelers have reported it not an ideal location for swimming as it's often windy and the waves can be choppy.
Pink Gin Beach
Sandals Resort is located on Pink Gin Beach on the Southwest coast of the main island of Grenada. Pink Gin Beach has soft white sand and crystal blue calm water from the breakwater that surrounds the beach. The gentle waves are ideal for water activities.  
Sauteurs Beach
Not as popular as the others but just as gorgeous. Check it out for a more private experience. Also located on the northern side of the island but has easier access than Levera Beach (no 4×4 required).
Biking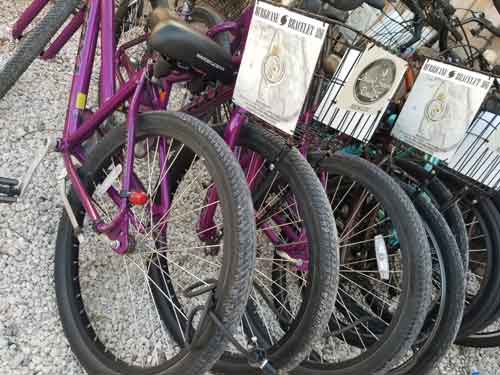 For bicycling enthusiasts, pedaling around the island can be a great way to explore. Imagine taking in Grenada's amazing geography and nature at your leisure – while working off all those Rum Runners you've been enjoying on the beach.
The main city roads are rough, there isn't a shoulder and traffic can get busy so many recommend you avoid them. 
Outside the main city areas (i.e. St. Georges) you can bike on the roads and paths along the coasts. Obtaining a bike route map or joining a tour is recommended so you don't get lost, are able to maximize your time while on the bike, and see the key locations. 
Several businesses on the island rent mountain bikes for exploring and offer tours. If you check with your hotel you may find they rent bikes as well.
Bicycling around Carriacou is a popular activity as well. The tiny island offers similar geography as the main island of Grenada but is significantly less traveled so biking on the city roads becomes a less harrowing proposition. 
Birdwatching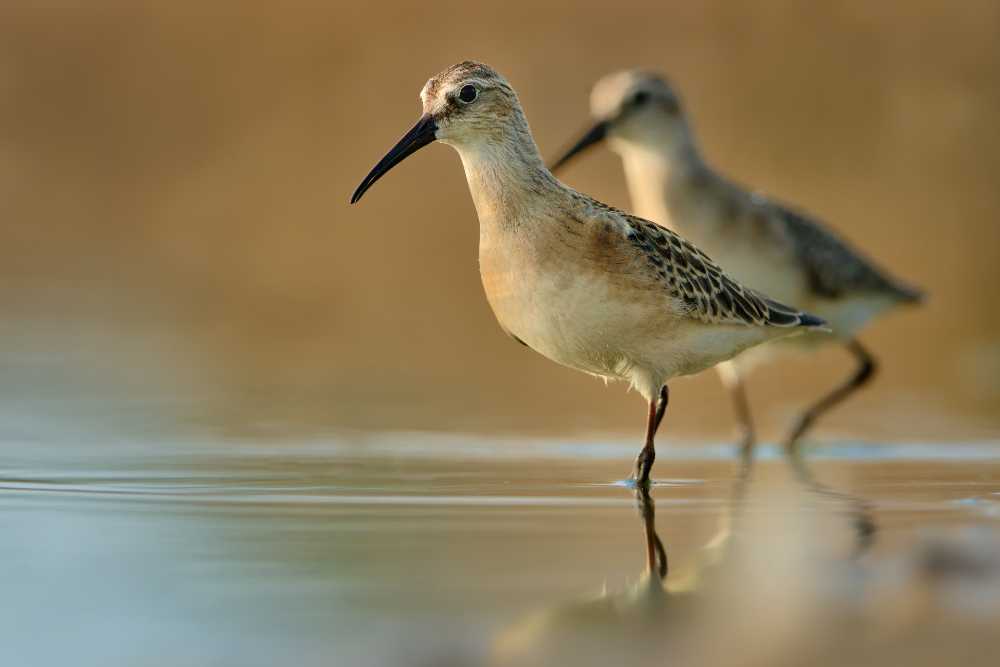 Grenada is a hidden gem when it comes to bird watching. All three main islands – Grenada, Carriacou, and Petite Martinique, offer 182 bird species to observe. 
Many of the birds you may encounter are also rare species as well as a few endangered ones. According to Avibase – The World Database, below are the vulnerable, near-threatened, and endangered birds you could observe in Grenada:

| | |
| --- | --- |
| Common Name | Scientific Name |
| Grenada Dove (Endangered) | Leptotila Wellsi |
| Black Swift | Cypseloides niger |
| Eskimo Curlew (Endangered) | Numenius borealis |
| West Indian Whistling Duck | Dendrocygna arborea |
| Red Knot | Calidris canutus |
| Curlew Sandpiper | Calidris ferruginea |
| Buff-breasted Sandpiper | Calidris subruficollis |
| Semipalmated Sandpiper | Calidris pusilla |
| Blackpoll Warbler | Setophaga striata |
And wouldn't it be a thrill to see a species that is endemic to Grenada? There are 3 including:
Grenada Dove (Leptotila wellsi)
Grenada Flycatcher (Myarchus nugator)
Lesser Antillean Tanager (Tangara cucullata)
Serious bird watchers will have the following places on their travel itinerary while visiting Grenada:  
A few island tour operators offer birdwatching expeditions including Tropical Adventures.
Before you go, be sure to pick up one of our recommended bird-watching books specifically for the Caribbean / West Indies region. You can check them out here. 
Climate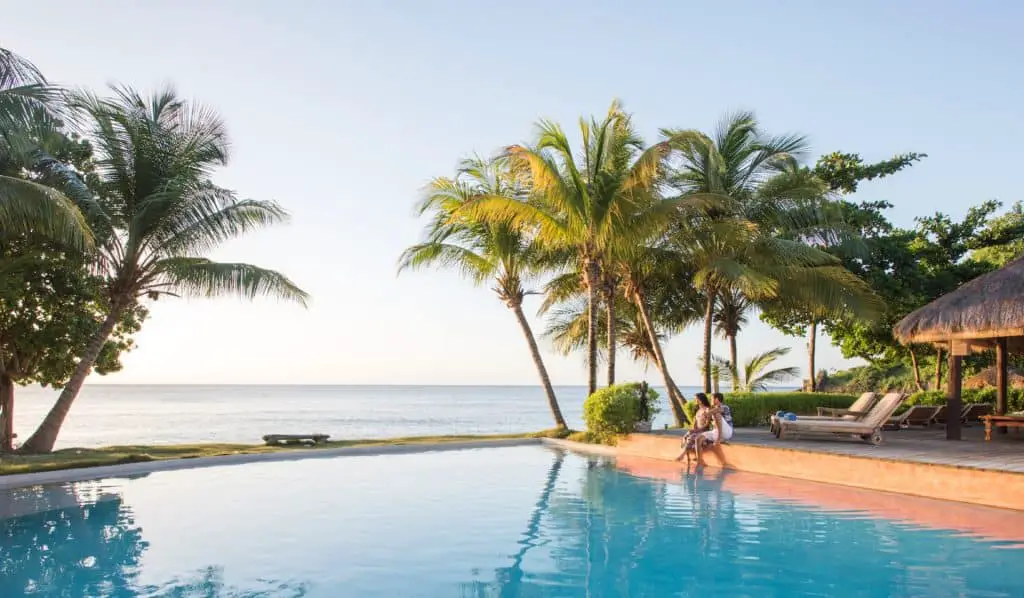 Grenada is one of the southernmost islands in the Caribbean so enjoys ideal temperatures year-round. In fact, the average year-round temperature is 81 – even in January when some of the northern Caribbean islands are still in the 70s (e.g. the Bahamas, Cuba, Mexican Caribbean).
The northeast trade winds add to the comfort of the climate, especially when the humidity begins to rise in the summertime.  
It's the Caribbean, so of course, sunshine is abundant – more in the dry season (8 hours a day) and only 1 hour less in the rainy season.
Unlike the northern more popular islands like the Bahamas, Jamaica, the Dominican Republic, Antigua, and more, Grenada see significantly fewer hurricanes. Based on the National Hurricane Center's historical data, Grenada is only likely to encounter a hurricane during two of the six months that comprise the hurricane season (June – November).  Those months are August and September.
In the past 100 years, Grenada has experienced three major hurricane hits. Compare that with other Caribbean islands (see the table that follows) and it becomes evident Grenada is safer from hurricanes than most of the other islands.  Hurricanes got your attention? You may be interested in my article Do Hurricanes Hit Grenada + What You Must Know Before Going?
Note: For the larger islands I selected just an area instead of the entire island so the comparison is more equitable (i.e. one could argue the larger islands have been hit more because they have more surface area). 
Hurricane Hits in the past 100 years
| | |
| --- | --- |
| Caribbean Island | Hurricane Hits |
| Aruba/Curacao/Bonaire | 2 |
| Grenada | 4 |
| Barbados | 4 |
| Negril, Jamaica | 7 |
| Santo Domingo, Dominican Republic | 8 |
| Puerto Rico | 9 |
| St. Thomas USVI | 11 |
| Cayman Islands | 16 |
| Turks & Caicos | 16 |
| St. Martin | 16 |
| Grand Bahama, Bahamas | 22 |
From a weather safety standpoint, Grenada is ideal for a getaway during the hurricane season – especially if exploring waterfalls is on your list since they are flowing at their peak during this time. 
Hiking
Grenada and its sister islands of the Lesser Antilles formed millions of years ago as a result of underwater volcano eruptions. When an oceanic volcanic erupts it builds up lava and ash eventually results in the formation of an island diverse in geography with mountains, waterfalls, valleys, rainforests, rivers, lakes and coastlines. A hiker's dream.
Characteristics of islands formed by volcanoes are mountainous regions, valleys, and lakes of craters. 
For a relatively tiny island, Grenada has an impressive 22 mountains ranging in height from 680 feet (Mount D'Or) to 2,755 feet (Mount Saint Catherine). 
The warm, sunny climate and rich volcanic soil create the perfect environment for forests, foliage and flowers to grow.  And the rainy season provides for the island's lush rainforest.
Hiking and nature lovers are able to explore the island in pure, natural and beautiful surroundings. 
If you're up for the challenge, Grenada offers you mountain and river hikes to enjoy a birdseye view of the island or the top of a rushing waterfall. (More on waterfalls later – it deserves a section of its own!).
If a level saunter is more your speed, the island offers coastal or lake walks or even a jaunt through the village.
A dozen or so tour operators are on hand to guide you through the island should you decide to go. 
History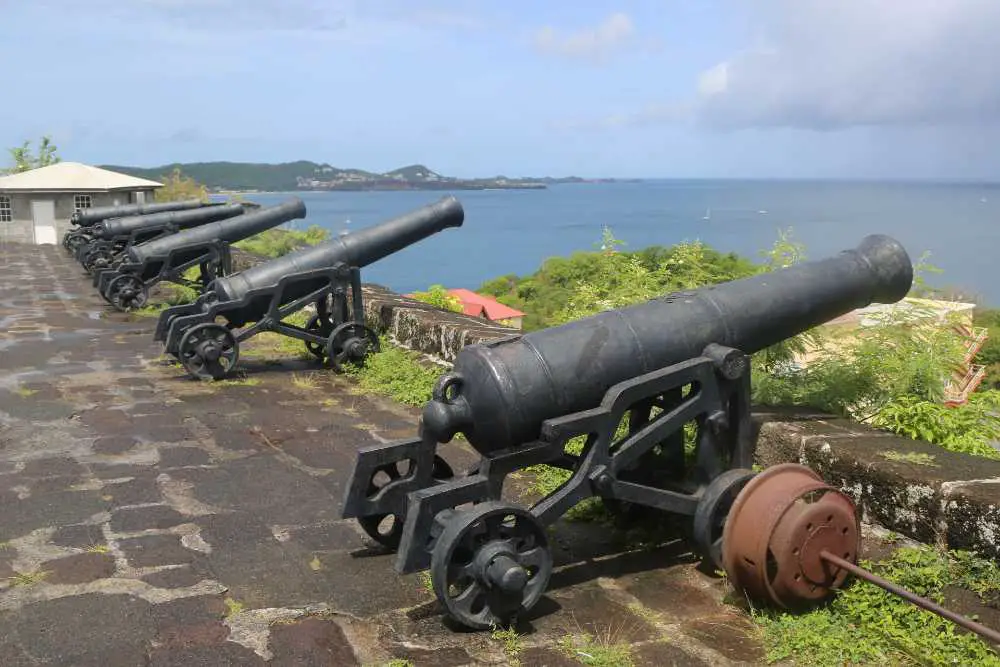 Prior to the 14th century, groups of indigenous people inhabited the island of Grenada. They are referred to by many names including Arawaks, Caribs, Siboney, and Kalinago. The latter was what they called themselves so I will too. 
As history marched on, the French and British battled it out to gain control of Grenada. The French succeeded in that fight and quickly turned its sights on the Kalinago launching attacks on them until they were eventually exterminated. 
But the Kalinago fought hard and fierce never succeeding to the French – to the point where they literally jumped off a cliff edge to their deaths rather than surrender. This location was named "Le Morne des Sauteurs" by the French, which translates to Leaper's Hill. 
Today, Leaper's Hill is a popular historical spot for locals and tourists to visit. 
Until Grenada achieved independence in1974, the citizens have been under Spanish, French, and British rule.  Today, Grenada is an independent nation with a constitutional monarchy, meaning a Prime Minister is local and reports up to the head of state – currently Queen Elizabeth II. 
In 1983, at the request of the Organisation of Eastern Caribbean States (OECS), the US invaded Grenada to help settle the unrest created by a militant group that killed 16 people, including Maurice Bishop, a popular revolutionary that was in power at the time.
OK, super over-generalization of the nation's history and a ton of inadvertent omissions. The truth is, I'm not a historical expert but I do love to take in the history of the islands I visit. Hopefully, you get my point which is Grenada has much to offer the history buffs. 
Grenada has had a long and interesting history. Many important events occurred over the years. Today Grenadians and tourists can explore destinations and artifacts that have been preserved to ensure the history is never forgotten.
Areas of particular interest include:
Amerindian petroglyphs at Mt Rich and Duquesne
The Belmont Estate
The River Antoine Rum Distillery
Grenada National Museum
Carriacou Museum
Fort George
Richmond Hill
Fort Frederick
The Douglaston Estate
Westerhall Estate & Rum Distillery
River Antoine Rum Distillery
Leaper's Hill
Island Hopping
Traveling to a Caribbean island is an amazing experience. If you've ever visited one or more nearby islands on your trip you've exponentially enhanced your experience. 
Caribbean islands have many similarities – loads of sunshine and beaches – but they also have unique attributes as well including the culture, history, geography, reefs, other underwater gems and much, much more! This is why island hopping has become so popular. 
Island Hopping: Travel from one island to another, especially as a tourist in an area of small islands.

Oxford Dictionary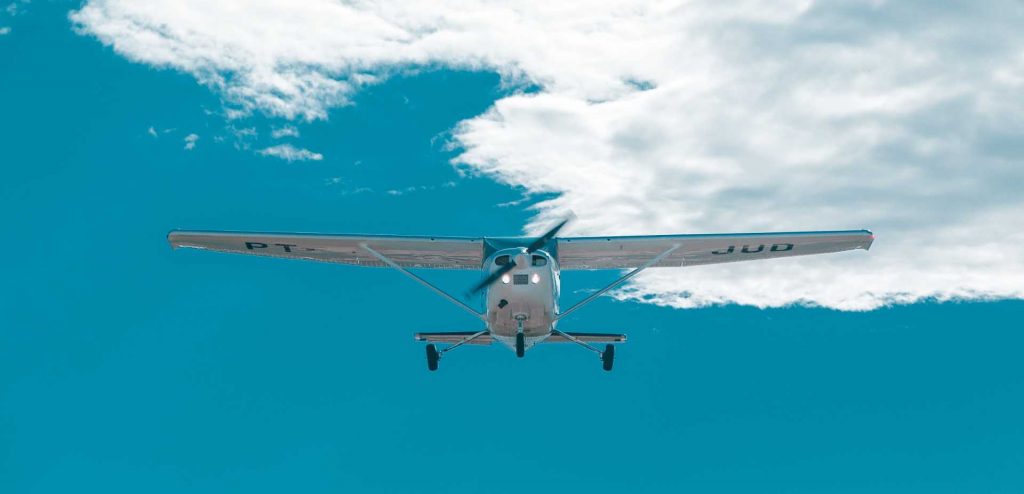 Grenada is an ideal location to island-hop from or to because it's a small island surrounded by more small islands. In fact, the nation of Grenada is comprised of 20 islands in total. Three larger islands – Grenada, Carriacou, and Petite Martinique –  and 17 smaller islands.
Most of the smaller islands are uninhabited but offer breathtaking scenery and beaches of your dreams. Below is a list of the smaller islands around the main island – Grenada:
Diamond Island 
Ronde Island 
Caille Island (aka Ile de Caille) 
Frigate Island 
Large Island 
Green Island 
Sugar Island 
Sandy Island 
Hog Island – Learn how easy it is to get to Hog Island in my article Why Grenadas's Hog Island is Hog Heaven and How to Get There
Calivigny Island 
Marquis Island 
Saline Island 
Glover Island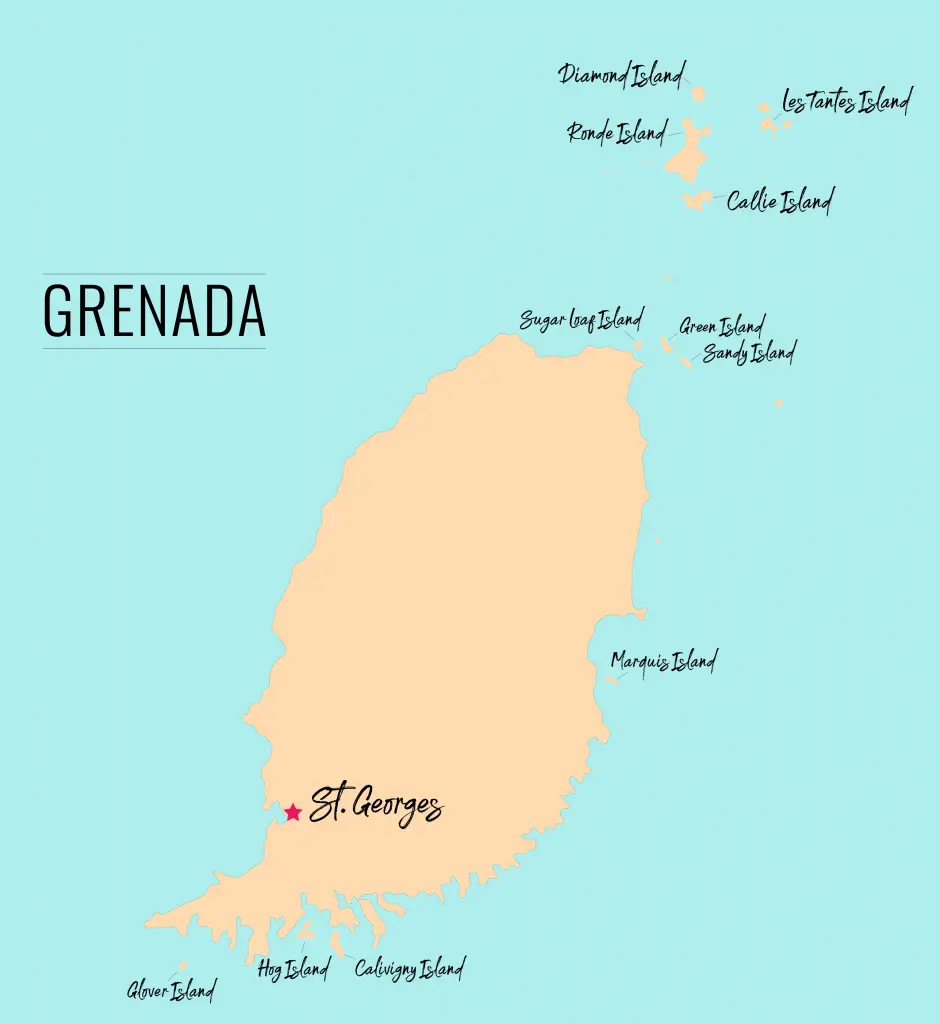 And more islands around Carriacou and Petit Martinique:
Jack-A-Dan Island
Sandy Island
Mabouya Island
Fota Island
Petit Dominique Island
Mushroom Island
White Island
Saline Island
Frigate Island
Large Island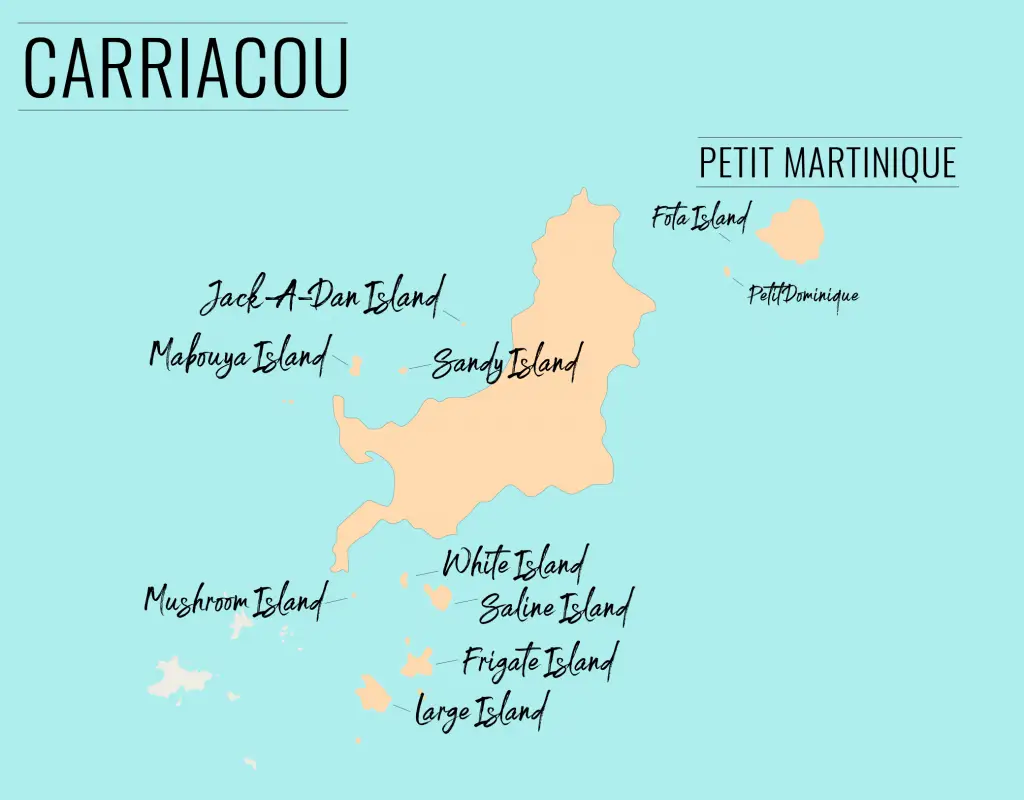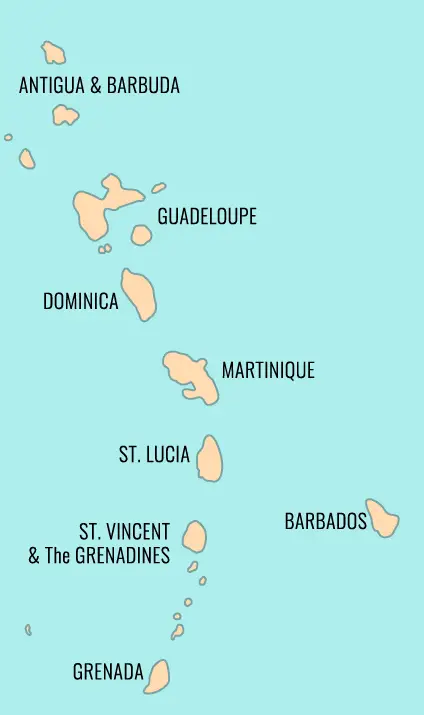 Between ferry shuttles services and local Caribbean airlines, getting from one island nation to another is becoming easier and easier. It's even possible to charter your own flights.
The islands surrounding the country are also high on travelers' bucket lists and many are accessible from Grenada either directly or with a quick stop on Barbados.  Here are a few to get you started:
Music & Dance 
Grenada has a rich and diverse history which it expresses in many forms including their music and dance. Its traditional music and dance is a culmination of historical influences from West Africa, Spanish, French and British cultures as well as more modern influences from neighboring islands. 
According to the Grenada Cultural Foundation, "popular music of Grenada are calypso music, soca music and to a lesser extent Reggae and Dancehall. Soca produced in Grenada has a distinct style taking on the name of 'jab jab' soca".
Carriacou is known for its Big Drum Afro-Caribbean song-style. The goatskin drum is central to their traditional music and as you might imagine, mimics the rhythm of an Africa tribe.
Carriacou and to a lesser extent, the main island of Grenada, hold annual music festivals where history and freedom are celebrated through music and dance.
Maroon & String Bank Music Festival has its roots in Africa & Scotland, is celebrated on Carriacou, and includes the Big Drum Dance.
Pure Grenada Music Festival is a 3-day festival taking place in May each year held near the Port Louis Marina.
Shortly we'll discuss the big festivals – Grenada Spice Mas' and Carriacou Carnival.
National Parks
Nature lovers are in for a treat when visiting Grenada. The country is serious about conserving and preserving the natural beauty of its islands by implementing policies that protect and conserve resources for their national parks, forest reserves, and seascapes. 
As a result, local citizens and tourists have a variety of ways to enjoy the natural beauty of Grenada. You can visit the national parks every day and there's no charge – except Grand Etang which charges a few dollars. Hike your way through the forests, rainforests, up the mountains, and through the countryside. 
Stop to swim in the waterfalls, enjoy the birds-eye views, marvel at the wildlife, or just hike around to work off all those rum runners you've been having on the beach!
| | |
| --- | --- |
| Name | Location |
| Grand Etang National Park | Grenada |
| Mount Saint Catherine National Park | Grenada |
| Levers Archipelago National Park | Grenada |
| Mount Hartman National Park | Grenada |
| High North National Park  | Carriacou |
| Belair National Park | Carriacou |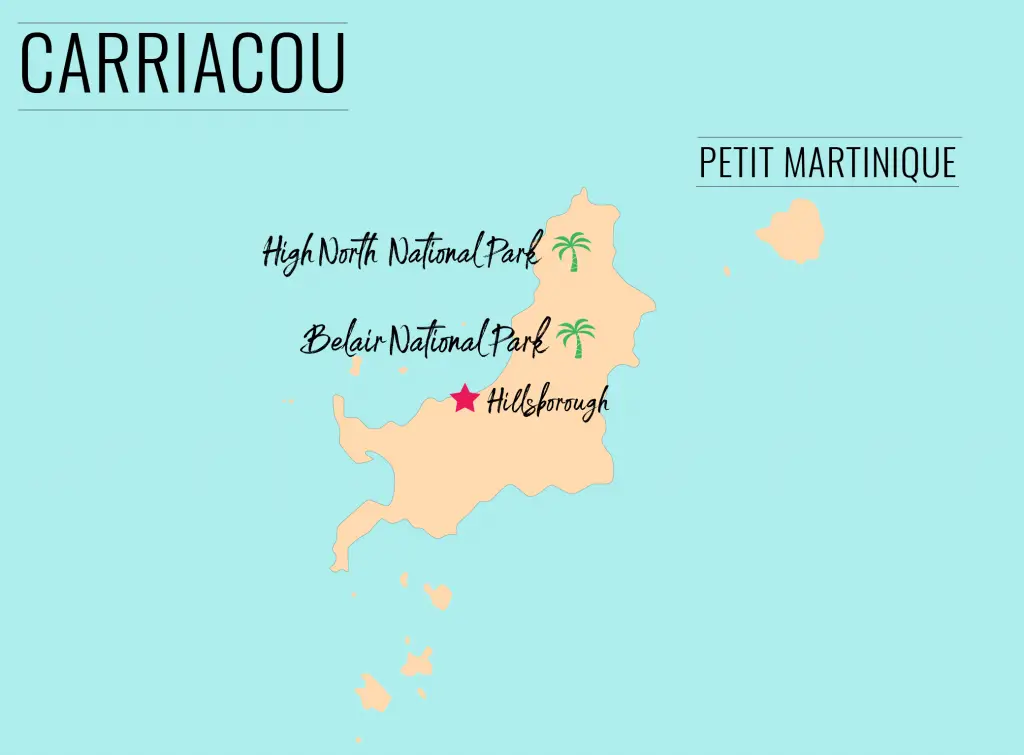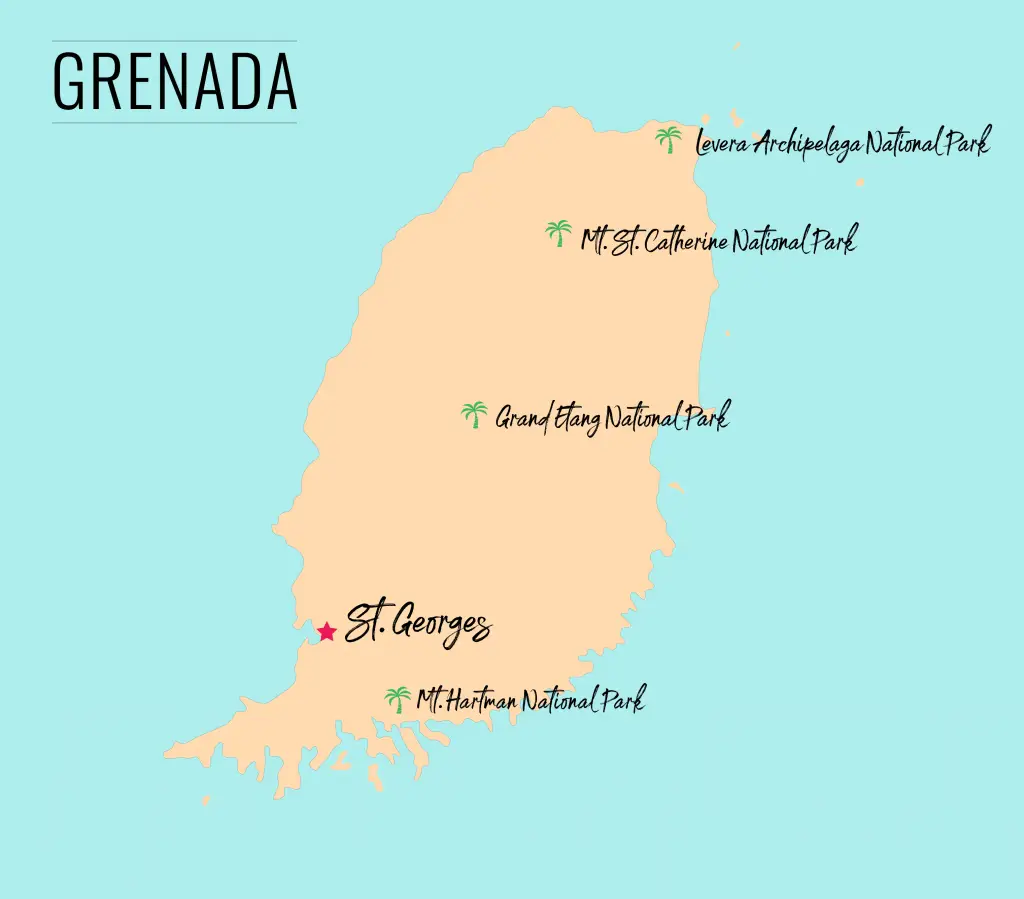 Off the Beaten Path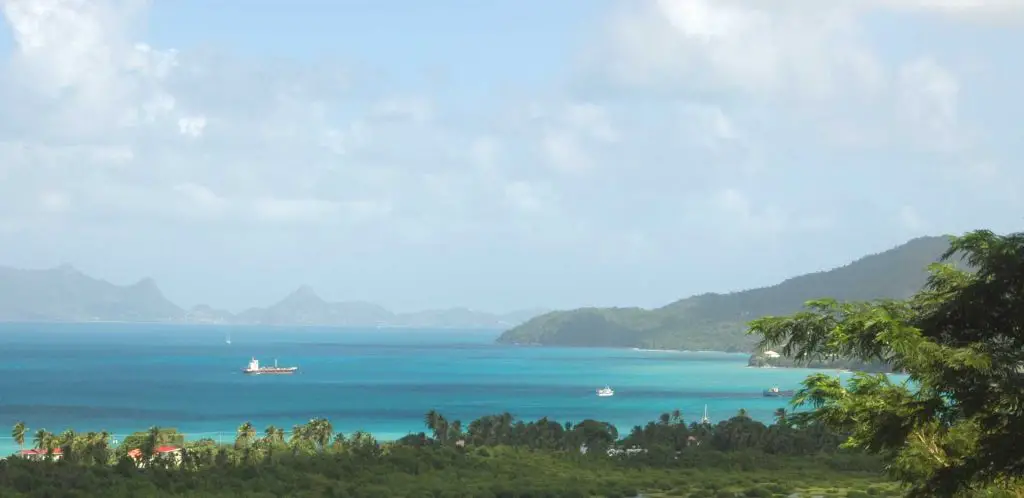 If you've traveled all over the Caribbean like me, you may be looking for something new and different. Grenada offers that and more. 
Be honest, does another trip to Jamaica, the Bahamas or the Dominican Republic really fill you with wonderment and excitement about what you may experience? Probably not if you've been there already. Don't get me wrong, toes in the soft, white sand looking out over the turquoise waters is always a thrill (and where I prefer to be) but wouldn't you like to experience somewhere new, different and off the beaten path?
Off the Beaten Path:  somewhere that is out of the way or out of a central, popular or touristy area.

Your Dictionary
In 2018 over ½ million people visited Grenada so it's not exactly an unknown destination. At the same time, it's not Jamaica which welcomed almost 6x as many people as Grenada. In fact, more and more travelers are discovering the wonders that Grenada offers. 
With all of the things to do on the island, there's something that will please everyone in your travel group.
Grenadians – The People
Friendly, inviting, charming, positive, and helpful. Those are the words most used to describe the people of Grenada. Perhaps it's their laid back lifestyle or the awareness that tourism helps to drive their economy. Either way, who wouldn't want to vacation around local people that appreciate you and welcome you as their guest?
River Tubing
For the adventurous, or just difficult to please travel companions (teenagers anyone?) Grenada has several tour operators that offer the thrill of tubing down the Balthazar River, also known as Grenada's Great River.   
If it's a particularly hot or humid day, beat the heat and experience the interior of the island meandering down the Balthazar River. Take in the tropical vegetation and wildlife as you head down (or splash down, depending on the time of year) the river until you reach the part of the river that empties into the Atlantic Ocean – the Great River Bay 
Rum Distilleries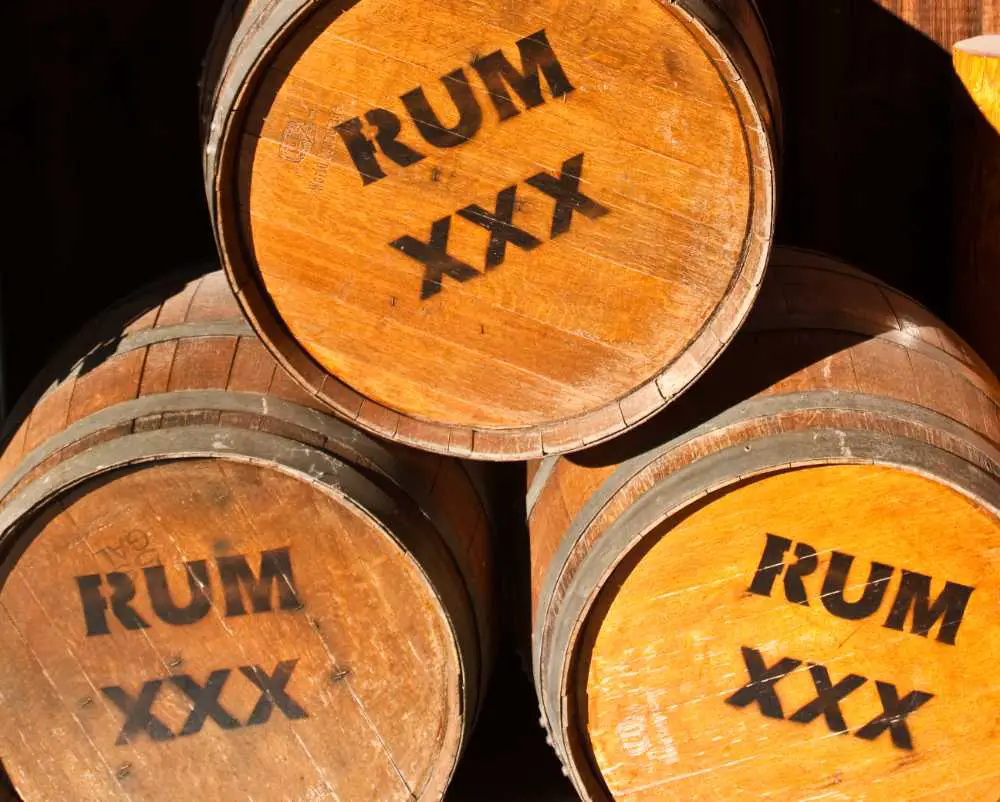 Island nations throughout the Caribbean are known for a long tradition of rum making. With Grenada's excellent conditions for growing the popular drink's primary ingredient, sugar cane, it too has been in the rum-making business for a long time. 
One of the most popular rum distilleries on the island, River Antoine Rum, still makes its white rum using the same methods it did in 1785 when it first opened its doors. The 26' tall water wheel is still powered by water channeled by the river and is ultimately used to power the equipment that crushes the sugar cane to extract the cane juice. 
Visitors have said you'd think you stepped back in time when touring the facility as not much has changed – the equipment, methods, and building remain much the same.  
With a minimum alcohol volume of a whopping 75% (150 proof) you can't take this particular strength home with you – it far exceeds TSA's limits.  
River Antoine isn't the only distillery making rum and offering tours on the island, there are two others – Clarke's Court Estate and Westerhall Rum Distillery. 
Sailing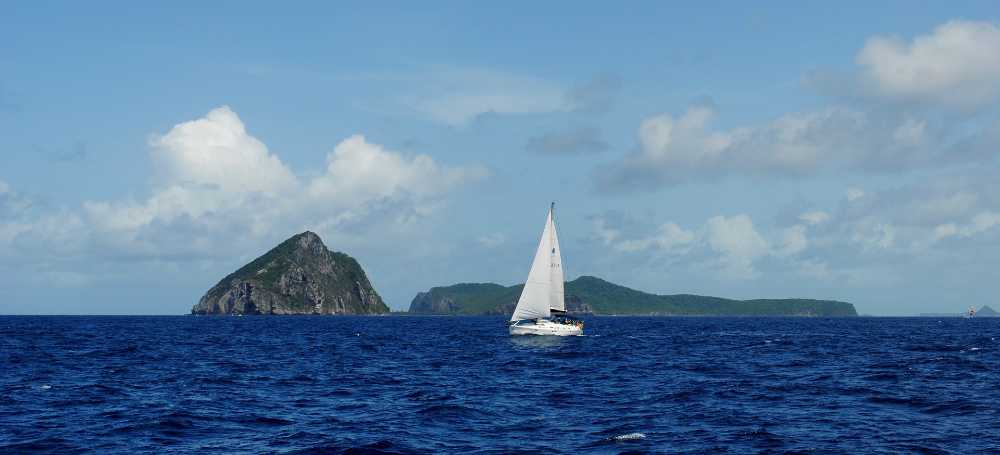 The islands of Carriacou and Petite Martinique have a rich history in boat building.  Perhaps that's why Grenada has always been a friend to sailors. Sheltered bays and marinas are available for those traveling to Grenada on their own boat
There's no shortage of marinas on Grenada including the following world-class marinas:
Port Louis
Le Phare Bleu Marina
Prickly Bay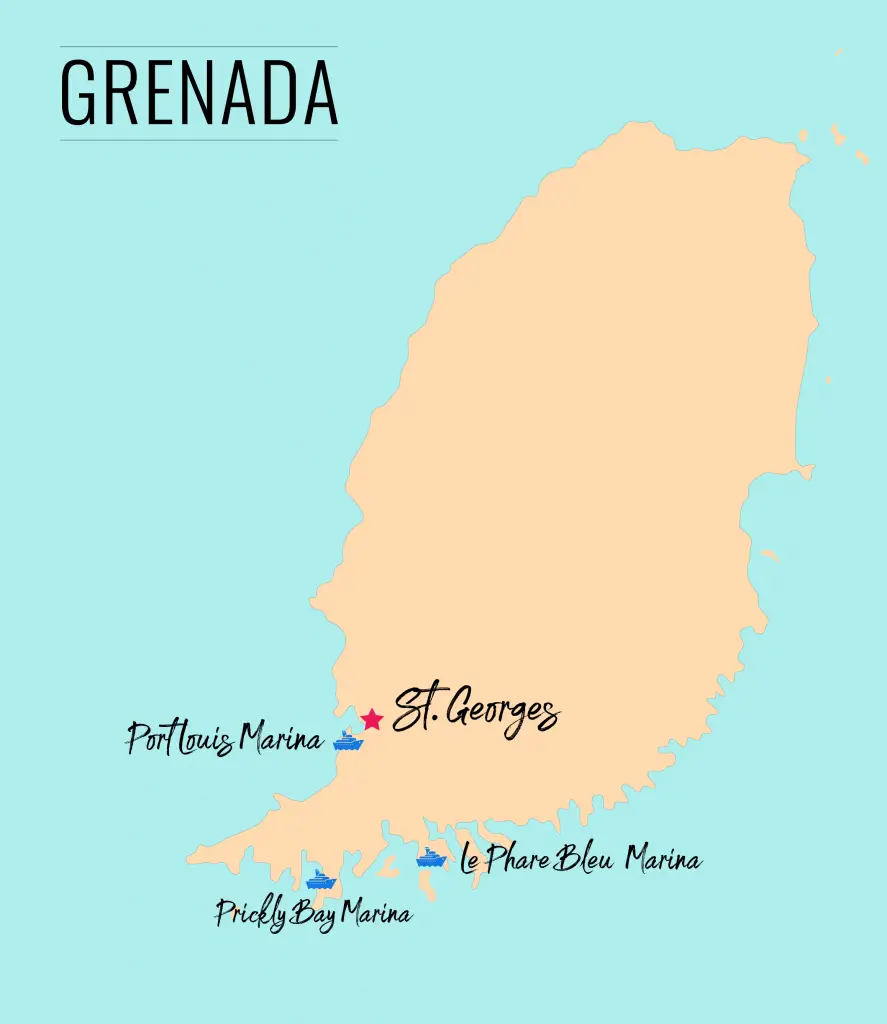 If you didn't arrive on a boat, maybe you're interested in taking in the Grenada coast, bays or one of the tiny islands (e.g. Sandy, Hog or Calivigny). No worries. You'll have your pick of excursion operators and types of boat from the catamaran, trimaran, traditional wooden sloop, and even a wooden schooner.  
Grenada takes its sailing seriously. Check out these annual events that the locals share with the people they attract worldwide. 
Grenada Sailing Week is a 5-day regatta hosted by Grenada at the end of January / early February each year. Sailing enthusiasts from all over the world come for this festival which includes yacht racing, live music, food & drinks, a workboat regatta, a swimming gala, and kayak racing. Hey, visiting Grenada in February? Check out the other cool things going on – February Festivals and Events in Grenada.
Carriacou Regatta Festival is another popular event held each year in the middle of summer ( (End of July / Beginning of August). In fact, it's the largest festival of its kind int he region. For 5-7 days there are races for a variety of classes including yacht, sloop, long open boat and traditional workboats.  It's a big party with races during the day and live entertainment, food, drink, dancing, and fireworks in the evening.
Some less traditional activities to be enjoyed include donkey-racing, walking the greasy-pole, bicycle-races, and drinking competitions.
Scuba Diving & Snorkeling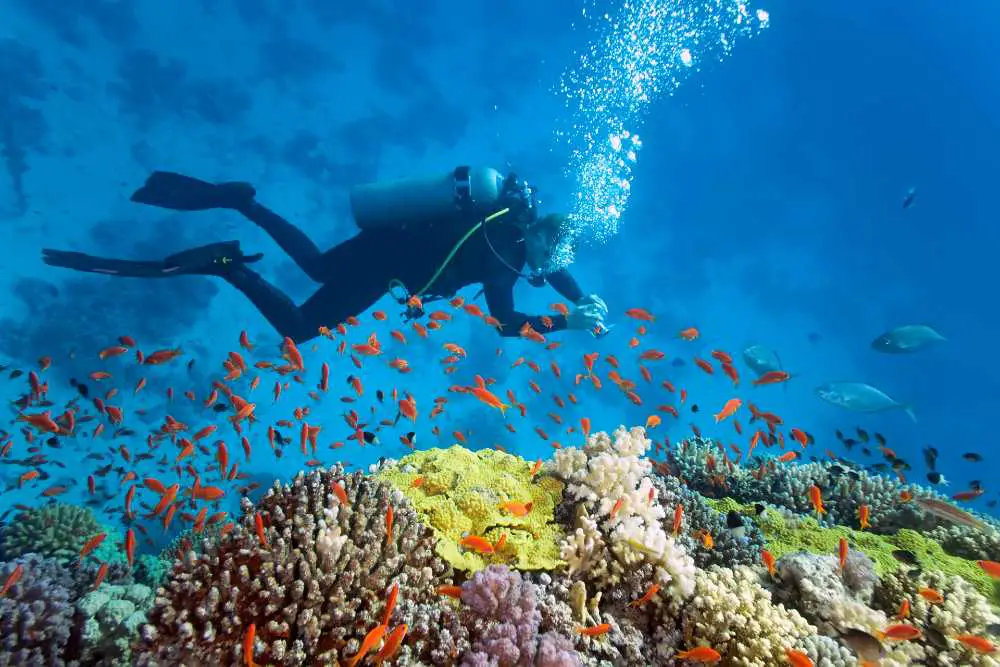 Did you know Grenada is known as the Wreck Dive Capital of the Eastern Caribbean? Grenada also offers scuba divers a ton of ways to explore with over 30 sites of amazing reefs, reef walls, shipwrecks, and of course the popular Underwater Sculpture Park. 
Probably the most popular shipwreck attraction in Grenada is the Bianca C, often referred to as the Titanic of the Caribbean". This 600-foot passenger cruise liner actually sunk twice – once while in France before it was completed and the second and last time after it burned due to an explosion just outside Grenada.  Today it sits outside the main island of Grenada, a gem for scuba enthusiasts to enjoy.
Grenada is also host to the first Underwater Sculpture Park, an extremely popular underwater attraction. It was constructed in 2006 by the British sculptor Jason deCaires Taylor and is comprised of 75 amazing sculptures made of concrete and steel that are about 9-16 feet underwater. Some are just six feet below the surface making it easy for snorkelers to enjoy. 
Below is a list of the 20 most popular dive sites in Grenada.
| | | |
| --- | --- | --- |
| Name | Type | Location |
| Anse La Roche | Reef | Carriacou |
| Arc Du Vero | Reef | Carriacou |
| Bianca C  | Shipwreck | Grenada |
| Black Rocks | Reef | Carriacou |
| Boris Wreck | Shipwreck | Carriacou |
| Boss Reef | Reef | Grenada |
| Buccaneer  | Shipwreck | Grenada |
| Cistern Point | Reef Wall | Carriacou |
| Dragon Bay | Reef | Grenada |
| Fiona | Shipwreck | Grenada |
| Fisherman's Paradise | Reef | Grenada |
| Flamingo Bay | Reef | Grenada |
| Grand Mal Reef | Reef | Grenada |
| King Mitch | Shipwreck | Grenada |
| MV Persia II | Shipwreck | Grenada |
| Rose | Shipwreck | Carriacou |
| Sharkdorm | Reef | Carriacou |
| Tropical Hill | Reef | Carriacou |
| Westsider | Shipwreck | Carriacou |
| White Sand Beach | Reef | Carriacou |
| Underwater Sculpture Park | Sculpture | Grenada |
Snakes 
If you're a snake lover, bad news. The snake population on the island is few and far between. 
If you're a snake scaredy-cat, good news! The snake population on the island is few and far between AND none are venomous!
There are only 4 species of snakes living on the island, including the following: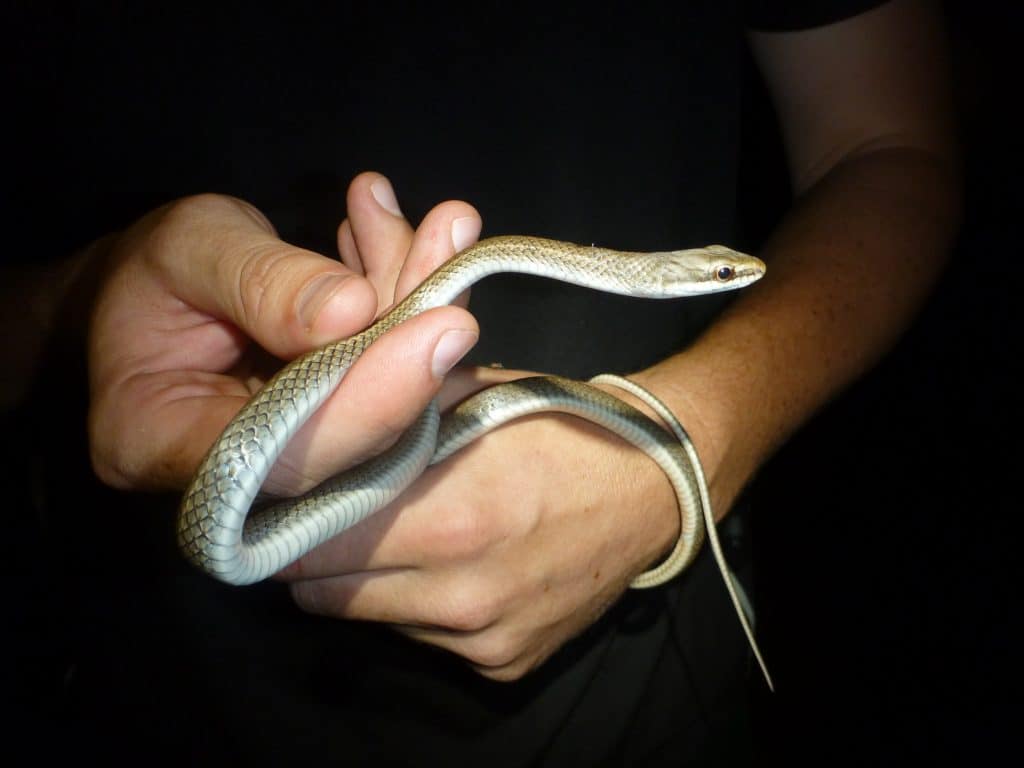 Grenada Bank tree boa
Cribo
Barbour's tropical racer 
Grenada Bank Blindsnake
Snake sightings are very rare. If your goal is to encounter one, hiking the mountains or rainforests is your best bet. 
Check out my article Are There Snakes on Grenada? to learn more.
Spice Mas (Carnival)
Just about every country in the Caribbean celebrates Carnival and are happy to share the giant party with visitors.
Never heard of Carnival? Historically, it was a giant party brought over by the Europeans and intended to celebrate the days leading up to Lent. When slavery ended, some islands expanded the festivities to also celebrate their newfound freedom.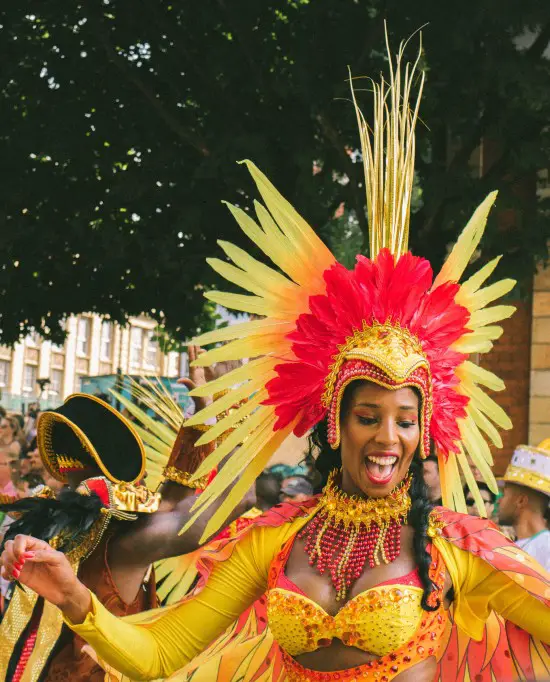 Carnival is a grand event that requires a year-long planning and many islands even sell tickets to events. The celebrations are pretty crazy often including elaborate masks & costumes, parades, pageants, dance competitions, and of course food, drinks and dancing.
Many Caribbean islands have adhered to the traditional sense of the celebration and hold their carnival in February right up until Ash Wednesday. Carriacou Carnival is held in February.  
Other islands have chosen to hold their Carnival during other times of the year including the main island of Grenada. Grenada typically holds their version of Carnival, called "Spice Mas", from the second weekend in July until the second Tuesday in August. 
Spice Mas includes many of the traditional Carnival activities like parades, elaborate masks & costumes, dance competitions, and pageants. Spice Mas includes some rather unique events such as Jab Jab where people dress up as devil-like characters by applying a mud/oil mixture to their face and body.
The history and evolution of Carnival are rather complicated. I won't attempt to go into any more detail but suffice it to say, if you're visiting Grenada during Spice Mas' or Carrriacou's Carnival, it's a must-see event. 
Spices & Cocoa
OK, if this list were not in alphabetical order, Spices & Cocoa would definitely be #1.
You go to Cuba for cigars, St. Thomas for jewelry, Jamaica for coffee, and Puerto Rico for rum, but what do you buy in Grenada?  Spices, of course!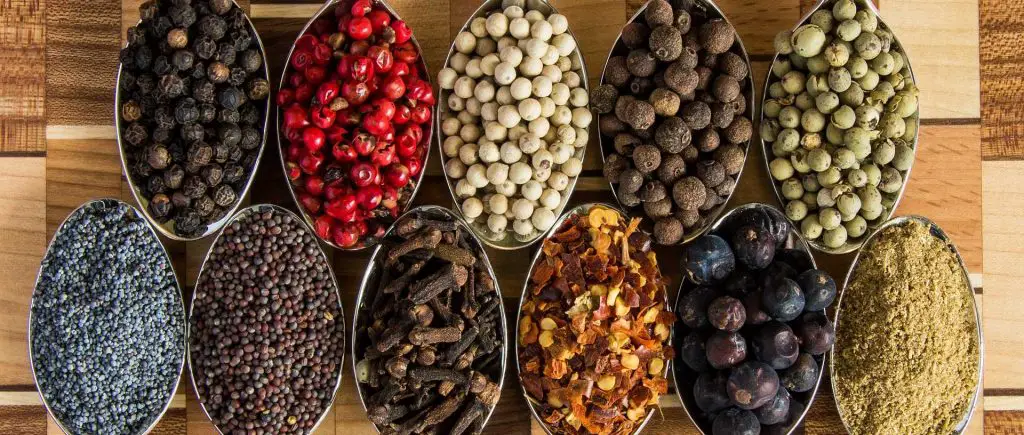 Grenada is known as The Spice Isle for its production of an array of spices including:
Nutmeg & Mace
Cloves
Allspice
Cinnamon
Bay Leaf
Ginger
Turmeric (Saffron)
Pepper
Grenada's famous exports aren't limited to spices. They're also experts in the production of these fine ingredients:
Wondering about the history behind "The Spice Isle"? Check out my article How Grenada Became Known as the Spice Isle.
Food products made from these organically grown spices are also available including jams, jellies, syrups, juices, and candy.  You can either purchase the spices while on one of the many foodie or spice plantation tours offered or visit one of the numerous shopping centers in Grenada. 
Turtle Watching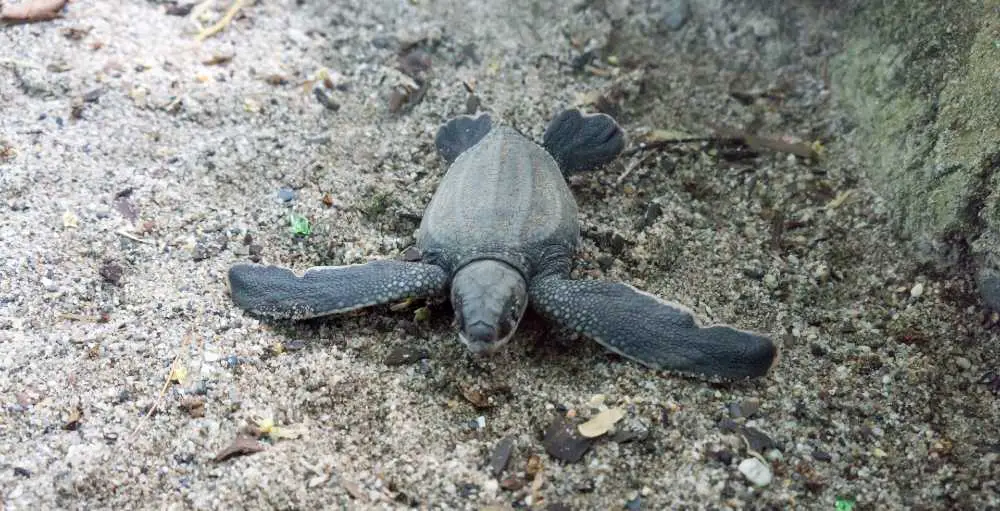 The Leatherback turtle, the largest living and critically endangered species of marine reptile, nests on the beaches of Grenada. 
The largest nesting population can be found on Levera Beach on the eastern shores of Grenada in St. Patrick's parish. Every April through July the turtles return to lay their eggs. Unfortunately, they've become endangered as only 1 in every 1000 hatchlings make it to adulthood due to human predators, pollution and climate change. 
St. Patrick's Environmental and Community Tourism (SPECTO) is a local conservation group whose mission is to protect and conserve the environment with a special focus on protecting the leatherback turtles. 
In an effort to educate as well as raise additional funds for the conservation efforts, SPECTO offers Leatherback Turtle Tours during the nesting season where you can witness the leatherback turtles coming to shore to lay their eggs. 
Learn more about SPECTO or schedule a tour. 
Waterfalls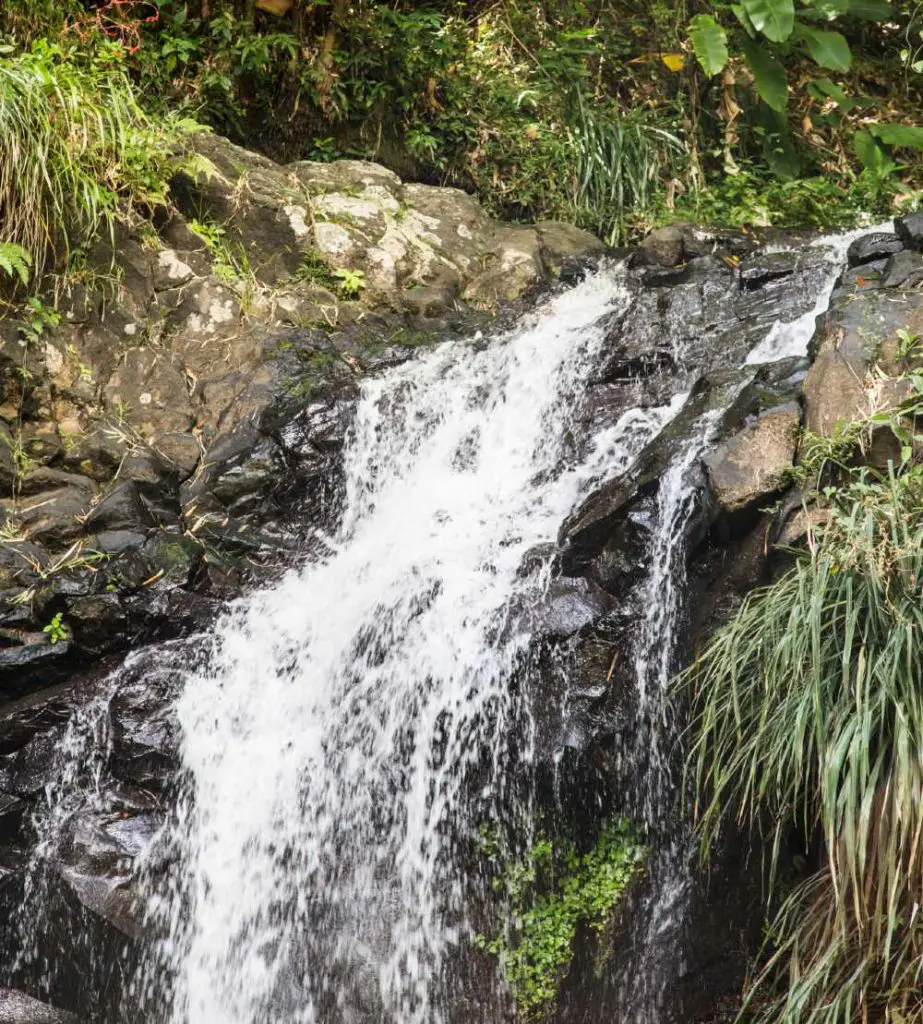 The mountainous, rainforest and river orientation of Grenada's geography allows it to be home to more than 18 amazing waterfalls including: 
Annandale Waterfall
Concord Waterfalls (includes 3 waterfalls)
Honeymoon Waterfall
Mount Carmel Waterfalls (includes 2 waterfalls)
Paraclete Waterfall (includes 2 waterfalls)
Seven Sisters Waterfalls (includes 7 waterfalls)
Tufton Hall Waterfall
Adelphi Waterfall
The best part is you don't have to be Joe Hiker to visit some of the falls. In fact, some are even wheelchair accessible.
If you are Joe Hiker, great news! The island offers numerous opportunities for a challenging hike. In fact, some are so challenging hiring a guide is highly recommended. 
My Complete Guide to Grenada's Waterfalls is a must-read if you're planning to check out the falls.
---
Grenada is a fresh Caribbean destination with something to offer everyone. I hope you realize it's more than worth visiting. This article is just the tip of the iceberg as there is so much more to see and do on Grenada. Hope to see you there soon!