Most Caribbean countries are a collection of several islands. What about Grenada? Is it a nation of one island, or more? How many islands exactly? Let's find out.
Grenada includes over 20 islands. There are three main islands – Grenada, Carriacou and Petit Martinique – and many more very small islands and cays surrounding the larger islands.
We hear a lot about a country's main islands which are typically the largest, but I thought it would be fun to learn about the tiny ones as well. So, let's learn a bit more about the larger islands of Grenada – Grenada, Carriacou, and Petit Martinique – then learn some fun nuggets about Grenada's smaller islands.
Grenada – The largest of Grenada's Main Islands
The country's main island, also its namesake and the largest of the islands, is 21 miles long by 12 miles wide with an estimated 120 square miles. 
Grenada may be the country's largest island but still very tiny compared to other Caribbean nations.
Grenada's capital, St. George's, is located on the main island of Grenada. Here you can see evidence of European and French influence with brightly colored buildings and french names. 
Most of the action takes place on Grenada because that's where the majority of the people (Grenadians), businesses, sites & attractions, hotels & resorts, banks, and government offices are located.  
Because of the volcanic origin of Grenada, its geography is diverse ranging tall mountains to lush valley dense with rainforest.
And of course, Grenada is famous for its gorgeous beaches that slope gently to the sea surrounded by numerous harbors that protect the beaches from the northeastern winds.
Thanks to the rich agricultural heritage, Grenada is a key player in the production of spices for the world. In fact, Grenada is the 3rd largest producer of nutmeg. Other popular spices and key exports include cloves, ginger, cinnamon, and cocoa.
Carriacou – The 2nd largest of Grenada's Main Islands
The second-largest island in Grenada is Carriacou (pronounced "Carry-a-coo") measuring in at 13 square miles. The tiny island is a mere 7 miles long by 2 miles wide. Still, it manages to provide residence for over 10,000 Grenadians.
Carriacou, which means "land of reefs" was named by the Amerindians that originally inhabited the islands back in the 1600s.
The capital and only city of Carriacou is Hillsborough.
Most of the tourism takes place on Grenada but there is a fair amount of attractions and resorts that bring visitors to Carriacou. Visitors interested in diving and snorkeling are especially drawn to Carriacou because it primarily rests on a coral reef – an ideal habitat for viewing marine life.
Petite Martinique – The Smallest of Grenada's Main Islands
The smallest of the three main islands in Grenada is Petite Martinique. It's located just 2.5 miles north of Carriacou. This tiny island of 586 acres is home to an estimated 1,000 Grenadians. 
Not surprisingly, Petite Martinique was named after its original founder's home – the island of Martinique, also located in the Lesser Antilles region of the Caribbean.
Mr. Pierre was a french fisherman who set out in the 1700s to find a rich, fertile land to settle his family and plant his crops. He found and later became the owner of Petite Martinique ("petite" is french for small).
Today the primary economic driver of Petite Martinique is boat building followed by fishing and general sea traveling activities.
Children on this island either attend the only school on the island "Petite Martinique RC School" or travel by boat to a school on Carriacou.
Medical care is sought out from Carriacou or Grenada as Petite Martinique is absent a hospital.
Interesting Nuggets about Carriacou & Petite Martinique: 
Even though Carriacou & Petite Martinique are part of Grenada, they are also a part of the Grenadines Island Chain. The remaining Grenadine Islands in the chain belong to the nation of St. Vincent.
Carriacou and Petite Martinique are often referred to as "dependencies" of Grenada.
The Other Tiny Islands that makeup Grenada
As mentioned, there are over 20 total islands in Grenada, many of which are uninhabited. Some are barely even peeking out of the sea yet still considered "an island".
I was surprised to learn that at least one entire island is privately owned. Saline Island is owned by the John family from Harvey Vale, Carriacou.
According to Private Islands Inc., other tiny Grenadian islands are for sale or for rent. Calivigny Island is available to rent and 400 acres Caille Island is for sale – for a mere $20,000,000 (that's twenty million dollars). Hmm, let me check my bank balance. 
Below is a list of the named tiny islands of Grenada (excluding the three main islands discussed above).
| | |
| --- | --- |
| Island | Location |
| Diamond Island | A tiny island, between Grenada and Carriacou |
| Ronde Island | A tiny island, between Grenada and Carriacou |
| Caille Island (aka Ile de Caille) | A tiny island, between Grenada and Carriacou |
| Frigate Island | A tiny island, between Grenada and Carriacou |
| Large Island | A tiny island, between Grenada and Carriacou |
| Green Island | A tiny island off the Northern Side of Grenada. |
| Sugar Island | A tiny island off the Northern Side of Grenada. |
| Sandy Island | A tiny island off the Northern Side of Grenada. |
| Hog Island | A tiny island off the Southern End of Grenada. |
| Calivigny Island | A tiny island off the Southern End of Grenada. |
| Marquis Island | A tiny island off the Eastern Side of Grenada |
| Saline Island | A tiny island, between Grenada and Carriacou |
| Glover Island | A tiny island off the Southern End of Grenada. |
One of the easiest tiny island to visit is Hog Island. Check out Grenada's Hog Island is Hog Heaven + How to Get There.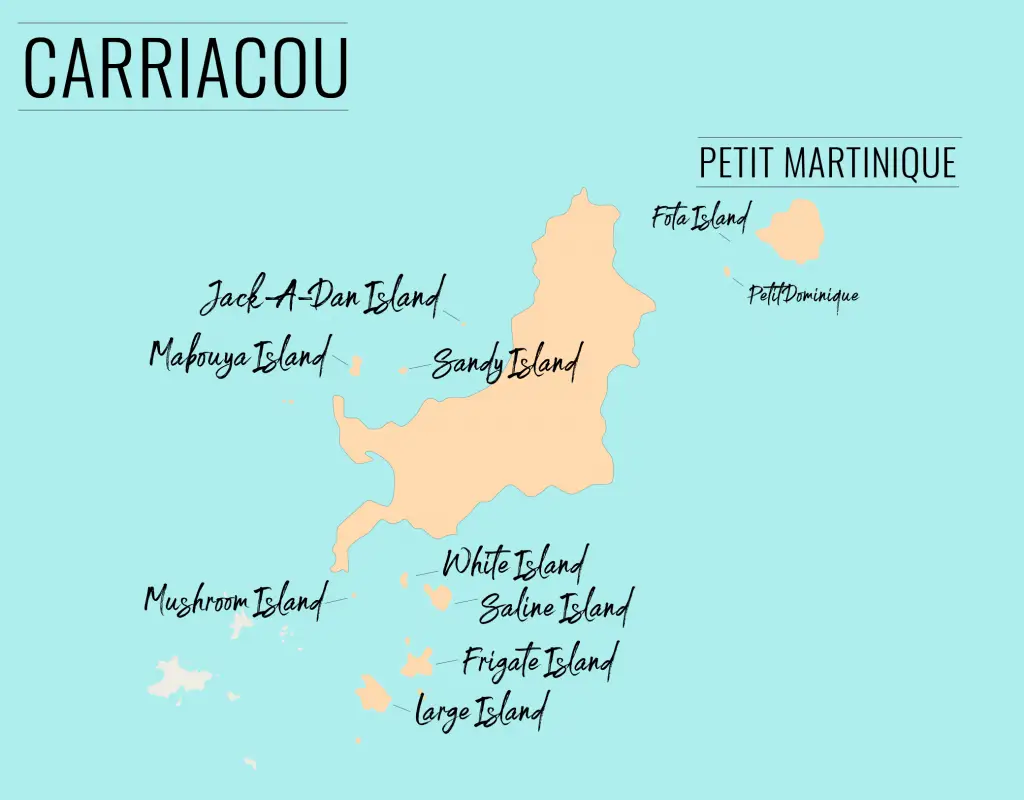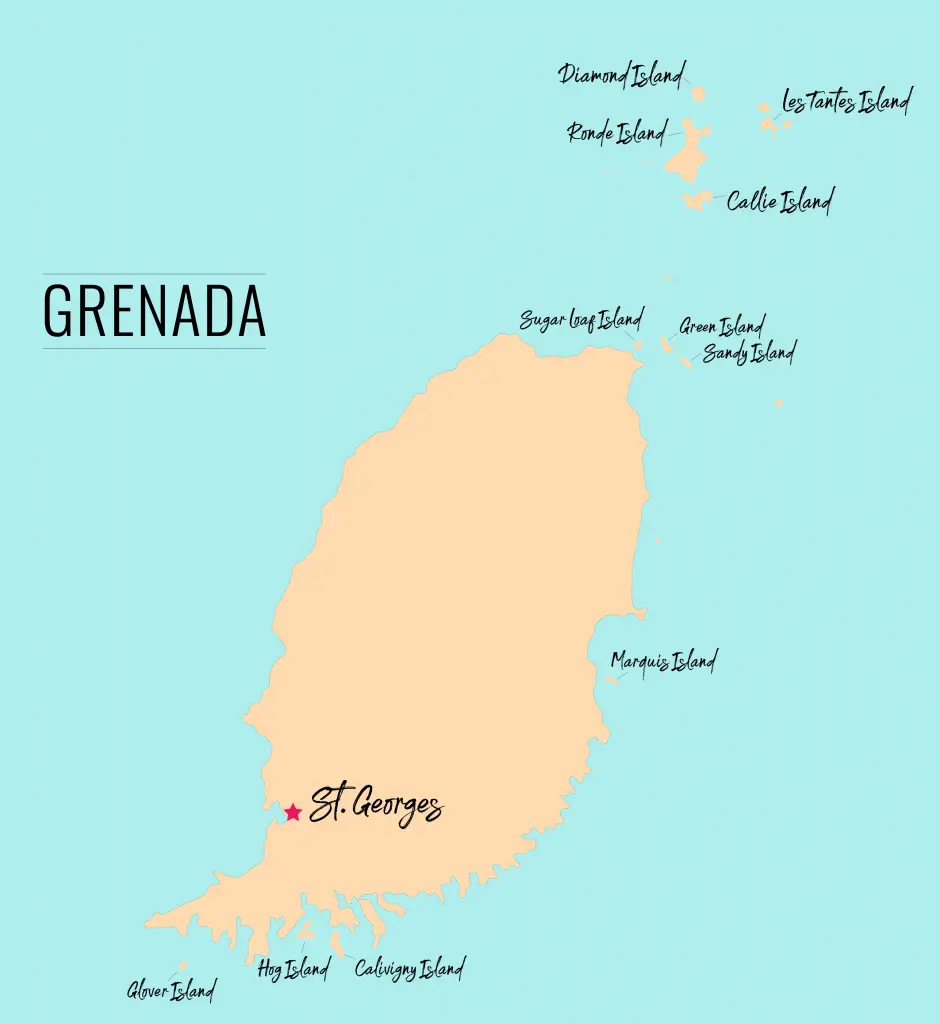 How can you get to the Grenada Islands?
Air Travel
Grenada has become a more popular destination in recent years. Regular weekly flights bring visitors from North American and Europe to Grenada's Maurice Bishop International Airport.
Major international cities that fly to Grenada regularly include Miami, New York, Atlanta, Toronto, London, and Frankfurt.
Want to know the US Airlines that fly direct to Grenada? Check out US Airlines that Fly to Grenada.
Carriacou is home to the Lauriston Airport located just west of Hillsborough. Travel to this tiny airport is limited to Caribbean airlines from Grenada and other Caribbean countries such as St. Vincent. In fact, St. Vincent Grenadines Air makes daily flights from Grenada to Carriacou.
Note: For international travel, all visitors must first provide valid citizenship documentation on Grenada before traveling on to Carriacou, Petite Martinique or any other island of Grenada.
Sea Travel
Absent an airport, travel to Petite Martinique is limited to private charter or ferry service.
Osprey Lines Ltd provides daily roundtrip ferry service between the islands of Grenada,  Carriacou, and Petite Martinique.  The company boasts fast, modern and comfortable service between the islands aboard a power-catamaran.
You would need to secure a private charter to travel by sea to one of the tiny islands. 
The intent of this article was to make you aware of all the tiny islands that belong to Grenada. If you're anything like me, you're dreaming of the day you can afford to buy, or perhaps rent out, one of the tiny little private islands – even for just an afternoon. Wanna go halfsies?
Getting back to reality, spending time on any of Grenada's Islands (tiny or less tiny) is an experience everyone should have as it's an honor and privilege to take in the country's rich and diverse culture. Start planning your trip to Grenada today!