While planning a recent trip to Grenada, I was surprised at how difficult it was to find US flight information. It was a challenge to learn which US airlines flew to Grenada, what days of the week they flew there, and which times of the year.  Since the information was not readily available, I spent a ton of time digging online and calling airlines. I documented my findings and am sharing them with you today – so you don't have to go through the same rigamarole I did.
Two airlines fly from the US directly to Grenada. They are JetBlue and American Airlines.
JetBlue flies direct to Grenada from New York's JFK
American Airlines flies direct to Grenada from Miami
Planning a trip to Grenada should be fun and exciting. Sure, I expected to spend maybe an hour online discovering options for air and hotel but not hours and days on the phone with airlines dancing around the questions  "What day do you want to leave?" and "How long do you want to stay?" when my answer was always I DON'T KNOW!   
Planning a trip to Grenada when you don't have firm dates yet
If you're like me, when I begin thinking about planning a trip, I don't have specific dates in mind. I may not even have a time of year in mind. I just know the destination and am on a mission to gather the information that will help me determine when I want to go.
With Grenada on your list of vacation destinations, my Ultimate First Time Visitor's Guide to Grenada is a must-read!
Sure, if you know the exact dates of your trip, it's a little bit easier. Just go to Skyscanner or Google Flights, plug in the dates, and voila! 
If you're lucky and choose dates the US airlines are actually flying to Grenada, you are presented with the flight options.
If you have average luck like me, instead of getting flight options, you get options for "flight adventures".
Flight adventures are a combination of several stops &/or layovers and take more than a day to get to your destination. They are a long, tiresome, and inefficient way to get to your destination.
Flight Adventures
Unless you're a nomad traveling to Grenada with just a backpack, or someone who loves airports and plane rides, flight adventures suck. They are a long, tiresome, and inefficient way to get to your destination.
Flight search tools return flight adventures because the dates you input in the tool are days the airlines are not scheduled to fly to your destination. So, the tool has no choice but to piece together a trip that gets you from point A to point B.
For example, below is a flight adventure presented to me after using Milwaukee (from) and Grenada (to) and just guessing a date. (Remember, this happens when you don't know the airlines' schedule.)
This flight adventure starts in Milwaukee, Wisconsin, then heads east to Toronto, Canada, then way south to Port of Spain in Trinidad and Tobago (south of Grenada), then back north to Grenada. What an adventure! I'm rather impressed this only took 21 hours.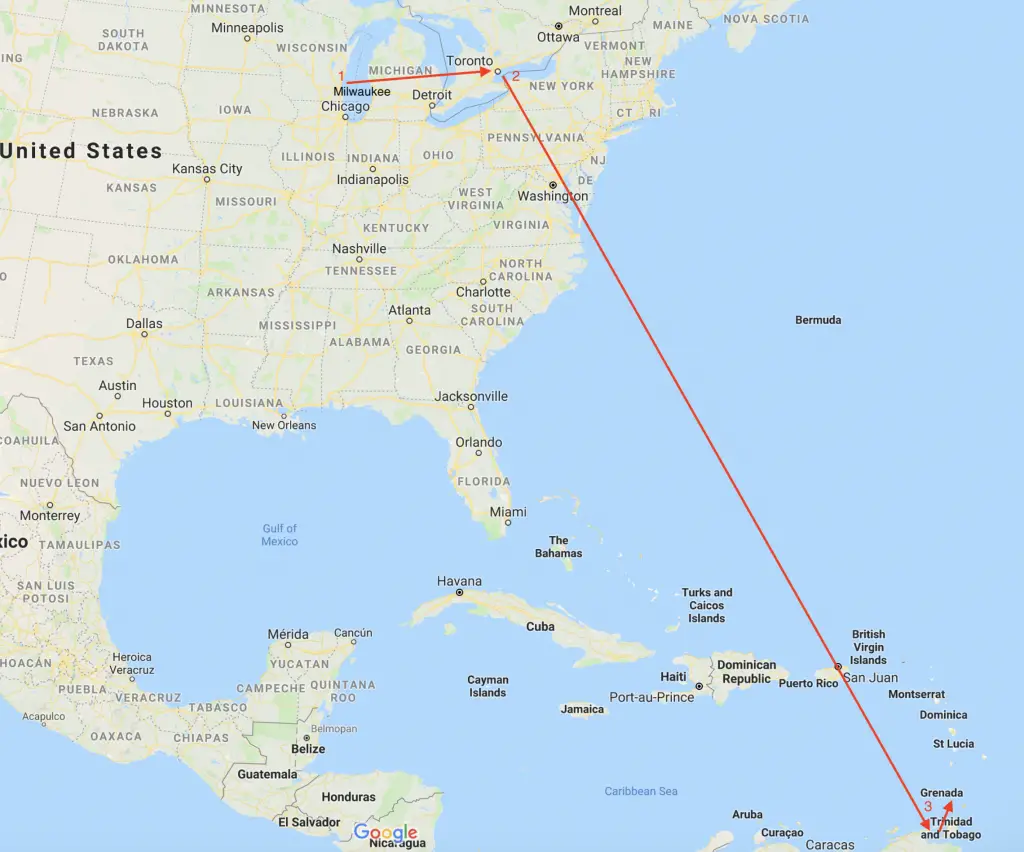 How to easily plan your flight to Grenada & avoid flight adventures
Using the flight search tools in an efficient manner that doesn't result in hours upon hours of research and ripping of hair requires you to know which US airlines fly direct to Grenada and on which days.
Once you know the airlines and days they fly, you can begin to use the tool to come up with timeframes you may wish to schedule your trip.
So, the question becomes, "OK, when do US airlines fly to Grenada?". It's a pretty simple question with (apparently) no simple answers. I'm not sure why airlines don't just publish their flight schedules. Sure, they are subject to change, but at least it's something to begin your research with.
Don't worry. I got you. I spent hours researching which US airlines fly direct to Grenada's Maurice Bishop International Airport, their flight schedules, and durations. Then, I summarized the info into a nice, tidy table.
Summary of Flight Information from the US to Grenada
Airline
Direct Flight Cities & Flight Times
Schedule
JetBlue
New York City – JFK
Flight time: 4 hours 50 minutes
Tuesday, Thursday, Friday, Saturday, and Sunday
Between Thanksgiving and New Year's:  Monday, Tuesday, Wednesday, Thursday, Friday, Saturday, Sunday
American Airlines
Miami
Flight time: 3 hours 31 minutes
Monday, Tuesday, Wednesday, Thursday, Friday, Saturday, and Sunday
Disclaimer: The schedules referenced in this article were current at the time of writing and subject to change at any time. Always check with the airline directly to confirm their current schedule.
How much is the airfare to Grenada?  
The cost of airfare to Grenada is highly dependent on several factors, including the airline itself (how many amenities it offers), the time of year you will be traveling, your originating destination (the airport you live closest to), and the class of seating you choose.
If you're interested in saving money (and who isn't), check out my article on the Cheapest Times to Visit Grenada – it even includes examples!
The airline
There are low-cost airlines, and there are the rest.
Low-cost, or budget airlines, charge lower prices for their tickets in exchange for little or no frills or benefits such as free checked bags, comfortable, more spacious seats, snacks, and drinks. Examples of low-cost airlines include:
JetBlue
Southwest
Frontier
Other airlines provide more benefits but often at a higher cost. These airlines include:
Delta Airlines
American Airlines
United Airlines
Low-cost airlines will give you more bang for your buck. You just need to accept fewer frills.
Time of year you will be traveling
The cost of airfare follows basic economic principles – as demand increases, so do prices.
More people want to travel around the holidays – especially Thanksgiving, Christmas, New Year's, and Easter – so travel costs are higher during these times.
The same goes for springtime in general. If it's gloomy Gus in the US's midwest, people are heading south.
You can save on airfare by traveling during slower times – summer and fall – except holidays.
Your originating destination  (the airport you live closest to)
The further you are from the city that flies directly to Grenada, the more you will likely pay because you need to pay to travel from your origination to a city that flies directly to Grenada. 
For example. I live in Milwaukee. I need to get to Atlanta or New York in order to get to Grenada. I will pay more than someone who lives in or near Atlanta or New York because they don't have to go far to get to the direct flight city.
Class of seating/ Fare Types (economy, business, first-class)
Most airlines offer fare types or classes of seating, such as economy, business, and first class.
The economy is typically the least expensive, followed by business class, than first class. Of course, the cheaper the fare, the fewer the benefits & features.
For example, economy seating may have 3 seats across with tighter quarters and less privacy. Ugh — the dreaded "middle seat".
Sometimes airlines or travel aggregator sites will offer super cheap seats, but be very aware because oftentimes, the restrictions that come with the sale tag are very limiting.
For example, great deals are often non-refundable, non-changeable, or both! Sometimes, it's worth peace of mind to pay a little extra, knowing you can change your flight reservations if you need to. You know, when life pulls a fast one on you. Be sure to read the fine print.
Saving money generally requires you to book an economy seat. You may not get a free drink, but the potential for savings can be hundreds of dollars.
How long does it take to get to Grenada?
It can take anywhere from 3 hours and 31 minutes to over 24 hours to get from the US to Grenada. 
Same as the cost of a flight to Grenada, the time to get there is dependent on your originating city and how many airport stops and/or layovers.
In case you're not sure where Grenada is even located in this world (don't be shy — I didn't know either until I did know!), check out my article Where is Grenada Located?
Your Originating Destination  (Airport You Live Closest To)
I think it goes without saying the further you are from the city that flies directly to Grenada, the longer your total trip duration will be.
Using the same example above, my trip from Milwaukee to Grenada will take longer than the person starting in Atlanta because I need to factor in the time to get from Milwaukee to Atlanta.
Number of Airport Stops & Layovers
Airlines don't just fly from one city to another city. Instead, they have hubs – a few main locations throughout the US where all traffic comes in and goes out to get travelers to their destinations efficiently. 
Without hubs, it would be unaffordable to fly, and the air traffic would be pure chaos.
Main Hubs for US Airlines that fly to Grenada
New York is the main hub for JetBlue to fly to Grenada
Atlanta is the main hub for American Airlines to fly to Grenada
Because hubs are necessary, travel time can be longer than you would expect.
For example, from Milwaukee, I just want to fly south because that's the direction Grenada is in. When flying JetBlue, I will need to fly east to New York before I can go south.
The more stops and/or layovers I need to get to Miami or New York, the longer my travel time will be.
Once you get to the city that flies directly to Grenada, the actual flight time is pretty quick.
From New York to Grenada: 4 hours 50  minutes
From Miami to Grenada: 3 hours 31 minutes
JetBlue's Best Fare Finder Tool
Part of my research involved talking with the airlines directly. The JetBlue representative let me know about a handy little tool they offer for exploring airfare across months.  It's called their Best Fare Finder. 
This handy tool rocks! It allows you to see the cost of fares across several months. When trying to save on airfare, just select the dates with the cheapest fares!
Check it out below. Just enter the city you're flying from and to. In the case of flying to Grenada, JetBlue flies from New York. Click the "Update fares" button, and you are presented with fares for the next 6-7 months.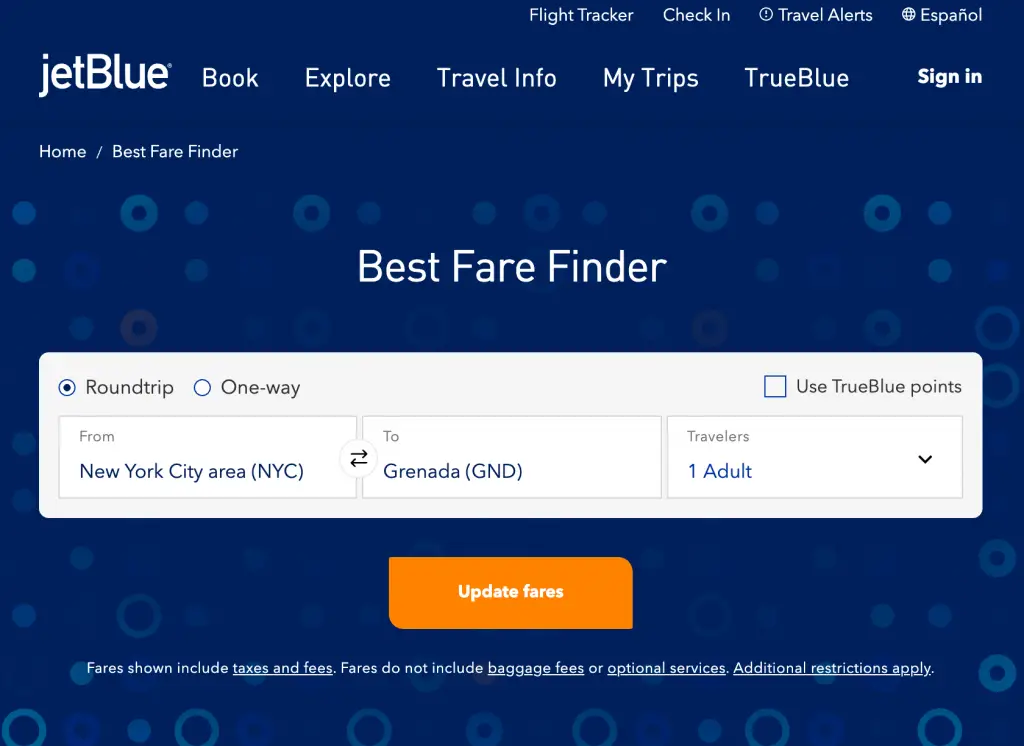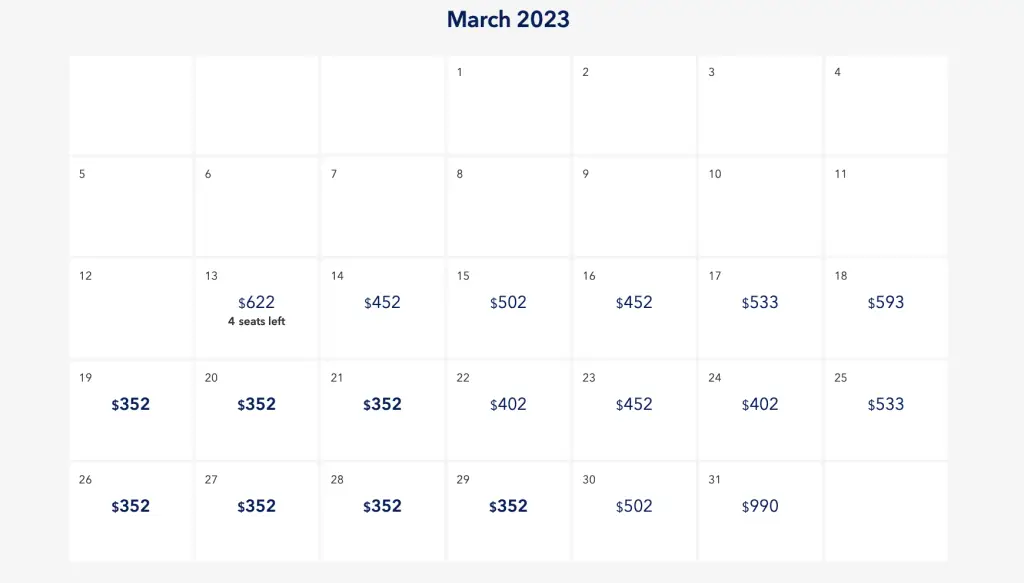 For people flying from New York, this tool is the bomb! The only caveat with the Best Fare Finder tool is you have to know the city that flies directly to your destination, but I already figured that out for you. JetBlue flies direct to Grenada from New York's JFK Airport.  
More Tips to Save On Airfare
Who wouldn't want to save money – especially on a big-ticket item such as airfare?
There are a variety of ways to save on airfare. Some of them we already discussed include:
Choose low-cost airline
Choose economy fare
Fly off-peak (summer, fall, and avoid holidays)
Depending on how much effort and hassle you want to put into it…there are more ways you can save money on airfare.
Buy in Advance: The sweet spot for buying international airfare is between 1.5 – 5.5 months before departure. Earlier or later than this timeframe can cost you more. -Per Fare Compare.
Compare: Always compare airfare – even if you think your hometown airline is always the cheapest, it's not always true, so do compare. -Per Fare Compare.
Fly During on Weekday: Book travel on the cheapest days to fly – usually weekdays for international travel. -Per Fare Compare.
Setup an alert: Several airfare search sites (i.e. Skyscanner, Google Flights) allow you to set up an alert for your trip whereby they will email you when the fare has changed. If the fare goes down to a price that delights you, buy immediately!
Credit Card Points: Apply for an airline points credit card to gain points toward the purchase of airline tickets. This typically requires you to charge a few thousand dollars for the care within a specified period of time (i.e. 3 months).

Read the fine print carefully.
Be sure to factor in any other charges, such as annual fees, to determine if the card is really going to save you money in the long run.

Book Group Tickets Separately: When researching airfare, always search for one adult ticket even if there's a group of you traveling. If you search for four adult tickets and each ticket has a different price, you'll be charged all four seats at the highest ticket price. BS if you ask me — but that's how it works.
Get Creative: Consider using more than one airline to get to your destination. For example, Southwest frequently offers cheap flights from Milwaukee to Miami. I could fly from Milwaukee to Miami, then American Airlines from Miami to Grenada.

This approach isn't for everyone and can be risky. Since there is no coordination between the airlines, any delays or changes to flights may cause you to miss your flight on the other airline. As a result, you may incur additional fees, lose time, and may spend a night or two at the airport. Yuk!
. . .
Life can be challenging at times. I don't think planning a relaxing vacation should be one of those times. Everyone should have an opportunity to visit the amazing country of Grenada and not let the roadblocks of finding travel information stand in the way. I hope you found this information valuable and a real timesaver. Happy planning!