You decided Grenada is a must-see destination but need to know if a passport or visa is required to visit. I dug into the specifics so you don't have to worry about it. Let's go…
US citizens traveling to Grenada must have a valid passport book and evidence of return/onward travel arrangements. US citizens do not need a visa for entry to Grenada. 
Technically, Grenada will accept "proof of citizenship that bears a photo" from US citizens instead of a passport, but it makes zero sense NOT to have a valid passport since it's required to gain reentry back to the US.  
In other words, Grenada will let you into their country just with proof of citizenship/photo (like a state ID) but the US will not let you back in after your trip. Ooops!  Just have a valid passport book 🙂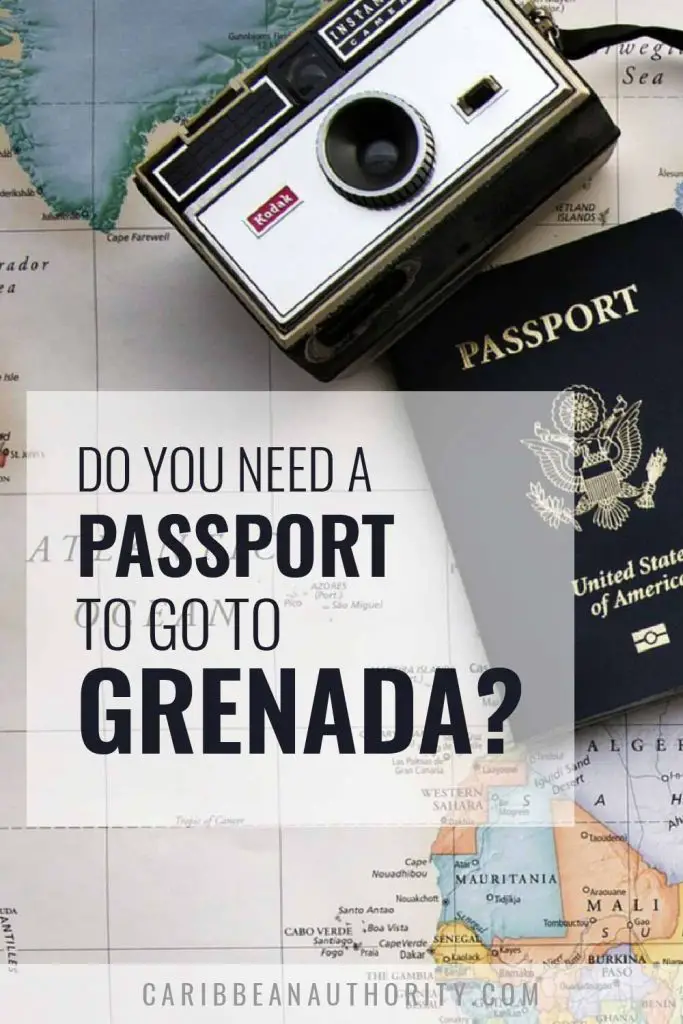 What's a valid passport book? 
It's a book, not a card
It's valid for at least 6 months
It has as at least one blank page
A valid passport is a book, not a card
The passport "card" has limited international travel power. US citizens can travel to Canad or Mexico by land, that's about it.
To travel via air to most international countries, including Grenada, you need a passport book.
If you don't have a passport book, give yourself plenty of time to gather the documentation, apply and receive it. Here's how you apply for a passport. Plan at least 3 months ahead of your departure to be safe.
A valid passport Doesn't Expire for at least 6 months
This means the passport does not expire for at least 6 months from the date of arrival. For example, if you travel to Grenada on January 1st and your passport expires March 7th of that year you may not be allowed entry into the country. Bummer. Get on the plane and fly right back home!
In the same scenario, if your passport expires July 2nd of that year, you'd be safe to gain entry on January 1st since it expires after 6 months.
A valid passport has at least one blank page
Your passport book must have at least one blank page for the entry stamp.
How long can I stay in Grenada?
US citizens can stay in Grenada for up to 90 days without a visa.
Visa "A document that allows a limited period of leisure travel within a country, but no business activity."

yourdictionary.com
Although a visa is not required for entry, US citizens planning to stay more than 90 days will need to obtain a visa "in-country". This means you can gain entry without the visa and apply for it once you arrive. 
The application for a visa can be found on the Grenada Embassy's website.
Additional Questions About Traveling to Grenada
Flying into Maurice Bishop International Airport on Grenada's main island (Grenada) is pretty straight forward. US citizens need a valid passport but they do not need a visa.
But maybe you're wondering:
What about ….
How about if I….
I got you! I thought of some other travel-related questions you may have so let's keep going…
My final destination is the island of Carriacou (Grenada). Can I just fly directly to Carriacou from the US? 
No.  International flights are not allowed to Carriacou as it's a regional airport, not an international airport. 
First of all, there are no US airlines that fly to Carriacou and most importantly, you need to go through Grenada's immigration and customs verification which is done at the international airport Maurice Bishop International Airport, on the main island of Grenada.
After you've gone through customs you can continue to Carriacou either via air or boat. There are regional airlines such as SVG Air, or chartered air services that will take you to Carriacou. Ferry services are also available.
What if I want to travel from Grenada to a nearby island country such as St. Lucia? 
You are subject to the immigration and customs laws of the country you are visiting. In the case of St. Lucia, a valid passport is required for entry. No visa is required. 
What if I'm traveling to Grenada on a Cruise?
You do not need a passport or a visa when arriving via a cruise ship.
US citizens on closed-loop cruises (i.e. a cruise that begins and ends at the same US port) do not require a passport or a visa for a visit less than 24 hours.  This is ample time for the cruiser to exit the ship, enjoy the island and get back on the ship in time for departure.
However, be aware that if the ship leaves without you, you will need a valid passport to gain re-entry to the US. Missing your cruise ship is not common but it does happen. 
Let's say you took an excursion on the island but the transportation back to the ship was delayed. If the excursion was scheduled through the cruise line, the excursion company will alert them of the delay and the ship will likely wait for you (not always, but usually).
If you did not book the excursion with the cruise line – the ship ain't waitin'. You are SOL. 
Or perhaps you decided to rent a car and explore Grenada on your own but got lost. Whoops! That ship's sailing without you!  You now need a valid passport to return to the US.
When visiting the island via cruise ship consider the activities you will be partaking in along with your appetite for risk and determine if you should have a passport or not.
If you don't plan to leave the ship, you don't need a passport. If you do plan to explore the island and are a nervous nellie when traveling, you should probably get a passport.
What if I'm sailing my private yacht/boat to Grenada? 
If you are sailing into Grenada you still need to clear immigration and customs at an official Port of Entry. 
According to Grenada's official tourism website Pure Grenada, Grenada's official ports of entry include Grenada Yacht Club, St. George's, Prickly Bay Marina, Prickly Bay, Hillsborough, Carriacou. Check out the website for documentation and other info needed to arrive and exit via sea vessel.
What do I do if I lose my passport (or it's stolen) while in Grenada?
If you lose your passport, or its stolen, immediately contact the US Embassy and ask to speak to the Consular Section to report your passport lost or stolen.
Tip: Always keep a copy of your passport with you at all times. In the event of a lost or stolen passport, the copy becomes super helpful.
Below is the US Embassy Information for Grenada. I recommend you keep the information with you either on paper or enter it into your phone for quick easy retrieval.
L'Anse aux Epines Main Road
St. George, Grenada
Telephone: +(1)(473) 444-1174, +(1)(473) 444-1175
Emergency After-Hours Telephone: +(1)(473) 407-2495
Fax: +(1)(473) 444-4820
Email: Stgeorgesacs@state.gov
Further information regarding replacement passports while traveling can be found on the US State Department website.
Tip: If you think your passport number was compromised vs. the original, physical version of your passport book is missing or stolen, do not report it as lost or stolen. Once you report it lost or stolen it can no longer be used for international travel. 
Truth is, your passport number without the physical book is of no value to anyone. There is literally nothing a person can do with a passport number.
What to do if I have issues while traveling to Grenada?  
No matter where you are traveling always be aware of the Embassy information for that country. Again, the US Embassy information for Grenada is below. Be sure it's readily available while you travel in case you need it. Better safe than sorry!
L'Anse aux Epines Main Road
St. George, Grenada
Telephone: +(1)(473) 444-1174, +(1)(473) 444-1175
Emergency After-Hours Telephone: +(1)(473) 407-2495
Fax: +(1)(473) 444-4820
Email: Stgeorgesacs@state.gov
Being prepared when traveling is the key to a dreamy outcome. You may never need to contact the embassy or need a Visa to travel to Grenada, but isn't it good to know you had the facts before you went? Bon Voyage!