There are more than 45 beaches along the shores of Grenada and this Wisconsin girl is on a mission to visit them all!  With a handful of gorgeous beaches near my hotel, I decided today was the day to check out Morne Rouge Beach. I'd already fallen hopelessly in love with Grand Anse Beach and had to know if Morne Rouge Beach was worth visiting and if so, how to get there.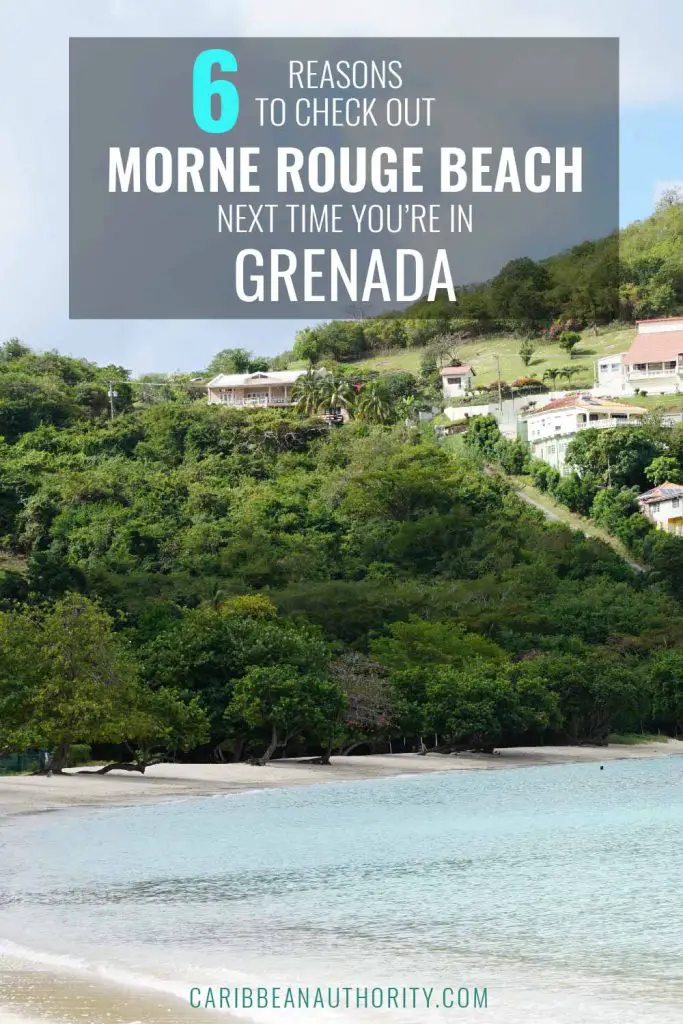 6 Reasons Why Morne Rouge Beach is worth the visit
#1: Serene & White Sand
If you're looking for a very calm, serene, white sand beach in Grenada then Morne Rouge is worth it.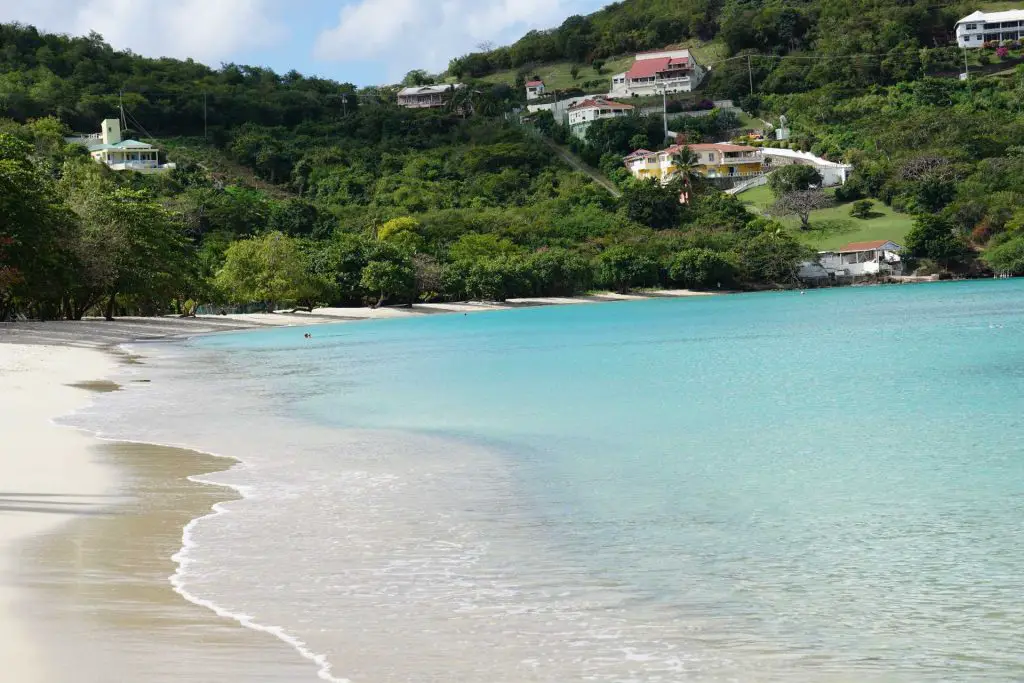 #2: Calm & Shallow
If you're looking for a calm, shallow sea (ideal for toddlers) Morne Rouge is worth the visit.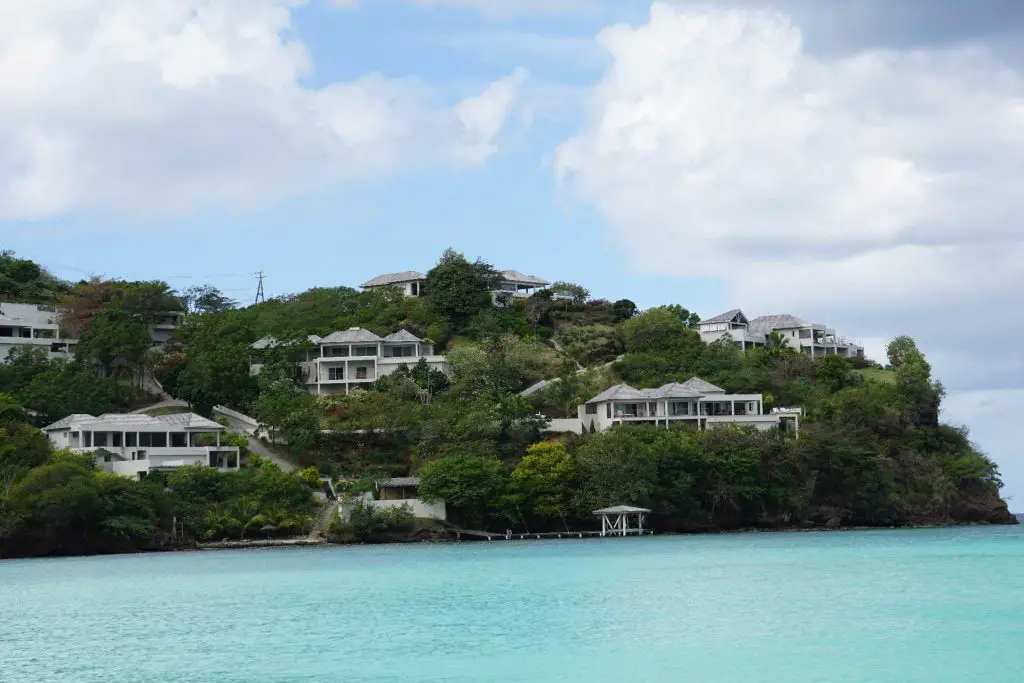 #3: Avoid Crowds
If you're looking to escape crowds, such as cruise ship visitors, Morne Rouge is worth the visit.
#4: Easy Public Access
If you're looking for a beach with simple public access, Morne Rouge is worth it.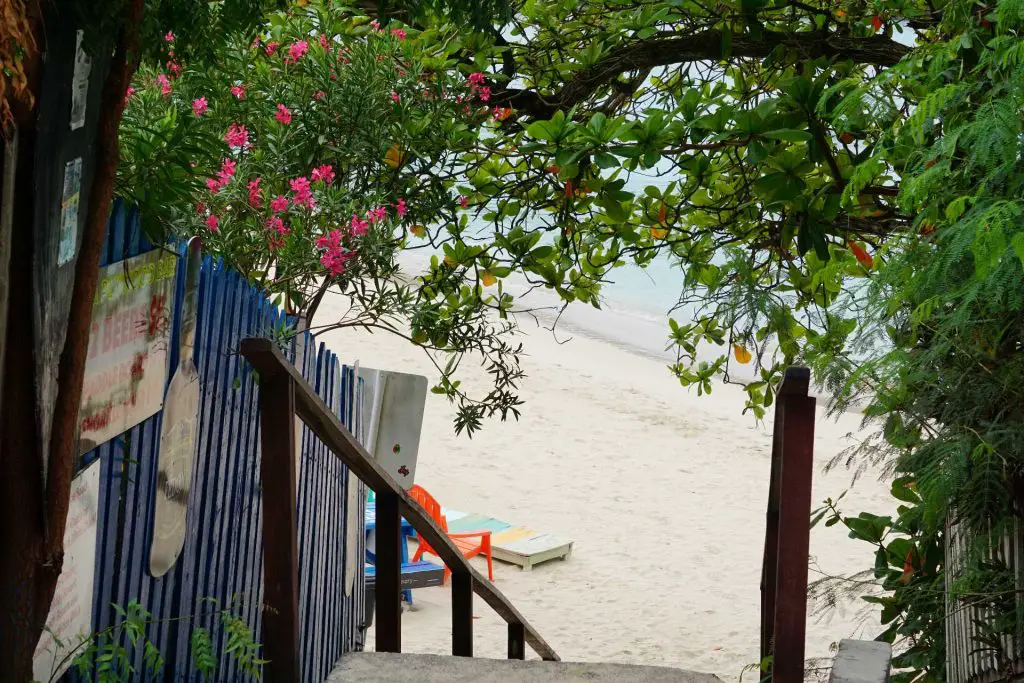 #5: Seashells
If you love a huge variety of seashells that aren't smashed or broken, Morne Rouge Beach is worth the visit.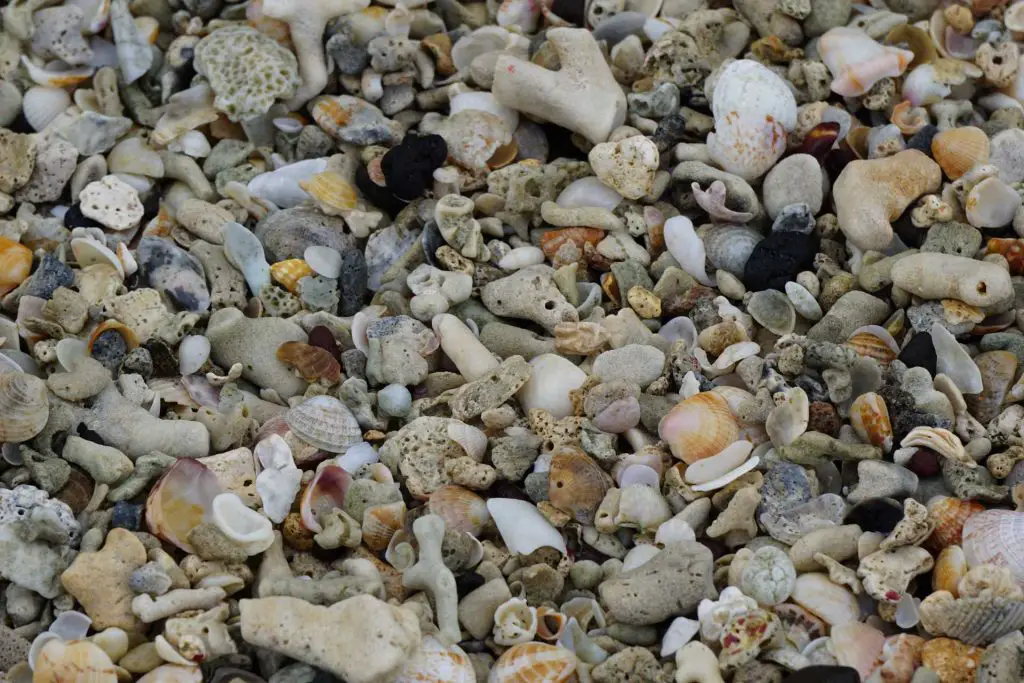 #6: Great Vibe to Enjoy Meal
If you're looking for a laid back beach vibe to enjoy a meal or drink, Morne Rouge is worth the visit.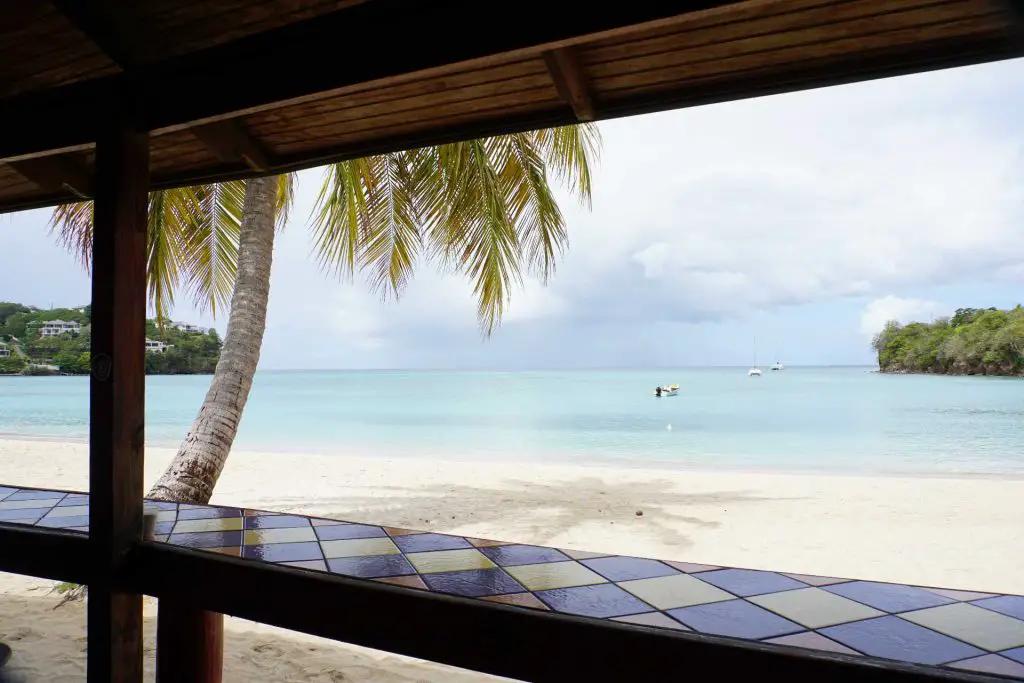 How to get to Morne Rouge Beach in Grenada?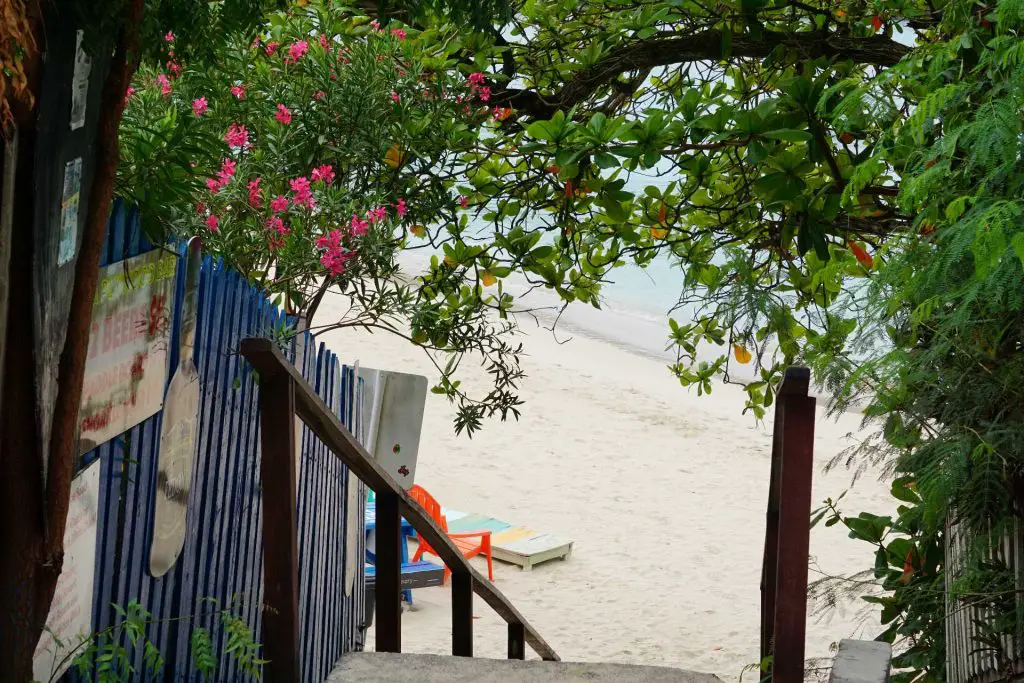 Morne Rouge Beach is located in the southwestern part of Grenada. To get there from the St. Georges area, head southwest on Morne Rouge (parallel to Grand Anse Beach) up a giant, twisting hill past Mount Cinnamon Hotel on your left and Kawana Bay on your right about 1/4 mile until you see reach Quarantine Point Road which takes a hairpin turn to the left heading south down another giant hill. Morne Rouge Beach is down this road. When the road ends you'll see a few resorts straight ahead, and a couple of restaurants on the right. Just to the right of La Plywood Beach Bar & Cafe is a set of stairs that serves as public access to Morne Rouge beach. 
From where I was staying in South St. Georges, I could have easily walked the 15 minutes to Morne Rouge Beach but opted for a $10 taxi since it was my first time. I'm so glad I did because the road is twisty, narrow and steep; there's no sidewalk much of the way; Kawana Bay is still under construction and literally in the road yet cars are still flying through there!
No way I wanted to be walking on that road.  I'd be slipping, sliding, and falling in my flip flops. Maybe I'll take the walk on my next visit to Grenada after Kawana Bay construction is completed. 
What's the vibe of Morne Rouge Beach? 
Enveloped in a bay just south of Quarantine Point, Morne Rouge is really quiet. If the vibe of the entire island is chill, then Morne Rouge is super-chill. The waves barely make a sound when they lap the shores of the beach. 
Places to stay near Morne Rouge Beach
There are a variety of accommodations on or near Morne Rouge Beach including resort/hotels, apartments, condos, and Airbnb's.
Resorts & Hotels Near Morne Rouge Beach
Kalinago Beach Resort is right on the beach and GEM Holiday Beach Resort sits behind it.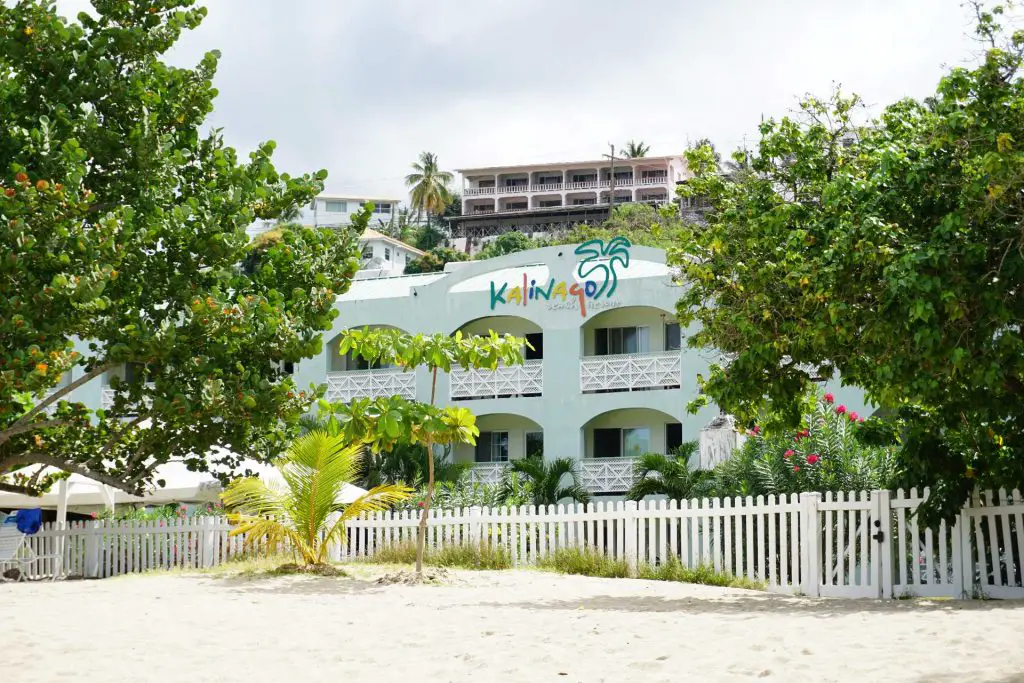 And of course, there is no shortage of hotels and resorts in the nearby St. George's area including Mount Cinnamon, Spice Island Resort and the place I was staying at – Blue Horizon Garden Resort. 
Airbnb Near Morne Rouge Beach
I met a couple on the beach that was in Grenada for the first time. They were staying in an Airbnb a short walking distance away.
Condos & Apartments near Morne Rouge Beach
The Mariposa Condos are perched on the north side of the bay with an amazing view of the beach. I met a St. George's University college student who was on the beach with her dog. She rented an apartment at Mariposa so I'm guessing people rent out their condos.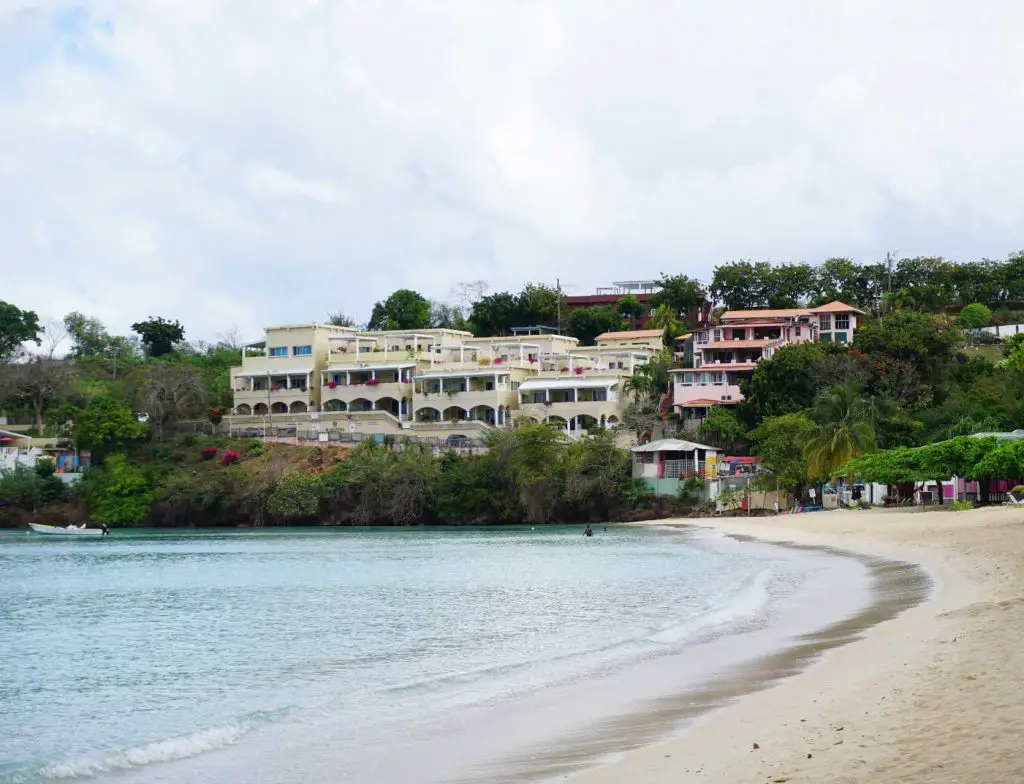 Where to eat near Morne Rouge Beach
You won't go hungry while visiting Morne Rouge Beach. 
La Plywood Beach Bar Cafe and Sur La Mer Restaurant are rustic, open-air restaurants right on the beach. But don't let appearances fool you. I enjoyed a delicious breakfast at Sur La Mer Restaurant and a couple I ran into from our resort planned to return to La Plywood Beach Bar Cafe for fish tacos. Apparently they'd been there previously and loved the food. 
You can read about my experience at Sur La Mer Restaurant here.
The Fidelis Restaurant, located inside Kalinago Beach Resort, and Boho's are located off the beach. Liz Elle's Catering is also off the beach located up Quarantine Point Road a bit.
What does Morne Rouge mean?
You would think there's only one translation for Morne Rouge but apparently it depends on which definition of "morne" you wish to use. Rouge clearly translates to "red" but what about "morne"?
According to lexico.com, there are 3 definitions for morne.
A historical version of 'morne' meaning "The blunted head of a tilting-lance".  I don't think this is our definition.
Morne used as an adjective and means "sad, mournful, dreary". There is definitely nothing about Morne Rouch Beach that is sad, mournful or dreary.
The Caribbean version of 'morne' means "a round hill or small mountain".  I think we have a winner!
What is BBC Beach?
Apparently, Morne Rouge Beach goes by another name – BBC Beach.   However, I was unable to find a credible source to tell me what BBC stands for or why the beach also goes by the name of Morne Rouge so I won't perpetuate rumors and innuendos. I will say, if you ask LaPlywood Bar & Restaurant they may tell you BBC stands for "Beach Bar Cafe".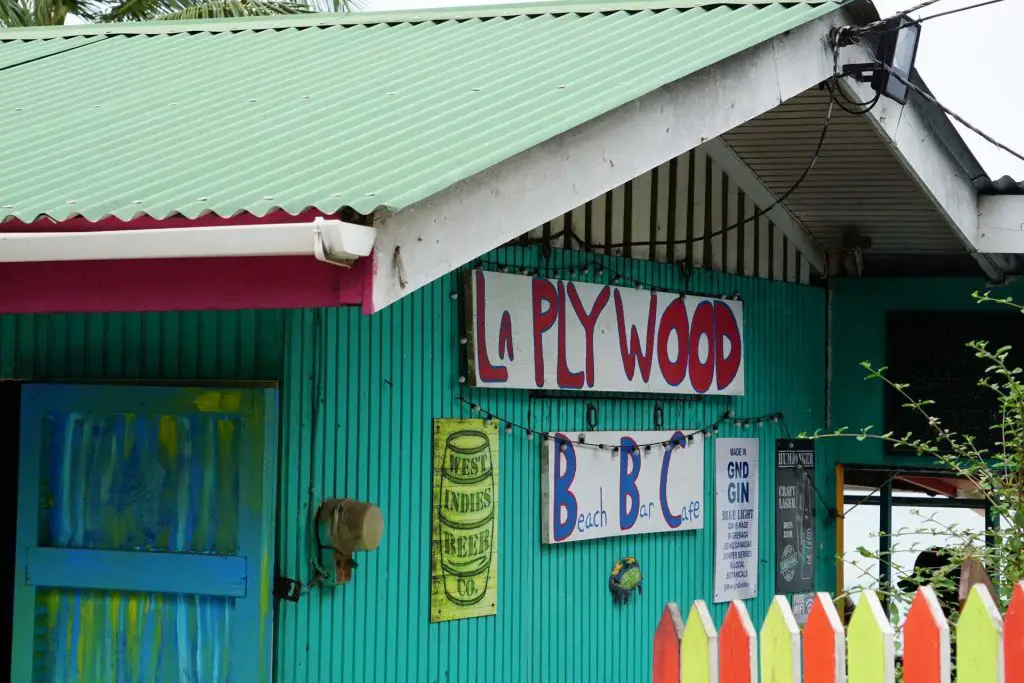 Morne Rouge Beach Rules
Pets are allowed but must be leased and of course, you must pick up after them. I was there just a couple hours and was surprised at how many local residents brought their dogs down to the beach. 
For a complete list of Grenada Beach Rules in Grenada, check out this article. 
In Conclusion
Grand Anse will always be my first love in Grenada but Morne Rouge is a close 2nd. I guess it depends on my mood. If I'm in the mood for a whole lotta people watching, watersports action, strong breezes, and St. George's harbor, Grand Anse it is. If I feel like chillin', I'm off to Morne Rouge.