When considering travel to Grenada many wonder how many beaches does Grenada have? It's an interesting question with a shocking answer, considering Grenada is such a tiny island.
How many beaches does Grenada have? Grenada has around 45 beaches. Some of them are urbanized, but most remain secluded and pristine. Most of the beaches have clear water and are perfect for snorkeling and diving. 
Grenada is a beautiful country that includes three islands — Grenada, Carriacou, and Petite Martinique. All equally gorgeous, these islands also feature some of the best beaches in the Caribbean. 
Which beach will you visit in Grenada? Well, to figure that out, you need to learn more about these beaches. This guide will take you through them and show you what makes each of them unique. 
Beaches of Grenada
Grenada and its sister islands have around 45 beaches! Imagine that — it would probably take a while just to see them all, let alone spend a day on each of them. The best part about this is that they are all unique. Each one has something special, making them all worth visiting.
There are 10 beaches in Grenada rated as "the best", they are:
Grand Anse Beach
Morne Rouge
Sandy Island
Levera Beach
Bathway Beach
Magazine Beach 
Paradise Beach
Anse La Roche beach
Pink Gin Beach 
Lance aux Epines
Most beaches in Grenada do not charge an entry fee, although you will probably have to pay for amenities nearby — like renting a chair, an umbrella, or paying for food and drinks if available. You'll also have to pay for transportation. 
Beaches on Grenada (The Main Island)
Here are the beaches on Grenada island:
Antoine Bay Beach
Antoine Bay Beach is 1.6 miles from Central Belmont, on its east side. What makes this beach unique is that it's completely free of urbanization, meaning that you'll get that pristine Caribbean experience.
Bacolet Bay Beach
Bacolet Bay Beach is 3.5 miles south of Grenville. It's a calm place, perfect for snorkeling or walking on the sand with your feet grazed by warm water. 
Bathway Beach
Bathway Beach is 1.8 miles east of Sauteurs, it's perfect for people who are not confident swimmers since a coral reef protects it.  
Beausejour Bay Beach
Beausejour Bay Beach is 3.1 miles north of St. George's, you'll find this marvelous bay. It's not overcrowded, and it's rocky, with breathtaking views. 
Calivigny Island Beach
Calivigny Island beach is located 2.1 miles east of L'Anse aux Epines. It has white sand, plenty of amenities, and people enjoying the waters. 
Conference Bay
Conference Bay beach is located 0.3 miles from La Poterie. It's quite recluse, so there are not a lot of people or amenities around. 
Crochu Harbor Beach
Crochu Harbor beach is 2.3 miles east of Thebaide. It's calm and peaceful, lined with white sand. 
David Bay South
If you're looking for tan sand and aquamarine waters, David Bay South beach will satisfy your needs. It's located near Sauteurs, 2.4 miles away.  
Dragon Bay
Dragon Bay Beach is interestingly named, this bay is located 2.5 miles away from St. George's. It's one of the Marine Protected areas, and it's excellent for diving. 
Duquesne Bay
At 2.4 miles away from Victoria, Duquesne Bay beach is perfect for snorkeling in calm waters, and it's not especially crowded. No entry fee is charged. 
Gaby's Beach
Gaby's Beach is surrounded by thick forest, this beach is 1.9 miles east of St. Davids, and it will offer you a perfect recluse and rustic experience. There is no entry fee.
Galby Bay
Galby Bay is perfect for underwater exploration, this place is 2.3 miles away from St. Davids. There's no entry fee. 
Gouyave Beach
If you're in for Fish Fridays, come early for a lovely day at Gouyave Beach. There is no entry fee, and the shore is lined with amenities and restaurants. 
Grand Anse Beach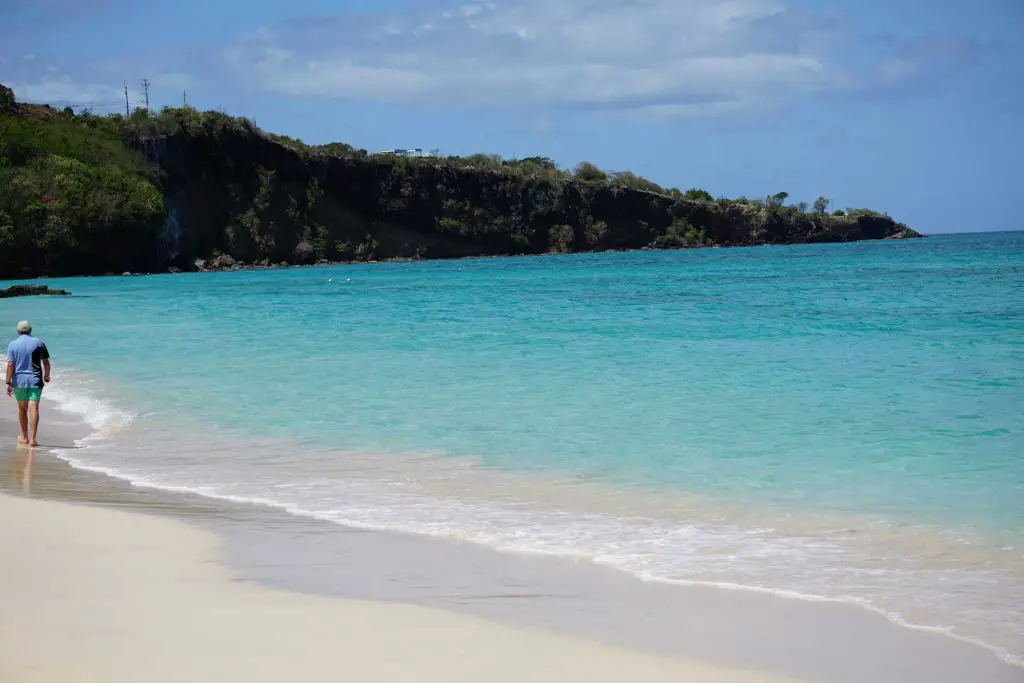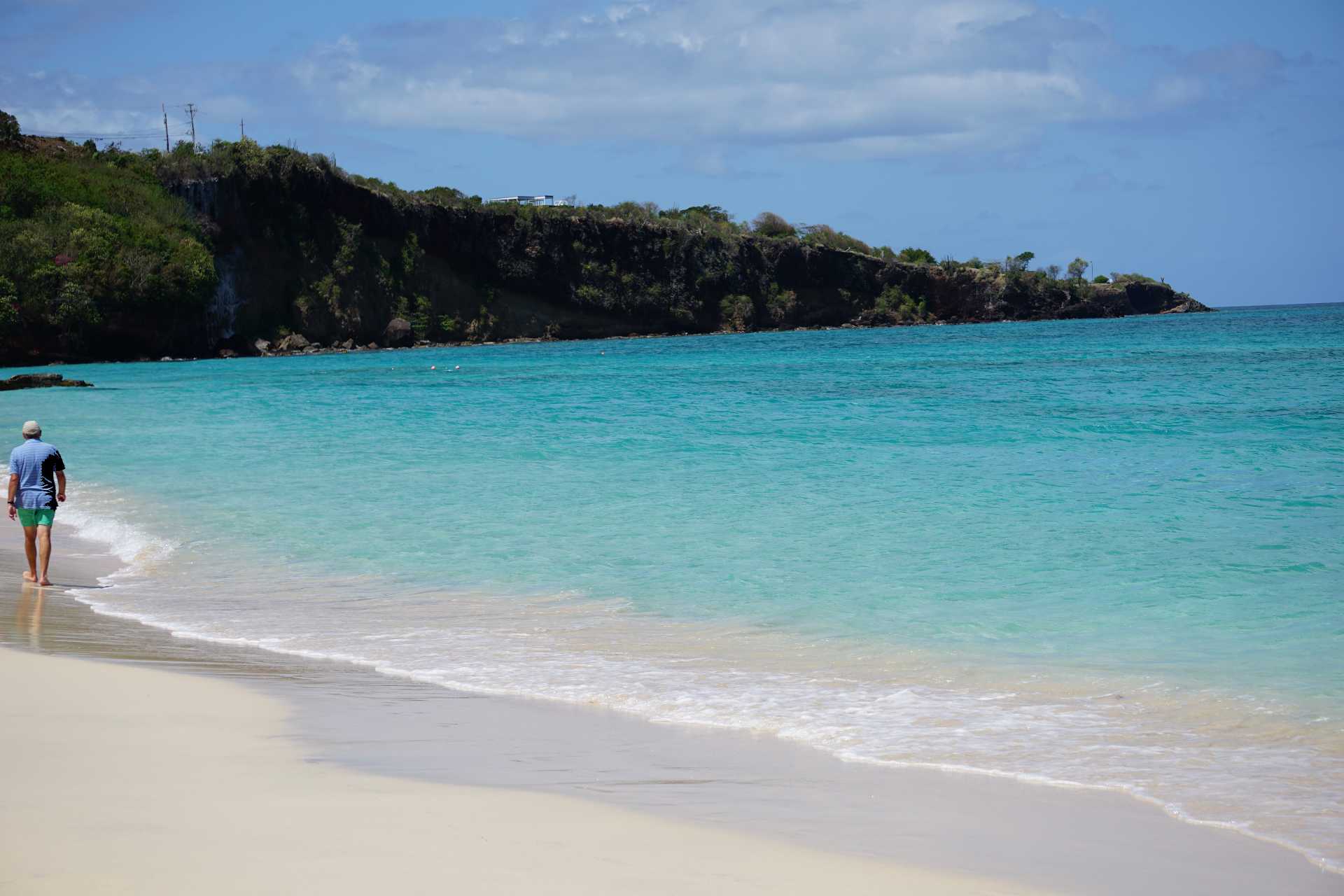 Grand Anse Beach is one of the most well-known beaches in Grenada. It's located 1.8 miles south of St. George. It's peaceful, clean, and full of amenities and fun people. If you're visiting Grenada by cruise ship, Grand Anse is the easiest beach to visit.
Grand Beach
Grand Beach is 1.3 miles east of Calliste. The region is urbanized, and there's no entry fee, but you'll find perfect opportunities for snorkeling. 
Great River Bay
This dark sand beach is located 1.2 miles west of Calliste. Great River Bay is not very popular with tourists, but it is with locals, and there's no entry fee. 
Grenville Bay
Another dark sand beach, Grenville bay is located in Grenville. It's not overly crowded, but it's unique because of the dark sand and green, lush nature surrounding it. 
Hog island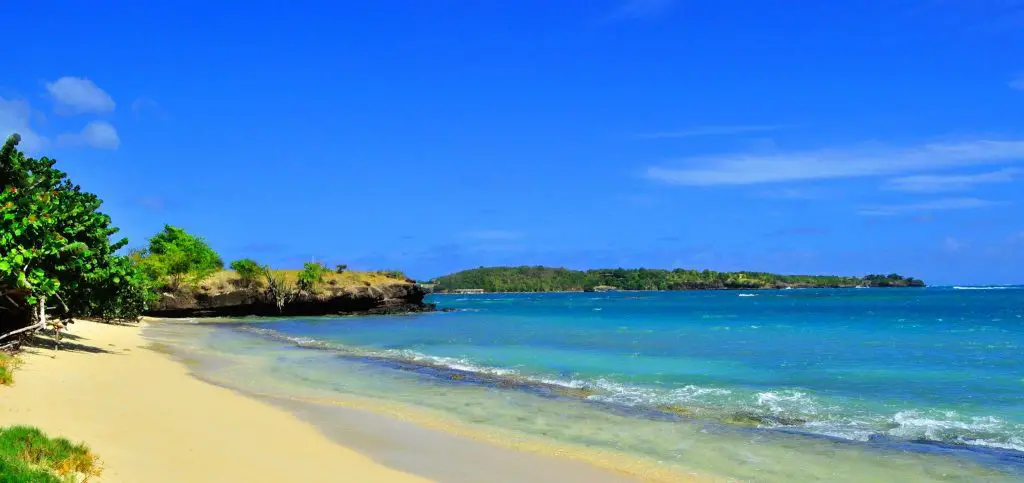 Hog Island is very popular with locals as well as boaters. So, you'll find a lot of friendly people to have fun with. 
La Sagesse beach
One-mile south of St. Davids, you'll find La Sagesse Beach. This unique beach is ideal for a romantic getaway and hiking through the nature center. 
Levera beach
Levera Beach is the perfect beach to watch the turtles hatch and head for the ocean, Levera Beach is 1.9 miles away from Sauteurs. 
Magazine beach
Magazine beach is one of the most popular beaches on the island, and it's 1.8 away from St. George's. It has pinkish sand, and it's perfect if you just left your cruise ship. 
Menere Bay
Menere Bay is 2.5 miles east of Thebaide. It's not urban, and the waters are calm, so you can enjoy a day of serenity. 
Menere Point]
Menere Point is tucked away in a less urban area, 1.9 miles east of Thebaide. It's surrounded by lush greenery and offers terrific vistas. 
Morne Rouge Beach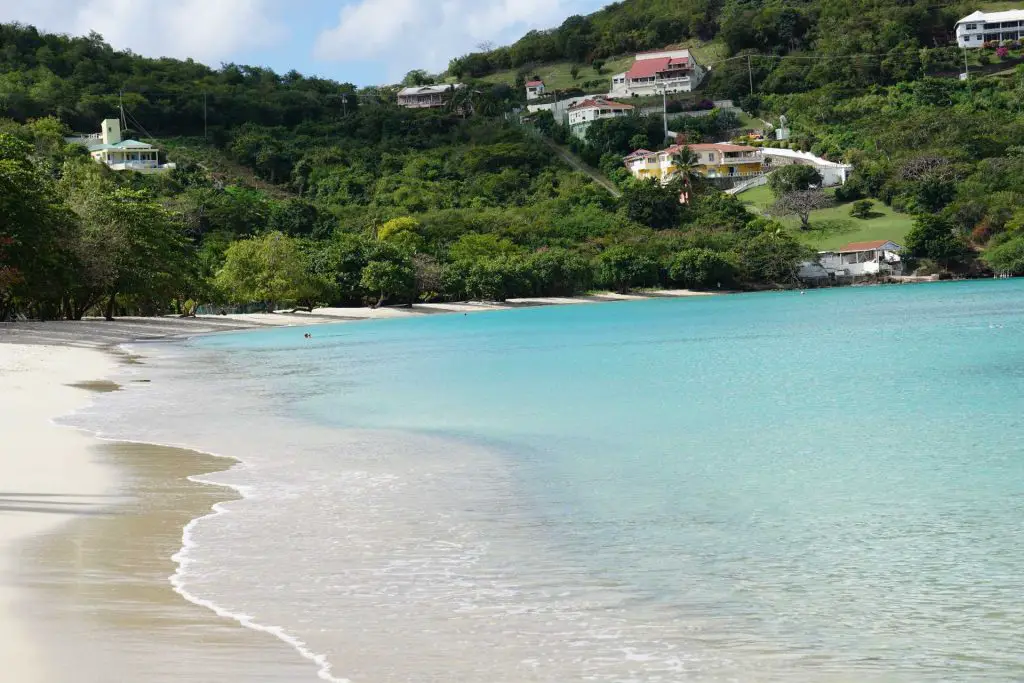 One of the most popular beaches on the island, Morne Rouge Beach is just 0.9 miles away from Grand Anse beach and offers calm, shallow waters, perfect for children and families. 
Parc a Boeuf beach
Parc a Boef beach is also near Grand Anse just 1.4 miles away. It's less popular with tourists, has grey sand, and plenty of resorts around it which makes it perfect for a relaxing day. 
Pearl's beach
Pearl's beach is north of Grenville, 1.7 miles from the city, this beach is perfect for surfing. 
Pink Gin beach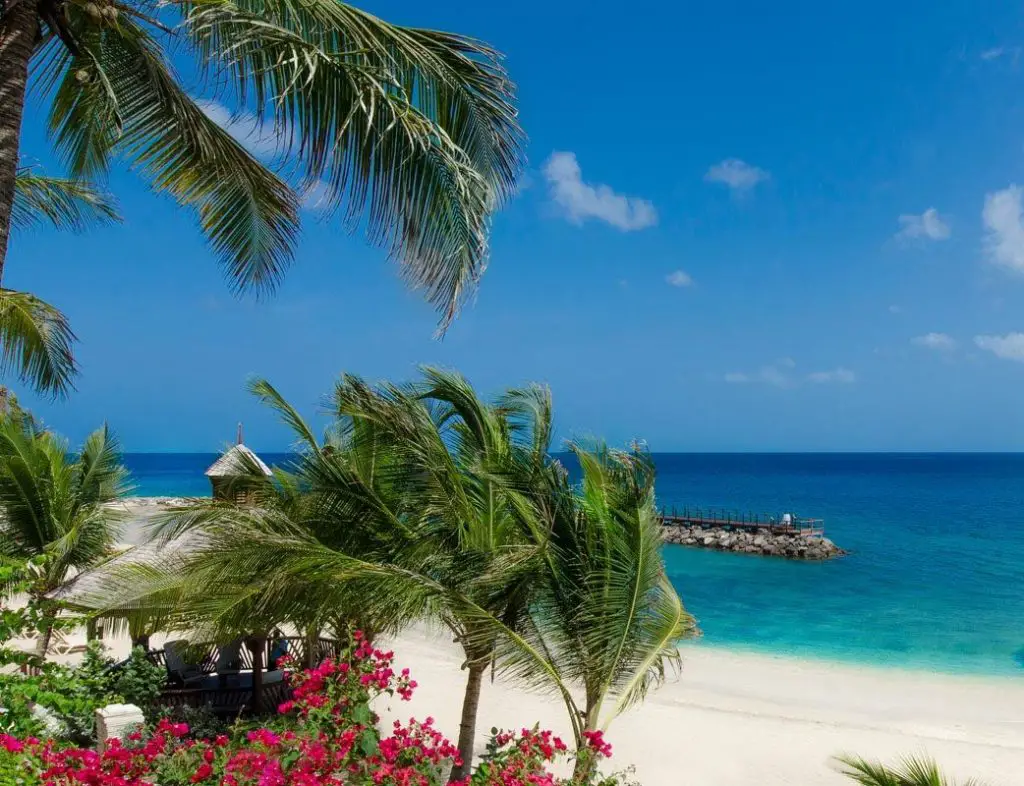 Located 1.2 miles west of Calliste, Pink Gin Beach is one of the most popular beaches with tourists. It offers beautiful sights and a relaxing environment, full of opportunities for water sports.
Quarantine Point Beach
Quarantine Point beach is located one mile west of Grand Anse, and it has gorgeous peach sand with emerald waters that you'll fall in love with. 
Sauteurs Bay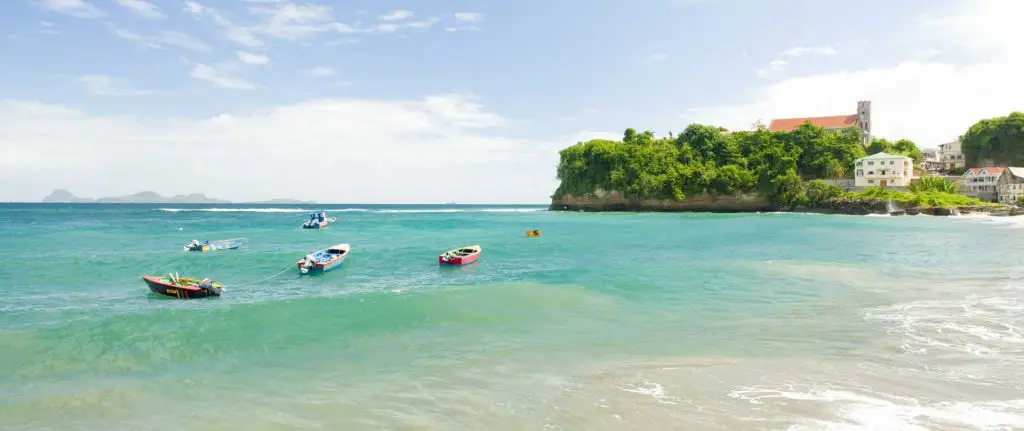 Sauteurs Bay is located just 0.6 miles north of Sauteurs. It's easy to access and it has little to no visitors. Lined with coconut trees, you'll find it's perfect for a relaxing afternoon. 
Soubise beach
Soubise Beach is also near Grenville, just half a mile away. It's the perfect beach if you want to have the entire place for yourself for a few hours. 
Westerhall Point
Westherhall Point is located 2.2 miles from Central Bay Garden and is a perfect mix of green vistas and calm sea. It's very popular with resort tourists, and it has plenty of visitors all year long. 
Beaches on Carriacou (Grenada's sister island)
Carriacou is a sister island to Grenada, and it has just as beautiful beaches worth visiting. Here they are:
Anse la Roche — 1.4 miles north of Hillsborough, this beach has a pristine feel and a coral reef just near the shore, which means it's a perfect spot for snorkeling. 
Gun Point Beach — This beach is a bit further away from Hillsborough, sitting 3.3 miles north of it. However, it's a perfect secluded place to have a serene day and swim in cool, topaz waters. 
Hillsborough Beach — This beach is in Hillsborough, and it's one of the most popular beaches on the island. It's perfect for a morning swim or even boat-watching. 
L'Esterre Beach — Located 2.3 miles west of Hillsborough, this beach is full of people, and it offers numerous opportunities to taste great food or meet new people. 
Paradise Beach — At almost two miles away from Hillsborough, this beach is a perfect combination of relaxation and fun, with shops and restaurants being nearby, yet far enough not to disturb the peace. 
Saline Island — This is a beach on Saline island, a small piece of land 3.3 miles away from central Carriacou. It offers an excellent mix of white sand and topaz water, making it perfect for a day of Caribbean relaxation. 
Sandy Island — This is a Marine Reserve full of natural wonders and wildlife, located 2.6 miles west of Hillsborough. It's perfect for a secluded day in clear waters and pristine beaches. 
Tyrell Bay — This beach is home to numerous beautiful boats, as it's just 2.7 miles south of Hillsborough. It's a great place to have a snack or a few drinks, and it offers a wonderful seaside experience. 
White Island — Right around the corner from famous resorts, this beach is perfect for a tranquil, uncrowded experience. 
Windward West — A bit closer to Hillsborough, this beach is almost always deserted, and there's nothing but trees for miles. It's a good place to be if you are adventurous. 
Conclusion
Grenada offers a huge selection of gorgeous beaches to visit. No matter which one you choose, you can't go wrong.
Check out one of the top-rated beaches such as Grand Anse or Magazine Beach. They're close to the cruise port and easy to find when visiting the island by the ship.
If staying on Grenada or Carriacou for a longer stay, add some of the off-the-beaten-path beaches to your lists like Pink Gin Beach and Sandy Island.
If you're the competitive type, visit them all for the ultimate memory maker when visiting Grenada.