Grenada's capital, St. George's, is one of the quintessential Caribbean cities. It's colorful, full of culture and history, and has plenty of fun activities to take part in. 
Here's a list of the best things to do in St. George's, Grenada:
Underwater Sculpture Park
St. George's Forts
Carenage
House of Chocolate
Beaches
Grenada National Museum
Set in the middle of blossoming botanic life and the azure blue sea, this island city will surely give you a memorable experience. Read on to find out more about these sites and what makes them worth visiting. 
About St. George's
St. George's, the capital of Grenada, is a lively seaside town surrounded by thriving nature, just below an old volcano. It's a harbor too — a place where many ships dock, including cruise liners. It's a popular tourist destination, although not as commercialized as other Caribbean cities. 
Grenada, and thus St. George's, is considered an off-the-beaten-path place, although it's been developing more and more recently. The island has preserved in most areas the pristine state of nature. 
The climate is mostly balmy throughout the year, and the weather is very nice, although there's a rainy season between July and November. Even so, the temperatures remain in the low 80s on average. 
History of St. George's
St. George's is an excellent destination for history buffs, as it's been turbulent and interesting. 
In the spot where St. George's now lies, the French colonists constructed the Fort Royal in 1666. The capital of the island was another city called St. Louis, but floods ravaged it, and it was haunted by malaria. So, they created a new town, just below Fort Royal. The island was then ceded to the British, who renamed it to its current name, St. George's. Fort Royal was also renamed Fort George. 
The town suffered from a big fire in 1771. For a while, it even served as the replacement capital of the colony at the time called the British Windward Islands. In 1974, Grenada finally got its independence from Britain. The leftist party, under the leadership of Maurice Bishop, overtook the government in 1983. This enticed the USA to invade the island and reinstate a government that favored the States. 
St. George's went through a few hurricanes, the latest one being Hurricane Ivan in 2004, which did a lot of damage to its infrastructure and fields. Their rebuilding efforts brought them back onto the spice scene, and it became one of the most beloved hidden gems in the Caribbean. 
Best Attractions in St. George's 
Grenada may be a small island, but it has no shortage of fun activities for its visitors to partake in. Let's take a look at some of the island's best attractions. 
Underwater Sculpture Park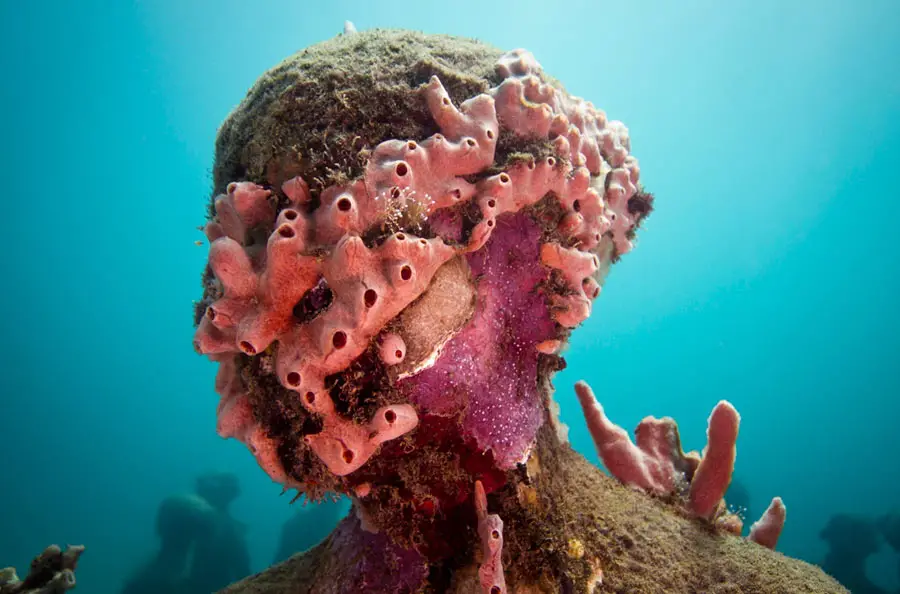 Location: A dive site off the Molinere Bay
Open: Always 
Price: Starts at $76, but it may vary from provider to provider
If you want to see something that looks as if it came from a fairytale, Underwater Sculpture Park is the best place for you. Located just off Molinere Bay, this garden was created by Jason deCaires Taylor as a way to exhibit his art in a unique way, but also help the local environment. 
His sculptures are all made with eco-friendly concrete so that the creatures of the sea, especially corals, can attach themselves safely and thrive there. The sculptures are truly enchanting, and they range from abstract creations to sculptures of real people, cast in the image of local children and adults.
You can go snorkeling or even diving and explore this amazing area. 
St. George's Forts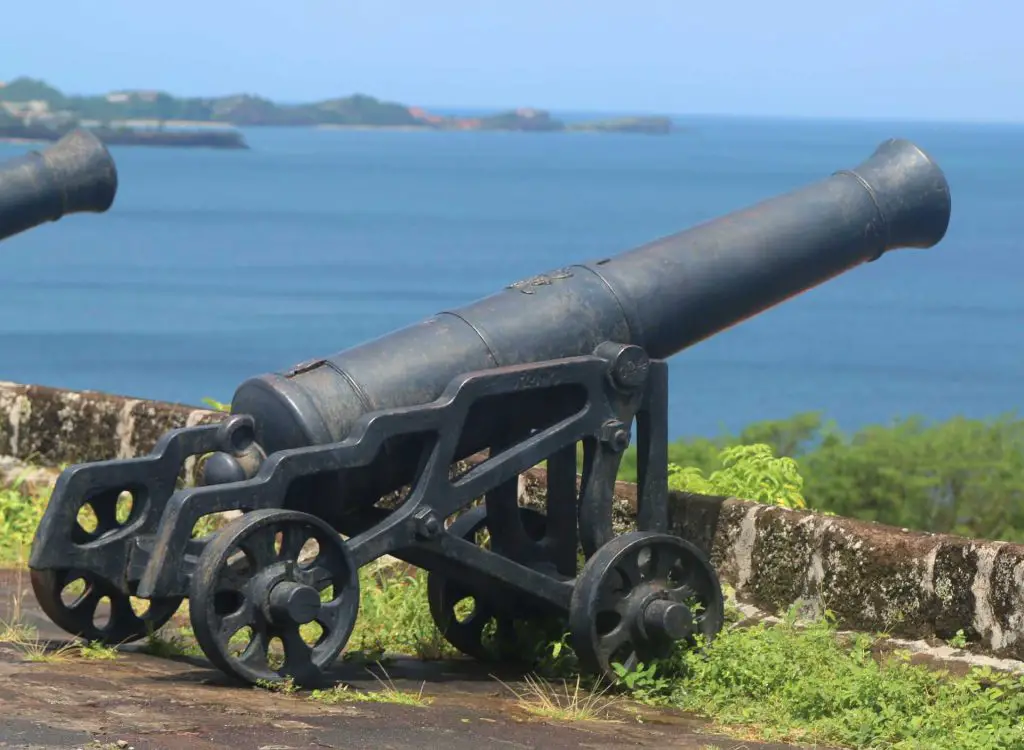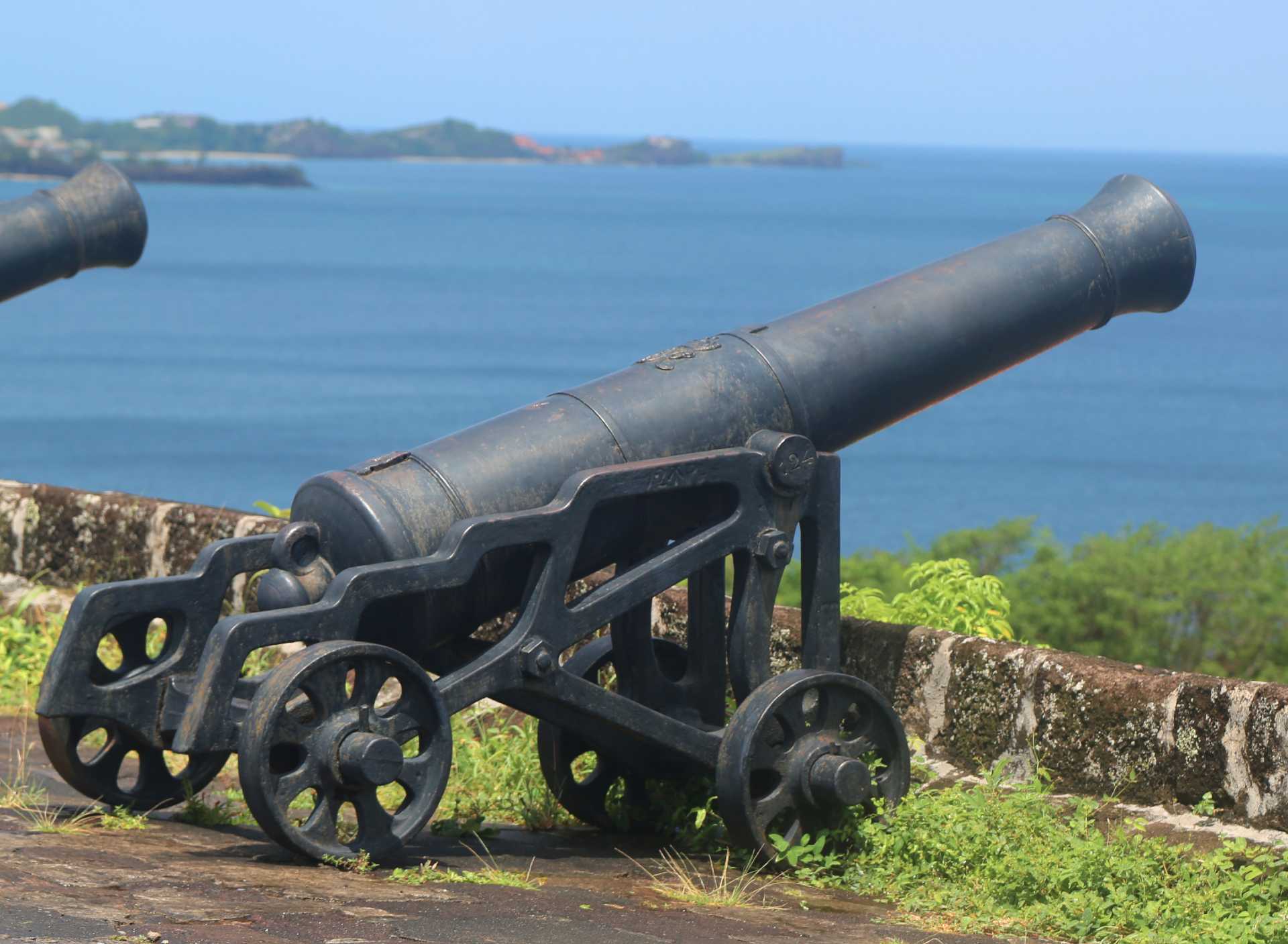 Location: Grand Etang Road / Richmond Hill, St. George's
Open: 8 am to 5 pm 
Price: Around $2 USD per person
If you're a history buff — or just looking for impressive vistas — the forts in St. George's are the perfect place for you. They are imposingly high and full of that ancient vibe. Not much has changed there over the centuries for these forts. They are not very well maintained, but they are functional and open to the public. 
There's Fort George, Fort Frederick, and Fort Matthew. All of them now serve a military purpose, but also serve tourists in their search for magnificent photos of the area. And truly, from every corner in winding paths through the fort, a new beautiful sight is available. 
Carenage
Location: St. George's, Grenada
Open: Always
Price: Free
For those interested in the local culture and day-to-day life, Carenage is the best place to be. You can befriend locals or ex-pats, get some insight on where to eat, and so on. Watch boats dock and move towards the sunset, enjoy the vistas of the city across the gulf, and shop around at markets. 
You can find some of the best restaurants here, as well as bars and street food vendors. It's a great place that will surely satisfy your adventurous spirit.  
House of Chocolate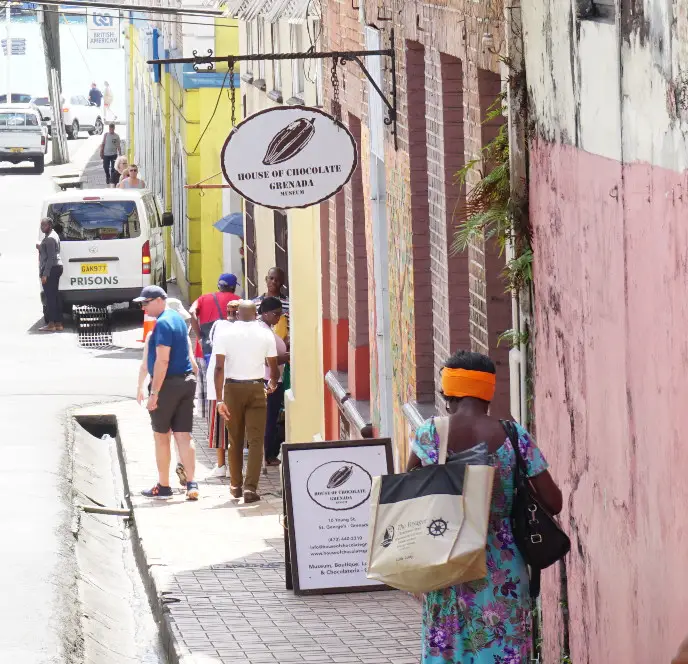 Location: Young Street, St George's
Open: 10 am to 6 pm 
Price: Free to enter 
One of the sweetest destinations in all of St. George's is the House of Chocolate. It's part store, part museum, allowing you to learn the long history of chocolate making in Grenada. You can get some samples and stock up on some of the finest treats in the world. There's a cafe too, so you can try all sorts of chocolatey drinks and sweets. 
Beaches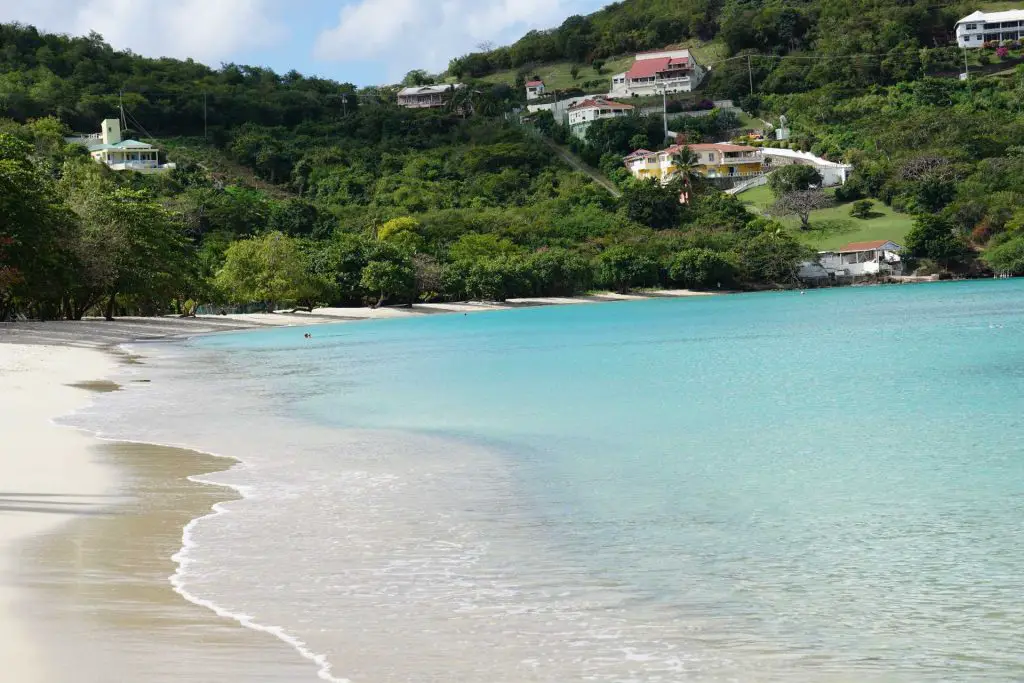 Location: St. George's 
Open: Always
Price: Free
Picking just one beach out of the long list of beaches that Grenada has — an astonishing 45 — is a difficult job. Each of them is special in its own way, and choosing it is a personal choice based on what you want.
For example, you could enjoy some more popular beaches in and near St. George's like Grand Anse Beach, Magazine Beach, and Morne Rouge Beach. Or, try some more secluded ones on the east coast of the island like Great River Bay or Antoine Beach.  You can read more about Grand Anse Beach here: How to Get to Grand Anse Beach.
Grenada National Museum
Location: Young Street, St George's
Open: 9 am to 4:30 pm 
Price: EC $5 per person
Explore Grenada's history even further by visiting the National Museum. It's an eclectic collection of a bunch of different items. The staff is very friendly and always ready to tell you more about the items that you see. 
It was first opened in 1976. Now, it has several segments dedicated to the indigenous people, slavery, early technology, fishing, plantations, and so on. It even features a marble bath that once belonged to Josephine Bonaparte. 
Top-Rated Things To See In St. George's
Out of all of these marvelous activities, some truly stand out amongst tourists and locals alike. For one, you don't want to miss the Underwater Sculpture Park, as it's world-famous and one of the most beautiful sites on the planet. 
Beaches are also not to be missed, and you won't make a mistake no matter which one you choose. From Grand Anse Beach to lesser-known ones that are mostly deserted, they are all perfect for relaxing in the peace and serenity of the Caribbean seaside. 
You'll probably want to keep the Carenage near the top of your list since it's the best place to see the full beauty of the city, mingle with the locals, and eat local food. 
Grenada also boasts a long list of events throughout the year, so if you find yourself in the city during those festivities, make sure to participate. From Spicemas to the Chocolate Festival, you definitely won't be bored in Grenada.