I came across the Grenada Underwater Sculpture Park while searching for a unique family vacation. I was impressed by the pictures so decided to look more into this interesting and unusual underwater museum. I'm happy to share my findings with you today.
What is there to know about the Grenada Underwater Sculpture Park? It's an underwater sculpture park that was first opened to the public in 2006. The attraction currently has more than 70 sculptures, most of which were created by Jason deCaires Taylor. 
Learning how the underwater attraction, which is also known as the Molinere Underground Sculpture Park, came to be will help you appreciate everything that you are going to see and experience when you visit. And we're here to tell you everything you need to know about this unique attraction.
Grenada Underwater Sculpture Park History
One of the things you realize when you learn about Grenada Underwater Sculpture Park's history is that these sculptures are not just pieces of art, but they also help save the environment and keep marine life alive.
The Grenada Underwater Sculpture Park's history is indeed as fascinating as the place itself.
A noble purpose: A mix of beauty and conservation
More than being a one-of-a-kind tourist destination, this sculpture park aims to conserve the underwater ecosystem of Grenada, which has faced several disasters that severely disrupted it.
For one, the coral reef around the island was destroyed by people and two hurricanes: Ivan in 2004 and Emily in 2005.
Secondly, tourism has stressed the ecosystem even more.  James Taylor realized that underground sculptures, under the right conditions, could be used as artificial reefs that allowed corals to grow and sea creatures to thrive.  
Because of the underwater attraction, the Grenadian government declared the area as a marine protected area. Visitors will have to pay entrance fees to the park, which are then used to pay for park rangers who will manage fishing quotas and tourism in the area.
What's more, the conservation efforts not only benefited Grenada but also other places nearby. For instance, there's Flamingo Bay, which has one of the highest tourist arrivals. All that tourist activity is bad for the area's already endangered coral reefs.  Thankfully, the underwater sculpture park draws a significant number of visitors away from Flamingo Bay. This has helped preserve the fragile reefs there. It also serves the same purpose for reefs that were destroyed by hurricanes and other natural events.
The process behind the artificial reefs: How does it work?
The statues are created on land and they are thoroughly washed once completed. They are then hauled to the open waters using customized lifting rigs until they are sunk to their final locations.
These sculptures are made with pH-neutral and durable cement. Studies show that when you use ordinary or untreated cement, it will not be conducive to algae growth.  A pH-neutral sculpture will let barnacles and other pH-resistant organisms thrive when they attach themselves to the sculpture. 
The ocean-friendly artworks are also placed in current areas, where coral polyps can get to it. These coral polyps attach themselves to the sculptures easily because of the ridges and the textures of the surface.
The planning and the research paid off as the sculptures have the same diversity as a natural coral reef. Plus, photographs taken of the sculptures years after they were installed showed that the corals were not only thriving but they are also changing the appearance of the sculptures. 
Meet the Man Behind the Park: Jason deCaires Taylor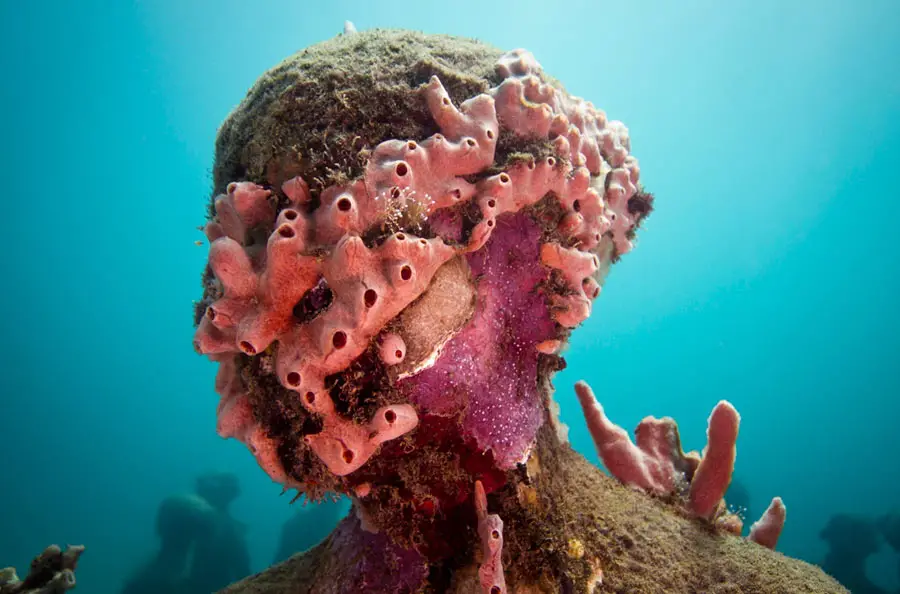 These living masterpieces under the sea wouldn't have been possible if not for Jason deCaires Taylor.
It was Taylor who came up with the concept and put the plan in motion. Aside from being a sculptor, Taylor is also a marine conservationist, a scuba diving instructor, and an underwater photographer.  After his work on the Grenada underwater sculpture park, Taylor created similar spaces and new works in the oceans and seas of Cancun, Mexico, the Bahamas, and Lanzarote, Spain.
Born in 1974, he grew up in Europe, Asia, and the Caribbean. As a child, Taylor's family would go boating off the islands in Malaysia and Thailand. Even before he entered the University of the Arts London, where he received a B.A Honours degree in Sculpture and Ceramics, he was already into diving.
After leaving college, Taylor found himself working in a variety of odd jobs including being a diving instructor. He began realizing that the ocean is an amazing exhibit space and how sculptures may be used as artificial reefs.
Other works and recognition
The Grenada Underwater Sculpture Park is the first such in the world, but Taylor is currently working on the Cancun Underwater Museum. The Cancun project will be the largest sculpture museum in the world.  Taylor has continued working on similar projects, including
Ocean Atlas, which stands more than 16 feet high and weighs 60 tons.
Museo Atlantico, the only underwater sculpture museum that is located in Europe.
The artist has won several awards and recognitions, including:
Forbes named the Museo Subacuático de Arte in Cancun as one of the world's most unusual places to visit
National Geographic named the Grenada Underwater Sculpture Park one of the "25 Wonders of the World – Earth's Most Awesome Places" in 2011
Taylor was awarded the Foreign Policy Global Thinker award in 2014
Taylor was honored with the "Scroll" by the Friends of the Anclas Phillipe Cousteau Museum for underwater art.
The Grenada Underwater Sculpture Park Experience
There is some kind of magic when you are underwater. Maybe it is because the chaotic sounds of the world above get muted. Or perhaps it is the feeling of weightlessness, or how everything underwater looks the way things do at dusk.
Needless to say, the Grenada Underwater Sculpture Park gives you something extra special. The beautiful, unique, and sometimes eerie and haunting sculpture park invites you to not only appreciate the skill and artistry behind the sculptures but to also enjoy and get a close look at the thriving marine ecosystem it has created.
If it is your first time seeing the sculptures and you don't know anything about them, you might think that they have been there for centuries. Or that perhaps they are remnants of a sunken pirate ship.
Well, you should know that these sculptures were created in 2006 and are actually younger than most teenagers nowadays.
A different kind of sightseeing trip
The Grenada Underwater Sculpture Park is a treat for both first-timers and returning visitors. There's no need to worry about tourists toppling the sculptures over because these pieces are bolted to the bottom of the ocean.  What's more, they are scattered around in very clear shallow waters that you can see when you snorkel or when you're on a glass-bottomed boat.
Viewing these sculptures up close is a surreal experience. These sculptures are meant to act as artificial reefs, and it can be fun to see them as schools of colorful fish swim nearby.  But it can also be unnerving. Most sculptures have a human form, and you can see barnacles attached to their "skin." Sea algae protrude from crevices where the eye sockets should be.  
But such randomness makes these sculptures worth second, third, or countless visits in the future. The sculptures may be created by artists, but they are also shaped and formed by the ocean.  Moreover, the sculptures are ever-changing as they interact with their underwater environment. Even if you visit the park multiple times throughout the years, you will always see something new.
Taylor explained it best when he said in a TED Interview that all he did was to provide stationary objects scattered all over the ocean floor.  It is the ocean that gives each and every artwork a soul.
At a Glance: Grenada Underwater Sculpture Park Facts
What is the basic information you should know about the Grenada Underwater Sculpture Park?
Location: The Caribbean Sea off the coast of Molinere Bay, in Grenada
Number of sculptures: At least 70, with more being added
Depth of sculptures: Varying from 10 to 40 feet
The total area covered: At least 8,611 square feet
Highlights of the Park
Taylor's first sculpture for the underwater sculpture park is the Lost Correspondent, a sculpture that depicts a man sitting behind a desk and working on a typewriter.
The piece is Taylor's tribute to his grandfather, who loved writing letters. And that first sculpture became the seed that gave rise to the park as we know it today.
The park is now home to over 60 sculptures. And while each one is worth a closer look, if you don't have time to check them all out, these are the highlights you shouldn't miss.
The Vicissitudes
The Vicissitudes is perhaps the most popular and heavily discussed piece in the park. It was installed in 2007 and features a ring of 26 standing kids. They are holding hands and facing outwards.
People have made various interpretations regarding this work. Some say it is Taylor's tribute to the African slaves that were thrown into the open seas during the Middle Passage.
The sculptor himself clarified that the idea of the Vicissitudes has nothing to do with the African slave trade.  Instead, he explained that the sculpture is all about unity and continuum. It speaks about growth, natural transformation, and chance.
Grace Reef
The Grace Reef is a collection of 16 female forms that are spread out across a wide area. The sculptures are unique and different from each other as various marine life forms grow to cover their faces and bodies.
The Un-still Life 
The Un-still Life is the underwater equivalent of the perennial favorite of still-life artists: a table, a pitcher, and a bowl of fruits.
Fall from Grace
This life-size sculpture depicts a man biking along the reef.
Notable sculptures from other artists
Over the years, several artists have added their works to the park.
TAMCC Faces is the work of local community college students. It is a collection of life-sized faces that are placed cheek to cheek and look like they are peering out of a huge coral boulder
The Amerindian Petroglyphs is a collection of 14 sculptures that were created by a local, Troy Lewis. These sculptures present Amerindian art, spirituality, and culture.
The Silent Cry is also the work of a local sculptor, Rene Froehlich, and Jefferson Thomas. This seven-foot-high work looks like the root system of giant trees that are found in the forests of Grenada.
The Nutmeg Princess is a shoutout to Grenada's main export. This artwork comes from Lene Kilde and is based on a local fable about a princess who lived in a bottomless lake.
Christ of the Deep commemorates the 50th anniversary of the sinking of the Bianca C. This Troy Lewis sculpture is reminiscent of Rio de Janeiro's Christ the Redeemer
How to Get There
Getting to Grenada is easy. There are nonstop flights offered by American Airlines, Delta, JetBlue, and others. There are also regional flights between Grenada and nearby islands in the Caribbean.
The Grenada Underwater Sculpture Park is just off the coast of Molinere Point. It's a 15-minute boat ride from Grand Anse or a shorter 10-minute boat trip from St. Georges.
You can view the sculptures by diving, snorkeling, or getting on a glass-bottom boat.
Scuba diving will be the best way to experience and get up close to the sculptures. However, if you have small kids or if you are antsy about diving, snorkeling is an excellent alternative.
Getting around Grenada
If you like to see more of the country, there are several options. The most affordable option is the public bus which charges $2.50 as a fare.
There are also taxis and minibusses that you can hire for your tours, depending on your group's size. Just remember to ask how much the fare is before getting into one.
Car rentals are also an excellent option. In the off-season, you can rent a car for $50 a day.
If you need to go to another island, check out the ferries that travel from Grenada to Petite Martinique and Carriacou. Or you can try the water taxis that travel between St. George's Harbor and Grand Anse Beach. 
To learn more about these and other transportation options, check out this link
What to Expect and Some Tips When You Go
What are the things to remember when you visit?
Expect some damage
These sculptures are placed in the tough environment of the seas and, as such, some damage to the pieces is to be expected. In fact, some of the earlier works were damaged by several typhoons and were buried in the sand.  
Get an expert guide
The installations are very accessible, and you can walk along the beach and swim out to sea to view some of the pieces that are in shallower waters. However, there are also some that are in deeper parts and might be more difficult to find.  These sculptures are unmarked, so finding them might be a challenge for first-timers. An expert will be able to safely guide you and your group.
There are several outfits on the island that offer guided tours, with qualified divers as crew. Here are three companies you could check out:
Grenada Seafaris offers hotel pickup and drops off complimentary use of snorkeling equipment, and an expert guide who will be with you in the water when you get to the underwater park.
Snorkel Grenada offers professionally guided snorkeling trips.
Carib Cats offer a half-day sail and snorkel with the underwater sculptures as one of the stops.
There is a fee
You will need to buy a day pass from the Ministry of Fisheries to get up close to the sculptures. It will set you back $1 if you are going snorkeling, and $2 if you plan to go diving.
Tour the rest of the island
A guided tour of the underwater sculpture park takes anywhere from two to four hours, so you will have a lot of time left to sunbathe, swim, or take in some of the other attractions on the island. 
You can enjoy the nature sites here as Grenada offers everything from beaches to waterfalls and rainforests.  There are also a lot of places with stunning views, heritage and historic sites, and shopping choices.
Enjoy the local food
There are several restaurants nearby that can give you a taste of local food. 
What are the dishes and delicacies that you should try? Check out the oil down, which is the country's national dish.
You can also eat a fried bake for breakfast. Or you can also try lambie souse, a type of conch dish.
If the weather is a bit too warm, cool down with nutmeg ice cream. This national favorite is available at many restaurants.
Meanwhile, for those who have a pretty demanding sweet tooth, check out the Grenadian fudge, cocoa balls, or sweet potato pudding.
Pack Your Bags and Be Awed by the Grenada Underwater Sculpture Park
Artwork is always better when Mother Nature pitches in because you are never quite sure what to expect. That is perhaps the allure of the Grenada Underwater Sculpture Park.
But there are also other reasons why you must see this attraction. Aside from being able to view awe-inspiring works of art in a one-of-a-kind museum, you are able to show your support for a more sustainable form of ecotourism. 
The fact that you get to go scuba diving and snorkeling makes it a lot more fun, too.
So yes, it's like hitting two birds with one stone, really. Or three birds.