Grenada is known as the Spice Isle and is home to many fiery local dishes.  When trying out the local cuisine, what could be better to quench your thirst than a local beer?  Grenada may be known for its spice plantations, but there are also many local beers to try and a couple of breweries to visit.  A trip to Grenada would not be complete without sampling some of the island's beer.
Grenada Beers
So, what are the locally brewed beers in Grenada? Grenada is home to two breweries:  The West Indies Beer Company, founded in 2014 and Grenada Breweries Limited.
Some of the individual beers made in Grenada include mass-produced beers, craft beers, seasonal beers, and ciders.
Mass Produced Grenada Beers
Carib
Stag
Mackeson Triple XXX Stout
Shandy Carib
Grenada Craft Beers
Windward IPA
Dockside ESB
Black Rock IPA
Mosaic
Rogue Pirate
Buccaneer
Island Hog
Grenada Seasonal Beers
Drunken Goat
Lazy Pelican
Grumpy Pete
Humdinger
Hawk Tripel
Old Mongoose Porter
Chocolate Mongoose Porter
Grenada Ciders
Light Cider
Outback Cider
Sundown Cider
To truly immerse yourself in Grenadian culture, local beers should be sampled along with the local food.  This article will serve as your ultimate guide to the beers and breweries in Grenada. Continue reading to learn about all the local beers available and where you can enjoy them!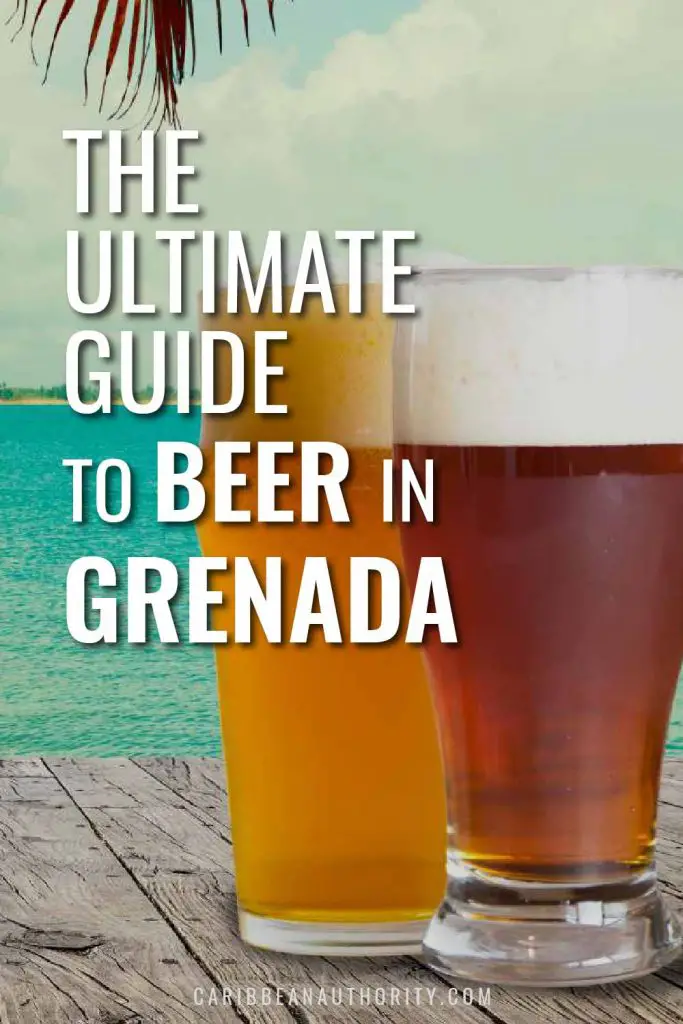 Grenada Breweries
There are two breweries located on the island of Grenada – Grenada Breweries Limited and Carib Brewery.
Grenada Breweries Limited was the first one founded in 1960 as an offshoot of the Carib Brewery in Trinidad.  Grenada Breweries Ltd. was established to increase the capacity of the original company.  It is located on three and a half acres of land in Grand Anse. It brews beers that follow the standards set by the Trinidad parent company.
The West Indies Beer Company is a craft brewery that produces microbrews.  It started as a wooden hut in the True Blue Resort in 2014, handing out beer for free until it obtained the first new brewery license in Grenada in 50 years. The company prides itself on making the best ale that Grenada has ever seen.
Carib Brewery: Grenada Breweries Ltd.
Grenada Breweries Ltd. was an expansion of the Carib Brewery.  Grenada Breweries' first beer rolled off the bottling line in 1961.  Carib, a beer local to Trinidad, was the first beer bottled.  Since then, Guinness purchased the company in 1981 and began bottling Guinness stout in addition to the Carib beer.  Later, Guinness Malta was added. In 2002, the Brewery was purchased by the ANDA McAL group.
The Brewery has a first-rate brewing laboratory equipped with state-of-the-art equipment and trained personnel with an emphasis placed on excellent quality products.  The Brewery is licensed to produce several different beers without a single deviation from the standards set by Trinidad Brewery.  Some are produced for export to regional markets.
Currently, Grenada Breweries exports five beverages to five regional markets.  These include:
Carib
Stag
Mackeson Triple XXX Stout
Shandy Carib
Ginseng (non-alcoholic) 
Guinness Foreign Extra Stout, Maxi Malt, and Malta Carib are also produced for distribution in Grenada.
Grenada Breweries has become part of the socio-economic landscape of the island.  It employs over 150 people producing more than 900,000 cases of beverages annually.  The company has worked to be socially responsible through various events, community projects, and environmental initiatives. Although the beers it produces are not "native" the island, they have become part of the culture.
West Indies Beer Company
Founded by Mark Heath when he retired to Grenada, the West Indies Beer Company went through several struggles to open.  Mark started by getting "make your own beer" kits from home.  When he shared his brews with others, they encouraged him to start brewing commercially.  
So, using a small area that a local resort gave him, he built a wooden hut and started brewing 45 gallons at a time. When he first started "selling" his beers, Heath had to give the beer away for free because he did not have a license.  
When he approached the local government to get a license, it was the first time in 50 years that they had been asked to grant a brewery license, and they were not even sure what they needed Heath to do!  Heath was finally granted the license in January 2014.  They expanded in 2016 with bigger tanks, a larger team, and, of course, more beer.
The West Indies Beer Company specializes in ales that are handcrafted by a Master Brewer.  They focus on trying to make a quality product that is not available anywhere else in Grenada or the Caribbean.  
After starting with traditional ales, the beer company branched out and made other brews over time.  The biggest range of their beers are sold at their beer garden, The Brewery, but they do sell them at other places on the islands, as well.  However, at this time, they only sell in Grenada and do not export to any other country.
Specializing in ales, West Indies now produces a dozen or so beers and ciders, including lagers and stouts, in addition to their ales.  Some beers are mainstays and others are seasonal. Fan favorites are Windward IPA, Drunken Goat, and their fruit ciders.  Tapping into the local chocolate farming, they have also developed a Chocolate Mongoose Porter.
Grenada Beers – Mass Produced
Grenada has two sets of beers, those that are created and brewed on the island and those that are not "native" to Grenada but are produced there for both local sale and export.  Grenada also has Shandy beers produced locally. Shandy beers are made by mixing beer with a clear lemon-lime based carbonated drink or with a clear lemon-flavored beverage.
Carib
Carib, first produced in Trinidad, is considered an American Adjunct Lager.  It is available in the United States in a few locations.  It is not hop-heavy. It is more of an "island beer" designed to drink with really spicy food or when it's hot outside.  The color is pale; it is almost the color of pineapple soda.  Some people compare it to a Corona.
Stag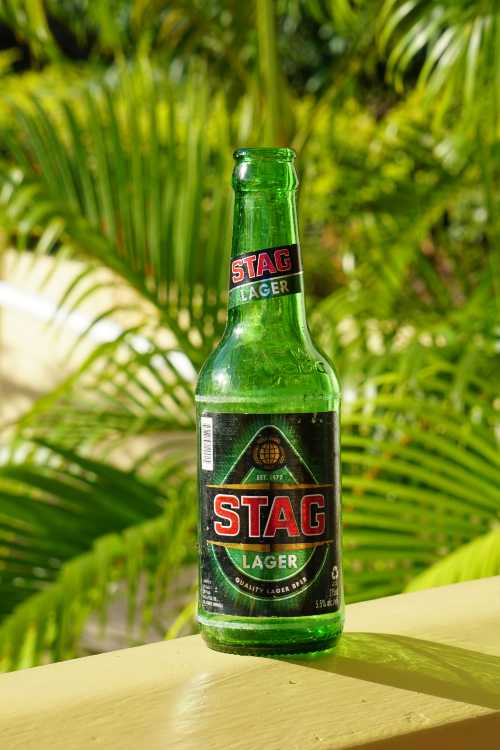 Stag is a European style lager.  The company bills it as encapsulating "true masculinity," defined as strength and character.  It is marketed as "a man's beer." Stag is also brewed in the United States by the Pabst Company.  However, it does not taste the same as the island version due to different waters and other ingredients.  It is a pale, thin beer with a bitter aftertaste.
Mackeson Triple XXX Stout
Mackeson is a stout beer.  It is imported by DCI Miami and available in some United States locations.  It is considered a triple stout with dark malt sweetness. It pours black but is not as thick as some stouts.  The flavor is rich but does leave a slightly acidic aftertaste for some people.  
Shandy Carib
A variety of Carib Shandy drinks are produced in both Trinidad and Grenada.  Each has a sweet taste with the mild flavoring of the herb/fruit combination that was used to make it.  These "beers" are lower in alcohol (practically non-alcoholic), crisp, and refreshing after a long hot day in the sun or when eating fiery hot food.  These drinks are not so much for the beer connoisseur, but more for island fun.
Grenada Craft Beers
West Indies has a variety of craft beers available through local bars and at their beer garden. Striving to make the best ale in the Caribbean, they offer both flagship beers and seasonal beers.  They use locally sourced ingredients when they can but have to import both hops and carbon dioxide. However, they do use local natural spring water for brewing.
Ales
The West Indies Beer Company was founded on the idea of brewing a quality ale to remind the founder of the beers he left behind in England when he moved to the Caribbean.  It is not surprising then that seven of the beers are a type of ale.
Windward IPA:  This is the company's flagship ale.  It was the second beer they produced and has a clear citrus hops taste with a lighter color and the bitterness of typical hops.  It is 6.8% alcohol.
Dockside ESB: This was the first beer produced and is designed to taste like Old Speckled Hen from England.  However, the malt was switched out to a darker one so that the color could be differentiated from the color of Windward.  The result is a rich, robust, ruby-colored ale with a bittersweet finish.
Black Rock IPA: This is another IPA using a darker malt to create a strong, dark, bitter ale with citrus hops flavor.  At 8.3% alcohol, it is the strongest ale on the menu.
Mosaic:  This is a refreshing pale ale with lower alcohol content.  It is great to drink after a hot day at the beach.
Rogue Pirate: This is an ale in the bitter English style and is pale amber.
Buccaneer:  This is a Belgian style Saison, which is a pale ale that is highly carbonated with fruity and spicy flavors.
Island Hog: This final ale is a zesty amber ale that has the lowest alcohol content at only 3.8%.
Ciders
Cider was the second beverage in which that West Indies chose to specialize.  Currently, they offer three different ciders.
Light Cider: Varies based on fruit in season

4.8% alcohol
Varieties include: Mango, pomegranate, ginger, and watermelon

Outback Cider: Strong, cloudy, hard cider

7% alcohol
Just cider as it should be

Sundown Cider: Medium dry cider

5.9% alcohol
Sparkling, crisp, clean tasting 
Other Beers
Over the years, West Indies has branched out into other beers.  Many are seasonal, so they will not always be on the menu. However, all of them are handcrafted and created with care and skill.  Over time, the taste may vary slightly because the Master Brewer is still adjusting the recipe.
Drunken Goat: A hazy Belgian style wheat beer
Lazy Pelican: A more summery wheat beer with citrusy aromas
Grumpy Pete: A traditional English stout
Humdinger: An outstanding lager style beer
Hawk Tripel: Classic Belgian style tripel with a strong flavor; has an edge of spice and fruit.
Old Mongoose Porter: Smooth and malty.  The basis for the seasonal Chocolate Mongoose.
Local Preferences
The most popular drink in Grenada is rum.  However, when drinking beer, many of the local Grenada residents drink Carib because of its long-standing history on the island and the fact that a version of it is brewed locally in Grenada.  However, many of the West Indies Beers are gaining favor and becoming more popular as the breweries have been able to increase production and distribution.  
Imported Beers
Grenada is limited in imported beers.  Some of the larger resorts and fancier restaurants will carry imported beers, but the price is likely to be high.  Most roadside BBQ shops and beach shacks will have either local beers or rum.  What some people may think are imported beers are locally made through licensing agreements, such as Guinness Foreign Extra Stout.  
Where to Enjoy Your Beer in Grenada
Grenada has several different bars and pubs.  In 2014, the World Health Organization stated that Grenada had the highest rate of alcohol consumption in the Caribbean Islands.  So, if you are going to enjoy some beer or try a sip of their famous rum, be sure to stop by some of these bars.
Dodgy Dock
This restaurant and bar were the birthplace of the West Indies Beer Company and the company's beer is still for sale here today.  It is located in the True Blue Resort, a boutique resort, on the southern tip of the island.  The Dodgy Dock serves local dishes that highlight spices from the island, and the restaurant and bar have a happy hour, buffet, and nightly food themes.
Esther's Beach Bar
Tucked away inside the Spice Market on Grand Anse Beach is Esther's Beach Bar.  This beach bar has stunning views of the Caribbean Sea, including a mountain and waterfalls.  It is close enough to the beach that you can sip your drink and have a dip in the sea at the same time. Esther's has a well-stocked bar, including many of the local beers and a twist on locally produced rum.
Esther's special rum is a local rum that has been steeped in a mixture of Grenadian herbs and spices to create a taste experience that is unlike any other.  There is even local folklore that claims the rum has mystical properties. 
La Plywood
This bar is, quite literally, a bunch of plywood nailed together.  Situated on Morne Rouge Beach, this beach bar has fantastic views.  Situated on Grand Anse Beach, this bar is more laid back and less touristy than some of the other beach bars.  Parking can be tricky, so you may have to walk down a hill to get to the beach.  But it is worth it: beers are two for $5 and the fish tacos are great!
Prickly Bay Marina
Prickly Bay Marina is a restaurant and bar located at the Marina.  It hosts a game night several times a week, including trivia and bingo.  It is not located directly on the beach, but it does have views of the marina across the way.  It is one of the bars with live music and DJ's with a nice stage area. It does have parking reserved for guests.
Aquarium
Located on Magazine Beach, Aquarium is a secluded beach bar.  It can only be reached by driving down to Magazine Beach and walking or walking from the hillside hotel, Maca Bana.  The restaurant is secluded and offers fine dining, drinks, and stunning views of the ocean. For those that want to be on the beach, it also includes a beach bar.
La Sirena is the beach bar connected to Aquarium.  It is open after 10 am for coffee and drinks.  It serves a large selection of beers to imbibe while enjoying an ocean breeze and watching the waves.  Loungers, kayaks, and snorkeling equipment can also be rented from the bar. The bar features live music and BBQ every Sunday.
West Indies Beer Company
The southern tip of the island, L'Anse Aux Epines (The Bay of Thorns), is home to the West Indies Beer Company.  If you want to try their microbrewed craft beers, the best place to get them is right where they are brewed.  The company has a huge wrap-around bar that serves as a divider between the customers and the brewing machines.  
This place is equipped with plenty of activities, such as a dartboard and pool table.  The sizable patio includes a ring toss game that can be addictive. It is a great place to enjoy a beer and spend the afternoon.
In case you weren't aware, there are a million other reasons to visit Grenada. Check out this article for 20 reasons to get you started 20 Reasons Grenada is Totally Worth It.
Final Thoughts
Grenada is an island nation of sun, sand, and fiery hot food.  When vacationing there, locally brewed beer can be a great way to enjoy the local culture and cuisine.  With so many local beers to choose from, you can try new ones every day! So, check out the places, sample the food, and sip on the beer for a complete Grenadian experience.