Ranked in the Top 5 Best Places to Snorkel in the World, Grenada is a Caribbean oasis home to more than 30 dive sites, vibrant coral reefs ecosystems, and is also known as the shipwreck capital of the world! With so many haunting underwater worlds to explore, including the eerily beautiful sculpture garden, you won't even want to come up for air while discovering Grenada.
What are the 18 unmissable dive sites in Grenada? 
The Underwater Sculpture Park
Bianca C Wreckage – Also known as the 'Titanic of the Caribbean' 
Rum Runner Shipwreck
Shakem Shipwreck
Hema Shipwreck
The Veronica L Shipwreck
King Mitch Shipwreck
Flamingo Bay
Dragon Bay
Purple Rain
Whibbles Reef
Fisherman's Paradise
Grand Mal
Molinere Reef/ Buccaneer Wreck
Boss Reef
MV Tyrrel Bay
Red Buoy 
Boss Reef 
There is so much history in and around the Caribbean island of Grenada and much of it underwater! This guide will offer you insider details for the best diving that Grenada has to offer. By the end, you'll know which diving gems are worthy of exploring during your getaway, and which ones are better to read about.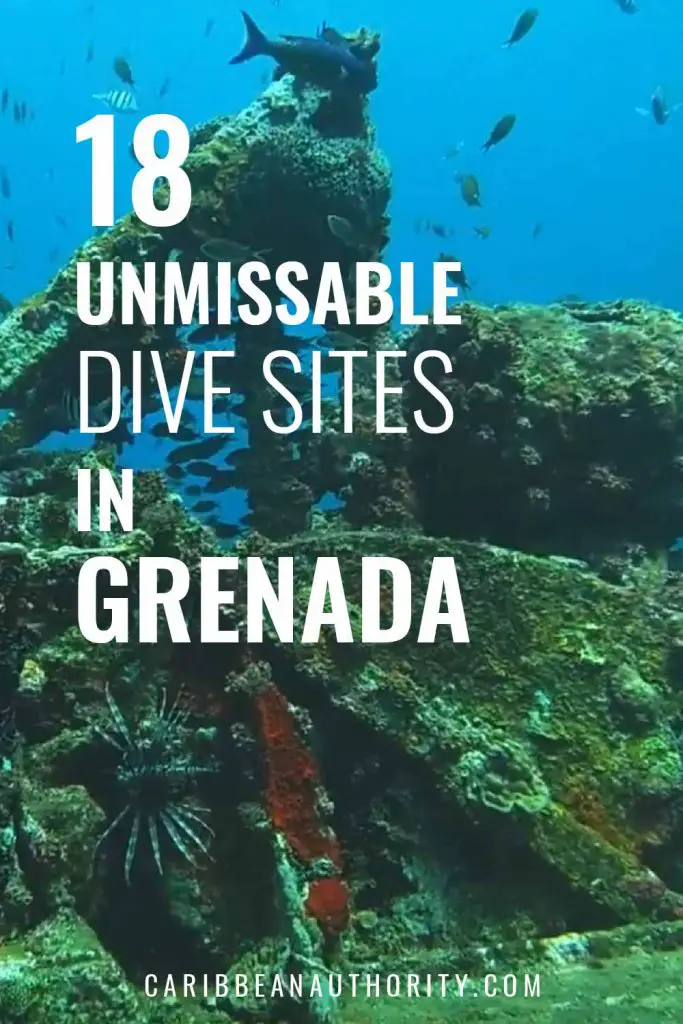 The Underwater Sculpture Park
The Underwater Sculpture Park tops our list as a must-see during your time in Grenada.
One of the coolest museums you'll find on this island (or anywhere in the world) is a complete underwater sculpture garden that is as haunting as it is beautiful. 
Designed by sculptor Jason de Caires Taylor, the sculptures are intended to capture the culture of Grenada and its people. You will see: 
The Ring of Children – a group of statues all linked by holding their hands in a circle. Everyone is facing outwards, back to back. 
People Lying in the Sand – These faces are intended to feel 'lost in time' and hidden by the natural movement of the ocean floor.
Man on a Bike – Just a casual cyclist, riding a bike underwater and getting nowhere fast. 
Located in the Moliniere Bay, the concrete garden of statues sits peacefully at the bottom of the ocean, surrounded by a reef that has been artificially installed to enhance the concrete artwork.  Despite it being an artificial reef, real fish and coral have attached themselves to the underwater museum making it a colorful and lively piece of art.
Depth: The installation is 15'–30'/4m–10m in-depth, so the range of elevation allows more sunlight to shine onto certain parts of the museum. 
History: The sculptor, Taylor, was very inspired by his time diving in Malaysia through colorful reefs and dive sites. They have adapted the sculptures overtime and added many more since it's opening in 2006, to maintain the evolution of the Grenada people. It began as 65 sculptures but has grown to over 100 pieces in the last few years.
Getting There: You can take a 10-minute ride by boat from St. Georges beach or use the popular Grand Anse as your starting point, making it a 15-minute venture by boat. 
Book your tour of The Underwater Sculpture Garden of Grenada
The Best Shipwreck Dives in Grenada
When a ship ends up at the bottom of the ocean, there is a new depth that humans seek to explore. It is something primal in our desire to adventure into the unknown and see what we find.
Shipwrecks draw divers because divers long to see places that few have been. They want to be a part of something rare, hidden far away at the bottom of the sea, and lying there peacefully.  These ships serve as a reminder that not everything moves with time.
These windows into the past can feel like a time warp or a haunted house without oxygen, but simultaneously a piece of art that has nothing else to do with the rest of the world. It is solitary and forgotten, which is just part of its beauty.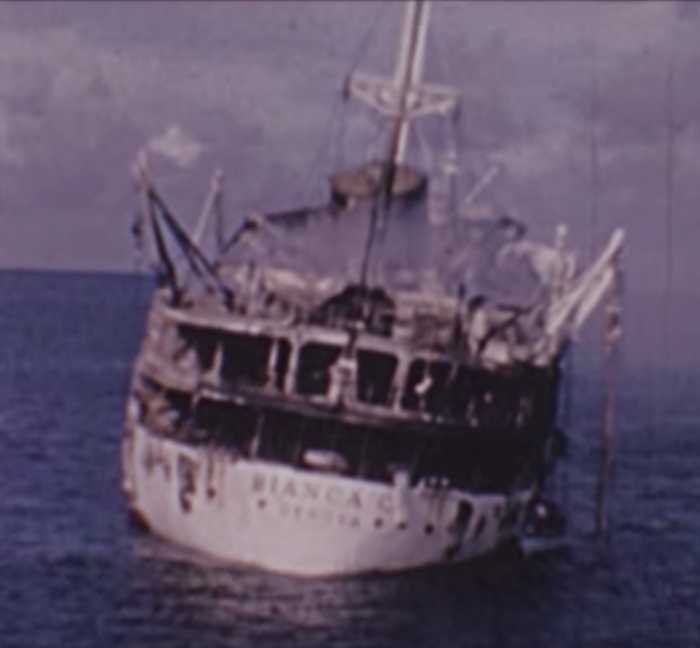 Grenada will offer you your pick of shipwreck sites, each with their own unique story. The best-of-the-best are what we've included in this guide, starting with the most notorious of all shipwrecks in Grenada:
The Bianca C shipwreck – Also known as the 'Titanic of the Caribbean' 
The most famous shipwreck in Grenada is hands-down the Bianca C. This ship held 600-passengers and is believed to be cursed due to the fact that it didn't shipwreck once, but twice!
You'll hear the locals call it 'Titanic' as it's nicknamed the 'Titanic of the Caribbean,' due to its large size. It is absolutely worth scheduling a visit while here. It has been listed in the Top 10 shipwrecks in the entire world and has been beautifully preserved since it sank in 1961. 
Your dive tour will actually begin where the swimming pool was on this enormous ship. You will see stingrays, eagle rays, reef sharks, nurse sharks, barracuda, and moray eels circling around the ship like the ghosts of its present state. 
Depth: The ship sits upright in 165 feet/50 meters of water. The ship is 180 meters long (approximately 600 feet) 
History: The Bianca C sunk for the first time around France and was able to be restored. It was renamed the 'Arosa Sky' in 1957.  This second crash in Grenada was the final crash on its repertoire, but luckily most of the crew and passengers were saved by the Grenadian boaters. By 1961 the 'Bianca C,' when went up in flames that were ruptured by an explosion in the boiling room. Of 673 onboard, 672 were saved. Check out the unfricken-believable video footage below.
Getting There: The meeting point for the linked tour is The Calabash Hotel L'Anse Aux Epines St. George's, Grenada, W.I.
Book Your Tour of the Bianca C Wreckage Site Scuba Diving
The Rhum Runner Shipwreck
A relatively easy dive that will be well-suited to all age groups and experience levels, the Rhum Runner site is a marvel worth exploring if you don't want anything too difficult. 
The catamaran at the bottom of the sea is covered in an entire ecosystem of colorful coral, sponges, and sea life. You will find beautiful angelfish, horse-eye jacks, lobsters frolicking around the seabed, trumpet fish and nurse sharks. 
The tour guides will also take you to an even more beautiful reef that is only about 30 meters away from the shipwreck.
Depth: Around 32 meters deep (104.987 feet approximately)
History: The tour is named after the Rhum Runner, a catamaran. Little is known about the Rhum Runner other than it was a charter boat. If you're lucky enough to embark on a tour of the Rhum Runner be sure to ask your tour guide for more details.  
Getting There: A few miles off of the Southwest Coast. Meeting point for the linked tour is The Calabash Hotel, L'Anse Aux Epines, St. George's, Grenada
Shakem Shipwreck
Some websites also call this one the MV Shakem, and there seems to be some debate on the name of it. This dive site reaches a depth of over 100 feet and allows you to explore a shipwreck that is less than 20 years old.
You can swim through this recent casualty, which we only lost in 2001, and have free liberty to explore the captain's room, the engine room, and circle around the propellers and anchor. Covered in colorful coral, you will be able to snap some fascinating underwater photographs that will feel surreal. 
Depth: Approximately 100 feet.
History: A 180-foot cargo ship left the Trinidad port in 2001, never to reach the Grenada Harbor. The ship is perfectly intact and weighed down by the concrete. The violent waters and heavy cargo being overloaded were responsible for taking this ship under.
The tragic part of this tale is that the crew could literally see the Grenada harbor in eye-view. They were so close but, sadly, never arrived. 
Getting There: Located a few miles off of Grande Anse, St Georges. The meeting point for the linked tour is The Calabash Hotel L'Anse Aux Epines St. George's, Grenada, W.I.
Book your tour of The Shakeen Dive Site 4 Hour Shipwreck Adventure
Hema 1 Shipwreck
Also known as the MV Hema, this was a freight ship that sank on its way to Trinidad. You will see dozens if not hundreds of nurse sharks and eagle rays swarming the premises of this abandoned ship. 
This 170-foot (50 meters) ship is lying on its side on the bottom of the sea. The Hema 1 is lying on its starboard side and is one of the most intact ships you will find in Grenada.
Touring Hema 1 will be one of the more challenging dives to take, so only sign up if you a competent diver. The seas will be rough with strong currents in this area.  The dive is challenging even for experienced divers. It can make it a very rewarding experience but make sure you're skills are up to par.
Barracudas are known for congregating around this ship as well as eagle rays and reef sharks. 
Depth: Approximately 100 feet
History: The ship was built in Germany in 1963 and didn't sink until 2005. On March 5th of 2005, this freighter ship was empty after a cargo drop-off in Grenada. On its return voyage to Trinidad, the waters become rough and the ship began to take on water.  The crew tried to use pumps to aid their ship's buoyancy, and the captain tried his best to steer the boat back to Grenada, which is part of the reason it ended up on its side from the drastic turn. The ship sank, and the Coast Guard rescued the entire crew. 
Getting There: About 3-4 miles off the Southeast coast of Grenada, the meeting point for the linked tour is The Calabash Hotel L'Anse Aux Epines St. George's, Grenada, W.I.
Book your tour for the Hema 1 Shipwreck Scuba Dive Tour
The Veronica L Shipwreck
The Veronica measures 40 meters as a relatively small-sized freighter that packs a big impression. Covered in beautiful coral, sponges, and wildlife, the entire form of this abandoned freighter is bustling with life.
This dive will be a much simpler one to a diving novice, with gentle currents and depths reaching a maximum of about 15 meters (about half the depth of most Grenada dives). You will find creole wrasse, frogfish, seahorses, more horse-eyed jacks than you could imagine, French angelfish, and damselfish too. 
The Veronica is considered to be one of the best photography-spots around the island due to its colorful exterior and that it is teaming with unique marine life. Be sure to check out the stern of the ship, which features 2 chains anchored to the reef. 
Consider saving this dive for nighttime for a truly once-in-a-lifetime experience! 
Depth: 15 meters (49 feet approximately) 
History: The ship was actually moved because they were trying to make room for a new ship terminal. The idea to move the ship was affirmed when Grenada officials decided to place the sunken ship closer to a beautiful nearby reef. 
The Veronica was loaded by barge and dropped in the upright position to its new home. Although it's not the original sinking site, it does offer proximity to a gorgeous reef. 
Getting There: Off of Grande Anse Beach, the meeting point for the linked tour is The Calabash Hotel L'Anse Aux Epines St. George's, Grenada, W.I.
Book your tour of The MV Veronica L Dive Site Grenada
The King Mitch
King Mitch isn't named after royalty without reason. This 200-foot ship is an underwater beast that will stun you with its majestic size alone as it sits topsy-turvy on its side at the bottom of the Atlantic. 
This dive will be between an intermediate-level of difficult to sheerly difficult, due to powerful currents and considerable depth. The tour guides offer their divers weights to help you sink naturally and fall into the hulls and skeleton of this ship. 
Once a cargo vessel, this ship is no exception to what Grenada offers and will be swarming with the same stunning wildlife as many other locations. You may see some large sea turtles and reef sharks circling the site. 
The water is very richly blue in this dive location, so it is best toured during the day. 
Depth: 110-120 feet 
History: Sinking in 1981, this former US navy minesweeper from World War II was overtaken by the powerful ocean after it began to leak. As all skilled crew does, they attempted to utilize a bilge pump to throw the water overboard and keep it afloat, but their efforts were in vain. 
Luckily, no one died in the wreck–everyone was rescued by the Grenada Coast Guard. 
Getting There: Located 5-6 miles off of the most Southern tip of Grenada, the meeting point for the linked tour is The Calabash Hotel L'Anse Aux Epines St. George's, Grenada, W.I.
Book a tour of the King Mitch Dive Site
Coral Reef Dives
If you're like me and diving through old ships in the dark scares the bejesus out of you, stick to the reefs!
They're colorful, fewer sharks swarming, and don't feel haunted in their abandoned eeriness. 
You will have your pick because there are so many stunning reefs around the island of Grenada. Some of the top picks that you absolutely need to add to your itinerary are:
Flamingo Bay
Located near St. Georges and Molinere, this is a reef wall that is very shallow in depth (only about 15-85 feet depending on what area you're swimming over), but it's an excellent dive! Some areas are even shallow enough for snorkeling.
Suited to all levels of diving, this is a wide area ranging greatly in depths, so you can dive as deep as you are comfortable with. 
You will notice a beautiful blue color around the entire reef and a turquoise-hue coming off most of the coral. Just some of the wildlife you will spot here includes:
Seahorses
Lobster
Moray
Grouper
Rays
Bar jacks
Angelfish
Yellowtail snappers
Spotted Drum Fish
Huge barrel sponges
Rope sponges
Pipefish
Reef sharks
Barracudas 
This is a true treasure of Grenada, and you will experience a large variety of sea life and coral because it is within Grenada's protected wildlife sanctions of the Molinere Protected Seascape. It is over 800 feet wide so you will have no shortage of grounds to cover. 
Depth: Between 20-90 feet deep
Getting There: Located on the Northern tip of the island's protected area, it is very common to book a tour with the Sculpture Museum Underwater and then hop over to Flamingo Bay. You're already out diving, so why not make a day of it? 
Book a tour of Flamingo Bay
Dragon Bay
Also located within the Molinere Protected Seascape, Dragon Bay is filled with coral reefs and sandy canals. Filled with color and life, starts out as a relatively shallow area that gradually descends before reaching a reef wall. This site is known for a rocky topography
Unlike Flamingo Bay that is one of the more popular sites, Dragon Bay tends to be less crowded and known to be a more peaceful experience.
There are public restrooms on the beach and many restaurants around, all surrounded by lush forests to have everything you could need at your disposal. 
Depth: 25-90 feet 
History: This is one of Grenada's most protected areas and has quickly become a wanderluster's dream since its protection in 1994. 
Getting There: You can find Dragon Bay near the center of Molinere, which is on the southwest coast of Grenada. It's also near the Underwater Sculpture Park and Grenada National Museum if you want to make a game-plan for the day. 
Purple Rain
This is not like Prince's purple rain, but just as delightful! This slanted reef moved in a slope going from shallow to deeper and features a very distinct purple shade that differentiates it from all other reefs in the area. 
Covered in sponges, reef fish, eels, and even some lobsters, this coral reef will boast some of the most unique habitats and colors. 
Depth: 50 – 100 feet 
History: The reef was given its name due to the colorful Creole Wrasse fish which are purple-hued. 
Getting There: The meeting point for the linked tour is The Calabash Hotel L'Anse Aux Epines St. George's, Grenada, W.I.
Book your tour of the Purple Rain Diving Site
Whibbles Reef
Depth: 50-100 feet 
Highlights: This reef is described as an intermediate dive with a sloping sand wall descending sharply. It's worth it, you'll be surrounded by an amazing array of fish from rainbow runners, wrasse, lobster and more. There have even been turtle and eagle ray sightings.
Book your tour of the Whibbles Reef Site.
Fisherman's Paradise
Depth: 50 – 100 feet 
History: The reef was given its name due to the colorful Creole Wrasse fish which are purple-hued. 
Getting There: The meeting point for the linked tour is The Calabash Hotel L'Anse Aux Epines St. George's, Grenada, W.I.
Book your tour of the Fisherman's Paradise Site
Grand Mal Reef
This dive site finds its home in Grand Mal Bay just north of St. George's harbor. It's a diverse dive from a geography standpoint and you're sure to see Southern Stingray, lobster, rays, angelfish and more.
Depth: 20-90 feet 
Getting There: The meeting point for the linked tour is xxx
Book your tour of the Grand Mal Site
Molinere Reef
The Underwater Sculpture Park may be the most popular site in the Molinere Reef but it's not the only attraction. Located within Grenada's protected Marine Park, the Molinere Bay Reef is great for scuba diving but snorkelers can enjoy it too with some of the depths very shallow – only 10 feet. Molinere Bay Reef provides a habitat for red-banded parrotfish, damselfish, jawfish, frogfish, seahorses (seahorse?).
Depth: 10 – 60 feet 
Book your tour of the Molinere Reef
Buccaneer Wreck
Not far from the Molinere Reef you'll find the Buccaneer shipwreck. This 42′ long sloop lays on its side at the bottom of the sea and offers divers amazing photo ops with Barracuda and octopus.
Depth: 60 – 80 feet 
Book your tour with the Molinere Reef above.
Boss Reef
This reef is expansive running from just outside St. George's harbor continuing southwest for about 5 – 6 miles. From gently sloping topography to sandy valleys and a sharp drop-off makes this site ideal for sighting just about everything – hawksbill turtles, shrimp, crab, green moray, eels, trunkfish, stingray, and barracuda! This site has it all!
Depth: 20 – 80 feet 
MV Tyrrel Bay
Depth: 50 – 70 feet 
History: The MV Tyrrel is a retired Coast Guard vessel purposely sunk. It's unclear if the purpose of sinking the ship was to provide another dive site (Seems like Grenada already had plenty) but interesting none-the-less. In fact, I have a treat for you. Below is a video capturing the moment the ship was carefully and purposely sunk.
Book your tour of the MV Tyrrel Bay Site
Red Buoy  
Red Buoy is another reef dive site located just outside of St. Georges harbor. What makes this one unique is the wall of 20+ coral-encrusted anchors, some dating back to the 19th century.
Depth: 25 – 85 feet 
History: I'd love to know how a bunch of anchors happen to fall in the same place but was unsuccessful at uncovering this mystery. Oh well. I guess all we can do is enjoy it.
Book your tour of the Red Buoy Diving Site
How to Schedule Dive Tours
There are several ways to visit Grenada and schedule dive tours. Regardless of the approach, you choose it's crucial you schedule your tours well in advance. Several months in advance are advised especially for popular dives.
Your three main options for scheduling a dive tour includes:
Stay at a dive resort and schedule dive tours with them
Schedule dive tours with a local dive operator
Schedule dive tours online. I provided links to my preferred online dive tour operator Get Your Guide.
Schedule Dive Tours at a Dive Resorts
Grenada is host to three PADI dive resorts. What are PADI dive resorts? ?PADI Dive Resorts are dive operators who cater to vacationing scuba divers and snorkelers with activities like scuba and snorkel instruction", PADI.com
The diving instruction, guidance and equipment may be provided by employees of the hotel or they may be provided by a local dive operator.
Dive resorts offer the convenience of being able to walk out of your room right to the meeting place instead of being transported from your hotel/resort to the meeting place.
The four PADI dive resorts in Grenada are listed below along with the dive operators that service the location.
| | |
| --- | --- |
| Resort/Hotel | Dive Operator |
| True Blue Bay Resort | Aquanauts |
| Coyaba Hotel | Eco Dive |
| Sandals | Sandals |
| Siesta Hotel | Siesta Hotel |
Schedule dive tours with a local dive operator
| | |
| --- | --- |
| Dive Operator | Hotel/Location |
| Aquanauts | True Blue Bay Resort |
| Eco Dive | Coyaba Hotel |
| Incognito Adventures | Harvey Vale |
| Dive Grenada | Mount Cinnamon Resorts |
| Scubatech | Calabash Hotel |
| Indigo Dive | Blue Lagoon Marina |
| Native Spirit Scuba | Radisson Grenada Beach Resort |
| Lumbadive | Tyrrel Bay, Carriacou |
Schedule dive tours online
There are several reputable booking sites for schedule dive tours. One I highly recommend is Get Your Guide. The links below will direct you right to the signup page for the specific dive tour.
Final Thoughts
Grenada is a captivating destination where you can see an entire world that has been swallowed up by the sea. You may return to normal life and feel a shift in the way you see life above the ocean's surface. 
I'll leave you with a beautiful quote from Sylvia Earle regarding shipwrecks and a poetic perspective to keep with you while you dive: 
"Like a shipwreck or a jetty, almost anything that forms a structure in the ocean, whether it is natural or artificial, over time… collects life." 

Sylvia Earle