I always write my honest, authentic thoughts on a hotel/resort but feel an overwhelming urge to lie about the Blue Horizons Garden Resort. I loved it so much I don't want it to become so popular that I can never stay here again. That's why I didn't want to publish this review. I know, sounds cheesy, but it's true. 
Check out Blue Horizons Garden Hotel's current rate.
My first trip to Grenada was delightful in so many ways, starting with the accommodations. When I was planning the trip I carefully reviewed the resorts and hotels I felt would be a good fit for me and my friend. I always took reviews with a grain of salt. I figured maybe the reviewer was the high-maintenance type or someone who'd be happy backpacking around their destination. With that, in order to put this review in perspective, I think it's important you understand what type of hotel guest I am. 
The Type of Hotel guest I am
When I go on vacation with my friend Joanne, we are SUPER lazy! Our needs are few, expectations low and the overall goal is to just chill out, relax, enjoy the ocean, read books, drink beer, and repeat. 
To give you an idea of our travel style, below are the things most important to us, in order of importance:
Beer (available, affordable, and convenient)
Coffee (ideally, an endless supply)
Beach (clean, sandy beach with comfy lounge chairs to read and chill on)
Pool (clean & maintained pool for cooling off, not swimming laps)
Clean rooms (no dirt, bugs, or nasty mold please)
Good food (we're not foodies so it doesn't have to be amazing but should be tasty)
Nice property (pretty low expectations here, no garbage or weird animals around)
Quiet (no construction noise or obnoxiously loud drunken party people)
Beer (oops, already listed that)
Friendly, helpful staff (we don't need a butler or anyone at our beck and call, just friendly people willing to pour another beer)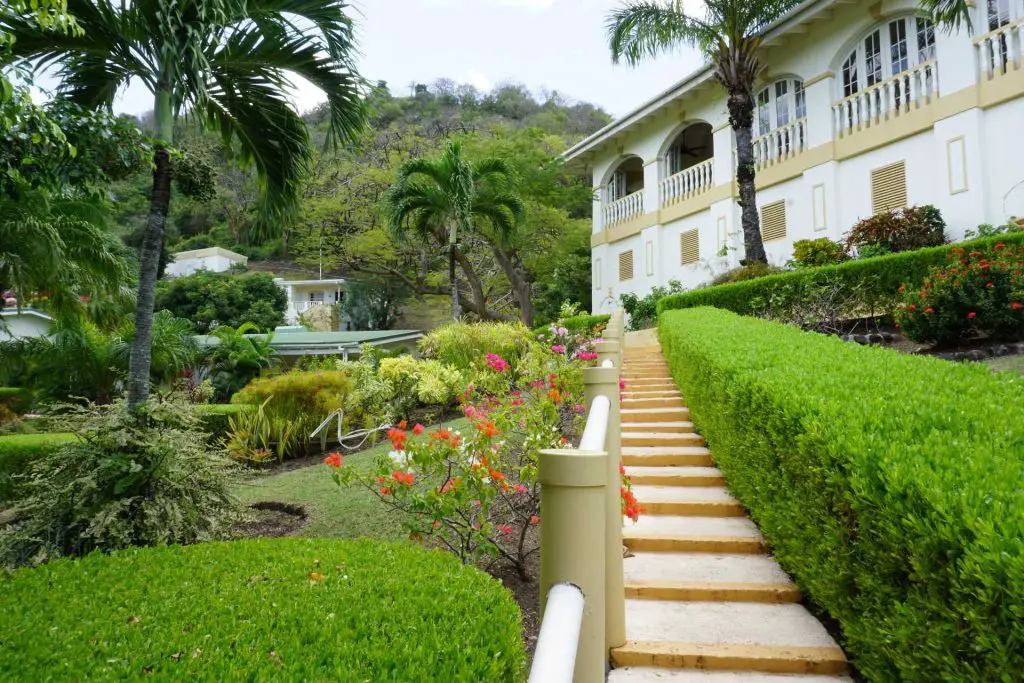 This resort delivered way beyond my expectations. Granted, my requirements are few and expectations low, but I truly believe the average traveler would be delighted. I'll break it down:
The Property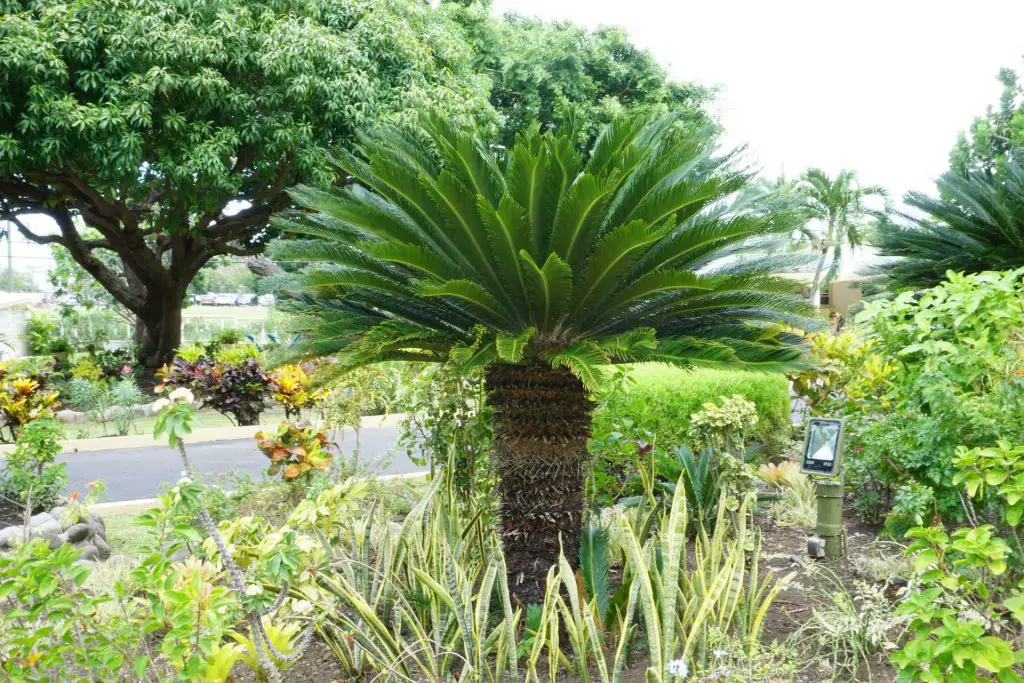 Absolutely beautiful grounds and an atmosphere that can only be described as serene. No, tranquil. Wait, chill. OK, there are many words to describe Blue Horizons GBlue Horizons Garden Resortarden Resort but they all lead to a quiet, relaxed vibe filled with birds singing, bouts of sun and shade.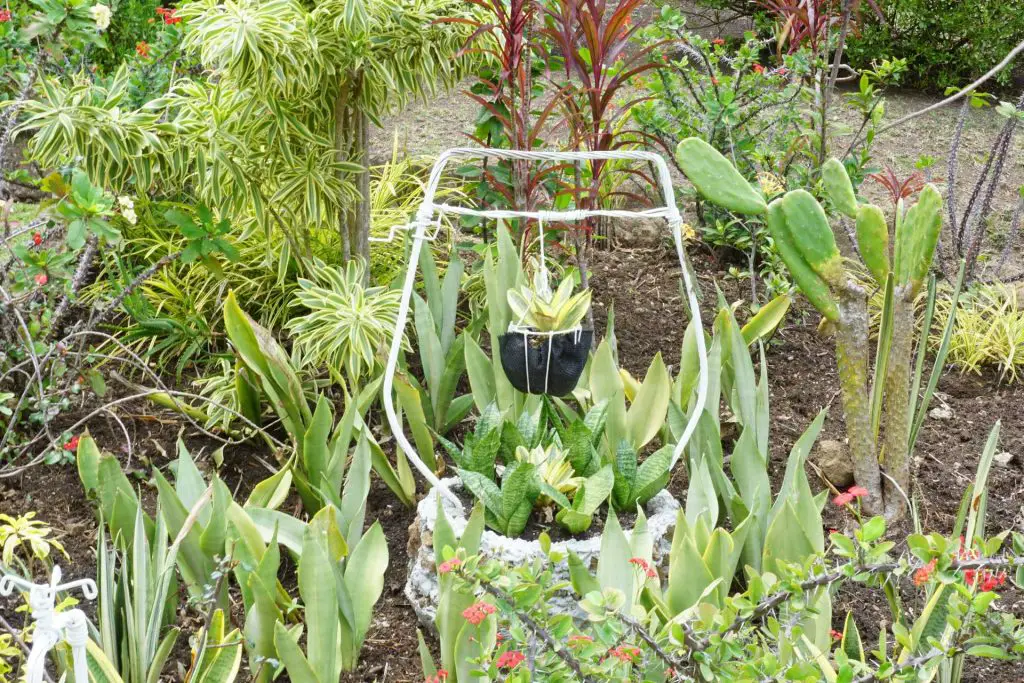 Before I booked our reservations I knew there are gardens but I had no idea to what extent. No matter what direction you divert your eyes you will see a plant, flower, container pond, tree, birdbath, or something "nature-y". I frequently took the long way to my room just to enjoy the gardens along the way.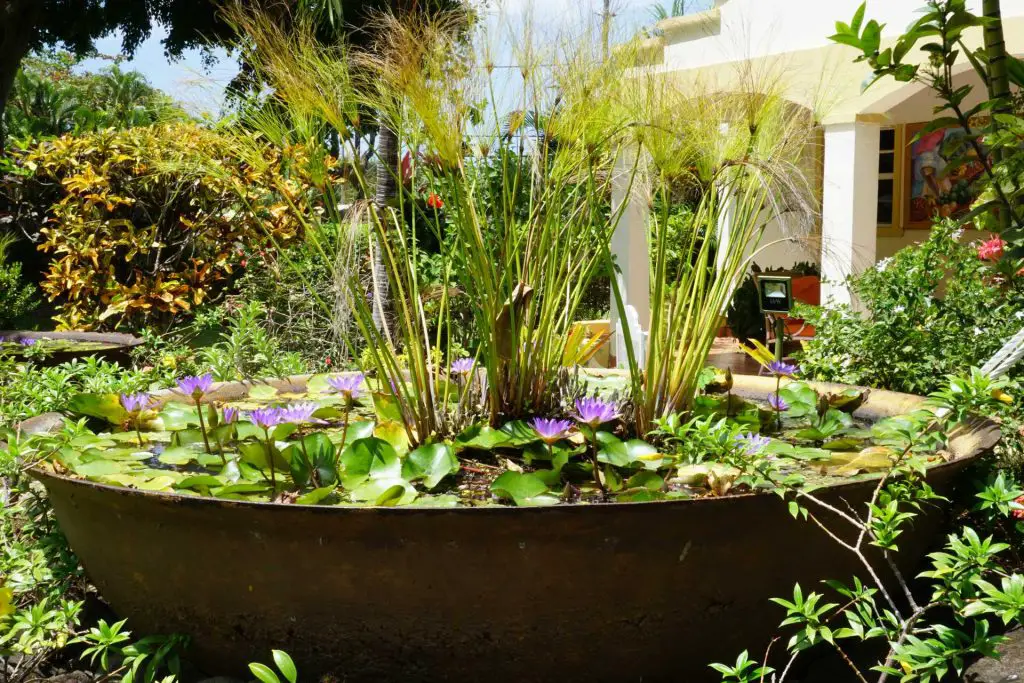 The property consisted of several buildings built into the side of a huge hill. Each building has 2 or more hotel rooms. The higher up your room was, the more steps you walked to reach it but also the better the view.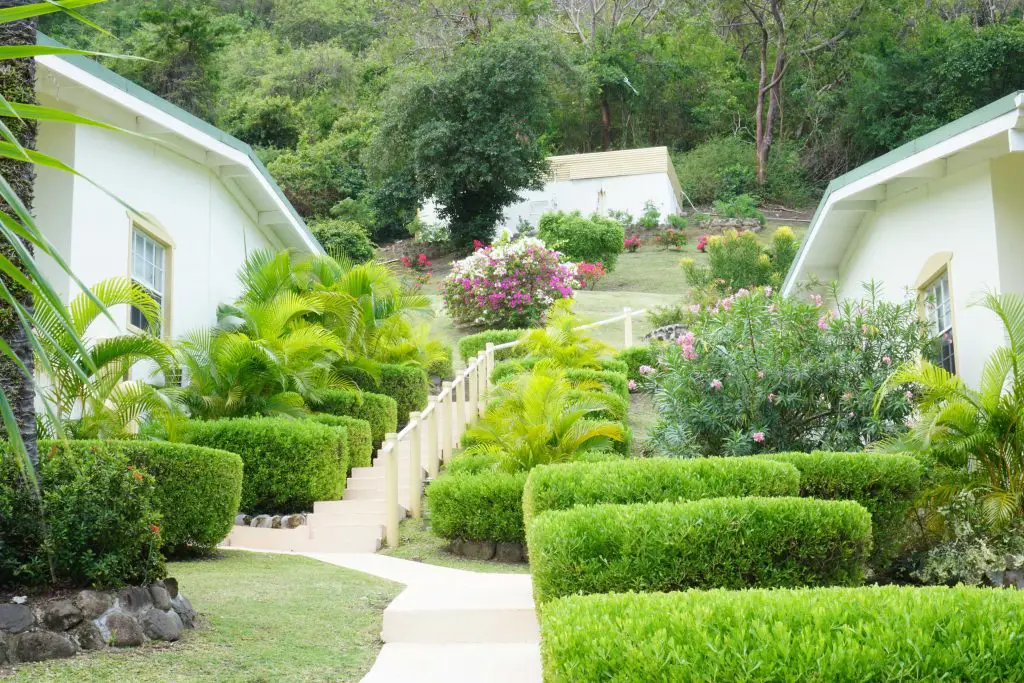 Once a week the resort brings in an expert birdwatcher that tours the property with guests interested in knowing more about the birds the gardens attract.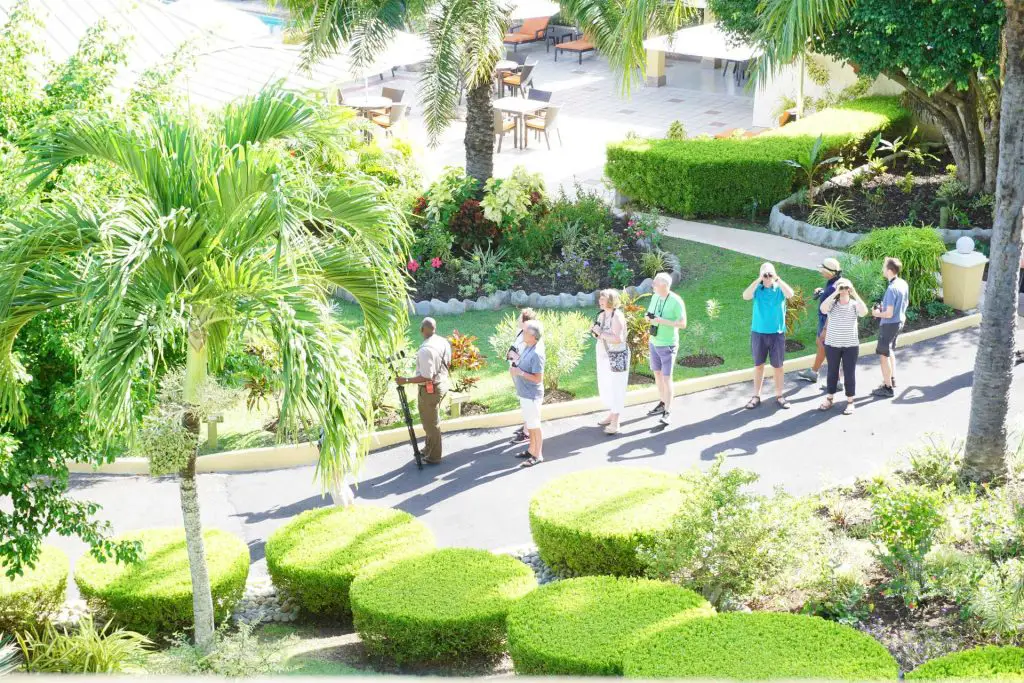 Also, once a week a Flora and Fauna tour is offered to allow guests to learn about the foliage growing on the property.
Our Room
We stayed in a "Deluxe One-Bedroom Garden View" room with 2 queen beds and a kitchenette.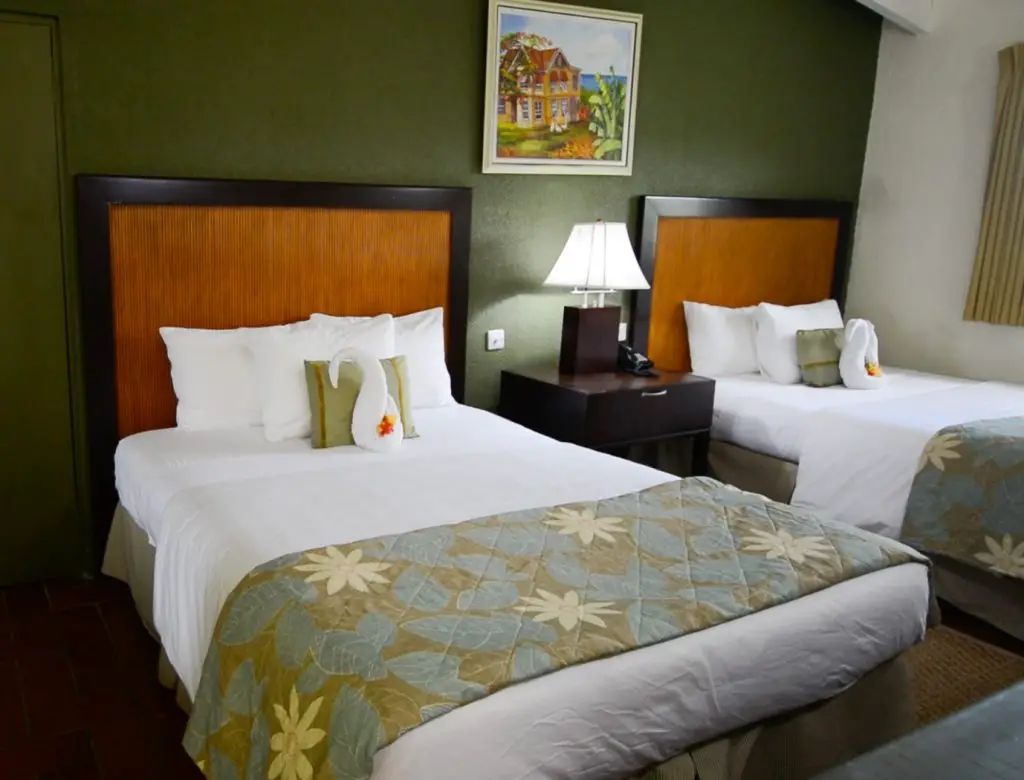 The kitchenette was really handy for making a giant pot of coffee each day and boiling water for drinking. (Saved us a ton on buying bottled water). We never intended to use the kitchenette for cooking meals but you could and many people we spoke to did. I mentioned earlier that we're lazy travelers and I meant it! I did buy some eggs at the store and made hard-boiled eggs for a quick breakfast snack. 
Check out my article Cost of Food in Grenada + Tips to Avoid Busting your Food Budget to make the kitchenette worth it.
The room included a standard safe which was easy to use and essential for stashing our passports for the week.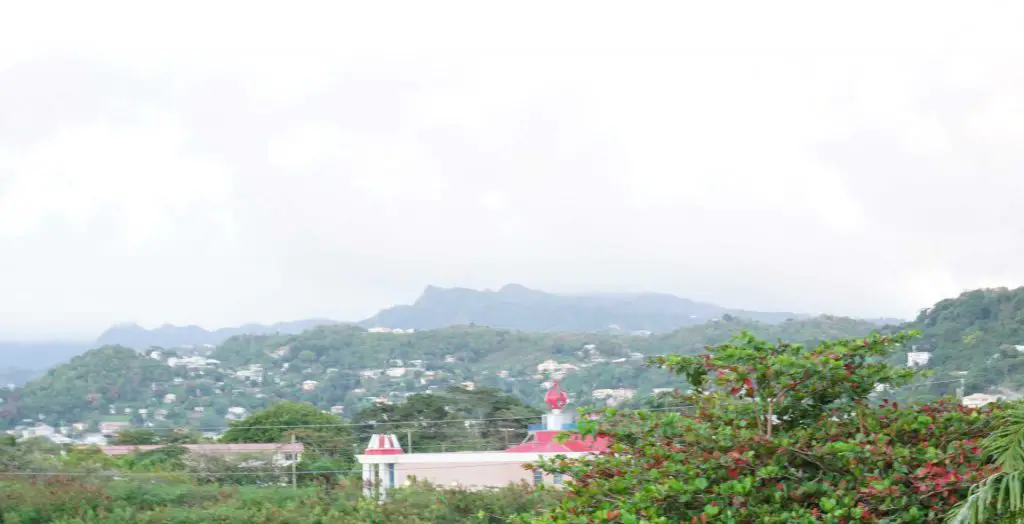 The balcony was large, covered, and had quite the view. We could see cruise ships in St. George's port as well as mountains in the distance.

We had maid service each day which honestly, surprised me. For the price, I wasn't expecting that service and certainly didn't expect the quality of service – washed dishes, made beds, cleaned bathrooms, washed dishes, vacuumed and mopped floors. 
The Staff
Many members of the resort's staff were amazingly friendly and helpful. Shout out to Shedonna, Koil, Monica, and Dennis! 
We met Shedonna in reception when we arrived and throughout the week when asking for a taxi or other random questions. She always had a smile and was friendly and eager to help. 
Koil, Monica, and Dennis worked in the Aqua Pool Bar area. They were super friendly, always smiling, and made us feel welcome like we were part of their family. 
Let's face it, there are crabby people all over the world, this place is no exception. We encountered a few members of Blue Horizons' staff that seemed too busy chatting with each other to take our lunch order or pour our beer. This was not pervasive or typical of the staff, just a few people. (Just trying to be honest here). 
Blue Horizons' Restaurants
La Belle Creole Restaurant: La Belle Creole Restaurant sits high on the hill overlooking the area. Eating here is a luxurious experience with cloth napkins and multiple courses whether it's breakfast, lunch, or dinner.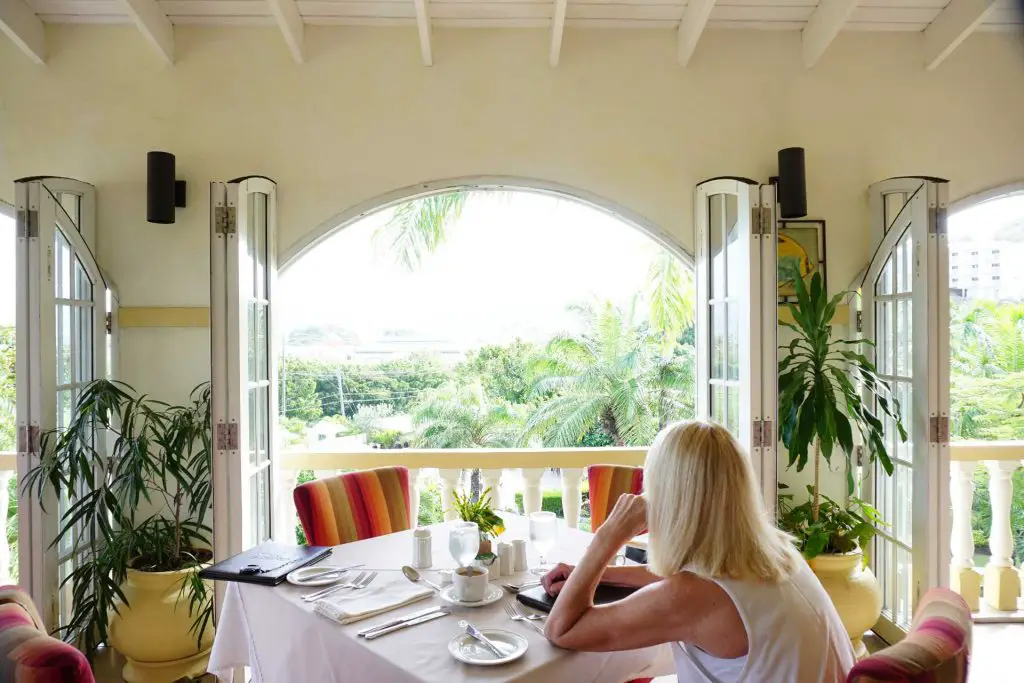 Dining at La Bell is like dining in a beautiful, whimsical garden. The outside comes with gorgeous arch-shaped windows overlooking the sea with a direct view of St. Georges harbor. Sweet birds fly in and out in a naturally sweet way, not like nasty birds that swoop in to grab your food, drop bombs all over and take off. It's a different experience here. 
The Aqua Pool Bar: The Aqua Pool Bar is Blue Horizons' bar and grill located within the pool area (duh). The faint sound of background music can be heard during the day at Aqua Bar & Pool. When you look around everyone is either reading, taking a dip in the pool or napping.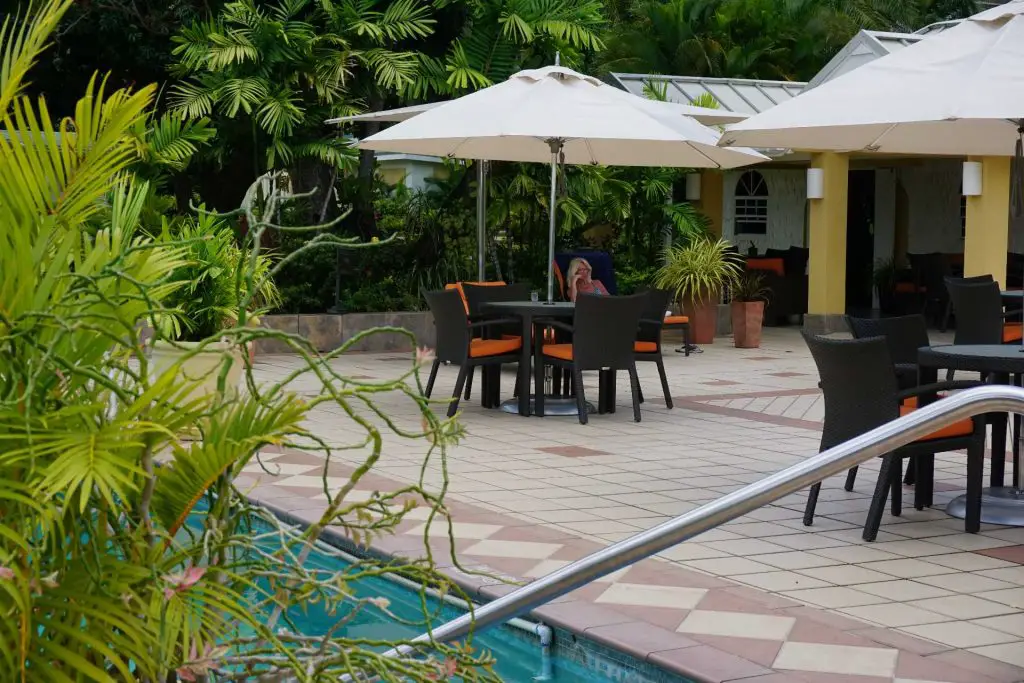 If you're looking for a place to do shots off your girlfriends' bellies or wild topless college kids, keep looking. You won't find it at Blue Horizons.
We had lunch a few times at Aqua Pool Bar which was affordable and tasty. Dishes we tried and found delish were a seafood wrap, grilled chicken/vegetable sandwich, garden salads, and of course hamburgers. If you're not into local cuisine, hamburgers are on the menu and some of the best we've had. 
Blue Horizons restaurants are open to the public so around dinner time you'll see new faces stopping in for a drink or dinner.
Pool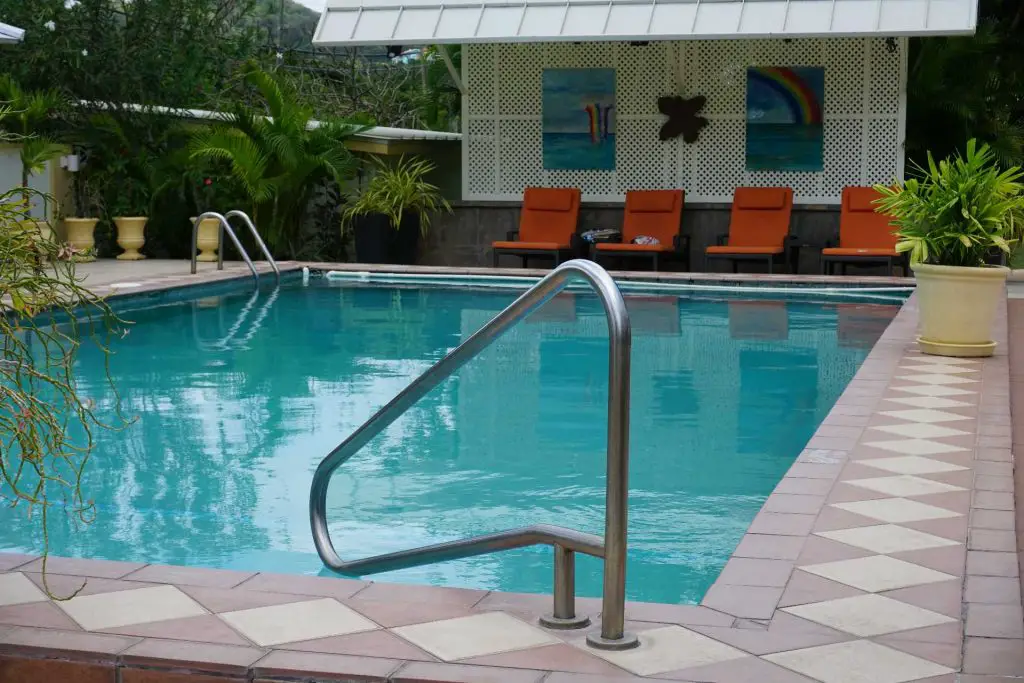 The pool was everything you'd want in a pool – refreshing temp, clean, and big enough to take a dip and cool off. I didn't think it was big enough to swim laps but I did see a guy doing just that.  
Beach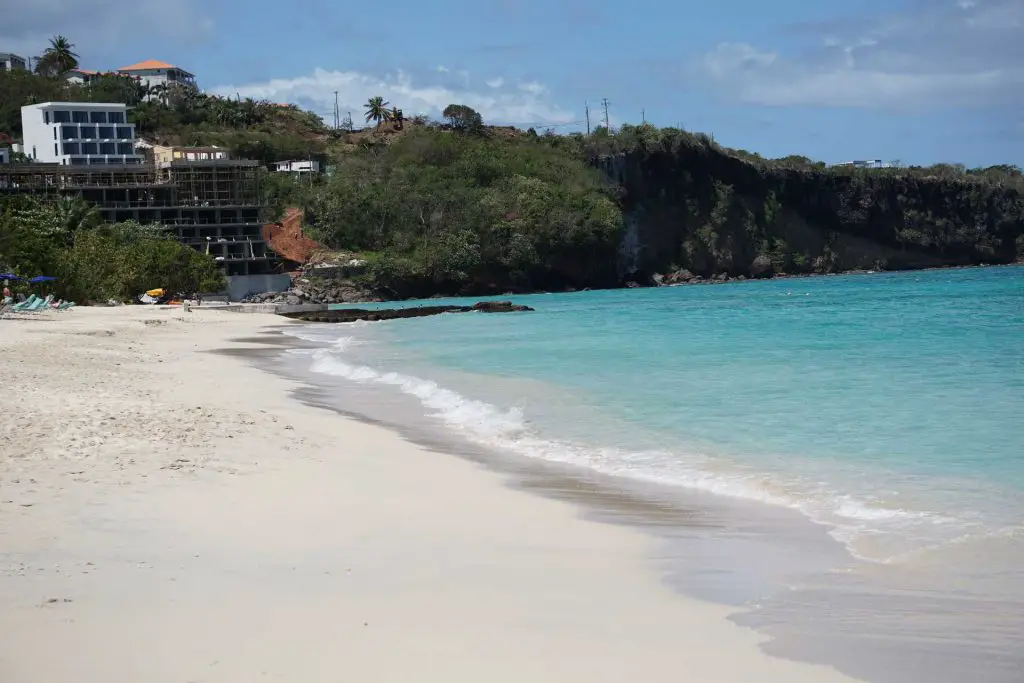 Blue Horizons is not on the beach, however, the world-renowned Grand Anse Beach is only a 5-minute walk away. The best part – Blue Horizons has an agreement with the Spice Island Resort (high-luxury property) whereby Blue Horizons guests could utilize Spice Island's beach area and beach lounge chairs. We went to the beach every other day and always had a beach chair available to us. We could also use Spice Island's facilities if we wished including the bathrooms, restaurant, bar, and gift shop. I think we were entitled to a 15% discount but we never took advantage of it.
Ideal Location
Blue Horizons Garden Resort is ideally located because it's far enough away for peace and quiet yet close enough to many key destinations. In many cases, easily walkable. 
| | | |
| --- | --- | --- |
| Destination | Distance from Blue Horizons | Time to Walk There |
| Airport | 3.5 miles | I recommend taking a taxi (10-minute ride). |
| Grand Anse Beach | 2 blocks | 5-minute walk |
| Morne Rouge Beach | .5 mile | 30-minute walk (it's a steep & hilly trek) |
| St. Georges (the Capital) | > 5 miles | I recommend taking a taxi or a bus (taxi: 15-minute ride; bus: 20-minute ride) |
| Grocery store | 3 blocks | 10 minute walk |
OK, Ralf, what

DIDN'T

you like about Blue Horizons? 
I hear what you're thinking. "You're gushing all over this resort. There must be something you didn't like. Come on…be honest." 
Ok, I really had to dig deep to find things I didn't like.  Given that, these are pretty low in priority (to me anyway) but necessary for an objective review. Here goes. Here are some things I didn't like about the resort:
The pool bar could have had some "snacky" food like popcorn or pretzels. Sometimes you just need a snack but not an entire meal, ya know?
#2 (poop) often takes 2 flushes to get down.  Enough said.
Seriously, that's all I could come up with. Sorry!
Things to consider before booking Blue Horizons Garden Resort
Before you run to your computer and book a room with Blue Horizons, there are a few things you have to know. 
If you can't walk a flight of stairs you'll have a tough time getting to the La Belle Creole Restaurant. The same goes for any of the rooms with a fantastic view. Instead, you'll have to opt for a ground-level cottage and eat at the Aqua Pool Bar, cook your own food, or go off-property.
Even though I had to walk up steps and hills to get back to my room, each trip was like I was making it for the first time, finding new plants, and flowers, and scattering lizards I'd missed before. I completely forgot there were stairs and an uphill climb. It was so delightful, even lovely. I don't even use the word "lovely" sounds really old and English (no offense to my new UK friends) it's just not a word I'd use but one that is so fitting. 
If you're looking for a high-energy, party-til-you-puke scene, Blue Horizons probably isn't a good fit for you.  From my observations, it appears the demographic trends older (50+), are mostly coupled up and pretty chill. My friend and I aren't a couple but everyone else there was. 
There you go. Overall our experience at Blue Horizons Garden Resort was amazing and beyond our expectations. I would not hesitate to stay at Blue Horizons again – maybe next time I visit with my husband 🙂
See Blue Horizons Garden Hotel's current rates here.
Happy Planning!
---
I wrote this review because I thought it would be helpful to my readers. Blue Horizons Garden Resort did not compensate me for this review and frankly had no knowledge of my intent to write this review.