Hotel butlers have a range of responsibilities with the ultimate goal to pamper the hotel guests and enhance the luxury of their vacation. My friend and I just returned from a Jamaican getaway and had a butler. which gave us both a peek into their world. We learned what their responsibilities are (and there are a lot!), how best to use a butler so it's worth the cost, the type of person who should have a hotel butler, and the type who shouldn't.
First please let me explain how we wound up with hotel butlers in the first place. 
As a travel blogger, I'm occasionally offered complimentary hotel stays. Three of my four nights in Jamaica were compliments of Sandals Resorts as part of their FAM (familiarization) program where they invite travel professionals to experience their facilities. (Please know that Sandals is not sponsoring this article. In fact, I don't accept sponsors at all so I can remain objective about sharing my thoughts and experiences).  
We spent two nights at Sandals Negril and two nights at Sandals Montego Bay where we were assigned a butler at each resort. I was pretty happy to have three nights free at Sandals in Jamaica.  I had no idea we were getting butlers too! 
I'm just a midwest gal from Wisconsin, a husband and 3 kids living in the burbs. No butlers around here. I don't know anybody with a butler either. One of my friends has a cleaning lady and we think she must be loaded! 
Clearly, this was our first butler. We wondered how we would use a butler and absolutely fascinated at what he did for a living. It felt mysterious. Would he or she be all stuffy and serious like Carson on Downton Abbey, adorable like Tony Danza on Who's the Boss, or lazy like Florence on The Jeffersons? (Okay, Florence was a maid. But still, I wondered.)
Turns out, our two butlers were completely different. One was a "super butler" and the other was AWOL (absent from one's post but without intent to desert). 
I took some liberties by asking the super butler more questions than he was probably used to. I also chatted with other travel pals that were at the resort, also with butlers assigned, to hear about their experience. 
Hotel Butler Responsibilities
Greet you upon arrival
Bring you a welcome cocktail (or two)
Give a tour of the facilities
Schlep your luggage and show you to your room (tour the room, show you how to operate the safe, etc)
Bring tasty hors-d'oeuvres to your room and more welcome drinks
Explain his role and responsibilities
Show you how to reach him on the butler phone
Offer to unpack your suitcase
Ask you to complete the Preference Form
Advise the benefits of the Weekly Planner 
Draw you a bath 
Make dinner reservations 
Make sure your dinner table is prepared
Breakfast in bed
Schedule snorkeling, scuba or other water activities 
Arrange off-resort tours
Arrange photoshoot
Schedule spa treatments
Arrange to have clothes laundered, or pressed
Reserve and escort you to your beach chairs (and he'll fill a cooler with water and beer!)
Stock your room with your favorite premium alcohol, wine, and other drinks
Special arrangements such as 4:00 cocktails on the patio
Fold your clothes for packing 
Escort you from your room to check out 
Schlep your luggage to the transportation area
At Sandals, the room you book determines whether or not you have a butler.
Each Sandals room has exactly two guests each (Sandals is all about couples so everything comes in two's).
Each room is assigned two butlers but only one butler is on shift at a time.
Butlers are assigned several rooms. You never really know how many other guests they're taking care of but in my experience, it must be quite a few because their phones were constantly ringing.
The hotel butlers at Sandals are available for a 12 hour period – 8:00 AM to 8:00 PM.
Essentially, the hotel butler is your "go-to" for everything.
When we first arrived in the room several papers were piled neatly on the coffee table – on the top was a typewritten letter signed by our butlers. The first paragraph read:
"We are your Butlers throughout your stay and are here to ensure that every whim and wish will be met at all times; as your butlers, we will ensure the most memorable vacation. Whilst you are here with us, we will schedule and manage every detail of your stay without you lifting a finger; whatever you desire we will arrange for you." 

Sandals Resort
It made me think of the movie Aladdin 🙂
I suspect the butler would accommodate just about any request you had. I mean "breakfast in bed"? 
I checked the Sandals' website to see if our experience matched what they say the butler will do for you. There were more items listed on Sandals' website than we experienced, but not much more.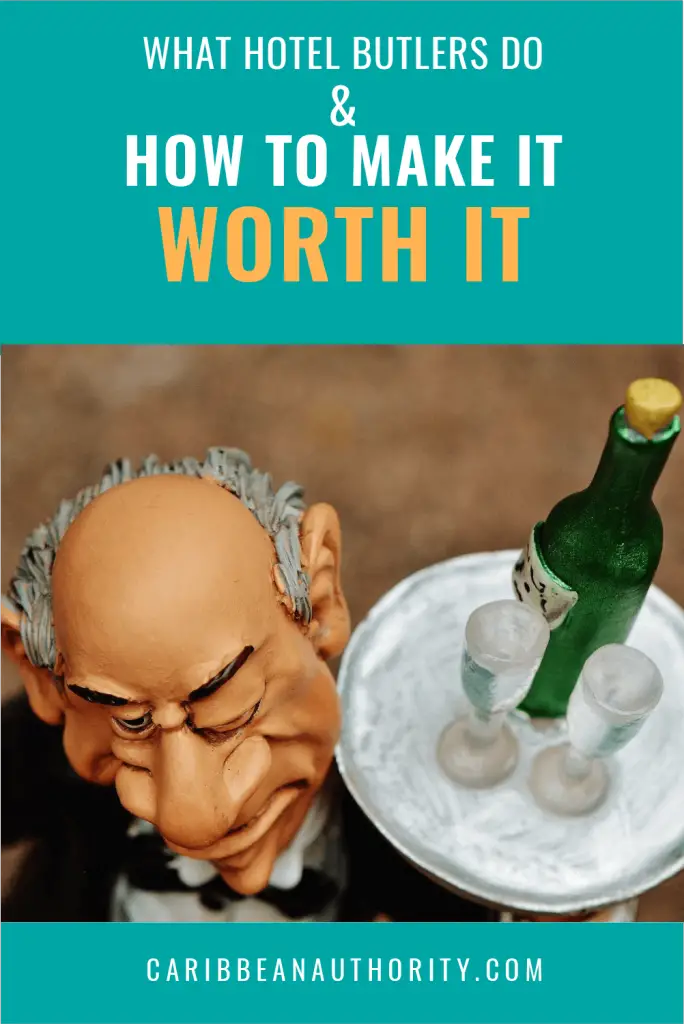 Not all hotel butlers are the same
Sandals butlers are specially trained by The Guild of Professional English Butlers, but they are also people like you and me. They have their own unique personalities, strengths & weaknesses, ways of managing stress, and other factors.  So, although they're trained to be professional and accommodating, individual guest experiences can vary greatly from one butler to another – because they are people. 
Here was our:
Butler #1: Gawayne at Sandals Negril, Jamaica
Gawayne was our butler at Sandals Negril.  He would answer his butler phone "This is Gawayne your butler" in a sing-songy way. It was hilarious. 
Aside from the silly phone greeting, Gawayne was very professional, thorough and attentive. Upon arrival, he brought us welcome drinks, gathered our carry on items, gave a brief tour of the resort, and escorted us to our suite. I call it a room but it was actually a 2-story suite! 
Our butler gave us a tour of the suite and offered to unpack our suitcases. He also offered to draw a bath at some point if we so wished. 
I wondered how many people actually take him up on his offer to draw a bath and unpack the luggage. It seemed weird to us. Maybe we're too independent (or don't want someone rifling through our stuff). 
Gawayne continued with his spiel then presented us with our "butler phone". He showed us how we only need to press two buttons to reach him. Actually, it was an old-school little Nokia phone with his phone number speed dialed in. It made me giggle.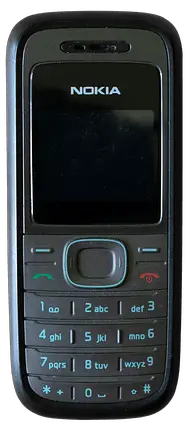 On the coffee table along with the butler letter were several papers and forms he brought to our attention. One was the Weekly Planner and the other the Preference Form.  
The Weekly Planner was a grid outlining the days of the week and events & activities you could partake in including spa treatments, tours & excursions, water sports, romantic experiences, dining, and snapshots. It looked like a good way to plan your week if you're the type that likes to plan out their vacation days. We were only staying two nights so we didn't complete either one.  
The Preference Form was a two-page questionnaire titled "How can we enhance your luxury included vacation?" where you were asked the following information:
Name, resort & arrival date
Return flight information
Indicate medical conditions such as diabetes, pregnancy, etc.
Dining preferences such as type of cuisine you prefer, if anyone has food allergies, dietary requirements such as vegetarian, gluten-free, etc. and preferred snacks (e.g. savory, sweet, healthy). 
Premium liquor preferences (+ Robert Mondavi wine options)
Activities you want to participate in (land sports, water sports, tours etc)
Spa treatments you're interested in
Pillow preferences for sleeping Organic Buckwheat (huh?)
Indicate if its a special occasion such as honeymoon, anniversary, etc.
I later realized a key reason the butlers want you to complete the Weekly Planner and Preference Form is so they can manage their time. Otherwise, they end up with guests calling them on the butler phone for every little whim. Remember they're juggling multiple guests at once.
Shortly after Gawayne reviewed the forms and left our suite, he returned with a tray of culinary hors d'oeuvre. How did he know we were starving? Spooky.
Gawayne asked where we'd like to have dinner and we advised seafood sounded good. When we arrived at the restaurant he was waiting with a lovely set table (ours was the only table with a tablecloth and tropical cocktails waiting for us). 
It took some time for us to adjust to having a butler. My friend and I are not used to waiting for someone to escort us around so at times we grew impatient and blew Gawayne off. For example, he reserved a beach chair for me. When I called to find out where it was located he said: "stay there, I'll come to get you". Twenty minutes later we were still waiting and growing irritated so we just wandered to the beach on our own.
Eventually, we caught up with him.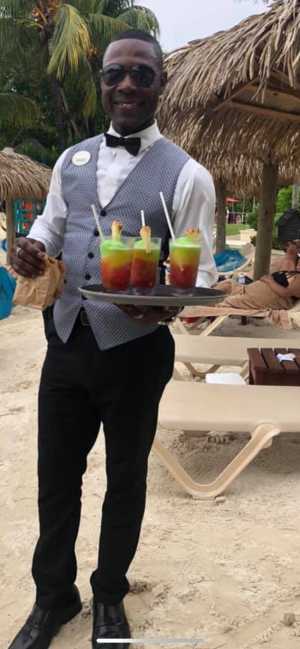 Maybe I'm just not a good candidate for a butler. On the other hand, the reserved beach chairs, and a cooler filled with water and beer were awesome! The all-inclusive resorts I'm used to require you to set your alarm, get up early and scout for beach chairs. That really sucks so I appreciated the beach chair reservation our butler provided.
Gawayne also walked us to the Aqua area to ensure our snorkel fins fit perfectly. About 15 minutes before our scheduled snorkel time, he stopped by our beach chairs to remind us. I thought that was cute.
Early afternoon he brought us some Jamaican Empanadas to snack on (OMG, so delish!) and some Bob Marley drinks. These were unexpected and pleasant surprises. I was hungry and thirsty (again).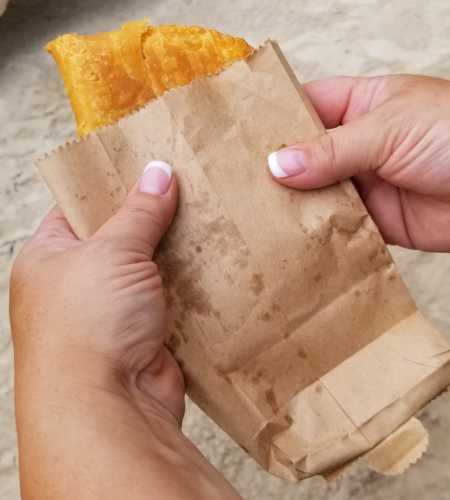 Fast forward to check out time, Gawayne came to our suite to escort us to the check-out area. He schlepped our luggage and bid us farewell. One of his final comments made me smile – "I really wish I was able to pamper you more". I smiled because I could tell he was really sincere.
Butler #2: Rolando at Sandals Montego Bay, Jamaica
At Sandals Montego Bay we waited for our butler to arrive at the registration area where we'd been waiting about 20 minutes after we'd already downed a couple of welcome cocktails. 
He walked us to our room pointing out a few parts of the resort along the way. Rolando had a very soft-spoken voice so it was very difficult to hear him. I had to keep turning to him directly and asking him to repeat what he said. It was rather annoying. 
While in the room, Rolando pointed out a few things, mentioned the other butler's name, and was never seen or heard from again. Actually that's not true, I saw him when I was in line to check out. I think he was avoiding eye contact with me.  
I refer to him as Rolando but actually I forgot his name and couldn't find anything with his name on it. Unlike our experience at Sandals Negril, there were no letters or paperwork to complete. We never tried to reach him on the butler phone and he never reached out to us. 
In fairness, the Negril resort is a lot smaller than Montego Bay. Maybe Rolando was totally overloaded, I'm not sure. We survived without him but did make note that he didn't try to reach out to us to ask if there was anything he could do.
While at the same resort, Sandals Montego Bay, I met a couple, Zach and Lindsay. Zach and Lindsay had a phenomenal butler. I believe her name was Carmelle (can you tell I can't remember names for $hit!). Not only did she reach out to her guests multiple times a day, but she also went out of her way to accommodate them.
For example, we wanted reservations for 15 people so our entire group could have dinner together but didn't have any luck getting them made on our own.  Zach and Lindsay called Carmelle and within 15 minutes had our reservations made. And, she showed up at the restaurant to make sure everything was ok. Carmelle also seemed to appear everywhere and always eager to please. 
As I gathered intel from the other travel people in the group it became apparent Carmelle was somewhat of an anomaly.  The others' experience was similar to ours with Rolando. We all joked about pooling our tip money and giving it to Carmelle since she provided more butler service to us than our own butlers.
Everyone seems to have a different experience depending on the butler and the resort. If I had actually paid for the stay at Negril I would have been satisfied with the butler. If I had paid for our stay at Montego Bay, I would not have been impressed by the butler. 
Types of people who should have a butler
You may be a good candidate for having a resort butler if any of the following are true:
You like to pack your vacation full of activities and experiences but don't want to schedule and arrange them yourself.
You're a planner who wants to know each activity is set for a specified day and time.
You want to be pampered and not lift a finger.
You vacation infrequently and don't want to miss out on opportunities the resort has to offer.
You're patient and willing to wait for a butler 
You enjoy a luxury vacation and are willing to pay more for it 
Types of people who probably shouldn't have a butler
You're probably not a good candidate for having a resort butler if any of the following are true:
You don't want to plan much. You want to wake up each day and see if you feel like a beach day, pool day, breakfast in or at the restaurant, etc.
You're happy with the buffet for every meal.
You're impatient and/or don't want to depend on someone else to schedule and make arrangements.
You're super low-maintenance and don't like someone doting on you. 
You think luxury is overrated and would rather save money on your vacation so you can have more of them!
How to make having a butler worth it
If you are the type that is a good candidate for a butler and decides to book a room that comes with a butler, here's how you make sure it's worth it. 
Complete the Preference Form so he can have your room ready with your favorite liquor and/or specialty pillow. The completed form will also enable him to recommend activities and spa treatments you might not have been aware of. You can also complete the Preference Form online before you arrive at www.sandals.com/butler. 
Decide ahead of time the activities you want to do including on-resort activities, tours, and excursions so you can complete the Weekly Planner.
Decide what days you want to dine at which restaurant.
Complete the Weekly Planner with the plans you decided from #1 and #2 so the butler can plan to make the arrangements.
Know at least a day ahead of time if you want beach chairs reserved and let your butler know.
Give your butler ample notice for things you'd like to do that were not planned such as room-service the next morning or have a bath drawn the next morning. The fact is they can't drop everything and come run your bath. 
How much do you tip the hotel butler?
The typical tip for a butler at Sandals is $20 per day. Of course, you can tip whatever you want depending on your budget and/or the performance of your butler. 
For my experience, Gawayne received a $60 tip (for 2 days) which I gave to him when he came to get the luggage for checkout. Rolando received zip. I sort of feel bad but at the same time, I don't feel like he did anything. There were no wishes granted by Rolando.  Besides, when would I have given it to him? I never saw him. 
---
Hotel butlers have many responsibilities or should I say they have many opportunities to make your vacation more luxurious, enjoyable and restful.  I believe your butler experience will be dependent on your butler's motivation level, workload, your own personal expectations, and likely hundreds of other factors. I hope you enjoy your butler experience as much as I enjoyed mine at Sandals Negril.
---
Have you had a hotel butler before? Drop a comment below. I'd love to hear about your experience.