Sandals Resorts are known for romance, but can I still go to Sandals with a friend? And if we go, will we get the stink eye from honeymooners and other couples while there? Will staff treat us differently from those that are coupled up? I recently stayed at Sandals resorts in Negril and Montego Bay with a friend and have all the answers for you.
Can you go to Sandals Resorts with a friend? Yes, you can stay at Sandals Resorts with a friend. You are required to have two people to a room (they won't let you book a single) but the two people don't have to be in a relationship. The staff is incredibly friendly and professional and treat all the guests with respect and an eagerness to please – coupled up or not. 
I've stayed at over 20 all-inclusive resorts throughout the Caribbean with my family as well as with friends. Some resorts were adults-only, some family-friendly but I never stayed at a couples-only place – not even for my honeymoon. So, I had no idea what to expect at Sandals when I checked in with my friend (who is also my sister).
Full disclosure:  As a travel blogger, resorts and hotels occasionally offer me complimentary stays at their facility. My stay at Sandals Negril and Montego Bay in Jamaica were complementary. However, there's no expectation that I write an automatic glowing review in exchange for my free stay. I speak what I know to be true based on my experience. If you're interested in my full review of the Sandals resorts you can read them here. 
OK with that out of the way, I'd like to share what I learned while staying at Sandals with a friend.
5 surprising nuggets I learned after going to Sandals with a Friend
I was able to easily book the room even though we were not a couple
The resort staff could care less about your "couple status", everyone was treated with respect
I felt like I was at an adults-only all-inclusive resort – it didn't feel overly couples-only 
The coupled-up guests were friendly and open to those of us with friends – at least most of them were
A king-size bed is your only sleeping option 
#1 Booking a Room at Sandals for you and your friend is painless
As long as you're booking a room for two (not one, not three) it's a painless ordeal. The booking agent just wants the names of the two individuals.  They don't ask if you're married or a couple in any way.
You can book online but I strongly suggest you call and speak with a Sandals Specialist.  There is an astonishing number of room types and categories that really require an expert to help you decipher which one is right for your trip. 
Sidenote: Sandals will not let you book a room as a single. If you wish to travel alone they will suggest you check out Beaches, their sister property, which is open to families, kids, and singles.  I guess this is their attempt at trying to maintain the couple atmosphere.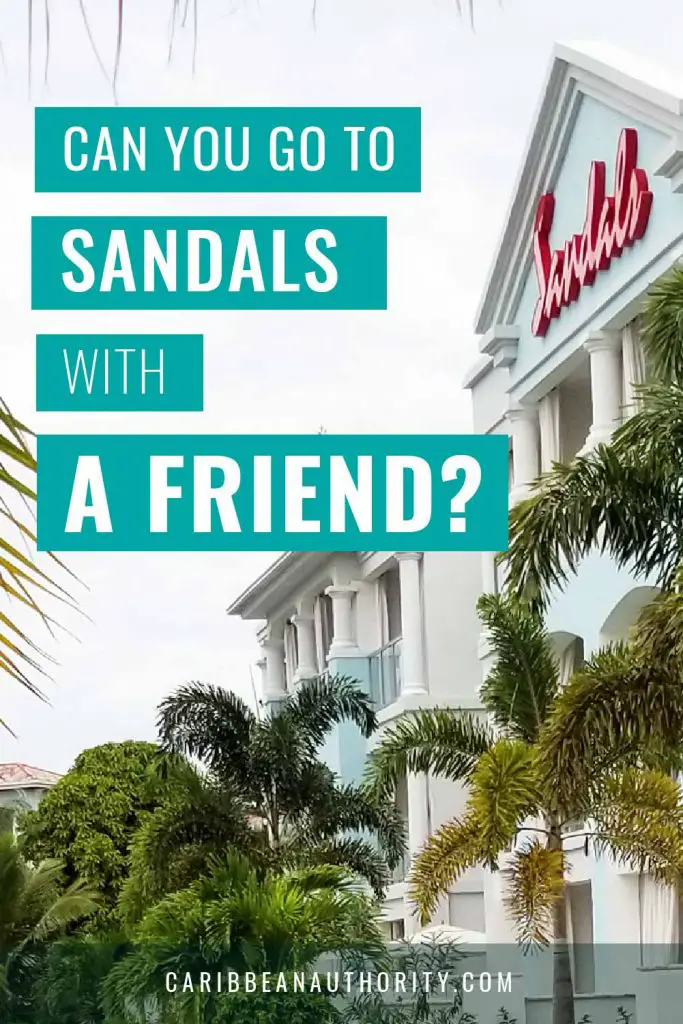 #2 The Sandals Staff was Friendly and Respectful – even though we weren't a couple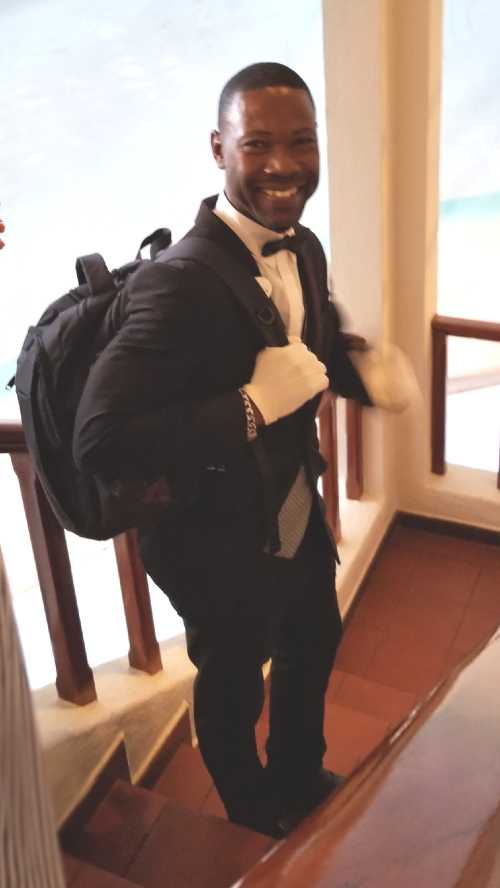 From the moment we arrived at the resort the staff was very friendly and eager to please. Upon arrival, we quickly were ushered to the registration room where we could relax and sip our arrival drinks. I forget what the name of the drink was but it reminded me of a good old-fashioned Wapatui. Fruity, boozy and delish. 
In a few short minutes, we were introduced to our butler Gawayne.  (This was a total surprise – I was not expecting a butler with our stay). Gawayne could not have been more accommodating. He didn't question or ask about the relationship of these two women before him – although my sister was quick to state we're just sisters. 
Later when we checked out of Sandals Negril our butler expressed disappointment in not getting to pamper us more. He really wanted to draw a bath in the tranquility tub on the patio complete with bath salts and rose petals.  Honestly, even if I were with my honey I wouldn't want a bath on my Jamaican patio – it was fricken 85 degrees!
The butler experience was a real trip. If you're interested in reading about my butler experience check out this article. 
From the restaurant staff and bartenders to the cleaning crew and landscapers, not one eyebrow raised as my friend and I made our way around the resort which leads me into my next takeaway …
---
If you decide to book a stay with Sandals, I'd appreciate if you would use my link: Sandals Resorts. In doing so there is no added cost to you and I may receive a small commission.
---
#3 I couldn't tell I was at a couples-only Resort
I'm not sure what I was expecting by staying at Sandals with a friend instead of my honey. I didn't expect naked people laying around having an orgy, but I guess I was thinking it might be awkward for friends to be mixed in with the couples. But it wasn't.
As mentioned earlier, this was my 20th+ stay at an all-inclusive resort but my first at a couples-only. Just like all the other all-inclusive resorts, Sandals had …
Restaurants…
Lounging areas…
The beach…
Bars…
Pools…
Water activities like kayaking, snorkeling, and Hobie cats…
Land activities like billiards, ping-pong and a giant game of chess…
The only thing I noticed that was different about Sandals, due to the couples' focus, was fewer and smaller pools.
Sandals Montego Bay is an enormous resort but only had two pools – both very small and rather cold feeling as there was no foliage or enchanting little grouping areas. Our tour guide at the resort told us many of the rooms have swim-up pools and the beach is a big draw, so the pools aren't a big focus.
In my experience at other resorts, there's one main pool that is typically huge and where everyone congregates in small or large groups. This is usually where the action is and of course, the swim-up pool bar (my favorite invention). The pool is usually surrounded by lush foliage and is overall a fun and pleasant area to be. 
As the tour guide indicated, the vibe at resort design at Sandals is more intimate so I guess fewer and smaller pools are in order.
The main pool at the Negril resort was under construction so I couldn't check it out, but they did have another pool which was very small and inconveniently located at the far end of the resort.
#4 The coupled-up guests didn't care we weren't a couple
The truth is, most of the guests were coupled up.  And, most of these coupled-up people were just as nice and friendly as any other person at a non-couples-only resort.  
I spent a couple of hours chatting with a fascinating young couple who moved from the UK to the US. They had loads of fun stories of their adventures living abroad and traveling around the world. It made me a bit jealous. They were both open to share and chat vs. stay in their own lovey-dovey world. 
Another time I chatted it up with a woman in Latitudes (Sandals' famous over-the-water bar) while her husband napped. Later that evening I ran into them at Tokyo Jo's for dinner and it was like we were old friends.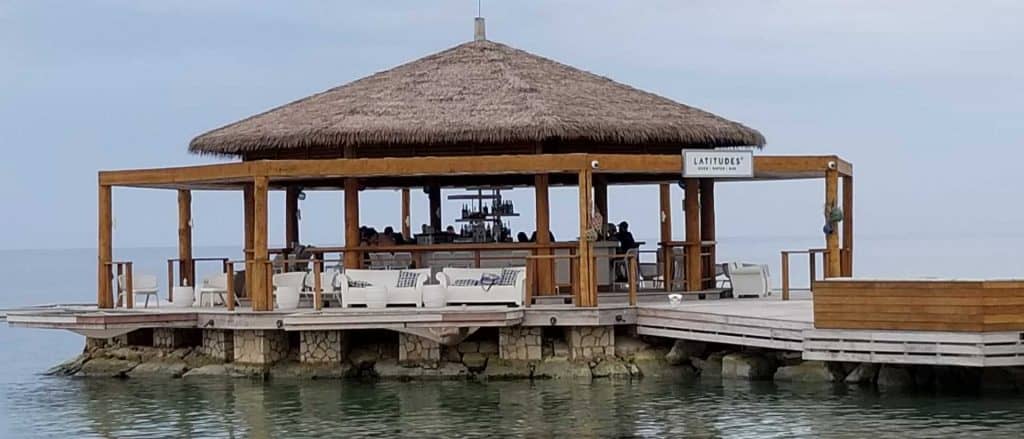 Of course, not everyone wants to talk to you. You always have folks that just aren't friendly at all (due to personality or cultural differences) or want to keep to themselves. That's ok. No problem. Ya mon.
Also, about 40% of the coupled-up guests were there with other couples so you were not surrounded by in-your-face romance. 
#5 King-Size is your Only bed Option at Sandals
As a travel blogger, I get the inside scoop on the room types available at a hotel. I was absolutely astonished at the number of room categories Sandals offers. In fact, the Montego Bay resort has over 27 different room categories! Some rooms come with a butler, some don't, some with a private swim-up room, some without, some with a tranquility soaking tub, some without, on and on go the combinations. 
What you won't find at Sandals is an option for double beds or a roll-away or a pull out couch for sleeping. Nope, this place is geared for couples and therefore you get a king-size bed. Period. 
My sister was a bit apprehensive about sleeping in a bed with me, although I don't know why since we shared a full-size bed until I was 14 and she was 9.  I have slept in the same bed with my other travel friends numerous times so it wasn't a big deal. And, you could get lost in a king-size bed they're so huge! We literally never even knew the other one was there but just in case – I placed a pillow wall between us. LOL
If you have a real hangup about it, grab the extra bedding from the closet and sleep on the couch. 
---
If you really think about it, Sandals may be known for a couples resort but what about wedding guests?  Sandals is huge for destination weddings. Are you telling me every guest has to be a legit couple? That's ridiculous. Guests could include sisters, brothers, cousins, aunts, uncles, and friends. Maybe Aunt Mildred is sharing a room, Aunt Gert. Ain't no couple there!
Sandals even offer conference facilities for corporate events.  There may be coupling-up going on, but I doubt the conference attendees checked in as couples.
The point is, it's just not good business for Sandals to require guests to be legit couples and it's not feasible to enforce. "Excuse me, ma'am, I need proof that you and your friend are a legit couple". 
Over half of my trips to the Caribbean have been girls getaways. Just me and one friend or several. After having experienced Sandals with my sister I would have no qualms about coming back on a girls' getaway.