In this article, you'll learn why the planning phase of your girls' getaway is absolutely crucial to success.
I'll share my proven step-by-step process from choosing the right gals to vacation with all the way to booking the trip.
Kiss all the fears goodbye and get ready to experience that perfect girls' getaway you deserve and have been dreaming of.
Planning a girls' getaway can seem overwhelming & scary
First-time getaway girls can feel overwhelmed with planning the trip.
Who to go with
When and where to go
What to do
What to expect
How much will it cost
What don't you know … but probably should
Fear is also a huge factor that holds ladies back from getting away to relax, refresh, recharge, and nurture precious friendships.
While it's true, there's a lot to consider when planning a girls' getaway, and fear of the unknown is real. All that disappears when you have a process to follow.
Once you have a few getaways under your belt, the process becomes innate, and you may find the planning process to be as exhilarating as the actual trip!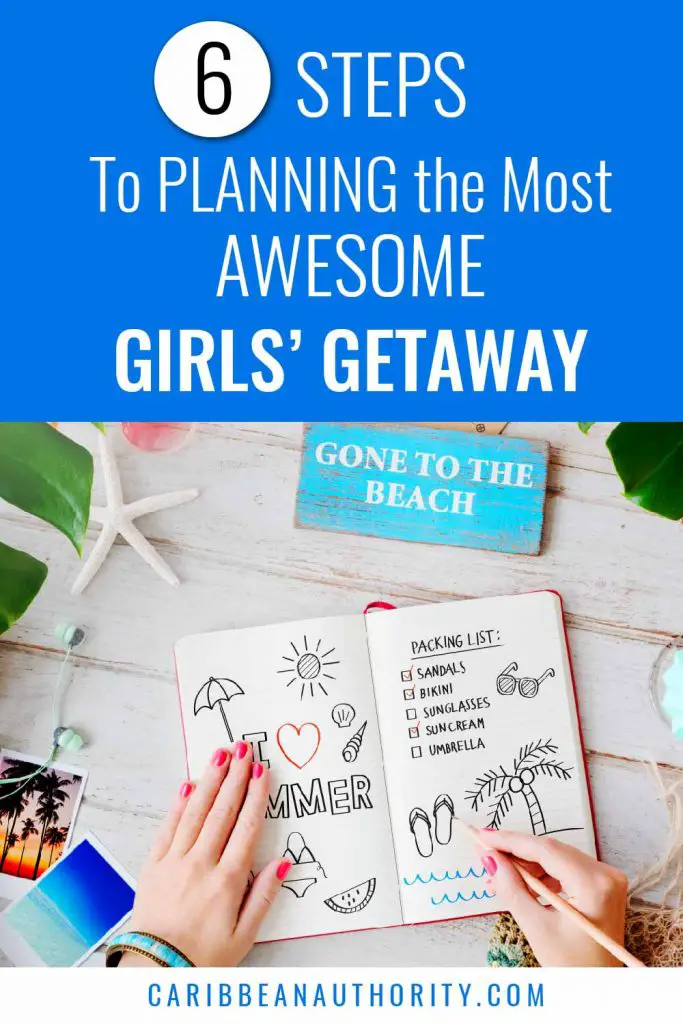 Give yourself enough time to plan the girls' getaway
Ideally, you'll begin planning your next girls' getaway while you're still on your current one. This way, thoughts are fresh in your mind regarding what you'd like to do differently or what you'd like to do more of.
Maybe you decide the vacation you're still on us is awesome, and you want to do it again.
For newbies, I recommend planning at least six months ahead of time. This gives you ample time to explore all of your options.
Starting several months early provides you with more hotel options, as there are more vacancies and more affordable airfare because you can book further out.
With that said, don't let a short planning window stop you from getting away and getting the relaxation you deserve.
Your options may be more limited and possibly more costly, but you are still accomplishing your mission, which is to get away!
Caution: For international travel, if you don't have a passport or it's expiring, you will need more time to ensure you have a valid passport. 
Let's get started. Here are the key steps to planning your perfect girls' getaway:
Choose the girls
Define budget
Decide on activities
Decide destination
Decide on dates & duration
Book the trip
1. Choose The Girls for your Girls' Getaway
The hallmark of an awesome girls' trip is who to get away with – the girls. Figuring out which friend or friends will make ideal travel companions can be a bit tricky. It really boils down to selecting one or more friends who share your interests, are drama-free, and reliable.
2. Define Budget
There is a price range for everything in this world, including vacations.
To give you an idea, in recent years, I've paid between $500 – $1,800 for my girls' getaways.
One was a 5-night all-inclusive in Playa del Carmen, Mexico, for $850.  This was a sweet deal because we were able to be flexible with our schedule and booked it just weeks ahead of time.
Another trip was a 7-night all-inclusive vacation in Punta Cana, the Dominican Republic, for $1,800.
In all cases, I was looking for deals so the high-end can easily go beyond $1,800.
Conversely, I have a friend who prefers high-luxury and paid over $10,000 for a 10-night all-inclusive in the Riviera Maya region of Mexico.
Personally, I like to find affordable getaways so I can take them every year – sometimes multiple times a year!  That's just me.
Who determines the budget?
As the getaway "initiator," you can either define the budget or make this a joint decision with the gals.
If you alone set the budget, understand that some of your choice friends may not be able to go based on the cost.
Price Factors for Girls' Getaway Vacations
A number of factors determine the price of your vacation.
How far in advance you book the trip
How many ladies are sharing rooms
Domestic vs. international
Time of the year
Duration of trip
The destination
The hotel/resort rating
How far in advance you're booking the trip
Generally, you'll pay less when booking in advance, especially on airfare.
On the other hand, you can get some great last-minute deals from vacation companies. If you have flexibility with dates, a valid passport, and are interested in a great deal, these might be for you.
How many ladies are sharing rooms
In general, the more women you can get in the room, the cheaper it gets.
Cost of room ÷ women = cost per person.
For all-inclusive trips, the math is different. You still pay more to have a room to yourself and less to share with one other person, but there are no additional savings by adding more women to the room.
The best deal for an all-inclusive is to vacay with an even number of gals with 2 to a room.
When booking a hotel separately, you can save quite a bit by sharing rooms. Unless it's a suite with more than one bathroom, don't pack your friends in just to save money.  It's not worth it.
Time of the year
During holidays (Christmas, New Year, and Easter), you can expect to pay more because everyone wants to vacation during this time.
During slow times or hurricane season, you can expect to pay less. However, the weather is hotter and rainier in the Caribbean during the slow times, and of course, you run the risk of getting caught in a hurricane during that season.
Note: You can still have a great trip when scheduling at the beginning or end window of the hurricane season.  The Atlantic hurricane season is June 1- November 30. August – October are statistically the peak months for hurricanes.
Pricing Options
You have a couple of basic options:
Price your vacation separately
For the best pricing and easiest planning, go with an all-inclusive vacation package at a Caribbean resort. They are the best bang for your buck and easy to plan (planning is done for you), including the airfare, hotel/resort accommodations, food, drinks, transportation to and from the airport, and taxes & fees.
Vacation companies put together all-inclusive vacation packages.
The vacation company essentially buys blocks of space at the hotel that includes meals & drinks, charters a plane (or buys blocks of seats with a commercial airline), arranges the transportation to and from the airport, and pays the fees & taxes.
All-inclusive vacation packages throughout the Caribbean and Mexican Yucatan peninsula (Cancun, Riviera Maya) are generally the best deal because labor costs are lower in these countries.
Many of the vacation companies also offer all-inclusive packages without air. This is for the frequent travelers who have points and free airfare vouchers they'd like to use. Obviously, the vacation price will be lower as it reflects no airfare.
These vacation types take all the guesswork out of planning. Just choose a destination date and book it.
Pros of All-Inclusive Vacations
Best bang for your buck
Easy to plan
Predictable cost
One company to deal with if anything goes wrong, whether it is the air, hotel, or transportation
Cons of All-Inclusive Vacations
If you prefer to vacay in the US, you'll pay more, and all-inclusive are less available.
Caution: Be aware of the difference between an all-inclusive vacation package and an all-inclusive resort/hotel. The latter does not include everything such as airfare, and airport transportation. Stick with reputable vacation companies like Apple Vacations and Funjet to book the trip and you'll be ok.
Pricing your Vacation Elements Separately
Pricing your vacation separately gives you a plethora of options. You can literally travel anywhere, stay at any hotel, and take any flight any day and time.
This option works well if you wish to travel to the US.
As you might imagine, pricing the vacation separately takes quite a bit more effort and planning.  You need to consider:
Roundtrip airfare
Hotel accommodations
Transportation (at a minimum, to and from the airport and possibly while you're at the destination)
Meals & drinks
Taxes & fees (if traveling internationally)
Unlike an all-inclusive, which will provide you with available dates for your trip and you pick one of them, planning separately requires you to determine where the flight, hotel, and your friends' availability intersect. The more women join, the more challenging it can become.
For example:
Suzie can go the 2nd week in May
Jane can go the 1st week in June
Erin can go either the 2nd week in May or 1st week in June
The hotel is all booked up for the 2nd week in May
Air is not available the 1st week in June
You catch my drift…
I'm not suggesting the separate vacation approach isn't simple; it might be. Compared to all-inclusive, there is more planning and coordination involved, so just be sure to block out time for the task.
Pros of pricing vacation elements separately
More options are available
Cons of pricing vacation elements separately
More time and planning required
More risk since each vacation element is essentially pieced together rather than pre-packaged.
Less predictable cost since meals & drinks are extra
3. Decide on "must-do" activities
You and your gal pals should consider what you absolutely want to do while on your getaway. Sure, there will be activities you'd be happy to partake in, but what is an absolute must?
Here are some popular activities to consider:
Relax & lounge <— my favorite
Shopping
Spa day
Site seeing
Swim in the ocean
Snorkeling or scuba diving
Hiking
Make sure you and the gals identify the "must-do" activities and incorporate them into your planning.
4. Decide on destination
It's time to choose a destination. It sounds like a simple task, but sometimes the options are so vast it becomes challenging to choose.
I like the whittle-down approach. You start with a larger list and whittle it down as you go along.
The United States vs International
Will you stay in the States or go international?
If your entourage is open to any destination, you have more options – the US and international (duh).
Sometimes, there is resistance to traveling outside the US or constraints such as no passport and no time to apply for one, in which case your destination can only be in the US.
Must-do Activities
Keeping in mind your decision to travel within the US or go international, go through your list of must-do activities and identify which destinations offer those activities.
If snorkeling is a must, opt for a Caribbean destination known for its coral reefs.
If shopping is high on your list, you probably want to consider staying inside the US. Many beach towns are known for boutique shopping along the boardwalk or road beside the beach.
Shopping in international Caribbean locations is limited to the resort gift shop or market in town, where vendors display their handmade goods and compete with one another for your attention. This can kill a relaxing vibe really quickly.
For spa days, many all-inclusive resorts in the Caribbean have a spa on site. This may be a convenient option. Roll off your lounge chair and saunter to the spa for your treatment.
Budget
OK, you now have a list of destinations from step 2. Place an X beside the destinations that fit in your budget.
Since trip pricing can vary based on a number of factors, as mentioned earlier, don't exclude a destination if it doesn't immediately fit your budget.
If you're in love with a rather pricey destination consider a shorter duration or different time of year.
5. Decide on dates & duration
There will be dates that you and your besties cannot go on a girls' getaway.  Now is the time to identify those dates and jot them down. Check your home and work calendars and jot down the dates to avoid such as:
Prior commitments
A big project at work
Hubby is out of town
The babysitter is on vacation
Kids are not in school/on break
Spring Breakers
Also, I strongly urge you to avoid spring breakers at all costs. You know, the college kids blowing off steam by invading a hotel or resort, binge-drinking, being obnoxious and all-around annoying.  They can dramatically impact your trip.
Unfortunately, colleges and universities don't have one single spring break week. Instead, they range anywhere from late February to mid-April, with March being the peak period.
So, the best you can do is avoid popular spring break locations and only consider hotels/resorts that disallow spring breakers. These places will actually state "spring breakers are not allowed" on their vacation information page.
Determine how long you and the gals want to be away. A long weekend (Thurs – Monday), a week longer?
In general, the more time to travel to the destination, the longer your stay should be.
From the US to Mexico? minimum of 4 days
From the US mainland to Hawaii?  minimum of 10 days
From the US to the US (Wisconsin to Florida) minimum of 3 days
These are just guidelines, but you get the picture. More travel time needs more vacation time to (a) relax from the flight and (b) account for lost time traveling.
Just be aware that the longer duration will cost more.
6. Book the trip
You chose your getaway girls, identified must-do activities, defined a budget, and selected the destination and date for the trip. Now you are ready to book it!
You have some options for booking the trip.
Travel Agent
Work with a travel agent if you don't want complete peace of mind. They don't cost you a dime. They earn a commission from the travel company or hotels they book your trip with.
A travel agent can be especially valuable when booking your vacation separately. They're experts, so they know what to watch out for (e.g. the fine print) and can recommend alternatives.
For example, I often research vacations before I call my travel agent. Last year, I told her about a deal I was looking into, and she recommended a different resort entirely, citing reasons why she knew I'd like the other resort better (the property wasn't as narrow, with greater beach space).
After 20+ years with my travel agent, she knows me and my travel style.
The trick is finding a good travel agent. You want someone who is not only knowledgeable but will also be bold enough to recommend alternatives when appropriate.
Ask family, friends, and coworkers if they have a travel agent they recommend. Or, Google travel agents in your area and check out the reviews.
Book online
Doing anything online can be risky – especially when it comes to your credit card. When booking a vacation online, it's crucial to use a reputable organization.
I can't say enough about Apple Vacations and Funjet. Fifteen of my trips have been through one of these two vacation companies.
There are probably lots of other reputable sites out there, but I can only recommend those that I've personally worked with.
Travel Insurance
There's nothing worse than having to cancel a trip that you've been looking forward to for so long. Wait, there is something worse. Having to cancel a trip and losing all the money you paid for it!
Get travel insurance. I can't stress it enough. It's easy to get, affordable, and gives you peace of mind.
Many vacation companies offer it when you book your trip.
Over the years of my traveling, I've had to use the insurance twice. I got my money back both times with a simple phone call. I was able to rebook the getaways later, and all was well.
Before officially booking the trip, you are often provided a trip summary. Read the fine print carefully, especially policies around cancellation, changes, and price adjustments (should the trip go on sale).
Planning your 1st girls' getaway
There are a lot of moving pieces to consider when planning any vacation. Planning a girls' getaway is similar but has an added challenge of choosing the right female travel companions and ensuring the destination satisfies everyone's desires.
By following the planning steps I outlined above, I guarantee it'll be an awesome experience.
For the first getaway, be sure to give yourself plenty of time to plan and keep it simple.
Keep it simple
An all-inclusive with one or two friends.
Plan little to nothing in terms of activities.
Wing it, chill & relax.
Next Steps
Start thinking about the gals that would make ideal travel companions for the trip.
Research pricing. Go to Apple Vacations or Funjet Vacations websites and plugin a couple of scenarios for various dates and destinations. This will give you a sense of trip costs.
If you know anyone else who deserves a girls' getaway to the Caribbean, please share!