Overview of Girls' Getaway
Destination: Key West, Florida
Dates: May 28 – 31, 2019
Duration: 3 nights
Temps: 85-88℉ (Feels like 93℉ with the humidity)
Hotel: Courtyard Key West Waterfront
Number of Getaway Girls: 3
Overall Getaway Rating: 4.5 Stars
---
The Hotel
We stayed at the Courtyard Key West Waterfront on Roosevelt Blvd. The hotel was about 2.5 miles from all the action on Duval Street.

We loved this place. Here's why:
Reasonably priced. While oceanfront hotels and places closer to the Duval Street action charge $400/night and above, we paid half that.
Clean, modern rooms with a mini-fridge. Super comfy bed and pillows!
Free shuttle to and from the popular spots on the island.
Huge, clean and modern outdoor pool. Also, there were ample lounge chairs, tables, and umbrellas.
The outdoor bar and bartender were a delight to socialize with.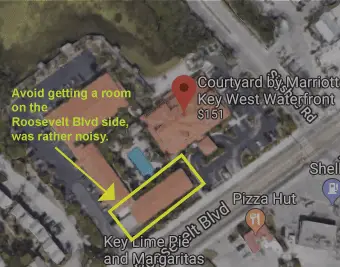 Note: Our room was on the Roosevelt Blvd side of the complex and noisy especially in the morning (traffic). I recommend asking for a room in one of the other sides for a quieter experience.
---
Activities
Man, there were a ton of things you could do in Key West. This was our first girls' getaway trip to Key West and we only had 3 nights so had to be rather choosy. I think we did rather well.
Here's what we did…
First Stop – Mile Marker Zero
We started our journey where the US highway system ends:  US 1, mile marker 0.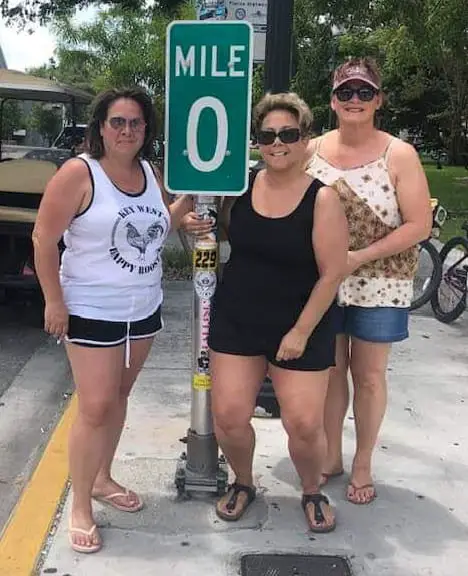 Biked around the island
For a mere $12.50 each, we rented bikes (manual bicycles) to zip around the island.  I had heard about biking around islands on vacation but hadn't done it before, so I didn't know what to expect. It was flippin' amazing!
There were lots of places offering bike rentals. We opted for Island Safari Rentals which was recommended by the hotel concierge.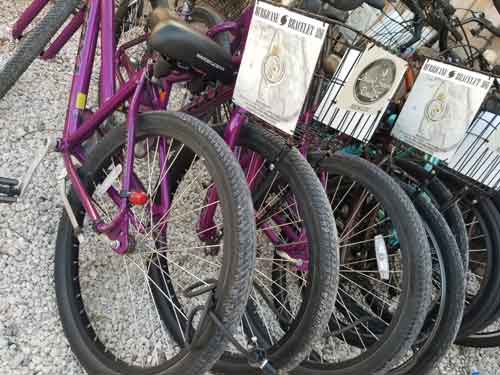 First of all, the bikes were really good quality. I thought we'd be jumping on some run-down bikes picked up at a garage sale, but they were actually well maintained, comfortable (upright sitting) and nice looking bikes. The three of us had matching purple cruisers 🙂
Our bikes were equipped with nice sized baskets in front to conveniently stow towels, backpacks, purses or packages. The basket was invaluable as we biked to the beach and did some shopping along the way.
The bikes also came with locks. Not the crappy lock I remembered from my youth but nice locks that opened with a key. Since there were bikes everywhere, locking the bike was a must. So we did. It was easy breezy.
The vehicle drivers on the island were pretty considerate of the bikers, after all, we were everywhere! At no time did I not feel safe riding on the roads.
The best part about biking around Key West is it's flat so biking is super easy. No hills to climb!
Fort Zachary Taylor State Park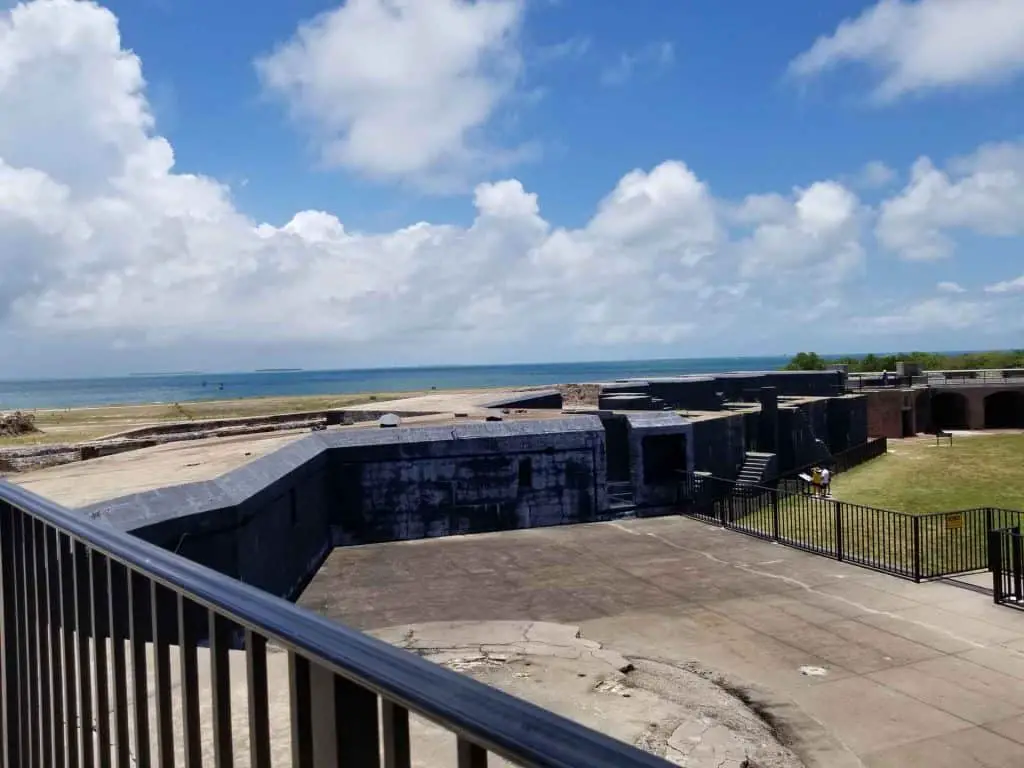 The Fort Zachary Taylor Historic Park is pretty cool. lt's a beautiful park, historic site, beach and concession area all in one. And, it's Key West so it's beautiful.
If you love history, Fort Zachary Taylor State Park is an absolute must. Built-in the 1800s during the Civil War era. It was built to guard the harbor of Key West and used during the Civil War, Spanish American War, WWI, WWI, and the Cuban Missile Crisis.
You can take a tour but we opted for the self-guided tour. There were plenty of signs and "interpretive panels" to explain the whats and whys.
We biked to the park which was a little over a mile from where the bike rental place. It took us less than 10 minutes.
We paid the $2.50 admission and enjoyed several hours exploring the historic fort and lounging on the beach.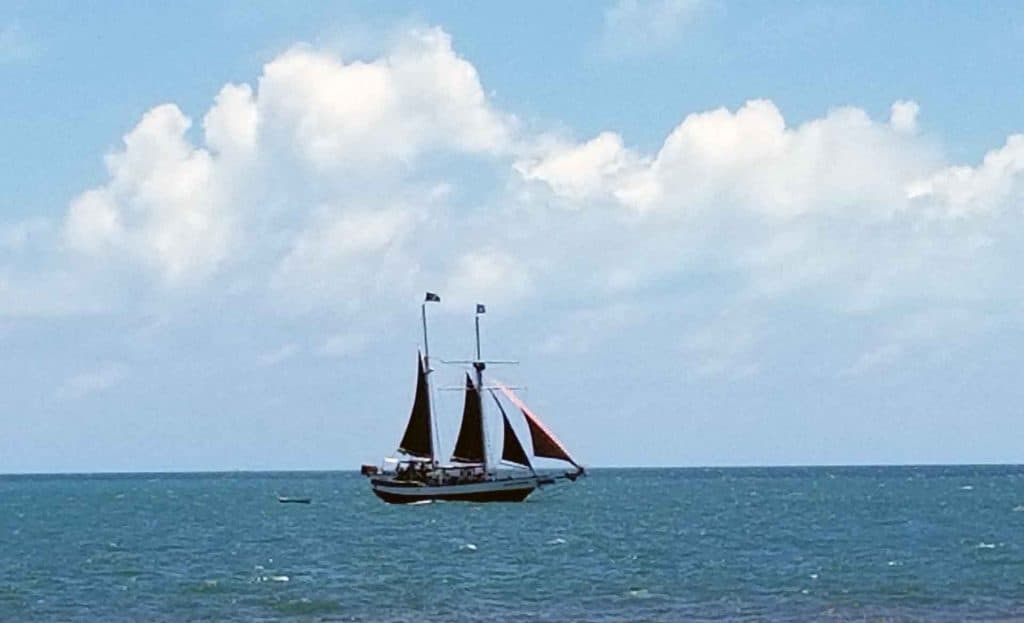 We saw people with beach chairs and umbrellas. Presumably, there were rented from the park, but not sure about that. We just layed our towels down and sat on the beach.
The beach is rather rocky so water shoes are recommended. Note to self "bring water shoes to Key West next time".
Sunset Catamaran Cruise
On our last evening in Key West, we enjoyed a sunset cruise.  There were several options for cruising the ocean. At the recommendation of our hotel concierge, we went with Sunset Watersports.
This experience was amazing!  For a mere $49 each, we sailed on a giant catamaran with about 35 other people, approximately 3 miles out. Snorkeling was included if you wished (equipment and instructions included).
Drinks and snacks were included in the price.  If you planned to snorkel you were prohibited from drinking until afterward. A good policy I think.
On the way back we enjoyed live music by a one-man-band (karaoke?). In any case, it was perfect for the mood.
The best part of the sunset cruise? The sunset.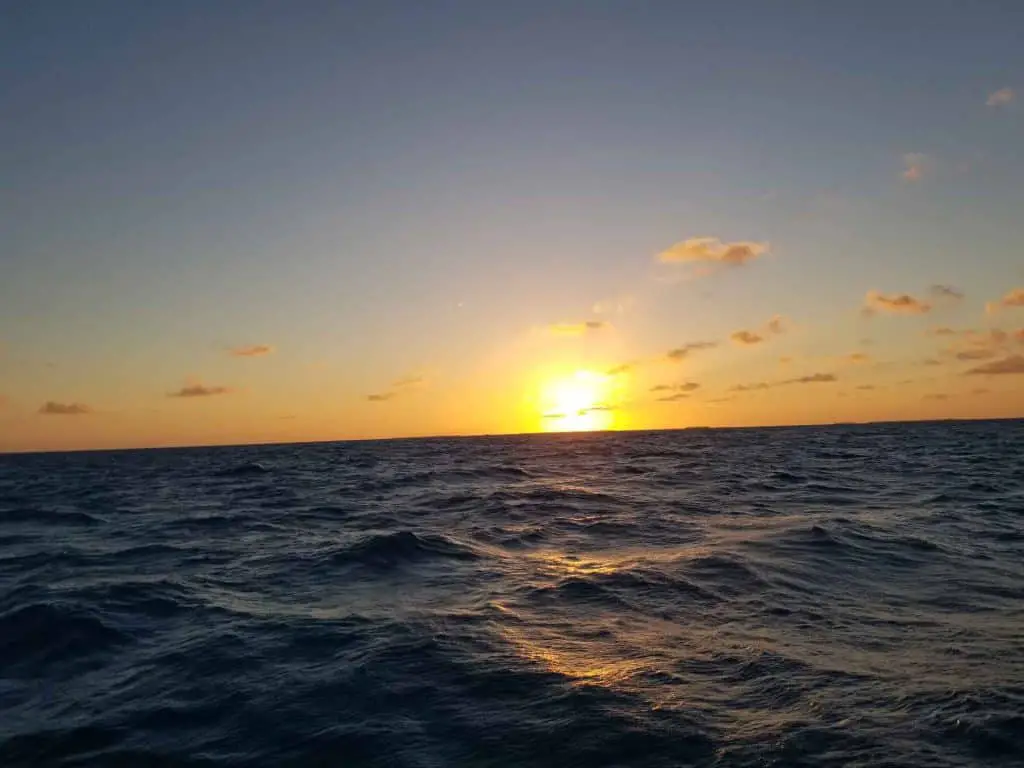 Southernmost Point Buoy 
Tourists gather at the Southernmost Point Buoy to take pictures.  This spot is deemed the southernmost point in the continental United States.
The line to take pictures by the buoy was a mile long and "ain't nobody got time for that!". So, we opted for selfies near the buoy.
---
Restaurants & Bars
There was no shortage of restaurant and bar options in Key West. Below is a summary of which ones we visited.
Super tasty fish bites (fried grouper)
Located on the docks of the Historica Seaport Harbor.
We watched real fishermen return with their catches. Check out the mahi-mahi this fisher dude caught!
Excellent fish dip!
The meals were rather pricey so we opted just for the appetizer and drinks.
In our opinion, the drinks seemed watered down so we hopped on our bikes and looked for somewhere else to eat.
Since the cafe was beachfront, we were right on the water. Unfortunately, piles of seaweed somewhat soured our view. 
We dined upstairs on the outdoor porch overlooking Duval Street. Great people-watching spot!
We opted for the 32 oz rum punch drink. Price was a steal and damn it they weren't super tasty!
Excellent shrimp tacos!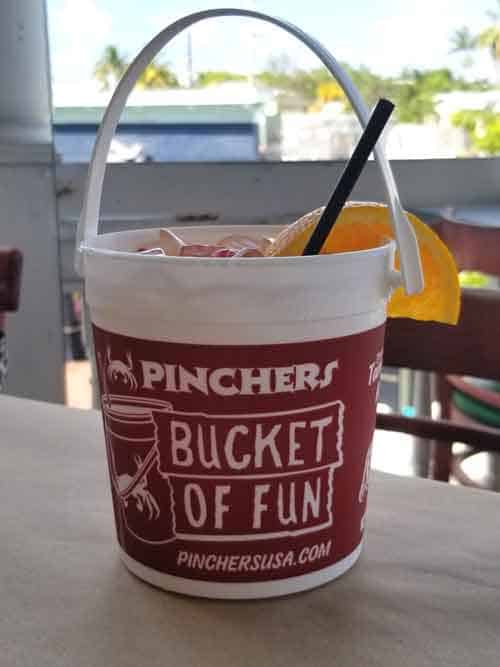 Located on the docks of the Historic Key West Seaport we found The Waterfront Brewery. We enjoyed live music while we dined overlooking the seaport.
Food & drinks were good.
We stopped for a drink at the Rum Bar which turned out to be a delightful inn as well.
This tiny little bar on the far end of Duval Street showcases every type of rum you can imagine. They also have outdoor seating overlooking the street. Check it out if rum is your thing.
One of our first beverage stops by bike was Rick's Bar.  We loved it because it was an open bar right on Duval Street. Perfect for people watching!
Our bartender, Mary from Michigan, mixed a delish Mojito!
Three girls from Milwaukee, Wisconsin were in heaven when we discovered the Hogs Breath Saloon.  We watched hours of great bands, outdoors, while drinking beer.  
Milwaukee, Wisconsin is known as "the city of festivals" which offers a large array of outdoor festivals featuring local band favorites each and every weekend. In fact, Milwaukee is home to the world's largest music festival Summerfest.
We'll definitely be back to the Hogs Breath Saloon on our next visit!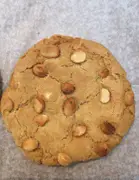 When you walk past the window of one of the 2 Mattheessen Candy Kitchen locations on Duval Street, a giant cookie beckons you.
Mattheessen's is famous for its homemade giant cookies, ice cream, key lime pie (of course) and fudge.
We opted for the cookies and they did not disappoint. White Chocolate Macadamia Nut for me. It was ginormous,  the perfect blend of soft, chewy and crunchy. Yum-fricken-y!
---
Notes for the Next Girls' Getaway to Key West
Floating Tiki Bar Cruise
Ernest Hemingway House
Margaritaville
---
So….
There is so much to do in Key West. We really had to whittle down what we wanted to do and see. Before we did anything, we all agreed on what we absolutely wanted to do, and we did it.
We even managed to relax at the hotel pool for over 1/2 a day.
Although we had a schedule, it was flexible. In the end, we had a great time, saw many things, enjoyed awesome weather and the beauty of Key West, got some exercise, bonded and relaxed a lot.