You want to take a vacation somewhere warm and sunny with turquoise blue water so the Caribbean is the obvious choice, but where? You've heard Grenada is awesome. You've heard the same about Aruba. So which should you choose and why? Learn the similarities and differences between the two islands so you can decide which island destination is best for you.
Should you go to Grenada or Aruba on vacation? It depends on your budget and what you're trying to do and see. Tourists seeking a larger number of resort & hotel choices should opt for Aruba, while people looking for a more authentic experience and greater variation in geography should choose Grenada.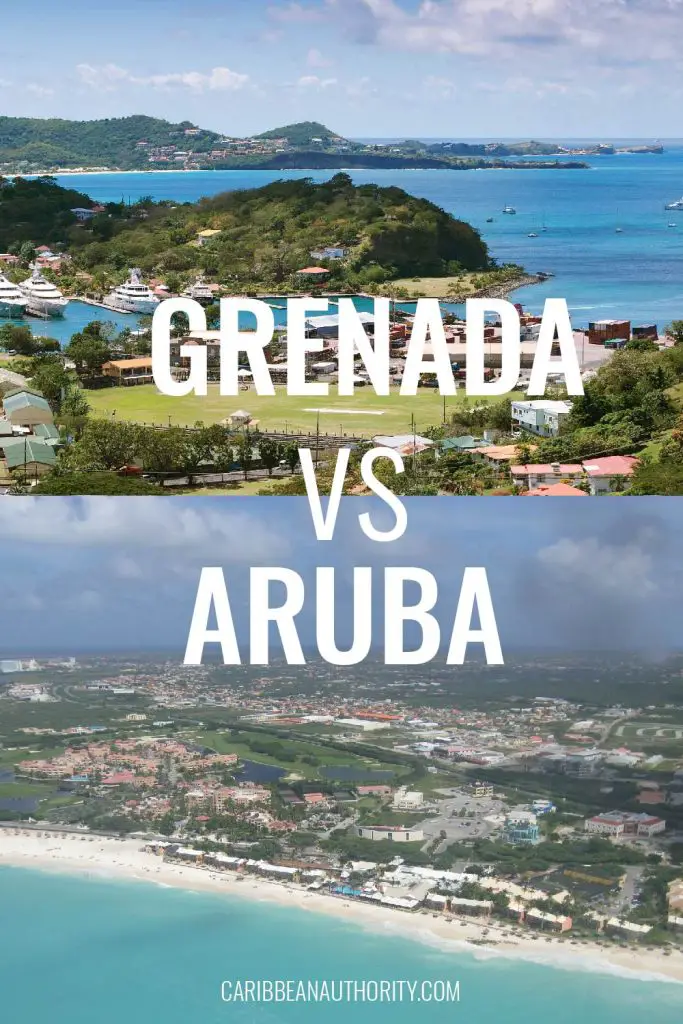 Grenada and Aruba Similarities
There are many similarities with Grenada and Aruba which is likely the reason you're considering one of them for an upcoming vacation. Understanding the similarities will allow you to then compare the differences so you can decide which is the best for your trip.
But first, let's be clear, Grenada and Aruba are both excellent choices for a vacation. After all, they're in the Caribbean! I've never met a Caribbean destination I didn't like.
Climate
Located in the southern Caribbean, Grenada and Aruba both enjoy year-round temps in the low 80s. Although both islands are close to the equator and tropical in nature, they both enjoy the tempering effects of the trade winds resulting in relatively comfortable climates. To be clear, they're still warm and muggy but relatively comfortable climates.
Hurricane-Friendly
No Caribbean island is 100% safe from hurricanes – Grenada and Aruba included. However, the proximity of Grenada and Aruba allows them to be much less susceptible to hurricanes than their northern counterparts (e.g. the Bahamas, the Cayman Islands, Turks & Caicos, etc.).
The chart below shows the number of hurricane hits to the Caribbean islands in the last 100 years. Grenada and Aruba have the least number of hits.
| | |
| --- | --- |
| Caribbean Island | Hurricane Hits |
| Aruba/Curacao/Bonaire | 2 |
| Grenada | 4 |
| Barbados | 4 |
| Negril, Jamaica | 7 |
| Santo Domingo, Dominican Republic | 8 |
| Puerto Rico | 9 |
| St. Thomas USVI | 11 |
| Cayman Islands | 16 |
| Turks & Caicos | 16 |
| St. Martin | 16 |
| Grand Bahama, Bahamas | 22 |
Being less susceptible to hurricanes makes Aruba and Grenada great destinations year-round, even during the hurricane season ( generally June – September).
To get the full scoop on hurricanes hitting Grenada, you must check out here: Do Hurricanes Hit Grenada?
Resort & Hotel Options
There are plenty of places to stay in Aruba and Grenada. A quick search on booking.com reveals 418 properties to stay in Aruba and 89 properties in Grenada. It makes sense that Aruba has 4x the number of properties since it attracts 4x as many visitors each year than Grenada.
Properties on both islands range from studio apartments to high-end, luxury, all-inclusive resorts.
For a list of all-inclusive resorts in Grenada, check out Grenada's All-Inclusive Resorts (Even the hidden ones).
Tours & Excursions
Some of us don't mind parking it on a beach chair for a week. Yet others want to get up, move, and explore the island. Both Grenada and Aruba have a variety of professional tour operators and companies available to guide you when you're ready to roll off that beach chair.
Popular tours on both islands include Jeep and UTV excursions, Catamaran cruises, scuba diving & snorkeling, as well as historical tours. Hiking and waterfall excursions are also popular in Grenada.
Waterfalls got your attention? Check out The Ultimate Guide to Grenada's Waterfalls.
Differences between Grenada and Aruba
The sharpest differences between Grenada and Aruba include the following topics which I'll explain in detail:
Geography
Culture
Food
Crowds/Touristy
Geography
Grenada
Located in the south end of the Caribbean, Grenada is an island nation consisting of three large islands and several smaller, mostly uninhabited ones. The three large islands include Grenada (the biggest) and two others: Carriacou and Petite Martinique. Grenada is located south of Barbados and north of Venezuela, with Trinidad and Tobago sitting just below the country.
Grenada boasts a stunning landscape that consists of towering mountains and lush forests, a result of being on volcanic rock. The country is located on the Lesser Antilles arc, meaning it is part of a volcanic chain throughout the Caribbean.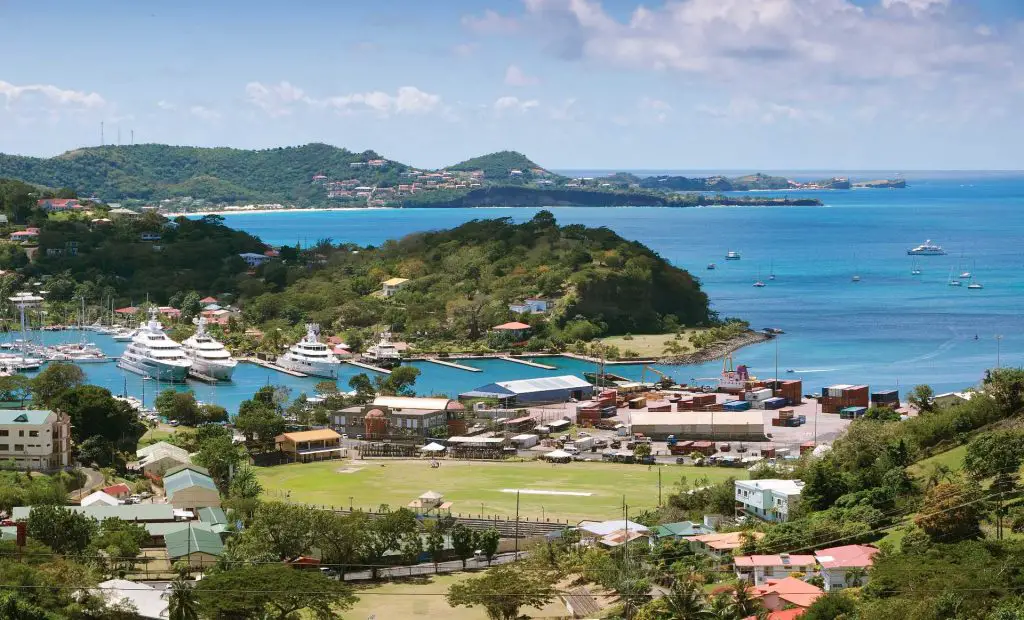 The volcanoes that exist in Grenada are dormant, although they do provide some must-see scenery. There are also crater lakes, such as Grand Etang, that were formed from the volcanic era. 
The elevation on the islands varies greatly ranging from 1000 feet below sea level to 2000 feet above sea level in some places. That being said, the biggest peak is Mount St. Catherine, and this stands at 2,755 feet tall.
The island of Grenada has an estimated area of 120 miles, and the capital city is St. George's. This island has an international airport. Carriacou also has an airport, albeit a small domestic one. At the same time, Petit Martinique and the other islands are only accessible by boat. 
Grenada consists of more than 20 islands. Wanna learn more: Check out Number of Islands in Grenada (Including the Tiny Ones).
Grenada and Carriacou are known for their coral reefs, with plenty of snorkeling and diving opportunities. They also have a range of scenic beaches to choose from, some only accessible through hikes.
The climate is consistently warm and humid all year round. The average year-round temperature hovers right around 82 degrees Fahrenheit appealing to many tourists looking for a warm vacation destination. There is substantial rain, especially in the rainy season, which keeps the vegetation lush and green.
Still, visiting Grenada during the rainy season is not a bad idea. Learn why: When is Grenada's Rainy Season and What's It Like?.
Aruba
Aruba sits to the southwest of the Lesser Antilles arc, approximately 50 miles northwest of the island of Curacao. The island originally belonged to the Netherland Antilles; however, in 1996 became a self-governing component of the Kingdom of the Netherlands. 
A popular tourist destination, Aruba has a rugged coastline in parts as well as powder-white beaches. In contrast to Grenada's lush rainforest, Aruba has desert in the middle of the island, providing true diversity to its landscape.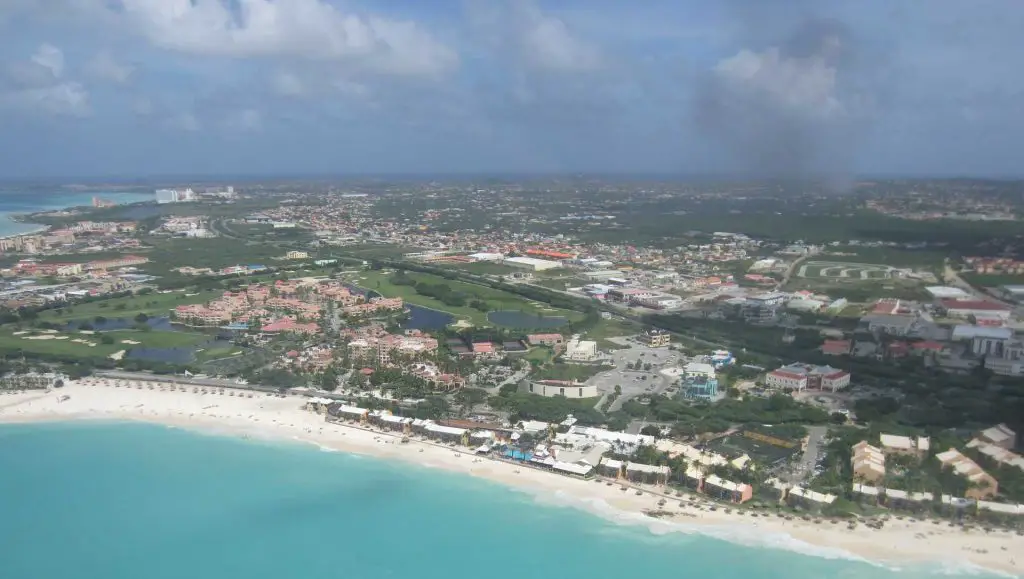 The island of Aruba is 20 miles long and 6 miles wide. It has many areas that consist of rocks over limestone deposits, making for some impressive scenery. 
Overall, the country has low elevation with Mount Jamanota, its highest peak, standing at 620 feet tall. Given the rocky, desert terrain, Aruba has little natural water, and the soil isn't really useable. Instead, drinking water is made through desalination.
The average annual temperature in Aruba is 80 degrees Fahrenheit, providing consistent weather for a warm vacation destination all year round. Precipitation levels remain low, and the country is not located on the typical hurricane path. Given the lack of rain received by the country, the vegetation in Aruba is typically made up of drought-resistant shrubs and cacti.
Culture
Grenada
The culture of Grenada is diverse, as are the ethnic origins of its people. Citizens have origins from a range of places, including Africa, Britain, West Indies, and France, and this has created a unique blended culture. 
The official language spoken in Grenada is English. There are two other creole languages also: Grenadian English Creole and Grenadian French Creole. 
The culture speaks to all of the different ethnic origins, having developed to include the various customs and values over the years. There is a strong African influence through the country's dance, music, and festivals, while many of their surnames are rooted in French origins. 
Evidence of French and British colonialism has been preserved and form a big part of Grenada's history. Storytelling plays an important role in their culture and has been cemented through African and French influences.
Aruba
Aruba also has an ethnically diverse population. It is a combination of people with American Indian, Dutch, Spanish, and African heritage, with many people have a mix of these. Aruba had a strong slave industry in colonial times. Because of this, there are still some people who are predominantly of African origin. 
The official languages of Aruba are Dutch and Papiamentu. Papiamentu is a creole language that developed from a combination of Portuguese, Dutch, and Spanish. 
Other languages spoken in Aruba include English and Spanish. Approximately three-quarters of Aruba's population classify themselves as Roman Catholic, with smaller groups of people being Jehovah's Witnesses or Protestants. 
The overall culture is representative of the many different ethnic backgrounds, combining all of these together to create one unique Aruban culture. If you're looking to experience a destination rich in diverse culture on your next vacation, consider a trip to Aruba. 
The country has the expected island vibes of the Caribbean, as well as featuring historical and cultural attractions ranging from Indian cave paintings to Dutch architecture. South America also has a strong presence, and tourists will find dance to be popular, as well as Carnival celebrations. 
Food
Grenada
The food in Grenada, like its culture, is a direct result of the mixed ethnicities of the country. Dishes range from local seafood options to tasty Indian meals. 
Spices are heavily featured in a variety of dishes, with the island nation being known as 'The Spice Isle.' The national dish is 'oil down,' a type of stew consisting of meat and vegetables cooked in coconut milk.
Aruba
Aruban meals are influenced by a range of cultures, including Dutch, Caribbean, and Latin American. 
Common dishes include the following:
Keshi Yena, a Dutch meal that revolves around cheese
Cabrito Stoba, an Aruban stew with vegetables
Meat and spices
The staple side dish of fried plantain. 
Crowds/Tourist Areas
Grenada
Grenada's tourism numbers are on the rise. In 2019 the country welcomed over 500,000 visitors. However, it is currently still more relaxed than some of its Caribbean neighbors. 
With a range of tourist attractions to suit the varying tastes and requirements of travelers, the tourist hotspots are well set up to accommodate travelers. It is also possible to get out of the touristy areas and immerse yourself in nature and local culture. 
Aruba
Aruba is quite developed and a very popular tourist destination welcoming over 2 million visitors annually. Given this, you will find many other tourists there year-round, especially in peak season, when it's difficult to find a person-free beach area at many resorts. 
Some areas are very much designed to cater to tourists and will feel quite Americanized, featuring a range of franchises and shopping malls. Aruba is one of the most touristy islands in the Caribbean and tourists will have to venture away from the main hotspots to find some authentic Aruban culture. 
What type of travelers would like Grenada over Aruba?
Grenada and Aruba are quite different in terms of the landscape and their tourism offerings.
For people seeking a holiday in a touristy location, Aruba is for you. It is easy to get around, access tours, and find restaurants and bars for a nice meal. It is the perfect place to relax by the pool or beach, though you should take note that the rest of the landscape is quite barren.
Grenada is great for people looking for something more than just a beach destination. While it has white-sand beaches and rugged coastline, it also has a lush, green forest that offers a range of hikes and scenic viewpoints. 
Grenada's tourism industry is growing, as its infrastructure, so it is also an easy place for tourists to visit. However, it has not yet experienced the tourism numbers that Aruba has, making it a more relaxed choice. People looking for a more authentic experience or those wanting to get out in nature will prefer Grenada to Aruba.
Summary
Grenada and Aruba are both located in the Caribbean. However, Grenada features a lush, green rainforest and mountainous terrain, while Aruba has desert in its center.
Both Grenada and Aruba are a melting pot of cultures and ethnicities. This has created diverse food and cultures in each country.
Tourists seeking a luxury holiday should opt for Aruba, while people looking for a more authentic experience should choose Grenada. 
---
Have you been to Grenada and Aruba? If so, would love to hear from you! Comment below which island you loved the most and why.