Grenada, a small island in the Caribbean Sea, is a hidden tourism hub. Thousands of fun-seekers and beach lovers troop into the island annually for its breathtaking scenery, beaches, and waterfalls. You can have a fantastic experience at any time of year in Grenada – even during the rainy season.
So, when is the Grenada rainy season and what's it like? Grenada's rainy season starts in June and lasts until December. The rainy season is characterized by frequent thunderstorms and downpours, which are short-lasting but very intense and typically followed by plenty of sunshine.
The rest of this article will answer the following questions about Grenada's weather and rainy season:
What is the Grenada rainy season like?
Is traveling to Grenada in the rainy season recommended?
What are some things to do during the Grenada rainy season?
What to wear during the Grenada rainy season?
What's the monthly weather like in Grenada?
What is the Grenada Rainy Season Like?
In Grenada, average annual rainfall could go as high as 197 inches in the interior areas of the island, and 79 inches along with the coastal areas. 
The rains are usually highest in August, with an average temperature range of 77–84 degrees Fahrenheit. The seawater temperature is highest during the rainy season, with an average of 82 degrees F. 
However, the water remains warm enough for swimming.
The rainy season is characterized by frequent thunderstorms and downpours, which are short-lasting but very intense. Despite the abundant rain during this season, there are still so many sunshine hours to enjoy. Tourists can have up to eight hours of sunlight daily for their planned adventures.
Is traveling to Grenada during the rainy season recommended? 
While you can have all the fun you crave, it's important to note that hurricanes may pass over Grenada during the season. The island sits on the Caribbean area that is at risk of being hit by storms during the rains. However, the risk is reduced for Grenada since it is in the southernmost region of the hurricane belt.
Check out Do Hurricanes Hit Grenada for the history of hurricanes hitting the island.
Things to Do During the Grenada Rainy Season
When the rain starts to drum on our roofs, the first thing that comes to mind is stretching full-length on the bed and drawing the covers up. But when you're vacationing in Grenada, there's so much more you can do. 
Here are some of the best options:
Enjoy the Beach
Arriving in Grenada with the rain pouring down could be disappointing. You were expecting golden sunshine, clear skies, and that typical beach scenery.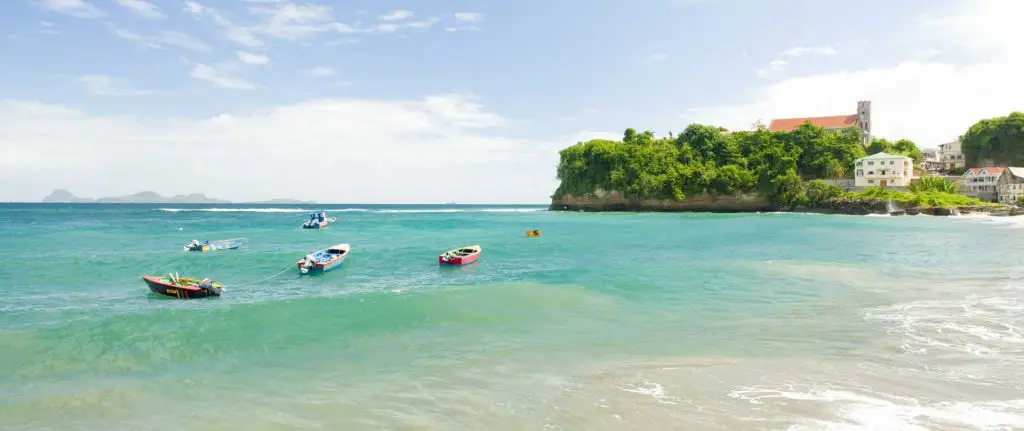 Not to worry, though; the rain can't stop you from having a fun time at the beach. They don't last long, giving you enough time – up to eight hours – to enjoy blue skies and sunshine at the beach.
The sea temperature remains warm during the rainy season to allow for a swim, so tourists don't have to worry about freezing in the water.
Visit the House of Chocolate
Grenada's House of Chocolate is home to some of the best chocolates you'll ever find. If you aren't on a strict diet plan, you should indulge in some chocolate velvet cheesecake – who cares about calories during vacation anyways?
The House of Chocolate is very unique. It's a mini-museum portraying the history of chocolate in the world and Grenada, a small café offering on-site made chocolates, truffles, and other chocolate treats as well as a boutique that carries a selection of all things made with cocoa in Grenada.
The Chocolate Museum or Café plays host to the island's Chocolate Fest, and you can explore the history of chocolate in the area while browsing through it for anything related to chocolate.
Go Hiking
If hiking sounds like fun to you (and for some of you it doesn't, to each his own!) and you don't mind getting a little muddy, you're in for a thrilling experience hiking in the island's lush rainforest.
Hiking will get you all sweaty and wrapped up in the mud, but the breathtaking view from the top is an unparalleled satisfaction. 
Grenada boasts some amazing mountains and waterfalls, ideal for climbing and enjoying the natural beauty of Grenada, but don't be fooled. These hikes range from basic to extremely challenging, make sure you know what you're in for before you go. 
Check out The Complete Guide to Grenada's Waterfalls to find a waterfall hike suited for your skill level. 
Visit the National Museum
Grenada's Young Street is the country's cultural scene, with the Grenada National Museum at the center of it. There, you can take a walk down the nation's historical path, learning about her fascinating culture.
The museum houses various artifacts belonging to the island's first inhabitants – the Taino, Ciboneys, and Kalinagos. You'll also be thrilled by the sight of different weapons and machinery from the island's colonizers.
Interestingly, the National Museum sits next to the House of Chocolate. Talk about killing two birds with one stone. It's even more convenient to visit the museum on a rainy day, because of the usually hot weather during the dry season.
See the Waterfalls
Waterfalls captivate every one of us, and Grenada has more than enough to keep us wowed. 
The Mount Carmel Waterfalls offers some especially impressive waterfalls that you should see. You can take a bus to Grenville, and you'll find these intriguing water slides along the eastern route.
However, sliding down these rocks can be dangerous if you've never done it. So it's advised you go with someone who has some decent experience, or apply lots of caution if you decide to go alone.
The Annandale Waterfalls is easily accessible and requires no hike at all since a paved path leads you right to it. For that reason and the fact that it's only 10 miles from the capital, St. Georges, it's a favorite among tourists.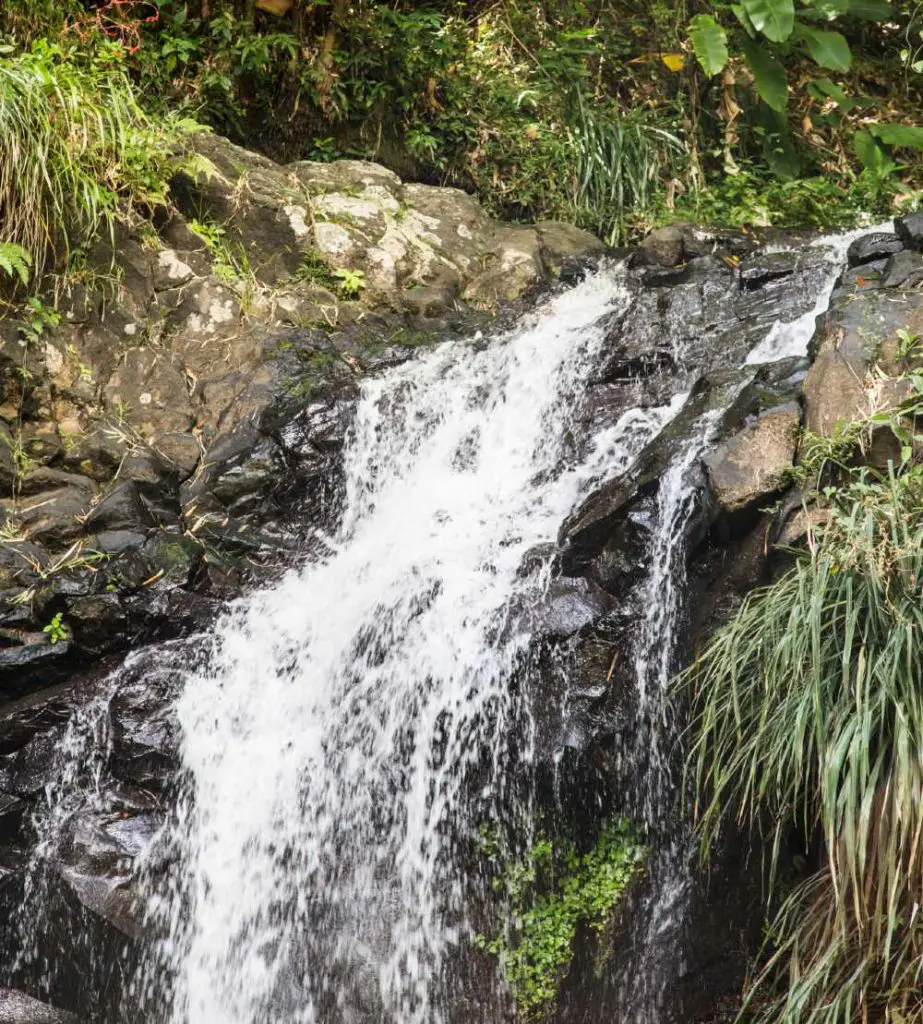 Check out The Complete Guide to Grenada's Waterfalls for a complete listing of waterfalls on Grenada, size, difficulty to hike and whether a guide is recommended for the trek.
What to Wear During the Grenada Rainy Season
Although the rains can get pretty heavy during this period in Grenada, packing just thick jackets and raincoats is a no-no. There'll be periods of sunshine where you'd do a whole lot of fun things, and of course, you'd need to swim. 
Here are some articles of clothing you need to pack for a wholesome Grenada experience during the rainy season: 
Typical Caribbean Attire: You'll be under the sun, or at least in the warmth, for most of the day so there's nothing better to wear than lightweight, easy-to-dry, and comfortable clothing including: shorts, casual tops, tank tops, skirts, and sundresses.
Swimsuit: What's a Grenada trip without a swim? Your swimsuit is essential for a trip to the beach, pool resort, or even for hiking.
Hiking Shoes: If you've set your heart on an adventure on the island's rainforest, then you need a pair of hiking shoes.
Sandals: A comfortable pair of sandals are both handy to wear during the day or at night.
Raincoats: The rain will come, so you need raincoats to shield yourself while it lasts.
Rain vs Sun in Grenada: A Month-by-Month Overview
The amount of rainfall during your trip to Grenada will vary greatly depending on when you go. To help you choose the best time to travel, here's a month-by-month historical overview of rainfall and sunshine in Grenada.
| | | |
| --- | --- | --- |
| Month | Rainfall (Inches) | Sunshine (Hours) |
| January | 5 | 279 |
| February | 3 | 226 |
| March | 2.2 | 217 |
| April | 3 | 240 |
| May | 5 | 248 |
| June | 9 | 210 |
| July | 7.7 | 248 |
| August | 7.8 | 248 |
| September | 7.6 | 240 |
| October | 10 | 248 |
| November | 10.1 | 240 |
| December | 7 | 248 |
Summary
Here are the main points you should take away from this article:
The rainy season in Grenada is characterized by short-lasting, but intense rainfalls and thunderstorms. However, tourists can enjoy up to 8 hours of sunshine daily, and the sea temperature averages 82°F.
Some of the best things to do in Grenada during the rainy season include visiting the beach and museum, hiking, climbing the natural water slides, and indulging in a chocolate feast at the House of Chocolate.
To enjoy the most out of a trip to Grenada, especially during the rainy season, be sure to pack light-weight, fast-drying clothing, swimsuits, hiking shoes, sandals, and a waterproof rain jacket.
The weather condition of Grenada varies throughout the year. The rainy season, accompanied by frequent rainfalls, starts in June and ends in December. The dry or winter season is between January and May.