I've been traveling the Caribbean for over 20 years and wanted to expand my horizons and visit a new destination like Grenada. My favorite way to travel to the Caribbean is through all-inclusive vacation companies like Apple and Funjet but they don't go to Grenada. I was bummed. Vacation packages are so easy – one price that includes air, hotel, airport transportation, food & booze. Since vacation packages are not available for Grenada I ventured out on the arduous task of searching for airfare, hotel, and other travel costs separately. Lucky for you, I just returned from a week in Grenada so have actual costs.  
The cost to travel to Grenada for 7 nights based on 2 people is estimated to be $1,964 per person for the average traveler, $4,043 per person for the luxury traveler and $1,262 per person for a budget traveler.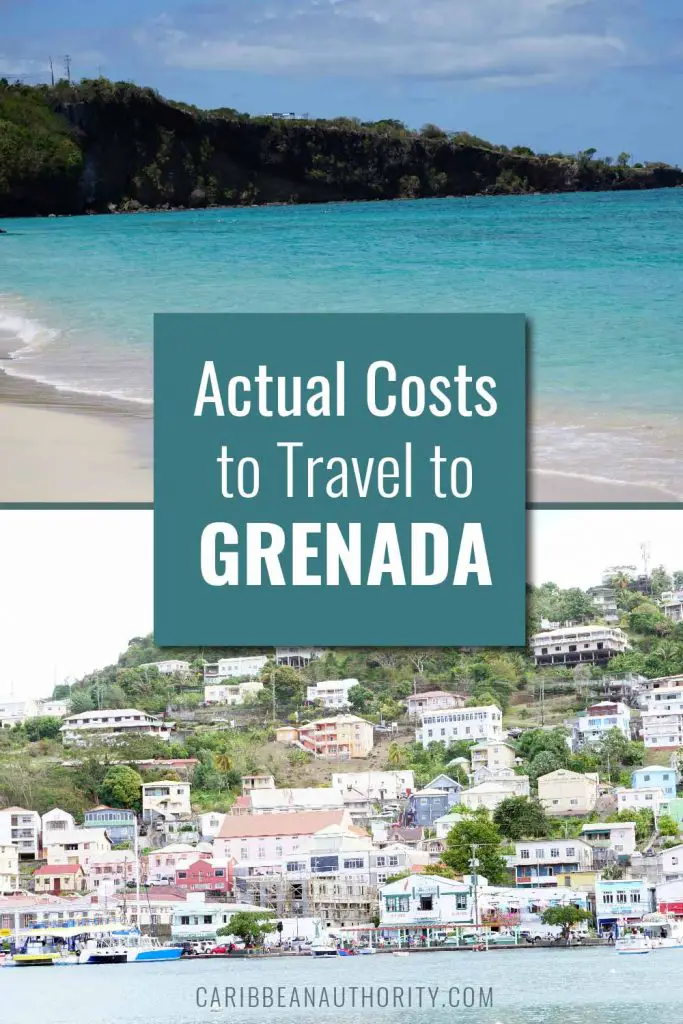 I consider myself a middle of road type traveler from a "comfort" perspective. I fall somewhere between a budget (3-stars) and luxury (5-stars) kinda gal. Since you may have a different travel preference, I also included luxury and budget scenarios. To keep the scenarios somewhat equal, I based the costs for a trip during the same primetime week – in early March. 
Average Traveler's Cost to travel to Grenada For A Week
The cost to travel to Grenada for 2 people for 7 nights is estimated to be $1,964.34 per person. Here's the breakdown.
| | |
| --- | --- |
| AVERAGE TRAVELER | US $ |
| Airfare | $1,686.10 |
| Hotel (Blue Horizons Garden) | $1,575.00 |
| Food & Drink | $571.58 |
| Taxi | $96.00 |
| TOTAL >> | $3,928.68 |
| PER PERSON >> | $1,964.34 |
I'm not gonna sugar coat it. Airfare to Grenada is expensive. In case you didn't know, Grenada is way down there – almost to South America. As a matter of fact, Grenada is about 1,529 miles southeast of Miami so it stands to reason the airfare will be pricey. However, there are ways to save which we'll discuss later during the budget scenario.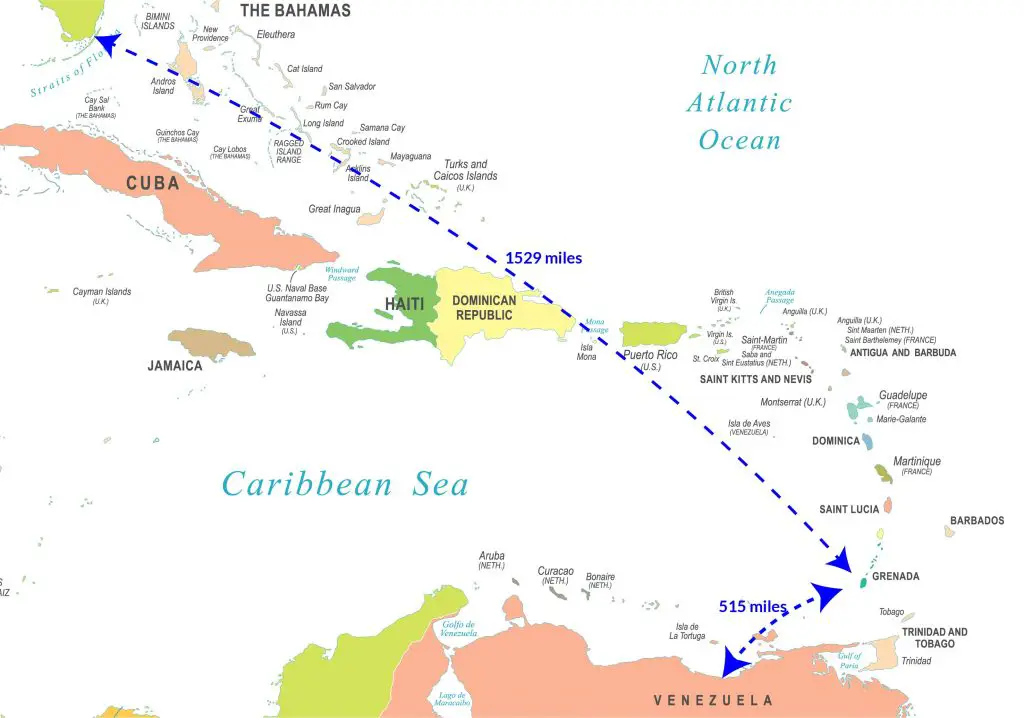 If you really don't know where Grenada is located, you have to read my article Where is Grenada Located?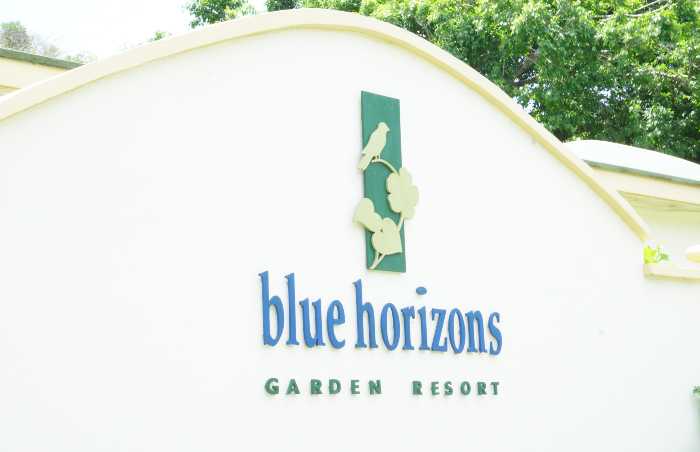 As an average traveler, I chose to stay at the Blue Horizon Garden Resort which was an amazingly beautiful property. I chose this resort because the reviews were nearly 5 stars but the price was really reasonable – $225 per night.
I was so delighted with this resort, I can't say enough about it. A few features included:
A gorgeous array of gardens all around the property including many container ponds;
Modern, warmly decorated, and super clean room with a kitchenette and stunning view of St. Georges harbor;
An on-site restaurant, fully stocked bar and dining area by the pool.
Check out my full review of Bue Horizons Garden Resort.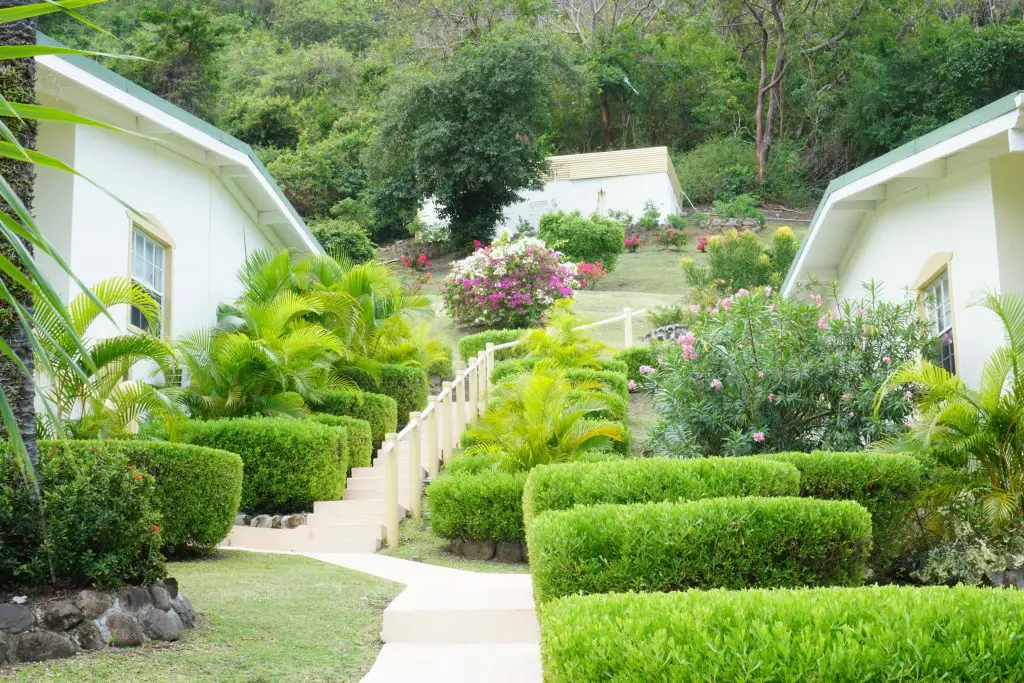 You may be wondering why the rate was so reasonable for such amazing accommodations. I can't say for sure but probably because it's not located on the beach. Now THAT was a first for me. I've never gone to the Caribbean and not stayed on the beach but was pleasantly surprised to discover it didn't bother me one bit. The world-famous Grand Anse beach was a 5-minute walk from the resort and as guests of Blue Horizon, we were had access to lounge chairs on the beach. The best part? We saved a ton of money staying off the beach.  Totally worth it and I'd do it again. 
The room had a kitchen with a full-size refrigerator, stove and sink so we were able to zip down to the local IGA and pick up coffee and a few other groceries. We did this more for convenience and to be able to make a giant pot coffee each morning and leisurely hang out on the balcony in our jammies. The only thing we cooked was hard-boiled eggs. We had the eggs and yogurt for quick and convenient breakfasts.
We opted not to buy beer at the grocery store because the pool bar had a full supply and we really didn't save much by buying our own. We sucked down many beers at the pool bar and had several meals as well – both lunches and dinners. 
The average cost of food each day was $40 per person – which included 2 full meals and some beers. 
Taxi rides in the St. George's area are $16 each way. This price is set and regulated by the government. Depending on how often you'll be venturing out you could save a boatload by taking the public bus. I opted to take the taxi when I left the resort but could have easily taken the bus which only cost a few bucks. Since I was traveling alone and this was my first trip to Grenada, I didn't feel adventurous enough to take the bus, so I didn't. However, many people I met at the resort took the bus and thought it was perfectly safe, easy and worth it. The resort staff encouraged me to take the public bus. "It's easy", they said. Hmm. Maybe next time!
Luxury Traveler's Cost to travel to Grenada For A Week
The cost for a luxury trip to Grenada for 2 people for 7 nights is estimated to be $4,042.55 per person. Here's the breakdown.
| | |
| --- | --- |
| LUXURY TRAVELER | US $ |
| Airfare | $1,686.10 |
| Hotel (Sandals) | $6,335.00 |
| Food & Drink (included) | $0.00 |
| Taxi | $64.00 |
| TOTAL >> | $8,085.10 |
| PER PERSON >> | $4,042.55 |
OK. So you like some more luxury on your vacation. I get it. I have had a few of those in my day and they were wonderful. For my first trip to Grenada, I wanted to keep costs down but I completely respect your decision for luxury.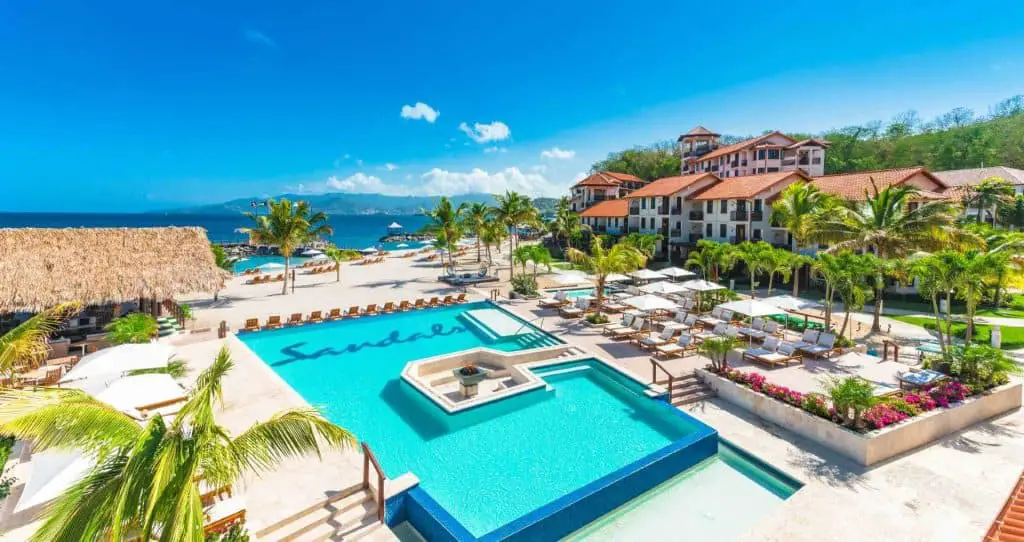 Assuming no one wants to pay any more than they have to for airfare, I'll assume all of the "luxury" will be provided by the resort or hotel rather an upgrading to first class. 
Luckily, there are several luxury resorts and hotels in Grenada including Sandals Resort, Spice Island Resort, and Mount Cinnamon. For cost comparison purposes, let's go with the most popular option – Sandals Resort. 
Check out Sandals current rates here.
Sandals is an all-inclusive resort which means food and drink are included (along with many other inclusions). We won't get too crazy though, I didn't include a butler in this scenario and chose the least expensive room. Don't worry, it will still be amazing 🙂
I included a few taxi rides in the budget so you could get out and enjoy the sites. You're welcome.
Budget Traveler's Cost to travel to Grenada for a Week
The cost for a budget trip to Grenada for 2 people for 7 nights is estimated to be $1,262.00 per person. Here's the breakdown.
| | |
| --- | --- |
| BUDGET TRAVELER | US $ |
| Airfare | $1,376.00 |
| Hotel (Siesta Hotel) | $588.00 |
| Food & Drink | $560.00 |
| Taxi | $0.00 |
| TOTAL >> | $2,524.00 |
| PER PERSON >> | $1,262.00 |
For the budget scenario, I'm going to assume you want to fly to Grenada. Swimming isn't worth the savings. 
The reduced airfare cost in this scenario assumes you signed up for airfare price alerts at least 6 months before departure so you could pounce on the exact day it went down. You can sign up at Skyscanner (it's free) and they'll send you an email alert whenever the price goes up or down. If you start watching prices 6+ months prior to departure you should be able to nab a deal that saves $150 or more per person. Just remember there are no guarantees and if you wait too long you may end up paying more for airfare or losing out on a seat entirely. 
In my average traveler scenario, we stayed at a fantastic resort off the beach. On the way to our resort, we passed a lot of nice-looking hotels that were also off the beach. Many had gorgeous pools so don't worry, you won't roast. For the budget traveler scenario chose the Siesta Hotel which was close to Blue Horizon and looked amazing. Their rates are even more amazing at a mere $84 per night.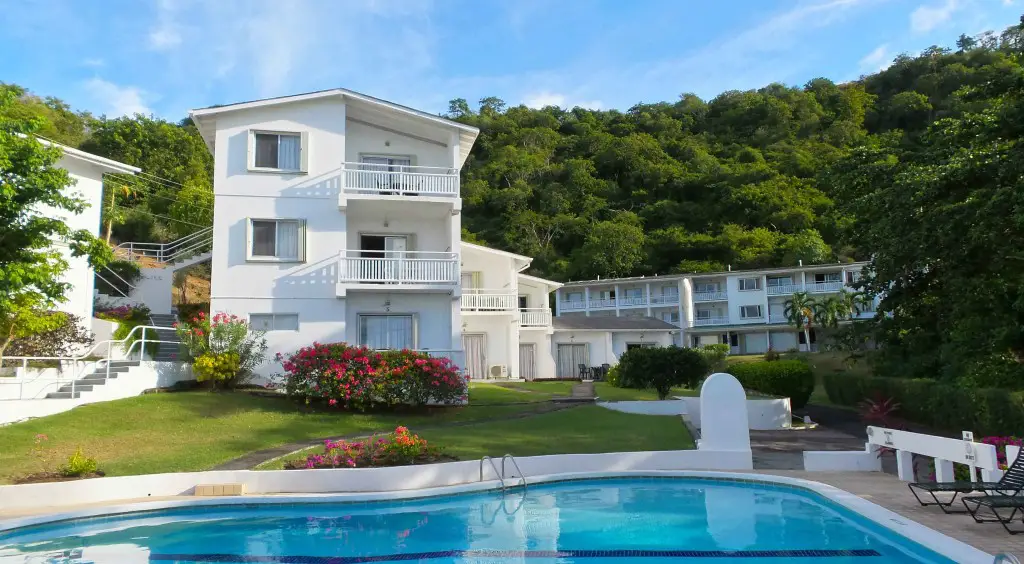 It's unlikely the cheaper hotels will have beach chairs available for you but many of the beaches, especially Grand Anse, have vendors there to rent you a chair. 
Siesta Hotel does not have self-catering kitchens but many other less expensive hotels do such as the Gem Holiday Beach Resort about another mile or so to the south on Morne Rouge Beach.
With taxis costing $16 each way, you stand to save a boatload by taking the public bus – especially if you venture out often. The buses go all over the island and are really cheap – just a couple of bucks. Just ask the reception at your hotel where you can pick up a bus nearby.
As mentioned earlier, you can save a lot of money by buying groceries and cooking your own food. Find out how much food costs in Grenada.
Conclusion
There you have it! Depending on your travel style, a week for 2 in Grenada will cost you anywhere between $1,262 – $4,042 per person. More if you plan to take some tours or excursions. Less if you plan to spend your week just lazing around the beach or pool. Either way, you will leave Grenada with an appreciation of one of the most beautiful islands in the southern Caribbean.
Happy planning!