This year I set my sights on visiting Grenada but wonder "is Grenada safe?". It can be scary just thinking about visiting a Caribbean island, especially in light of the recent negative media coverage of dangers in the Caribbean. As with any new destination I want to travel to I do a fair amount of research and investigation – especially its safety. I want to know if there are dangers I should be aware of so I'm prepared when visiting or perhaps avoid the trip altogether. 
Grenada is a safe country to visit. Compared with other Caribbean destinations, serious crime is very low in Grenada and unlike some Caribbean countries, there have been no US deaths in Grenada in at least the past 3 years. Although theft, drugs, and sexual assaults remain a problem, you can avoid falling victim to these crimes by exercising basic precautions.
Grenada and other Caribbean countries rely heavily on tourism to keep their economy moving – and the citizens of those countries know it. Maybe that's why the crimes that are committed are not widely reported thus are not easy to find.  The information is still available, it just takes some digging.  
I've come to the determination that Grenada is safe for me to travel to and learned about easy ways I can dramatically increase my safety while traveling there.  I spent hours digging, analyzing and comparing the data to ease my own peace-of-mind about traveling to Grenada and I'm happy to share the information with you.
Check out my article 20 Reasons Grenada is Totally Worth It if you're not sure why to even visit Grenada.
Please review this information and make your own determination. There's always a risk when traveling no matter where you go. It's up to you to be educated about the destination and determine if you can personally accept the level of risk present. 
Sources that indicate Grenada is Safe
You might be wondering what sources and data I used that led me to the conclusion that Grenada is safe for me to travel to. Good question! I wouldn't rely on someone's "opinion" when it comes to my safety and neither should you.
I used the most credible resources I could find, they are:
US Department of State – Travel Advisories & Country Information
The US Department of State assesses each country in the world and assigns one of 4 travel advisory levels that are intended to advise US citizens of the risk of traveling to the country.  Below are the 4 travel advisories ranging from 1 to 4.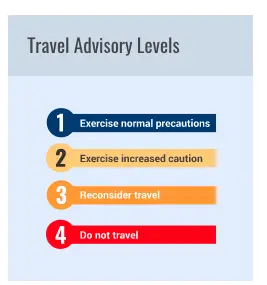 At the time of this writing, the US Department of State assigned a travel advisory level 1 to Grenada – meaning "exercise normal precautions".  
The US Department of State also provides written travel advisories specific to each country.  The table below summarizes the specific crimes they warn citizens to be cautious of in Grenada, along with recommended mitigation strategies to avoid becoming a victim. 
Shortly I'll share the travel advisory levels assigned to the Caribbean countries while discussing the US deaths in the countries. I think viewing the data together is more meaningful.
US Department of State warns…
Avoid being a victim by…
Tourists have been victims of robbery, most in isolated areas
• Remaining in populated areas. 
• Never go off down the beach at night – even if not alone.
• If on a tour or on an excursion stay with the group.  
Muggings, purse snatching, and other robberies may occur in areas tourists are expected to be (i.e. hotels, beaches, restaurants) late at night.
• Leave your expensive jewelry and purses at home so you don't encourage nefarious behavior. (Some women have commented on TripAdvisor have they leave all their jewelry at home – they don't even wear cheap earrings. Great idea! And less to pack 🙂
Thieves steal credit cards, jewelry, cameras, US passports, and money.
• Lock valuables, including your passport, in your hotel safe or in the trunk of the car when you leave.
• Don't leave your things unattended such as on the beach. 
US Department of State – US Citizen Deaths Overseas
What is our ultimate fear of traveling to a foreign country? It's death, right? While I suspect the odds of being killed while traveling to a Caribbean country are slim (especially if you exercise common sense caution), I wanted some numbers to back it up.  
Speaking of fears, what about other irrational fears we have like getting bit by a shark or snake? Check out my articles Are there Sharks in Waters of Grenada? and Are There Snakes on Grenada? to put those fears to rest.
The US Department of State has been tracking US citizens who die in a foreign country from a non-natural cause, since October 2002. 
Non-natural causes of death include homicide, drowning, suicide, vehicle accident, maritime accident, other accident, and a few others.  
The table below shows the US citizens who died in a Caribbean country in the past 3 years (between June 2016 and June 2019) due to non-natural causes.  I also included a few other popular tourist countries for perspective.
| | | |
| --- | --- | --- |
| Caribbean Country | US Deaths | Travel Advisory Level |
| Anguilla | 4 | 1 |
| Antigua & Barbuda | 4 | 1 |
| Bahamas | 34 | 2 |
| Barbados | 9 | 1 |
| Bermuda | 6 | 1 |
| Cayman Islands | 11 | 1 |
| Cuba | 17 | 2 |
| Dominica | 2 | 1 |
| Dominican Republic | 48 | 2 |
| Grenada | 0 | 1 |
| Haiti | 28 | 3 |
| Jamaica | 57 | 2 |
| Netherland Antilles (Aruba, Bonaire & Curacao) | 0 | 1 |
| St. Kitts and Nevis | 2 | 1 |
| St. Lucia | 2 | 1 |
| St. Martin | 3 | 1 |
| St. Vincent and Grenadines | 1 | 1 |
| Trinidad and Tobago | 8 | 2 |
| Turks and Caicos | 8 | 2 |
| Virgin Islands, British | 2 | 1 |
| | | |
| Other Popular Tourist Countries | US Deaths | Travel Advisory Level |
| Belize | 25 | 2 |
| Thailand | 93 | 1 |
| Mexico | 688 | 2, 3 or 4 … depending on area |
My key takeaways from the data:
Grenada had no US deaths in the past 3 years further supporting the notion that it's a safe country to visit.
There appears to be a correlation between the US deaths in the country and the US Department of State's travel advisory level assigned. This strengthens my belief and confidence in the state department's assigned travel advisory levels.
OSAC (Overseas Security Advisory Council)
OSAC is a joint venture created in 1985 between the Department of State and the US private sector to mitigate risk to US citizens and businesses through sharing of oversees safety and security concerns.
Each year a "crime and safety" report is produced by OSAC and the Regional Security Office at the US Consulate in Barbados. As the name suggests, the report discusses crime and safety in the countries the US Consulate in Barbados oversees, which includes Grenada.
The 2018 report, Barbados & Grenada 2018 Crime & Safety Report, clearly showed a low rate of murders, kidnappings, shootings and vehicle thefts in Grenada compared to the other Caribbean countries.
The data also shows Grenada's numbers in the areas of sexual assaults, robberies, residential burglaries, and drug crimes are rather grim. Later we'll discuss how you can safeguard yourself against these crimes.
The chart below was retrieved from the 2018 report. it depicts 2017 crime numbers.
| | | | | | | | | |
| --- | --- | --- | --- | --- | --- | --- | --- | --- |
| Country | Murders | Kidnappings | Sexual Assaults | Robberies | Shootings | Residential Burglaries | Drug Related Crimes | Vehicle Thefts |
| Antigua & Barbuda | 22 | 16 | 31 | 124 | 17 | 83 | 387 | 54 |
| Barbados | 11 | 4 | 60 | 84 | 29 | 361 | 567 | 41 |
| Dominica | 17 | 6 | 135 | 101 | 17 | 907 | 163 | 93 |
| Grenada | 9 | 0 | 182 | 54 | 3 | 858 | 684 | 0 |
| St. Kitts & Nevis | 56 | 4 | 80 | 106 | 93 | 574 | 504 | 22 |
| St. Lucia | 16 | 0 | 138 | 216 | 18 | 248 | 138 | 93 |
| St. Vincent & the Grenadines | 36 | 8 | 215 | 70 | 38 | 476 | 247 | 17 |
Unfortunately, the 2019 report, now titled Barbados & Eastern Caribbean 2019 Crime & Safety Report, does not provide a detailed report of the crimes committed. This is a real bummer. Assuming this is the new reporting approach we will no longer be able to have real crime numbers to assess.
Proactive Things you can do to keep safe while traveling to Grenada
No city, state, or country is 100% safe. You are responsible for keeping yourself safe.  To that end, there are very simple precautions you can take to improve your safety while visiting Grenada. Some of the suggestions below were already mentioned, but worth repeating 
For one thing, leave your flashy jewelry, clothes and other things at home.  Encouraging would-be thieves is just stupid. You have nothing to prove to Grenadians and they don't care about your fancy stuff so just leave it at home.
Stay in well lit and populated areas after dark. 
Do not leave valuables such as money, credit cards, cameras and other electronic devices unattended – especially on the beaches or in vehicles.
The US Department of State advises to "exercise appropriate caution after dark and when using buses or taxis" and further recommends taking a taxi to and from restaurants after dark as well as to ask the driver if he's a member of the Grenada Taxi Association (GTA). GTA members receive additional training from the Grenada Tourism Board and are required to pass additional driving tests than an average driver.
Local laws you need to be aware of while visiting Grenada
Same as any other country, crimes committed and laws broken in Grenada are subject to the legal system in Grenada. Ignorance is no excuse. Below are some local Grenadian laws to be aware of.
Marijuana is illegal in Grenada
Specifically, it's illegal to possess, use, and sell marijuana.  Jail sentences and fines can be long and stiff. 
If you are approached to buy drugs, decline the offer. Duh! Do not be confrontational in any way, just make it clear you're not interested and walk away.
Foul Language can get you arrested in Grenada
The US Department of State warns not to use foul language especially in the presence of a police officer – it could result in your incarceration and prosecution.  
Consensual Same-Sex Sexual Activities are Illegal in Grenada
Consensual same-sex sexual activities between men are illegal. According to the Laws of Grenada, Chapter 72A Criminal Code, Section 431 "Unnatural Crime": If any two persons are guilty of unnatural connexion, or if any person is guilty of unnatural connexion with any animal, every such person shall be liable to imprisonment for ten years.
Wearing Camouflage is Illegal in Grenada
According to the Laws of Grenada, Chapter 194A "Military Uniforms Prohibition Act": It is illegal to wear, import or sell military uniforms. So, don't wear any camouflage – at all. Not even shoes or hats!
---
Don't let fear hold you back from experiencing the world. At the same time, be smart before traveling – whether it's to another state in the US or another country.  Use critical judgment and gather the facts before dismissing a potential getaway destination based on what the media or the neighbor down the street says.
The hours of research and analysis I performed on the safety of Grenada has led me to the conclusion I am definitely moving forward with my plans to visit this amazing country. I'm happy to share the information with you. Please take care to review the information and run it through your own "risk meter" to determine if you too will make the trek. It's a personal decision that only you should make.
Happy planning!